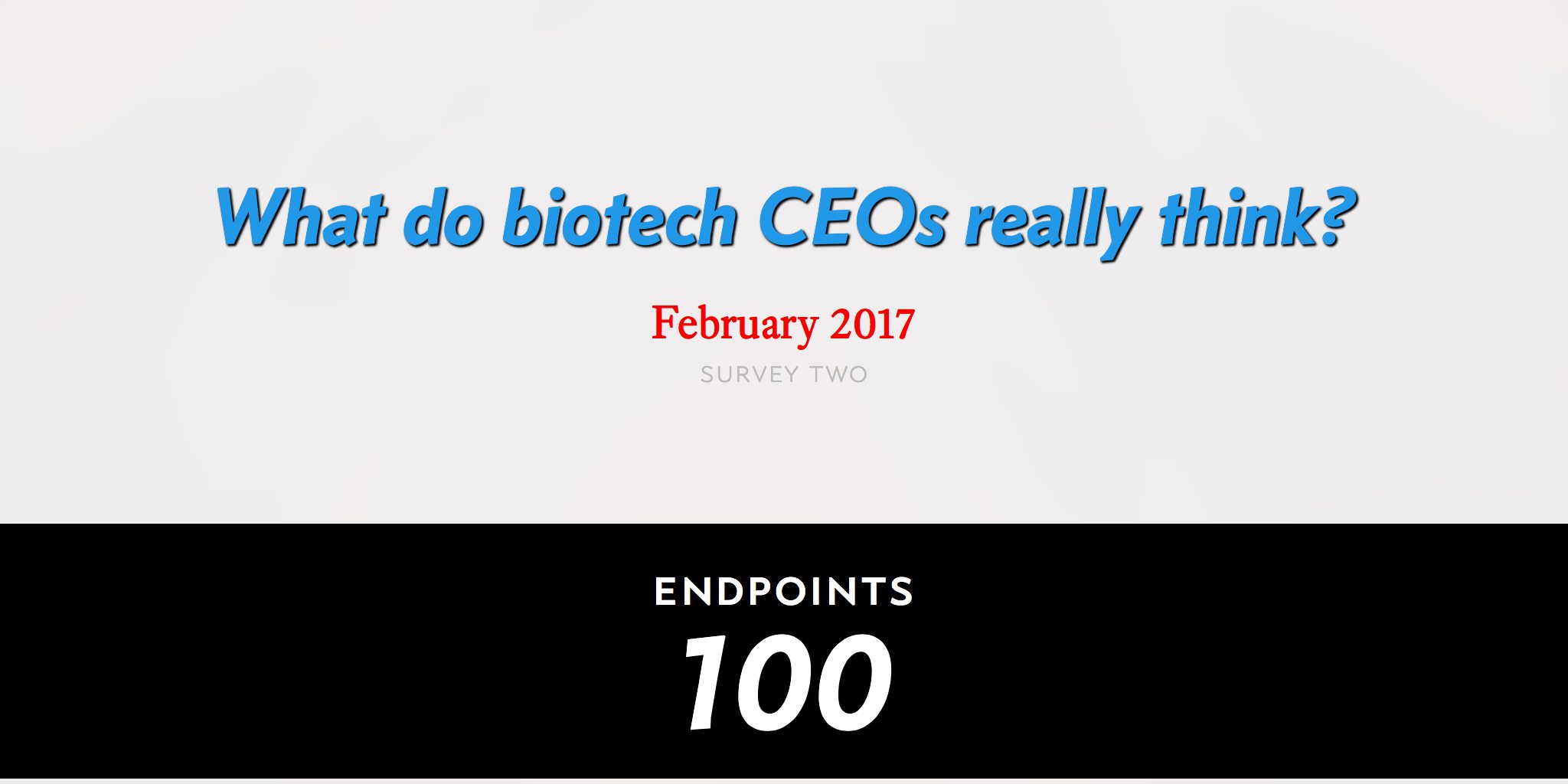 The E100: Biotech ex­ecs are bull­ish about 2017, but fret about drug pric­ing and the FDA un­der Trump
About the End­points 100: This is our sec­ond biotech in­dus­try sur­vey, which we sent out to our in­vite-on­ly group of ex­ec­u­tives on Feb­ru­ary 6. 98 ex­ecs, pri­mar­i­ly in the US and Eu­rope, com­plet­ed the sur­vey, You can see a list of the en­tire group at the end of this ar­ti­cle.
The biotech in­dus­try is feel­ing bull­ish about its own prospects at the be­gin­ning of 2017, large­ly sat­is­fied with the fi­nan­cial sup­port that's been flow­ing in to the field with most ex­ecs ready to hire through the year as the tem­po on deal-mak­ing re­mains up­beat.
But it's not all com­ing up ros­es.
The in­dus­try is in a funk about the Trump ad­min­is­tra­tion af­ter a few weeks of head­lines over a trav­el ban con­tro­ver­sy and a rolling se­ries of out­spo­ken tweets, with a large seg­ment of these ex­ecs wor­ried that a new head of the FDA could come in ready to re­duce if not ac­tu­al­ly dis­card stan­dards on drug de­vel­op­ment.
And vir­tu­al­ly no mat­ter what Trump says or does, a clear ma­jor­i­ty add, we've en­tered a new era on drug pric­ing that will de­mand a new math on what ther­a­pies cost. As for the high-pro­file in­stances where com­pa­nies and CEOs have been fin­gered for price goug­ing, many be­lieve we're see­ing an end game where the re­tal­i­a­tion is like­ly to be se­vere enough to stop such prac­tices for­ev­er.
That's the bot­tom line from our lat­est End­points 100 sur­vey, which cap­tured the thoughts of a broad swathe of CEOs and top-lev­el ex­ecs in the in­dus­try.
Nev­er miss an im­por­tant sto­ry again
Join End­points News now. Full-text ar­ti­cles in your in­box. Free sub­scrip­tion.
---
Down on Trump
Ful­ly two-thirds of these ex­ecs — out of 98 who re­spond­ed to our sur­vey — are deeply dis­en­chant­ed with Pres­i­dent Trump.
Thoughts ranged from "a smol­der­ing dump­ster fire with re­gards to health and hu­man safe­ty" to "his ac­tion on the im­mi­grant ban was mis­guid­ed. His in­abil­i­ty to re­frain from tweet­ing is ar­ro­gant. His ad­mi­ra­tion of Putin is fool­ish."
A huge ma­jor­i­ty — 82% — dis­ap­proved of the pres­i­dent's ac­tions. On­ly 4% found some­thing to ap­prove.
One of the pres­i­dent's sig­na­ture ef­forts ear­ly on has been to blast what he calls out­ra­geous pric­ing for drugs. A big group — 63% — feel that the bio­phar­ma in­dus­try has en­tered a new era on drug pric­ing. But a strong ma­jor­i­ty of 56% be­lieve that al­low­ing Medicare to ne­go­ti­ate drug pric­ing, as Trump has said now re­peat­ed­ly, is the wrong move.
"I be­lieve that Phar­ma re­al­ly doesn't get it," said one ex­ec. "Ever since the fi­nan­cial cri­sis there has been a con­stant drum­beat by pa­tients, physi­cians, etc on the price of drugs. We need to be more fo­cused on bring­ing 'val­ue for the mon­ey.' There isn't enough mon­ey in the world to ad­dress the world's health­care. We need to raise the bar much high­er for our­selves and price re­spon­si­bly. We are killing the gold­en goose."
"Trump told Phar­ma CEOs to get prices down, in­no­va­tion up and bring busi­ness­es back to the US. He means it and I be­lieve Phar­ma will self reg­u­late on bla­tant price in­creas­es (of which many are guilty)."
On­ly 24% felt that the sta­tus quo on pric­ing could be main­tained.
"Pay­ers are al­ready in­creas­ing pres­sure and there is ex­treme pres­sure in the EU. Ex­ces­sive price in­creas­es on gener­ic drugs must stop. Need to mod­er­ate price in­creas­es on drugs gen­er­al­ly to be more in line with in­fla­tion."
---
Medicare price ne­go­ti­a­tions
There's no doubt­ing the con­sid­er­able op­po­si­tion in the in­dus­try to push­ing Medicare in­to price ne­go­ti­a­tions. But a large mi­nor­i­ty, 44%, felt that there was good rea­son for Medicare price ne­go­ti­a­tions.
"Wrong move or right move, it's an ob­vi­ous move. It's the biggest pay­er and some­how, some way, this will hap­pen."
None of the sol­id ma­jor­i­ty who op­posed see­ing Medicare lever­age low­er prices di­rect­ly ex­pressed their opin­ion on it.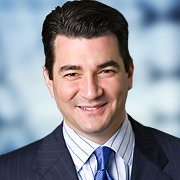 Scott Got­tlieb
It's ear­ly days in this ad­min­is­tra­tion, but sev­er­al of the ex­ecs who took this sur­vey ex­pect to see some fast changes out of Con­gress, some of which will like­ly spur the M&A side of the busi­ness.
"Ex­pect repa­tri­a­tion (of over­seas prof­its) which will dri­ve more col­lab­o­ra­tion/ac­qui­si­tion. Ex­pect volatil­i­ty in com­mu­ni­ca­tion from ad­min­is­tra­tion re­lat­ing to pric­ing, dri­ving con­tin­ued un­cer­tain­ty un­til ad­min­is­tra­tion clar­i­fies po­si­tion one way or an­oth­er on pric­ing."
"The biggest im­pact they will have will be in the ap­point­ment of the HHS sec­re­tary and the head of the FDA (hope­ful­ly Scott Got­tlieb)."
"Wild­ly un­pre­dictable. Of the var­i­ous un­knowns now the no­tion that the FDA might con­vert ap­provals to "safe­ty on­ly" is the most alarm­ing."
---
The FDA
There is a sig­nif­i­cant di­vi­sion of opin­ion about what the FDA should do un­der a new com­mis­sion­er. 43% said no sig­nif­i­cant changes are need­ed in terms of reg­u­la­tions, sat­is­fied that changes made over the last few years has sub­stan­tial­ly ben­e­fit­ed bio­phar­ma and stream­lined de­vel­op­ment with­out erod­ing stan­dards.
37%, though, are look­ing for sig­nif­i­cant changes.The theme, though, sug­gests the in­dus­try is look­ing for a con­tin­ued evo­lu­tion of the reg­u­la­to­ry land­scape, fa­vor­ing de­vel­op­ers but not gut­ting the gold stan­dard on ef­fi­ca­cy and safe­ty.
"Con­tin­ue to build on ac­cel­er­at­ed ap­proval frame­work."
"Do not low­er sci­en­tif­ic stan­dards; re­tain safe­ty and ef­fi­ca­cy hur­dle; in­crease use of sur­ro­gate and re­al world end­points, in­clud­ing da­ta from wear­able and dig­i­tal sources to help stream­line ap­proval with more dis­ease- and pa­tient-rel­e­vant end­points of ef­fi­ca­cy."
"FDA has been do­ing a good job. We need to keep the high ef­fi­ca­cy stan­dard."
"I ac­tu­al­ly think over­all the FDA is do­ing a great job, I don't think rad­i­cal re­form is need­ed. But I do think that many of the ini­tia­tives and re­forms of re­cent years have been em­braced by Sr. man­age­ment, but not by the rest of the bu­reau­cra­cy yet."
"Ter­ri­fy­ing to think of low­er­ing ef­fi­ca­cy stan­dards sig­nif­i­cant­ly. Not good for the pub­lic or the in­dus­try!"
"In many ar­eas, reg­u­la­to­ry sci­ence is decades be­hind ad­vances in new tech­nolo­gies and med­ical sci­ence. In the rare dis­eases, for in­stance, we need a rig­or­ous yet flex­i­ble reg­u­la­to­ry frame­work that does not ex­ist to­day. The fact that there is not even a re­view di­vi­sion at FDA ded­i­cat­ed to rare ge­net­ic dis­eases is a tragedy in it­self. "
"In­creased use of bio­mark­ers, ac­cel­er­at­ed ap­proval path­ways and per­haps even the in­tro­duc­tion of 'con­di­tion­al' ap­proval path­ways will dri­ve med­i­cines that are proven safe and ef­fec­tive to pa­tients as quick­ly as pos­si­ble. In fact, the most sig­nif­i­cant change that could be made at the FDA is to in­clude the pa­tient per­spec­tive at every step of the drug de­vel­op­ment and reg­u­la­to­ry re­view process. Do­ing so will save count­less lives."
John F. Crow­ley Chair­man & CEO Am­i­cus Ther­a­peu­tics
Brent Saun­ders' pledge
One change that got a broad thumbs up from the E100: Brent Saun­ders' call for an in­dus­try pledge to keep an­nu­al price in­creas­es on drugs in the sin­gle dig­its, un­der 10%. A to­tal of 67% en­dorsed the move, with quite a few call­ing it sen­si­ble and vi­able or "a breathe of fresh air."
But there was al­so a de­tectable air of skep­ti­cism that this kind of ap­proach could work as a longterm so­lu­tion, with many see­ing it as a log­i­cal tem­po­rary step.
"This seems clos­er to fol­low­ing the laws of grav­i­ty than a plan. But it should cre­ate some much-need­ed day­light btwn in­dus­try and (con­tro­ver­sial Tur­ing founder Mar­tin) Shkre­li"
"I found Brent's procla­ma­tion a bit disin­gen­u­ous… He pro­claims he wilre­spon­si­ble on pric­ing but then takes 9.9% across his en­tire port­fo­lio. Re­al­ly! What in­dus­try gets 9.9% price in­creas­es?"
"I would say that we should em­pha­size ty­ing price in­creas­es to in­fla­tion in some way. If in­fla­tion goes to 15% you would not raise prices by 9% and if in­fla­tion is 1% you would raise less than 9%. I wor­ry about dog­mat­ic state­ments like "sin­gle" dig­it which do not take in­to ac­count the macro eco­nom­ic is­sues."
---
The pulse on biotech prospects in 2017: Run­ning strong
This is the sec­ond sur­vey that is keep­ing the thumbs on the pulse of in­dus­try con­fi­dence, which is em­phat­i­cal­ly strong. On­ly 2% of the crowd are less than some­what con­fi­dence, with three out of four run­ning the gamut of con­fi­dent to ex­treme­ly con­fi­dence.
We have 57% rat­ing the flow of in­vest­ments from VCs as 'good.'
"The cap­i­tal is there from spe­cial­ists for the right com­pa­nies."
"If you have a great team and a good sto­ry, you can get fund­ed."
But not every­one is hap­py about their ac­cess to cap­i­tal these days.
"I am con­tin­u­al­ly per­plexed by the de­sire to fund "the dream" ver­sus val­i­dat­ed, re­al drugs. I wish there was more in­ter­est in re­al biotech com­pa­nies that have rev­enues and de­liv­er strong cash flows."
IPOs are off to a so-so start af­ter a weak 2016, so it's not too sur­pris­ing to see ex­pec­ta­tions are lim­it­ed for the rest of the year. Forty-two per­cent ranked the IPO sec­tor as fair, with 27% fair, 17% good and 14% poor. No one thought it was ex­cel­lent.
About half thought that the IPO mar­ket will stay this way for the rest of the year, with the "bet­ter" and "worse" group split 29% to 19%.
---
Hir­ing
Close to 4 out of 5 of these ex­ecs work in or with com­pa­nies that are hir­ing in the first quar­ter, al­so re­flect­ing a strong up­beat tem­po in terms of ex­pand­ing em­ploy­ment, which we al­so saw last fall in our first sur­vey. 86% are hir­ing this year. No one plans to re­duce staff. The biggest prob­lem cit­ed: Find­ing the right peo­ple can be dif­fi­cult.
"We'll hire ag­gres­sive­ly again this year."
"Job mar­ket re­mains very hot. Lots of com­pe­ti­tion to ac­cess the best tal­ent."
"We're hir­ing ag­gres­sive­ly but good can­di­dates are hard to find," says Yu­val Co­hen, CEO of Cor­bus Phar­ma­ceu­ti­cals."
---
Biotech val­u­a­tions: Fair to good
The pace on deals and buy­outs has start­ed off with some siz­able num­bers in biotech, but our E100 ex­ecs weren't feel­ing gid­dy about any of it.
57% of these ex­ecs found li­cens­ing deals were be­ing done for av­er­age amounts, 37% said they were high and on­ly 5% thought of them as low. There was a split on M&A, though, with 47% rank­ing val­u­a­tions at av­er­age and 43% call­ing them out as high. That cold be a sell­ers per­spec­tive, though, as Big Phar­ma buy­ers have been say­ing for sev­er­al years now that val­u­a­tions have been run­ning ex­treme­ly high, in their view.
---
So where do we go from here?
"Let's keep our eye on the prize: mak­ing im­por­tant new ther­a­peu­tics that ad­dress hu­man needs. Let us em­brace val­ue-based pric­ing. Let us shun var­i­ous his­tor­i­cal in­dus­try prac­tice to un­rea­son­ably ex­tend patent mo­nop­oly. Let us aban­don un­jus­ti­fied year-over-year cost in­creas­es in the ab­sence of proven ad­di­tion­al pa­tient ben­e­fit or con­ve­nience."
"A good year for biotech in 2017. Too many ex­cel­lent tech­nolo­gies and in­no­va­tion . They all will find homes!"
We end with an anony­mous com­pli­ment:
"Well done, John and col­leagues. End­points is a re­fresh­ing new source for biotech- and phar­ma-re­lat­ed news and views."
It was just 1 out of 98, but we see a trend de­vel­op­ing.
Do you have an idea for our next sur­vey? Drop me a line at john@end­pointsnews.com
Here's a list of all par­tic­i­pat­ing

End­points 100

ex­ec­u­tives

| | |
| --- | --- |
| Jef­frey Al­bers | Blue­print Med­i­cines |
| Alan Auer­bach | Puma |
| Stephane Ban­cel | Mod­er­na |
| Chuck Baum | Mi­rati Ther­a­peu­tics |
| John Bea­dle | PsiOxus |
| Kees Been | Lyso­so­mal Ther­a­peu­tics |
| Arie Bellde­grun | Kite Phar­ma |
| Nes­san Berming­ham | In­tel­lia Ther­a­puet­ics |
| Jean-Jacques Bi­en­aimé | Bio­Marin Phar­ma­ceu­ti­cal |
| Kate Bing­ham | SV Life Sci­ences |
| Detlev Bin­iszkiewicz | Sur­face On­col­o­gy |
| Kevin Bit­ter­man | Po­laris Part­ners |
| Robert Blum | Cy­to­ki­net­ics, Inc. |
| Bruce Booth | At­las Ven­ture |
| Ed­uar­do Bra­vo | Tigenix, SAU |
| Wern­er Cautreels | Se­lec­ta |
| Chip Clark | Geno­cea Bio­sciences |
| Robert Cof­fin | Replimune |
| Ron Co­hen | Acor­da |
| Yu­val Co­hen | Cor­bus Phar­ma |
| Robert Con­nel­ly | Ax­cel­la (Pronu­tria) |
| Bernard Coulie | Pli­ant Ther­a­peu­tics |
| John Crow­ley | Am­i­cus |
| David de Graaf | Syn­tim­mune |
| Kim Drap­kin | Jounce Ther­a­peu­tics |
| Cameron Dur­rant | Kalo­Bios |
| Glyn Ed­wards | Sum­mit Ther­a­peu­tics plc |
| Eliot Forster | Im­muno­core |
| Tas­sos Gi­anakakos | MyoKar­dia |
| David Giljo­hann | Ex­i­cure |
| Robert Gould | Ful­crum Ther­a­peu­tics |
| Max­ine Gowen | Treve­na |
| Mike Grey | Am­plyx |
| Geral­dine Hamil­ton | Em­u­late |
| John Hau­rum | F-star |
| Rachel Hau­r­witz | Cari­bou |
| Pe­ter Hecht | Iron­wood |
| Mary Lynne Hed­ley | Tesaro |
| Olav Helle­bø | ReNeu­ron Group plc |
| Rus­sell Hern­don | Hy­dra Bio­sciences |
| Rich Hey­man | Hey­man Biotech |
| Na­tal­ie Holles | Au­dentes Ther­a­peu­tics, Inc. |
| Steve Holtz­man | Deci­bel Ther­a­peu­tics |
| Hervé Hop­penot | In­cyte |
| An­nal­isa Jenk­ins | Di­men­sion Ther­a­peu­tics |
| Jeff Jonker | NGM Bio |
| Kevin Ju­dice | DiCE Mol­e­cules |
| Rachel King | Gly­comimet­ics |
| Gene Kin­ney | Prothena |
| Art Krieg | Check­mate Phar­ma­ceu­ti­cals |
| Je­re­my Levin | Ovid Ther­a­peu­tics |
| Howard Liang | BeiGene |
| Jay Lichter | Aval­on Ven­tures |
| John Maraganore | Al­ny­lam |
| Alex­ey Mar­golin | Al­lena Phar­ma­ceu­ti­cals |
| Tim Mayleben | Es­pe­ri­on |
| Sean Mc­Carthy | Cy­tomX Ther­a­peu­tics |
| David Mott | NEA |
| Lon­nie Moul­der | Tesaro |
| Glenn Ned­win | Sec­ond Genome |
| Don Nichol­son | Nim­bus Ther­a­peu­tics |
| Hugh O'Dowd | Neon Ther­a­peu­tics |
| Bernat Olle | Vedan­ta |
| Rick Orr | Ad­ynxx |
| Ju­lia Owens | Mil­len­do |
| An­toine Pa­piernik | Sofinno­va |
| Pier­lui­gi Parac­chi | GENEN­TA Sci­ence |
| Alexan­der Pas­teur | F-Prime Cap­i­tal Part­ners |
| Joe Payne | Arc­turus Ther­a­peu­tics |
| Michael Pelli­ni | Foun­da­tion Med­i­cine |
| An­drea Pfeifer | AC Im­mune |
| An­drew Phillips | C4 Ther­a­peu­tics |
| Richard Pops | Alk­er­mes |
| An­na Pro­topa­pas | Mer­sana Ther­a­peu­tics |
| Lau­rence Reid | Warp Dri­ve Bio |
| Nor­bert Riedel | Aptinyx |
| Adam Rosen­berg | Rodin Ther­a­peu­tics |
| Gregg San­do | Cell Med­ica |
| David Schenkein | Agios |
| Denise Scots-Knight | Mereo Bio­phar­ma |
| Paul Sekhri | Lyc­era Corp. |
| Tito Ser­afi­ni | Atre­ca |
| Ar­mon Sharei | SQZ Ther­a­peu­tics |
| Lau­ra Shawver | Cleave Bio |
| Clay Sie­gall | Seat­tle Ge­net­ics |
| Nan­cy Si­mon­ian | Sy­ros Phar­ma­ceu­ti­cals |
| Harpreet Singh | Im­mat­ics US |
| Sander Slootweg | For­bion Cap­i­tal Part­ners |
| Jeff Stein | Cidara |
| Carmine Sten­gone | Ave­las Bio­sciences, Inc. |
| Niclas Stiern­holm | Tril­li­um Ther­a­peu­tics |
| Clif­ford Stocks | On­coRe­sponse |
| Hamza Suria | Anap­tys­Bio |
| Mary Szela | Aege­ri­on Phar­ma­ceu­ti­cals |
| Nan­cy Thorn­ber­ry | Kally­ope |
| Praveen Tipir­neni | Mor­phic Ther­a­peu­tic |
| He­len Tor­ley | Halozyme |
| Dou­glas Tre­co | Ra Phar­ma­ceu­ti­cals |
| Steve Tre­gay | For­ma Ther­a­peu­tics |
| Tim Van Hauw­er­meiren | Ar­genx |
| Mark Vel­le­ca | G1 Ther­a­peu­tics |
| Greg Ver­dine | Fog Phar­ma |
| George Vla­suk | Nav­i­tor Phar­ma­ceu­ti­cals, Inc. |
| Robert Ward | Ra­dius |
| Ryan Watts | De­nali |
| Mal­colm Weir | Hep­tares |
| Mar­tin Welschof | Op­sona Ther­a­peu­tics Ltd |
| Doug Williams | Co­di­ak |
| Troy Wil­son | Ku­ra On­col­o­gy |
| Steve Yang | WuXi AppTec |