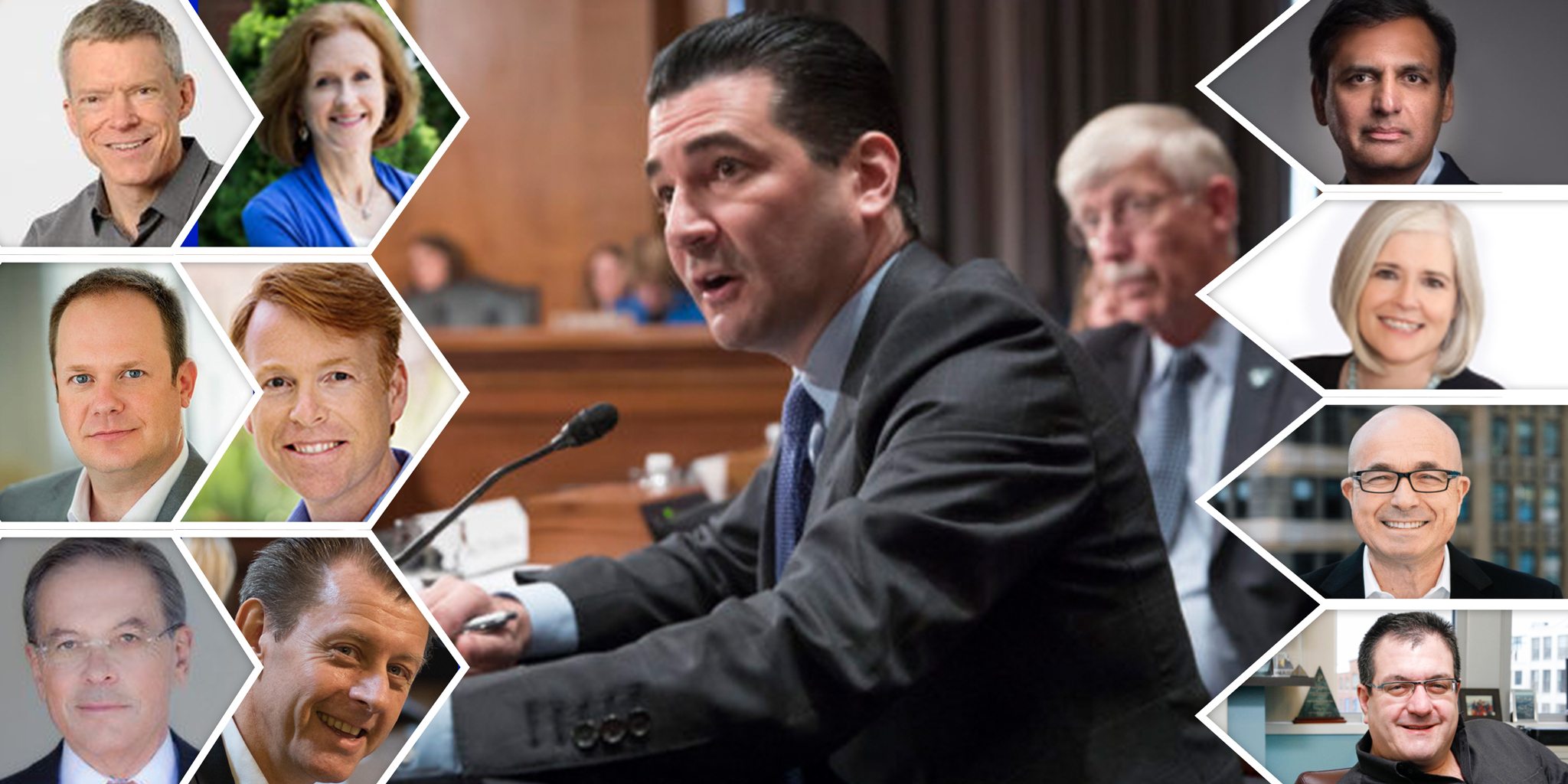 The End­points 100: Biotech ex­ecs stam­pede in­to 2018 with a cheer for the FDA and bull­ish feel­ings on pub­lic mar­kets, pri­vate in­vestors and a 'hot' M&A fu­ture
Biotech executives are pumped about 2018.
In our ongoing survey of the Endpoints 100 — a list dominated by the chiefs of a range of small, medium and large biotechs — these execs voiced a near-unanimous cheer for Scott Gottlieb and the job he's doing at the FDA, where most see real, fast progress in speeding and improving the drug review process, with even more to come in the year ahead.
There's a sense that the debate over drug prices is here to stay, with a solid majority looking for the issue to grow even more intense in 2018.
The vast majority of these companies plan to add to their staffs in the coming 12 months, as venture investing remains either good or excellent.
The public markets are viewed even somewhat better than earlier checks — though we took this survey as US markets experienced their worst week in two years.
And after a long cool spell on the M&A front, a big majority are looking for the M&A front to run hot, with valuations high to medium.
I'll get into much more detail with what execs are saying below, but that's the quick read on the buoyant sentiment that underscores the industry at the beginning of this second year of the Endpoints 100 survey. We're also offering a look at how some of these issues on access to capital and public markets have trended since we launched the first survey back in the fourth quarter of 2016.
Altogether a record 91 biotech execs completed the survey by the deadline. Our thanks to all of them, because the survey depends on the data, and no industry can understand that better than biotech. — John Carroll
Keep reading Endpoints with a free subscription
Unlock this story instantly and join 83,100+ biopharma pros reading Endpoints daily — and it's free.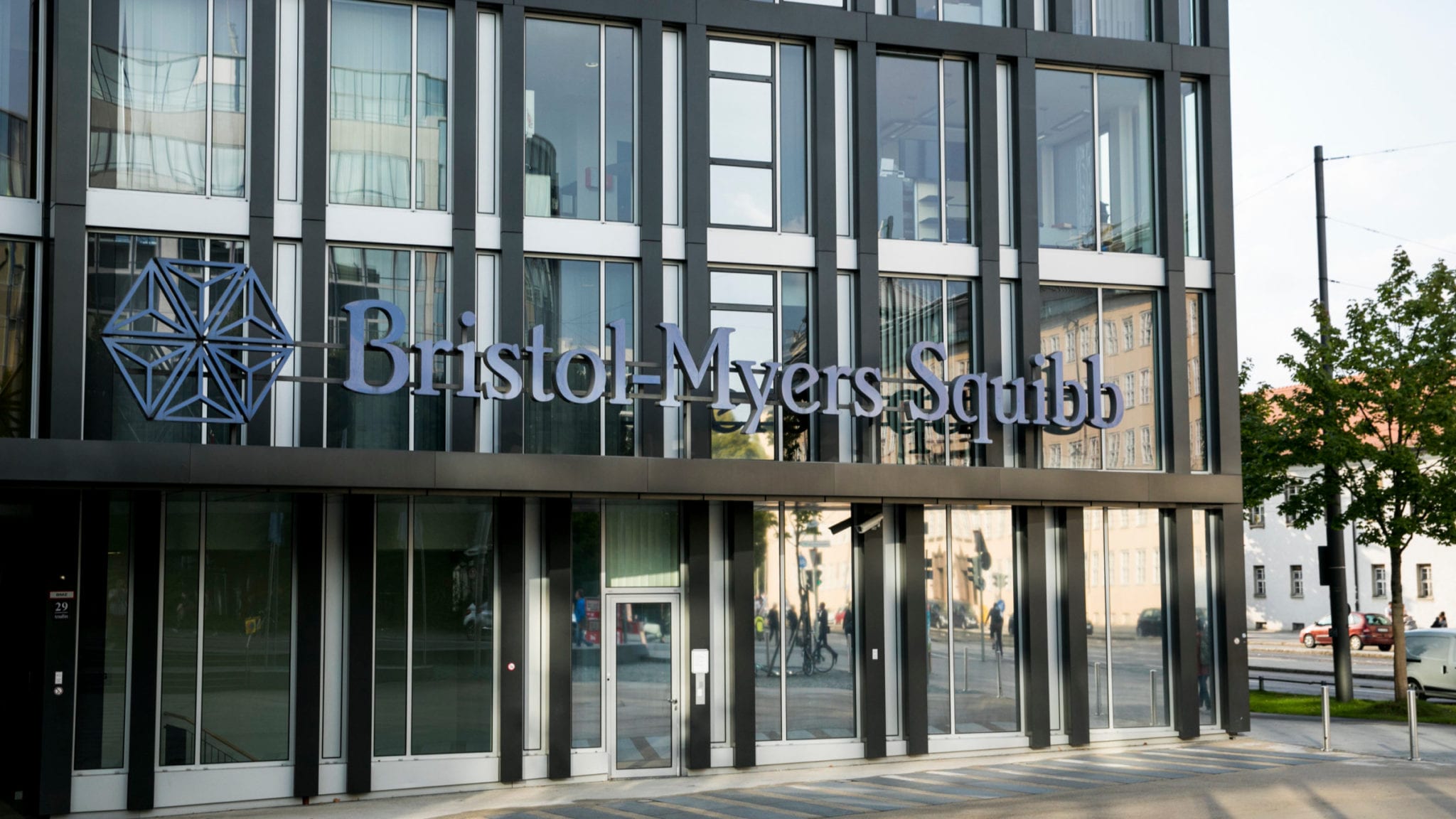 Bris­tol My­ers is clean­ing up the post-Cel­gene merg­er pipeline, and they're sweep­ing out an ex­per­i­men­tal check­point in the process
Back during the lead up to the $74 billion buyout of Celgene, the big biotech's leadership did a little housecleaning with a major pact it had forged with Jounce. Out went the $2.6 billion deal and a collaboration on ICOS and PD-1.
Celgene, though, also added a $530 million deal — $50 million up front — to get the worldwide rights to JTX-8064, a drug that targets the LILRB2 receptor on macrophages.
Keep reading Endpoints with a free subscription
Unlock this story instantly and join 83,100+ biopharma pros reading Endpoints daily — and it's free.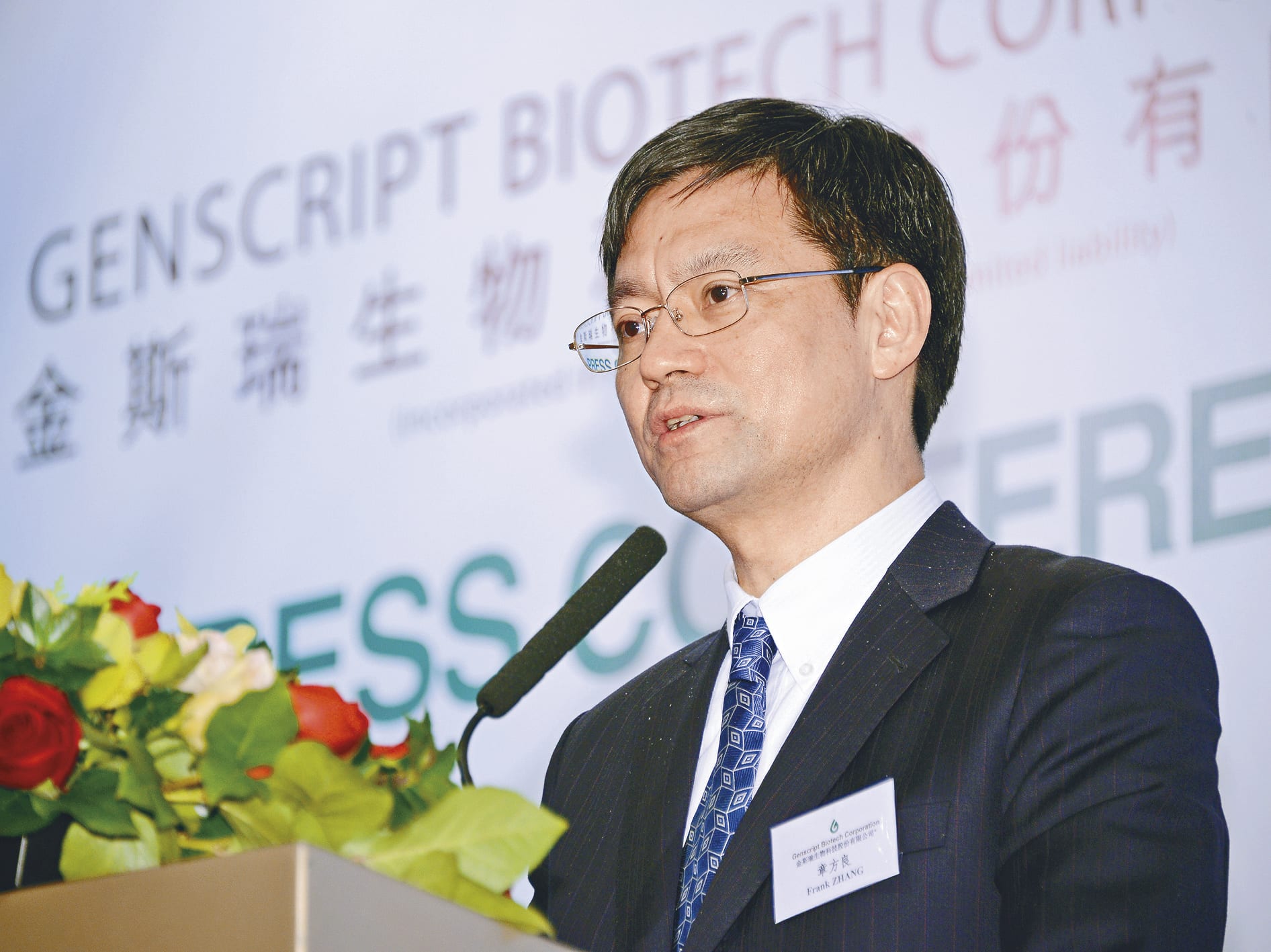 Fangliang Zhang, AP Images
UP­DAT­ED: Leg­end fetch­es $424 mil­lion, emerges as biggest win­ner yet in pan­dem­ic IPO boom as shares soar
Amid a flurry of splashy pandemic IPOs, a J&J-partnered Chinese biotech has emerged with one of the largest public raises in biotech history.
Legend Biotech, the Nanjing-based CAR-T developer, has raised $424 million on NASDAQ. The biotech had originally filed for a still-hefty $350 million, based on a range of $18-$20, but managed to fetch $23 per share, allowing them to well-eclipse the massive raises from companies like Allogene, Juno, Galapagos, though they'll still fall a few dollars short of Moderna's record-setting $600 million raise from 2018.
Keep reading Endpoints with a free subscription
Unlock this story instantly and join 83,100+ biopharma pros reading Endpoints daily — and it's free.
As it hap­pened: A bid­ding war for an an­tibi­ot­ic mak­er in a mar­ket that has rav­aged its peers
In a bewildering twist to the long-suffering market for antibiotics — there has actually been a bidding war for an antibiotic company: Tetraphase.
It all started back in March, when the maker of Xerava (an FDA approved therapy for complicated intra-abdominal infections) said it had received an offer from AcelRx for an all-stock deal valued at $14.4 million.
The offer was well-timed. Xerava was approved in 2018, four years after Tetraphase posted its first batch of pivotal trial data, and sales were nowhere near where they needed to be in order for the company to keep its head above water.
Recursion Pharmaceuticals
Salt Lake City, UT
Por­tion of Neil Wood­ford's re­main­ing in­vest­ments, in­clud­ing Nanopore, sold off for $284 mil­lion
It's been precisely one year and one day since Neil Woodford froze his once-vaunted fund, and while a global pandemic has recently shielded him from the torrent of headlines, the fallout continues.
Today, the California-based patent licensing firm Acacia Research acquired the fund's shares for 19 healthcare and biotech companies for $284 million. Those companies include shares for public and private companies and count some of Woodford's most prominent bio-bets, such as Theravance Biopharma, Oxford Nanopore and Mereo Biopharma, according to Sky News, which first reported the sale. It won't include shares for BenevelontAI, the machine learning biotech once valued at $2 billion.
Drug man­u­fac­tur­ing gi­ant Lon­za taps Roche/phar­ma 'rein­ven­tion' vet as its new CEO
Lonza chairman Albert Baehny took his time headhunting a new CEO for the company, making it absolutely clear he wanted a Big Pharma or biotech CEO with a good long track record in the business for the top spot. In the end, he went with the gold standard, turning to Roche's ranks to recruit Pierre-Alain Ruffieux for the job.
Ruffieux, a member of the pharma leadership team at Roche, spent close to 5 years at the company. But like a small army of manufacturing execs, he gained much of his experience at the other Big Pharma in Basel, remaining at Novartis for 12 years before expanding his horizons.
Is a pow­er­house Mer­ck team prepar­ing to leap past Roche — and leave Gilead and Bris­tol My­ers be­hind — in the race to TIG­IT dom­i­na­tion?
Roche caused quite a stir at ASCO with its first look at some positive — but not so impressive — data for their combination of Tecentriq with their anti-TIGIT drug tiragolumab. But some analysts believe that Merck is positioned to make a bid — soon — for the lead in the race to a second-wave combo immuno-oncology approach with its own ambitious early-stage program tied to a dominant Keytruda.
Premium subscription required
Unlock this article along with other benefits by subscribing to one of our paid plans.
Covid-19 roundup: Ab­b­Vie jumps in­to Covid-19 an­ti­body hunt; As­traZeneca shoots for 2B dos­es of Ox­ford vac­cine — with $750M from CEPI, Gavi
Another Big Pharma is entering the Covid-19 antibody hunt.
AbbVie has announced a collaboration with the Netherlands' Utrecht University and Erasmus Medical Center and the Chinese-Dutch biotech Harbour Biomed to develop a neutralizing antibody that can treat Covid-19. The antibody, called 47D11, was discovered by AbbVie's three partners, and AbbVie will support early preclinical work, while preparing for later preclinical and clinical development. Researchers described the antibody in Nature Communications last month.
Pfiz­er's Doug Gior­dano has $500M — and some ad­vice — to of­fer a cer­tain breed of 'break­through' biotech
So let's say you're running a cutting-edge, clinical-stage biotech, probably public, but not necessarily so, which could see some big advantages teaming up with some marquee researchers, picking up say $50 million to $75 million dollars in a non-threatening minority equity investment that could take you to the next level.
Doug Giordano might have some thoughts on how that could work out.
The SVP of business development at the pharma giant has helped forge a new fund called the Pfizer Breakthrough Growth Initiative. And he has $500 million of Pfizer's money to put behind 7 to 10 — or so — biotech stocks that fit that general description.
Keep reading Endpoints with a free subscription
Unlock this story instantly and join 83,100+ biopharma pros reading Endpoints daily — and it's free.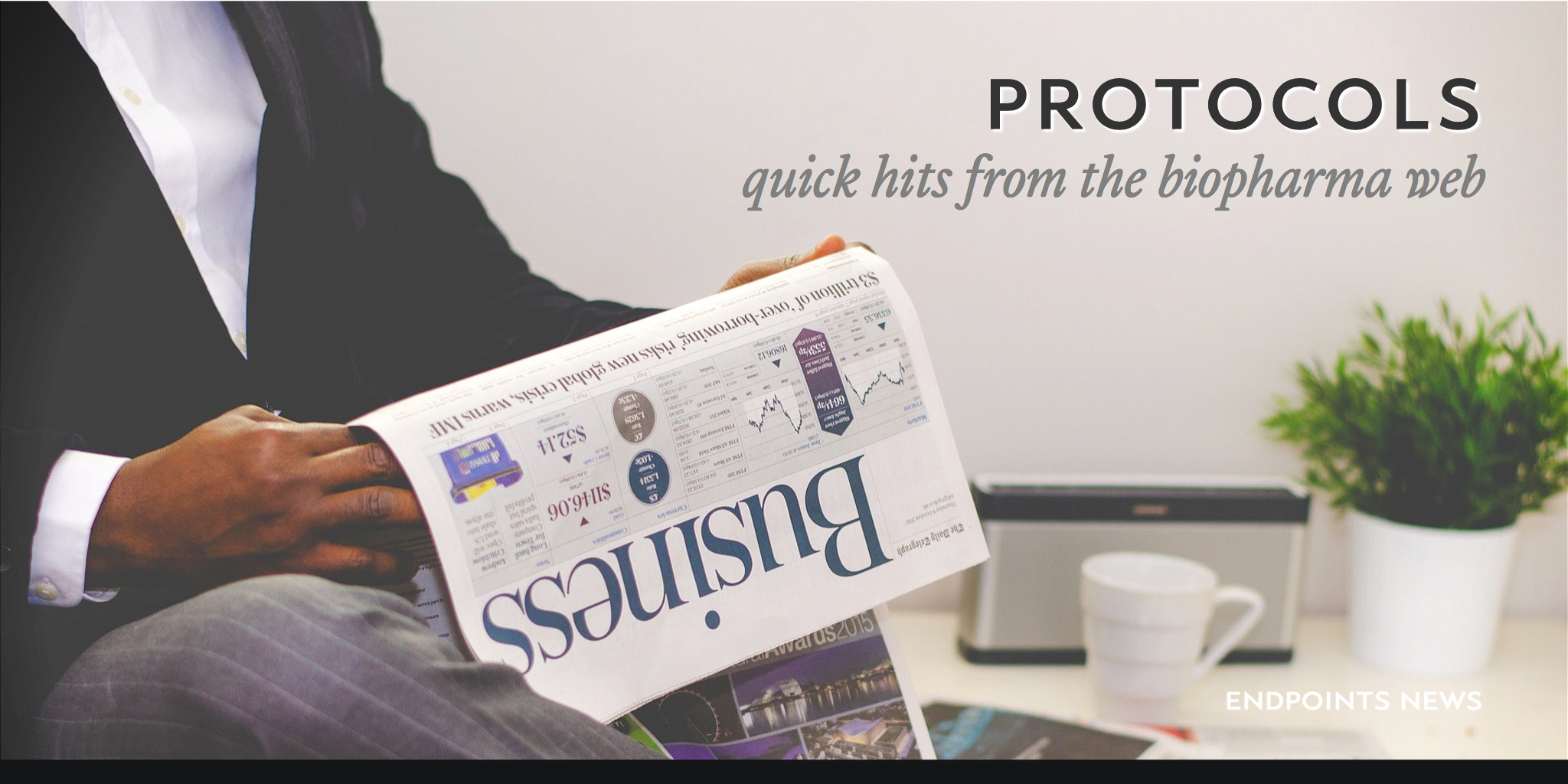 Mer­ck wins a third FDA nod for an­tibi­ot­ic; Mereo tack­les TIG­IT with $70M raise in hand
→ Merck — one of the last big pharma bastions in the beleaguered field of antibiotic drug development — on Friday said the FDA had signed off on using its combination drug, Recarbrio, with hospital-acquired bacterial pneumonia and ventilator-associated bacterial pneumonia. The drug could come handy for use in hospitalized patients who are afflicted with Covid-19, who carry a higher risk of contracting secondary bacterial infections. Once SARS-CoV-2, the virus behind Covid-19, infects the airways, it engages the immune system, giving other pathogens free rein to pillage and plunder as they please — the issue is particularly pertinent in patients on ventilators, which in any case are breeding grounds for infectious bacteria.