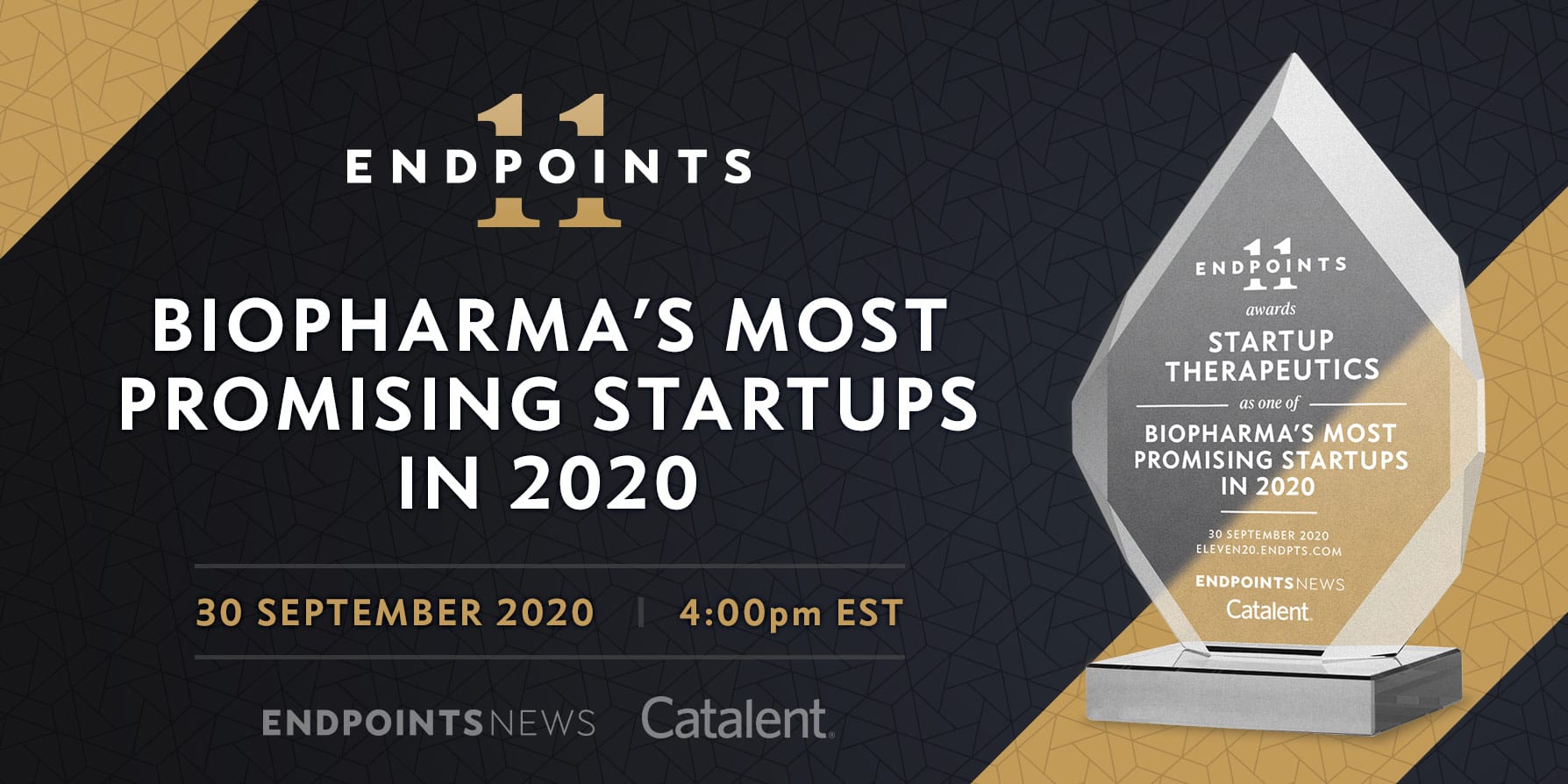 The End­points 11 cel­e­brates bio­phar­ma's most promis­ing star­tups. Live event on Sep­tem­ber 30
Next month John Car­roll and the End­points ed­i­to­r­i­al team con­tin­ue a proud tra­di­tion of pro­fil­ing a stand­out group of 11 star­tups that just might be head­ed for great­ness. And we're adding a new, live el­e­ment that we want to share with all of you — and we're ask­ing for just one hour of your time.
Please mark your cal­en­dars for a 1-hour main event on Sep­tem­ber 30 at 4pm ET. The agen­da will ex­pand in the com­ing weeks, and we'll have more than one hour's worth of con­tent for you. But the cen­ter­piece of the 2020 End­points 11 is a one-hour live-streamed event.
It will start at 4pm ET / 1pm PT, and you can sign up with this link.
Our goal is to cel­e­brate bold sci­ence in the pur­suit of new biotech drugs, and that's a lot eas­i­er said than done. When it comes to pick­ing pri­vate com­pa­nies, we're deal­ing with in­com­plete and im­per­fect in­for­ma­tion. And the lim­its of our cur­rent un­der­stand­ing of bi­ol­o­gy can frus­trate the most ex­pe­ri­enced sci­en­tif­ic teams armed with tremen­dous fi­nan­cial back­ing. Re­gard­less, we're go­ing to make our picks and ar­gue our case for them. The com­pa­nies that are in our sight are all swing­ing for the fences. Some will fail, but they each rep­re­sent a trend in new biotech com­pa­ny cre­ation. And they emerge from a his­tor­i­cal back­drop, with the pan­dem­ic fo­cus­ing the world's at­ten­tion on bio­phar­ma like nev­er be­fore.
This year we're spon­sored by Catal­ent, a com­pa­ny that has sup­port­ed our in­de­pen­dent mis­sion at End­points from the start. This year, part of our agen­da fea­tures my co-founder and End­points ed­i­tor John Car­roll pre­sent­ing the awards live to the win­ners along­side Catal­ent CEO John Chimin­s­ki. Both "John C"s have a fun his­to­ry of this kind of work, which we last saw at JP Mor­gan this year in San Fran­cis­co. It's go­ing to be a lot of fun and I hope you all can be a part of it.
Feel­ing Zoomed out? That's un­der­stand­able, and we'll be work­ing to keep your at­ten­tion. There is a gen­uine need to con­tin­ue the kind of cel­e­bra­to­ry events that would bring us to­geth­er in a nor­mal year — and we think this is worth your time. There's more than one hour's worth of con­tent to share with you all, but the ex­pe­ri­ence will be shaped in a way where the live show is the cen­ter­piece. Every­thing else is on-de­mand. And there's no cost to at­tend. You can sign up here.