The gam­ma delta T cell gam­bit in­spires a small Lon­don biotech start­up with big ideas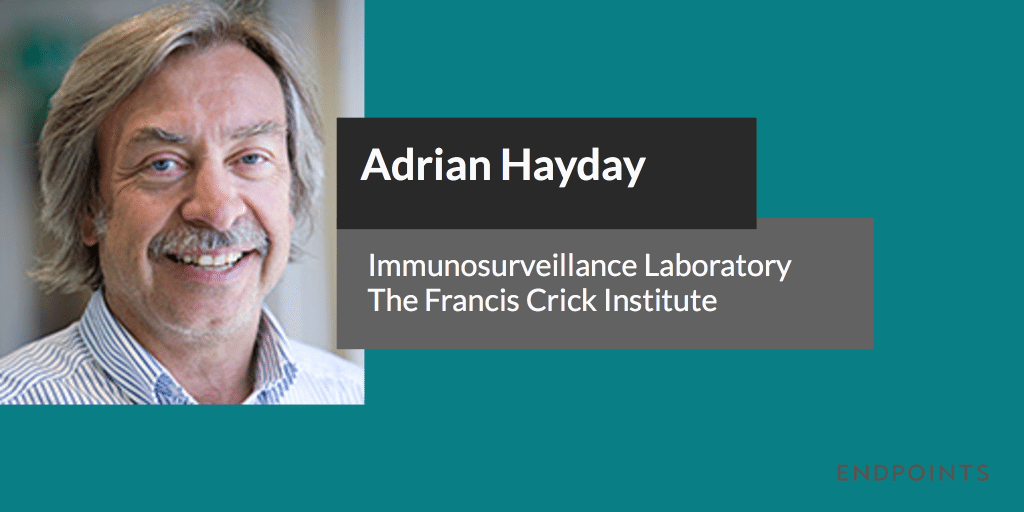 ---
If you run through the whole gamut of cell ther­a­pies be­ing worked on in can­cer re­search these days, gam­ma delta T cells aren't like­ly to fig­ure promi­nent­ly in your re­view. But for years now Adri­an Hay­day, who runs labs at The Fran­cis Crick In­sti­tute and King's Col­lege Lon­don, has been fas­ci­nat­ed by their un­usu­al abil­i­ty to pen­e­trate in­to tis­sue, mak­ing them po­ten­tial ther­a­peu­tic can­di­dates.
And now, with the ex­plo­sion of im­muno-on­col­o­gy re­search work, some mar­quee re­search play­ers have set out to take Hay­day's work — along with con­tri­bu­tions by Oliv­er Nuss­baumer — in­to the clin­ic, seed­ing a start­up which will now nav­i­gate its way through about 18 months of pre­clin­i­cal work iden­ti­fy­ing a lead pro­gram that can be tak­en in­to a hu­man study.
The start­up, ap­pro­pri­ate­ly dubbed Gam­maDelta Ther­a­peu­tics, is be­ing helmed by Raj Mehta from Can­cer Re­search Tech­nol­o­gy, who's tak­ing a break from his busi­ness de­vel­op­ment role to act as the in­ter­im CEO of a small band of staffers, in league with Hay­day's big lab, to start piec­ing to­geth­er all the ear­ly-stage work need­ed to get their work to the thresh­old of Phase I. CRT, along with King's Col­lege and The Crick, are pro­vid­ing as­sis­tance. Tim Haines, the man­ag­ing part­ner at Abing­worth's Lon­don of­fice, is con­tribut­ing seed cash and in­cu­bat­ing the com­pa­ny.
What's the big idea? It's very sim­ple.
Gam­ma delta T cells "have the po­ten­tial to in­vade tis­sue and be bet­ter at in­vad­ing tu­mors," Mehta tells me. And that makes it a po­ten­tial ground­break­er in all the im­muno-on­col­o­gy work now go­ing on glob­al­ly.
Where the check­point ther­a­pies like Keytru­da and Op­di­vo re­quire an en­vi­ron­ment with a heavy mu­ta­tion load to be ef­fec­tive, gam­ma delta cells – at least in the pre­clin­i­cal work — don't. And where CAR-Ts — T cells which have been reengi­neered with chimeric anti­gen re­cep­tors — have proved promis­ing ini­tial­ly in blood can­cers, it's been a chal­lenge get­ting them in­to tu­mors. (And, yes, there's a lot of work be­ing done to fix that.)
Gam­ma delta cells, though, have the es­sen­tial prop­er­ties to get in­side tu­mors to do their work. Al­so, these cells ev­i­dent­ly aren't heav­i­ly in­flu­enced by reg­u­la­to­ry T cells, mak­ing them good can­di­dates for sol­id tu­mors with high con­cen­tra­tions of Tregs.
One of the biggest chal­lenges faced by the fledg­ling biotech, says Mehta, will be fig­ur­ing out the CMC side of things. These ther­a­pies won't be very valu­able if they aren't po­tent, durable and fair­ly straight­for­ward to make. But the team al­so has a big ad­van­tage: Lon­don has emerged as a glob­al hub for cell man­u­fac­tur­ing, mak­ing their job some­what eas­i­er on that score.
The em­pha­sis here is on the col­lab­o­ra­tion among the re­search in­sti­tutes, with the ven­ture back­ing from Haines' ven­ture group. They're not say­ing how much it is cost­ing at this point, but chances are it's not the kind of fig­ure that would leap out at you with all the big num­bers be­ing thrown around biotech these days.
Mehta is fa­mil­iar with at least two oth­er Eu­ro­pean com­pa­nies that have been op­er­at­ing in this field. Lym­phact in Por­tu­gal is one. And there's al­so Gade­ta, a Dutch biotech which just raised 7 mil­lion eu­ros in a round led by Medicxi Ven­tures. Gade­ta has been us­ing gam­ma delta T cell re­cep­tors to reengi­neer the more com­mon type of T cells.
Gam­maDelta has a dis­tance to trav­el be­fore it gets close to putting any­thing in­to Phase III. But in the in­tense I/O field right now, it will like­ly start at­tract­ing im­me­di­ate at­ten­tion from some key play­ers.