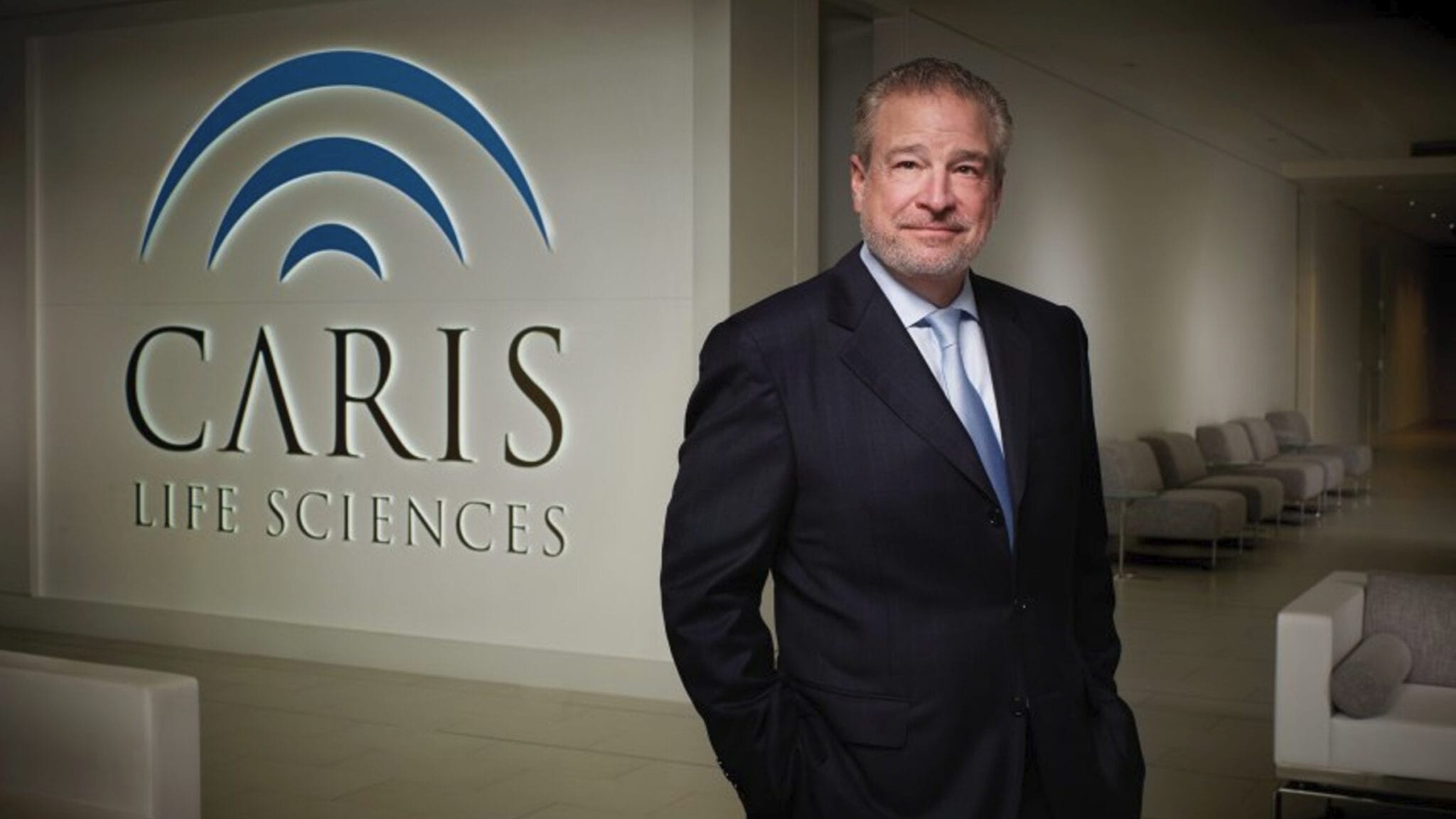 David Halbert, Caris Life Sciences CEO (Caris via Twitter)
The grow­ing liq­uid biop­sy field sees a uni­corn en­trant as Caris pulls in $830M megaround
Caris Life Sci­ences has pulled in an­oth­er mas­sive raise, and this time they're re­port­ed­ly one step clos­er to launch­ing their IPO.
The AI-fo­cused Caris pulled in an $830 mil­lion growth eq­ui­ty round, the com­pa­ny an­nounced Tues­day af­ter­noon, earn­ing a val­u­a­tion of about $7.83 bil­lion. Tues­day's raise al­so brings their to­tal fi­nanc­ing amount to $1.3 bil­lion since 2018 and $1.14 bil­lion since last Oc­to­ber. Ac­cord­ing to the Wall Street Jour­nal, which first re­port­ed on the raise, Caris ex­pects to com­plete their IPO some­time with­in the next 12 months.
Caris' strat­e­gy uti­lizes ar­ti­fi­cial in­tel­li­gence to map a can­cer pa­tient's ge­net­ic make­up and de­ter­mine which kinds of treat­ments would be best suit­ed for an op­ti­mal out­come. The com­pa­ny says their plat­form al­lows doc­tors to as­sess all 22,000 genes in both DNA and RNA to do so, uti­liz­ing whole ex­ome se­quenc­ing, whole tran­scrip­tome se­quenc­ing and pro­tein analy­sis in ad­di­tion to its AI mod­els.
Funds from Tues­day's raise will al­low Caris to push their ef­forts in­to liq­uid biop­sies, in ad­di­tion to the sol­id tu­mor biop­sy ser­vices they cur­rent­ly pro­vide. One of these new pro­grams comes in the form of a blood-based pan-can­cer test, which Caris hopes can be used to de­tect can­cers in their ear­li­er stages.
"This re­cent raise will help us bring our mar­ket-lead­ing sci­ence and tech­nolo­gies to as many pa­tients as pos­si­ble, ul­ti­mate­ly rein­vent­ing can­cer care," CEO David Hal­bert said in a state­ment. "We plan to un­lock the full po­ten­tial of pre­ci­sion med­i­cine through com­pre­hen­sive in­ter­ro­ga­tion of can­cer at the mol­e­c­u­lar lev­el."
Pre­ci­sion med­i­cine — and all the tools that make it pos­si­ble — is a high-fly­ing area of the bio­phar­ma in­dus­try, ev­i­denced by Caris' own fi­nanc­ing and uni­corn val­u­a­tion. One of its main com­peti­tors in ge­nom­ic pro­fil­ing is Foun­da­tion Med­i­cine, which was ac­quired by Roche for $2.4 bil­lion back in 2018. The buy­out had fol­lowed a sim­i­lar $1.9 bil­lion deal where Roche pur­chased Flat­iron Health and their health records sys­tem.
Mean­while, Caris' move in­to the liq­uid biop­sy are­na will see it join a rel­a­tive­ly new but crowd­ed field, pit­ting it against well-known play­ers like Guardant Health and Third Rock-backed Thrive Ear­li­er De­tec­tion. There's al­so the Il­lu­mi­na spin-out Grail, which notched its own hefty raise in May 2020 with $390 mil­lion in new fi­nanc­ing and sub­se­quent­ly planned an IPO.
Be­fore it could go pub­lic, how­ev­er, Il­lu­mi­na an­nounced it would be re-ac­quir­ing Grail last Sep­tem­ber for $8 bil­lion. That merg­er was put on hold ear­li­er this year af­ter the FTC moved to block the deal from go­ing through.