The Park­er In­sti­tute aims to speed up can­cer R&D, carv­ing out du­pli­cate IRBs at top cen­ters
The Park­er In­sti­tute for Can­cer Im­munother­a­py has brought its 6 top cen­ters to­geth­er to sup­port a sim­ple ini­tia­tive de­signed to shave months off the clin­i­cal tri­al process. In­stead of each field­ing their own IRB — in­sti­tu­tion­al re­view board — they've agreed to des­ig­nate one that will work for the en­tire net­work for mul­ti-cen­ter stud­ies.
IRBs are tasked with keep­ing a sharp eye on tri­als to pre­serve pa­tient safe­ty, over­see over­all con­duct and main­tain da­ta in­tegri­ty. But they can al­so slow down the work, par­tic­u­lar­ly when each of these groups field their own re­view boards for each study. A col­lec­tive agree­ment to des­ig­nate one IRB as the re­view board of record could save a con­sid­er­able amount of time, these sci­en­tists agreed.
The big 6 have played a big role in can­cer re­search, and they can be ex­tra­or­di­nar­i­ly in­flu­en­tial in aca­d­e­m­ic cir­cles. They are: Memo­r­i­al Sloan Ket­ter­ing Can­cer Cen­ter, Stan­ford Med­i­cine, the Uni­ver­si­ty of Cal­i­for­nia, Los An­ge­les, the Uni­ver­si­ty of Cal­i­for­nia, San Fran­cis­co, the Uni­ver­si­ty of Penn­syl­va­nia and The Uni­ver­si­ty of Texas MD An­der­son Can­cer Cen­ter.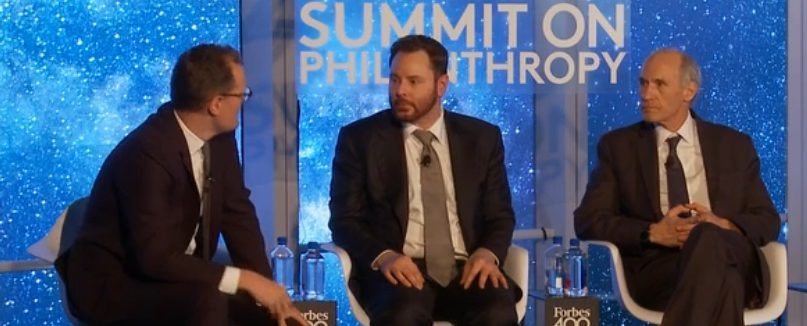 Forbes' Matt Her­p­er with Sean Park­er and Dr. Carl June
The Park­er In­sti­tute, bankrolled by on­line tech mogul Sean Park­er, flagged the ef­fort as the first of many aimed at sim­pli­fy­ing re­search work, with an eye to elim­i­nat­ing bar­ri­ers to progress. Their sci­en­tists in­clude UCSF's Jef­frey Blue­stone, Jim Al­li­son at MD An­der­son and An­toni Ribas at UCLA.
"This type of col­lab­o­ra­tive part­ner­ship is an im­por­tant first step that we are tak­ing to ac­cel­er­ate im­munother­a­py re­search," said Ramy Ibrahim, M.D., vice pres­i­dent of clin­i­cal de­vel­op­ment at the Park­er In­sti­tute for Can­cer Im­munother­a­py. "By min­i­miz­ing ob­sta­cles that sci­en­tists rou­tine­ly face in clin­i­cal tri­als, we save time. And every day we save ini­ti­at­ing a clin­i­cal tri­al brings us a day clos­er to de­liv­er­ing promis­ing treat­ments to can­cer pa­tients."
Of all the Phar­ma folks I have heard talk about this re­cent­ly, @spark­er is the most co­her­ent and for­ward-think­ing… https://t.co/GjU90LwunO

— IDEA Phar­ma (@ideaphar­ma) No­vem­ber 15, 2016