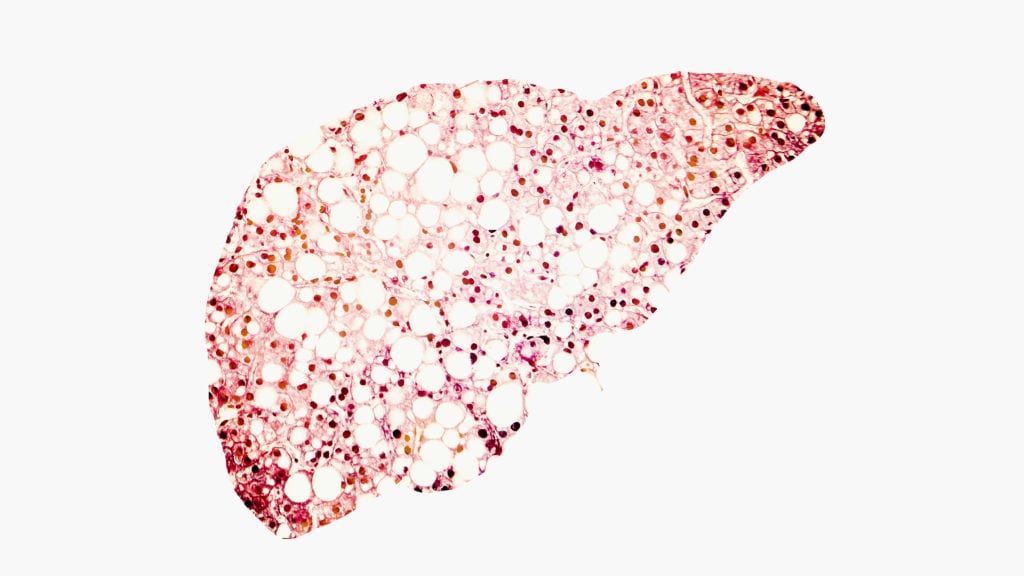 Fatty liver conceptual image, 3D illustration showing fatty liver silhouette made from micrograph of liver steatosis (Shutterstock)
The path to NASH: un­der­stand­ing the role of se­vere obe­si­ty in a com­plex, mul­ti-sys­tem dis­ease
Biotech Voices is a collection of exclusive opinion editorials from some of the leading voices in biopharma on the biggest industry questions today. Think you have a voice that should be heard? Reach out to Amber Tong.
We of­ten think a per­son's tran­si­tion from a healthy to a dis­eased state is bi­na­ry. But that's of­ten not the case. In re­al­i­ty, the on­set of a dis­ease is not some­thing that oc­curs overnight, and the ma­jor­i­ty lie on a con­tin­u­um that is im­pact­ed by a mul­ti­tude of fac­tors. Some of these fac­tors are in a pa­tient's con­trol. Oth­ers are not.
This is the case in non­al­co­holic fat­ty liv­er dis­ease (NAFLD) and non­al­co­holic steato­hep­ati­tis (NASH), two of the most com­plex dis­eases that "live" on this prover­bial con­tin­u­um. The clin­i­cal on­set of NAFLD — and ul­ti­mate­ly NASH — is a com­plex process that is close­ly re­lat­ed to obe­si­ty, in­sulin re­sis­tance and im­paired adi­pose tis­sue me­tab­o­lism.
Unlock this article instantly by becoming a free subscriber.
You'll get access to free articles each month, plus you can customize what newsletters get delivered to your inbox each week, including breaking news.