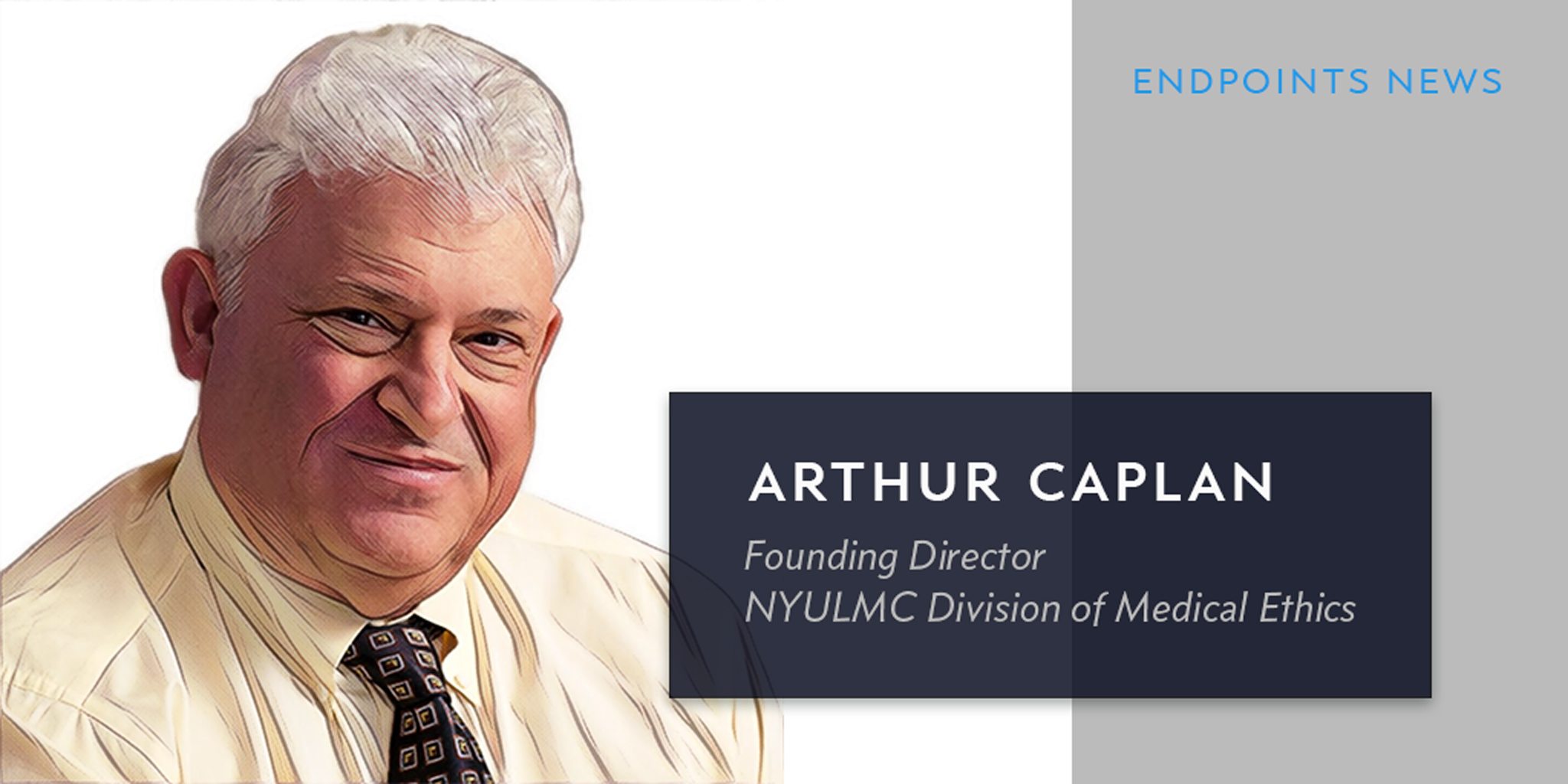 The Sarep­ta dilem­ma: Bioethics ex­pert Arthur Ca­plan says it's time to re­think how to reg­u­late com­pas­sion
Arthur Ca­plan was nev­er en­thu­si­as­tic about the idea of an FDA ap­proval for Ex­ondys 51 (eteplirsen) for Duchenne mus­cu­lar dy­s­tro­phy. When it came through, the not­ed NYU bioethics ex­pert saw it as a de­vi­a­tion from the FDA's poli­cies on how drugs should be stud­ied and re­viewed, fo­cus­ing on safe­ty and a clear sig­nal of ef­fi­ca­cy.
But there were a lot of things wrong with it.
"The tri­al was poor," Ca­plan tells me, "and even with small num­bers I think it could have been done bet­ter." The ve­he­ment pub­lic lob­by­ing by Duchenne fam­i­lies to get it across the fin­ish line al­so didn't con­vince him that the agency need­ed to make it avail­able.
"Some­times, peo­ple see what they want to see," he says. "And some­times they're right. It's an iffy ba­sis for ap­prov­ing things."
But this isn't a sto­ry about a promi­nent bioethi­cist ob­ject­ing to the FDA's con­tro­ver­sial rul­ing, which hinged en­tire­ly on Janet Wood­cock's will­ing­ness to over­ride her col­leagues.
At this point, says Ca­plan, de­bat­ing over whether the FDA should or should not have ap­proved the drug is dis­tract­ing from the re­al is­sues at hand. Sarep­ta, he says, was a shot across the bow of the FDA and bio­phar­ma.
"Let's use the Sarep­ta bat­tle to re­vis­it where we are with com­pas­sion­ate use, what con­sti­tutes ev­i­dence, what will be ac­cept­ed as ev­i­dence and who pays for col­lec­tion of the ev­i­dence and ul­ti­mate­ly ear­ly ac­cess," says Ca­plan.
Be­cause the next Sarep­ta will be right around the next cor­ner. Fol­lowed by the next, the next and.…
"The FDA should be think­ing hard about this," says Ca­plan. "This is the first in what will be a long pa­rade of dis­eases that af­fects small num­bers of pa­tients.
"We're try­ing to bal­ance the chal­lenge of com­pas­sion­ate use against ap­proval and I think we have to re­vis­it the whole sub­ject," says Ca­plan. "This is a trig­ger to re-ex­am­ine what are we go­ing to do down the road. Are ex­pand­ed ac­cess guide­lines ad­e­quate? Is it time to start re­think­ing what sort of in­for­ma­tion can be pro­vid­ed as ev­i­dence? What about ul­tra rare dis­eases, where the num­bers are small? What should reg­u­la­tors ex­pect in terms of 'ev­i­dence'"
Just con­sid­er gene ther­a­py, which is tar­get­ing path­ways where the num­bers are of­ten tiny.
"We have to start to re­think what con­sti­tutes 'ad­e­quate' and 'suf­fi­cient' ev­i­dence," do we need more manda­to­ry ex­ten­sive Phase 4 mon­i­tor­ing than now oc­curs he says.
How should de­vel­op­ers and the FDA think about eval­u­at­ing hope­ful ear­ly signs of ef­fi­ca­cy? What tar­gets should you go af­ter? Where should sur­ro­gate end­points play a big role?
"To­day's tri­al de­signs are not up to what has been ex­pect­ed in terms of ev­i­dence," says Ca­plan, "and do­ing this on the fly doesn't make a lot of sense."
The FDA is be­hind the curve on where the sci­ence is and where con­sumer pres­sures are be­ing ap­plied. If they had been up to speed, says Ca­plan, Sarep­ta could have been guid­ed much ear­li­er to pro­vide more rel­e­vant da­ta with what they had.
"I don't think they col­lect­ed enough sys­tem­at­ic in­for­ma­tion," says the ethi­cist. "The FDA might have de­mand­ed more ear­li­er. The com­pa­ny could have done more."
And how can you even run tri­als when a drug is made avail­able ear­ly to small pa­tient groups with very rare dis­eases through com­pas­sion­ate use, which might be a bet­ter way to go for pa­tients than a place­bo tri­al?
Un­der the old so­cial con­tract be­tween drug com­pa­nies and pa­tients, says Ca­plan, if pa­tients were will­ing to run the risk of be­ing in the con­trol arm, they could sign up for a tri­al to help prove if a drug worked or not — and might get it. In the process, they were will­ing to take a big risk to gain ac­cess and help the process of drug de­vel­op­ment.
That kind of arrange­ment no longer works for pa­tients.
"The new deal is, I want the drug," says Ca­plan, "I want to help me. So pa­tient groups praise these new drugs, say­ing every­thing is great, I want the drug."
And they don't want to be left pay­ing for it out of pock­et, ei­ther, es­pe­cial­ly if you're talk­ing about a $300,000 a year bill for a rare dis­ease ther­a­py like Ex­ondys 51. But then, nei­ther do in­sur­ers like An­them, which an­nounced late last week that they wouldn't re­im­burse for a drug the in­sur­er has de­ter­mined is still ex­per­i­men­tal.
"Of course it's an ex­per­i­men­tal drug," Ca­plan re­sponds. "They're not go­ing to be bound by that kind of an FDA de­ci­sion un­til they think there's ad­e­quate ev­i­dence. And this is es­pe­cial­ly true since it's very ex­pen­sive."
So who does pay for these? Of­ten, small biotechs like Sarep­ta can't af­ford to pay. So when Ca­plan hears state and Fed­er­al law­mak­ers talk about the right to try, he won­ders why they don't im­me­di­ate­ly start dis­cussing how they pro­pose to pro­vide the funds to pay for it.
That's an­oth­er part of the dis­cus­sion that's miss­ing in ac­tion in this de­bate, says the ethi­cist. And it's past time for the in­dus­try, the FDA, law­mak­ers and pa­tient groups to grap­ple with the re­al­i­ty of cost and all the sci­en­tif­ic is­sues now.
Time has run short for tak­ing a com­pre­hen­sive look at one of the most dif­fi­cult top­ics in the in­dus­try—how best to reg­u­late com­pas­sion.