The Scan­gos lega­cy: A block­buster MS record with lin­ger­ing doubts about the pipeline
Six years ago, George Scan­gos was re­cruit­ed to head a turn­around team at what was billed as a trou­bled Bio­gen. And it wasn't long be­fore a big ap­proval for a new mul­ti­ple scle­ro­sis block­buster trig­gered a round of ap­plause—and a bull­ish surge in the com­pa­ny's stock price—that last­ed for years.
To­day, Scan­gos says his time is up at Bio­gen, well af­ter the ap­plause pe­tered out last year and the mar­ket be­gan to grow rest­less over the CEO's less suc­cess­ful sec­ond act in a bear­ish mar­ket. In the next few months, he'll step aside, once his suc­ces­sor can be found to helm the in­flu­en­tial Big Biotech, an in­sti­tu­tion­al land­mark in­side the Boston/Cam­bridge hub.
In some ways, he's leav­ing Bio­gen $BI­IB in the same shape he found it, ei­ther the tar­get of a po­ten­tial buy­out or in need of a sub­stan­tial ac­qui­si­tion or some oth­er pipeline move that can re­gen­er­ate ex­cite­ment in the com­pa­ny's fu­ture. As Scan­gos isn't stick­ing around to ex­e­cute an an­tic­i­pat­ed deal, you can ex­pect to hear plen­ty of spec­u­la­tion that it's more like­ly that Bio­gen could be bought. This next CEO will step in dur­ing a tur­bu­lent, un­cer­tain phase in the com­pa­ny's long his­to­ry.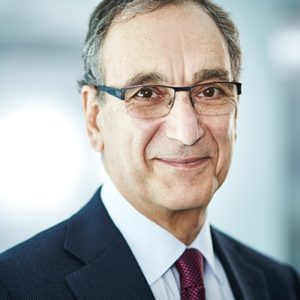 CEO George Scan­gos
Dur­ing his tenure, Scan­gos made Tec­fidera the new top earn­ing drug at Bio­gen, build­ing up the com­pa­ny's MS port­fo­lio and wield­ing huge in­flu­ence over that sec­tor of the mar­ket. Bio­gen was fre­quent­ly cit­ed along­side Cel­gene and Gilead as an ex­am­ple of the new breed of Big Biotech, ca­pa­ble of de­vel­op­ing im­por­tant new drugs while rack­ing up ma­jor sales growth. But the com­pa­ny's re­lent­less in­sis­tence on suc­cess ran in­to some grum­bling last year, when erod­ing growth in the big MS fran­chise forced the man­age­ment team to lay off more than 800 staffers in a big re­or­ga­ni­za­tion.
Scan­gos leaves be­hind a pipeline that has huge po­ten­tial, but plen­ty of lin­ger­ing doubts. In a swing-for-the-fences strat­e­gy, Bio­gen tack­led Alzheimer's, per­haps the sin­gle biggest frus­tra­tion in R&D, with a new drug called ad­u­canum­ab. That drug is now in a late-stage study af­ter scor­ing some mixed ear­ly re­sults. (In Alzheimer's R&D, which has known lit­tle but de­feat over the past decade, mixed ear­ly re­sults for a drug that tar­gets amy­loid be­ta is con­sid­ered quite an achieve­ment.)
Bio­gen's hopes for stir­ring some ex­cite­ment for the pipeline, though, hit a bit­ter set­back just a few weeks ago. A Phase II study of its MS drug opicinum­ab (an­ti-LIN­GO-1) failed a Phase II study and left an­a­lysts unim­pressed at Bio­gen's seem­ing­ly far-off set of pipeline cat­a­lysts. Once again, its shares were bad­ly dam­aged.
Scan­gos is leav­ing short­ly af­ter key mem­bers of his turn­around team moved on to new projects in biotech. R&D chief Doug Williams left to start Co­di­ak last year. Steve Holtz­man, head of cor­po­rate de­vel­op­ment, jumped ship at about the same time and is now run­ning Third Rock's start­up Deci­bel.
Scan­gos him­self re­mains an out­sized fig­ure in biotech. He has a long re­sume in drug de­vel­op­ment and will like­ly re­main an in­flu­en­tial—though low­er pro­file—play­er long af­ter his suc­ces­sor has been named. In biotech, re­tire­ment is usu­al­ly the step you take be­fore start­ing your third act.
He hint­ed at that third act in a state­ment:
"This is the right time for a new leader to take the reins and lead Bio­gen through its next stage of de­vel­op­ment, and I look for­ward to re­turn­ing to the West Coast to take on one more set of ac­tiv­i­ties and spend more time with my fam­i­ly."