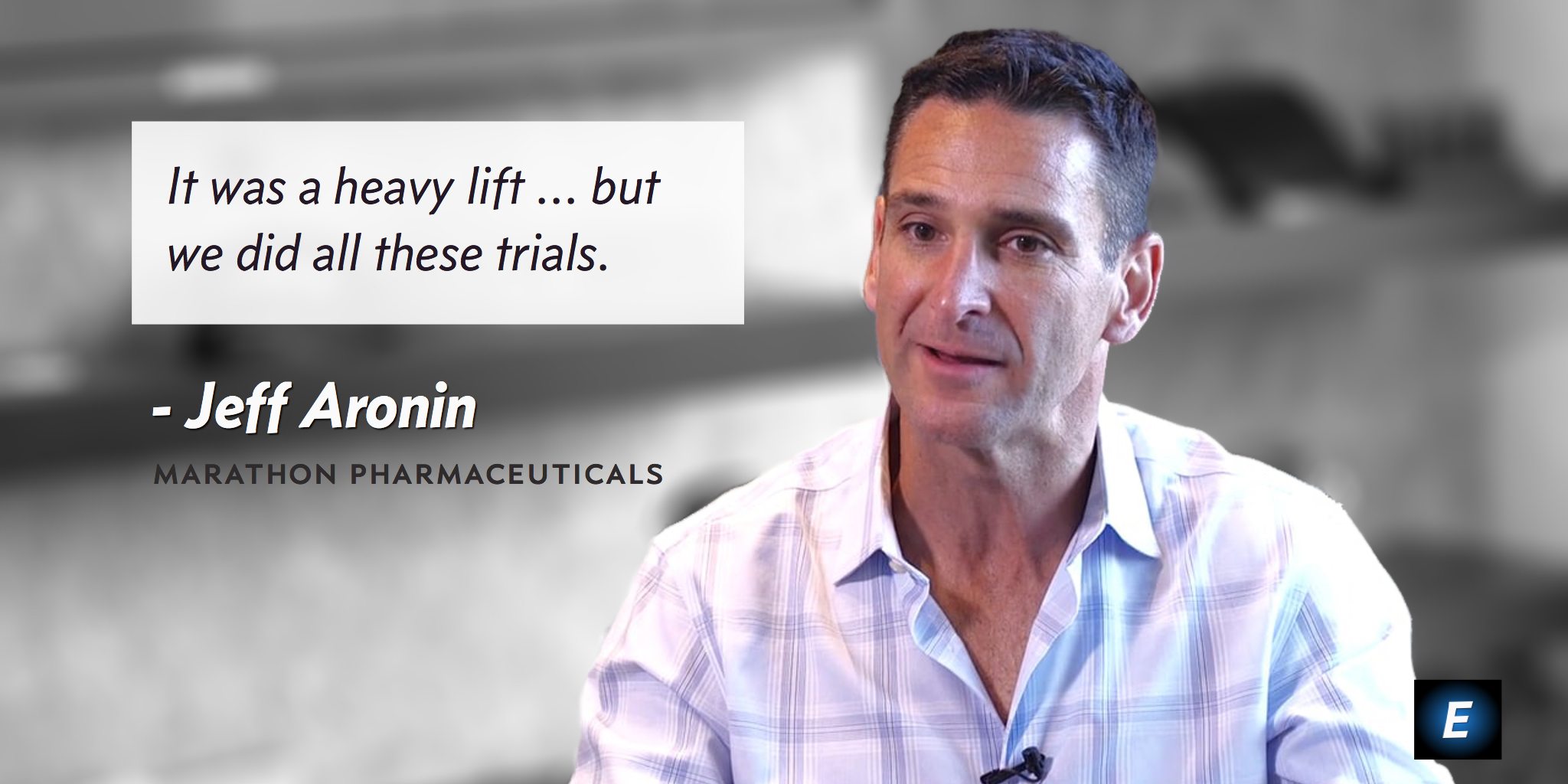 The scoop: Marathon's R&D pro­gram for Duchenne MD drug like­ly came in at a bar­gain base­ment price
On Fri­day, as news spread about the FDA's ap­proval of Marathon Phar­ma­ceu­ti­cals' ap­pli­ca­tion for Em­flaza (de­flaza­cort) as an or­phan drug for Duchenne mus­cu­lar dy­s­tro­phy, CEO Jeff Aronin went on the of­fen­sive over his plans to sell the drug at an $89,000 list price, which im­me­di­ate­ly drew scruti­ny from some long­time ob­servers of the in­dus­try.
Aronin pulled what has be­come a stan­dard play out of the guide book for phar­ma com­pa­nies fac­ing price goug­ing charges. He told re­porters at sev­er­al pub­li­ca­tions, in­clud­ing the Chica­go Tri­bune and the Wall Street Jour­nal, that it would take years for Marathon to be­come prof­itable, con­sid­er­ing all the R&D costs that had been sunk in­to de­flaza­cort. And — like Tur­ing founder Mar­tin Shkre­li, caught on the horns of a con­tro­ver­sy over Dara­prim pric­ing — he vowed that pa­tients would be pro­tect­ed, with pay­ers cov­er­ing the cost.
"We had to start from scratch with the FDA," Aronin in­sist­ed on a we­bi­nar with par­ents on Fri­day, as he as­sured fam­i­lies that their out-of-pock­et costs would be "ze­ro to low cost" while in­sist­ing that the net price to in­sur­ers was based en­tire­ly on the ex­ten­sive re­search the com­pa­ny com­plet­ed.
"It was a heavy lift," he told par­ents, "but we did all these tri­als."
Many of those tri­als he cit­ed, though, prob­a­bly on­ly cost a few hun­dred thou­sand dol­lars. That was one piece of the puz­zle, though, that was omit­ted from Marathon's de­fense. And you won't hear a word about it from the FDA, which ac­tive­ly as­sist­ed at every step, hand­ing out valu­able help by step­ping up an ap­proval for a drug that has been wide­ly avail­able at a tiny frac­tion of the cost through over­seas sup­pli­ers and then capped it with a bonus that could eas­i­ly turn an overnight prof­it for Marathon.
Just like Shkre­li?

One dif­fer­ence that's been point­ed out be­tween Aronin and Shkre­li — who re­cent­ly point­ed out that Aronin and Ova­tion, which he sold to Lund­beck for $900 mil­lion, "in­vent­ed price in­creas­es" — was that Shkre­li sim­ply hiked the price of an old drug he ac­quired for $55 mil­lion and protest­ed that he need­ed the mon­ey from the Dara­prim price hike to do more re­search in­to a bet­ter drug, while Aronin in­vest­ed in a de­vel­op­ment pro­gram for a cheap, gener­ic drug that's been used around the world for decades to qual­i­fy for an FDA ap­proval in the US for the first time.
The com­pa­ny, Aronin main­tained, con­duct­ed 17 pre­clin­i­cal and clin­i­cal stud­ies to get this drug, plus in-li­cens­ing two old­er stud­ies. The piv­otal tri­al was com­plet­ed orig­i­nal­ly in 1995, be­fore the spon­sor aban­doned it. But the CEO re­fused to de­tail the ac­tu­al hard re­search costs. (Aronin and Marathon have al­so re­fused to re­spond to sev­er­al re­quests for an in­ter­view.)
On Fri­day, though, Marathon went one step fur­ther with the Duchenne par­ents that they've been court­ing as Aronin prepped for a mar­ket launch of a drug now OK'd for DMD kids 5 and old­er. In a we­bi­nar, he post­ed a slide of the tri­al pro­gram for de­flaza­cort de­tail­ing the pre­clin­i­cal and clin­i­cal ef­fort.
The we­bi­nar was host­ed by Par­ent Pro­ject Mus­cu­lar Dy­s­tro­phy, one of sev­er­al par­ent groups that counts Marathon as a cor­po­rate spon­sor, which al­so post­ed a link to the event.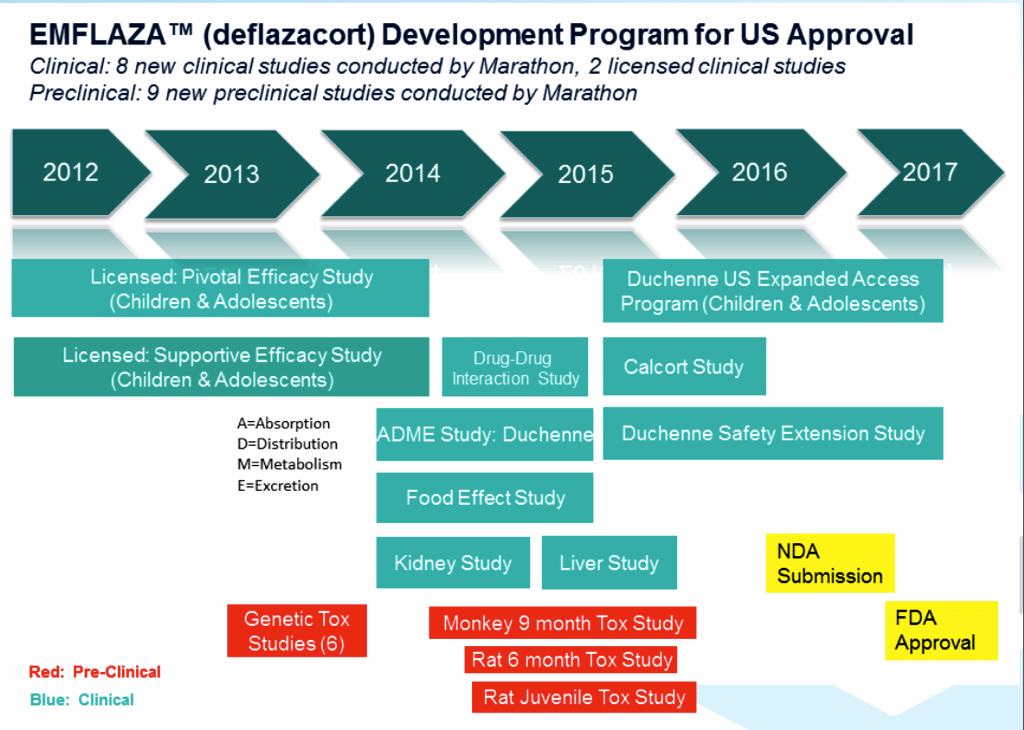 Marathon Slide
The slide cites the two old ef­fi­ca­cy stud­ies they ac­quired along with de­tails on 9 pre­clin­i­cal stud­ies, in­clud­ing a mon­key tri­al and two rat stud­ies.
Marathon's clin­i­cal pro­gram in­volved no new reg­is­tra­tional stud­ies, the pri­ma­ry dri­ver be­hind R&D costs.
There were projects like a drug/drug in­ter­ac­tion study and an ADME study (a stan­dard ab­sorp­tion, dis­tri­b­u­tion, me­tab­o­lism and ex­cre­tion study) and so on. They al­so start­ed an ex­tend­ed ac­cess pro­gram as they put more boys on the steroid ahead of the US mar­ket­ing launch.
Man­u­fac­tur­ing costs for this drug are clear­ly just a frac­tion of what Marathon will be charg­ing, based on the cur­rent price in the UK and Cana­da.
I hand­ed the slide on to two tri­al ex­perts, Bernard Munos, an Eli Lil­ly vet­er­an now run­ning In­no­Think, and David Grainger, who's found­ed a slate of biotechs from his base at Medicxi in Lon­don. They both ran cost es­ti­mates on what it would take to do this kind of pro­gram.
What did it re­al­ly cost?
Munos and Grainger each came up with a fi­nal fig­ure not far off from what Shkre­li paid to lay his hands on Dara­prim. But they have two dis­tinct­ly dif­fer­ent views of the re­search costs.
Munos turned to G. Sit­ta Sit­tam­palam, an­oth­er de­vel­op­ment vet at Lil­ly who has been close­ly in­volved with the Ther­a­peu­tics for Rare and Ne­glect­ed Dis­eases pro­gram at NIH's Na­tion­al Cen­ter for Ad­vanc­ing Trans­la­tion­al Sci­ences and with drug re­pur­pos­ing for leukemia at Kansas Uni­ver­si­ty Med­ical Cen­ter.
"From his ex­pe­ri­ence," notes Munos, "the pre­clin­i­cal work for Em­flaza (the 9 tox stud­ies in red on their slide) can be es­ti­mat­ed at $5-10 mil­lion, and the clin­i­cal de­vel­op­ment pro­gram at $50-60 mil­lion."
"The stud­ies from the 1990s that Marathon ac­quired were like­ly cheap (<$5 mil­lion) since they were old da­ta that had ba­si­cal­ly no val­ue when they were ac­quired; and from Marathon CEO's ad­mis­sion need­ed a fair amount of "cleanup" to be us­able. That puts the en­tire pack­age at $65-75 mil­lion."
Grainger, who spe­cial­izes in low-cost biotech star­tups, looked up the stud­ies he could find on­line, ran the num­bers for the whole thing, and con­clud­ed that this could all be done for much, much less. But his po­ten­tial ini­tial val­u­a­tion for the com­pa­ny al­so reach­es fair­ly close to the $55 mil­lion that Shkre­li paid for Dara­prim be­fore trig­ger­ing his own well-doc­u­ment­ed scheme to rip off the sys­tem.
The whole pre­clin­i­cal ef­fort at Marathon, Grainger says, could be done for less than $2 mil­lion, in­clud­ing $600,000 for a 9-month mon­key study of tox­i­c­i­ty. The clin­i­cal pro­gram is hard­er to map out en­tire­ly, but if you in­clude a max­i­mum amount of $400,000 for a US ADME study, $400,00 for a food ef­fect study and $720,000 for the ex­ten­sion study, it's not hard to see that Marathon was look­ing at a small over­all bud­get. He added, though, that it was hard to fig­ure what the com­par­i­son study on Cal­cort — the drug sold in the UK — would cost, as it's not list­ed on clin­i­cal­tri­als.gov.
Then there was over­head. Medicxi likes to run vir­tu­al com­pa­nies, and he es­ti­mates that if this was their op­er­a­tion, they would re­serve $2 mil­lion for over­head, plus $500,000 for ex­ter­nal reg­u­la­to­ry as­sis­tance. "They very prob­a­bly had a larg­er team than we would have had, though," he adds.
"So that comes to just over $6 mil­lion in to­tal," he notes in a break­down, "which feels about right to me. If some­one came to Medicxi propos­ing to de­liv­er that op­er­at­ing plan, and want­ed to raise $10 mil­lion to do it, we would think that was a gen­er­ous, but prob­a­bly not out­ra­geous, amount of mon­ey. If any­one told me it would cost them much more than $10 mil­lion, then I'd laugh and say you must be do­ing it wrong!"
"Re­gard­ing your last ques­tion, I can't of course es­ti­mate what the li­cense to the ef­fi­ca­cy da­ta might have cost. That is, as you say, a wild-card. But if Marathon had come to Medicxi with this pro­pos­al and sug­gest­ed a pre-mon­ey val­u­a­tion of more than $25 mil­lion we would prob­a­bly have walked away. Oth­ers might be more gen­er­ous, but I find it hard to be­lieve it was more than $50 mil­lion."
The 1% so­lu­tion
To put those es­ti­mates in­to some added con­text, the phar­ma in­dus­try likes to use fig­ures that show the av­er­age cost of new drug de­vel­op­ment is $2.6 bil­lion per ap­proved ther­a­py, all in. Marathon's cost for R&D — or its ini­tial val­u­a­tion — would have been sig­nif­i­cant­ly less than 1% to 3% of that fig­ure, based on the es­ti­mates I ob­tained.
Marathon claims that its $89,000 list price will net out at around $54,000 a year af­ter dis­counts. Based on their low­er net es­ti­mat­ed price, the R&D bud­get — based on the Munos es­ti­mate — would be the same as the cost for treat­ing few­er than 1,400 pa­tients over the course of 1 year, or rough­ly 8% of the mar­ket. If you use Grainger's num­bers, it would take few­er than 200 pa­tients to cov­er a bare­bones R&D ef­fort at the claimed net price.
At the list price, it would take a max­i­mum of cov­er­ing 115 pa­tients for a year to cov­er Grainger's R&D es­ti­mate, and that's with­out sell­ing the pri­or­i­ty re­view vouch­er they ob­tained from the FDA with the ap­proval — which could eas­i­ly be worth far more than the en­tire re­search/over­head bud­get for Marathon.
Quite a few Duchenne MD par­ents have been turn­ing to Mas­ters Glob­al in the UK for years to buy this drug — an old gener­ic steroid stan­dard avail­able for decades in Cana­da, the UK, etc — for around $1,200 a year. But once the FDA ap­proved it, that and oth­er life­lines got cut off. Now, to ob­tain this steroid, they'll have to use Marathon's sup­ply or find a way to cir­cum­vent the law.
Marathon's price sound­ed like prof­i­teer­ing to peo­ple look­ing at a min­i­mum overnight price hike of about 6000%, a close match to Tur­ing's 5000% price hike for Dara­prim, which land­ed Shkre­li in a Con­gres­sion­al spot­light. The com­pa­ny's whole­sale price is al­so un­com­fort­ably close to the con­tro­ver­sial 6-fig­ure prices charged for many new can­cer drugs that spent years in the clin­ic, with the da­ta pub­lished in peer-re­viewed pub­li­ca­tions.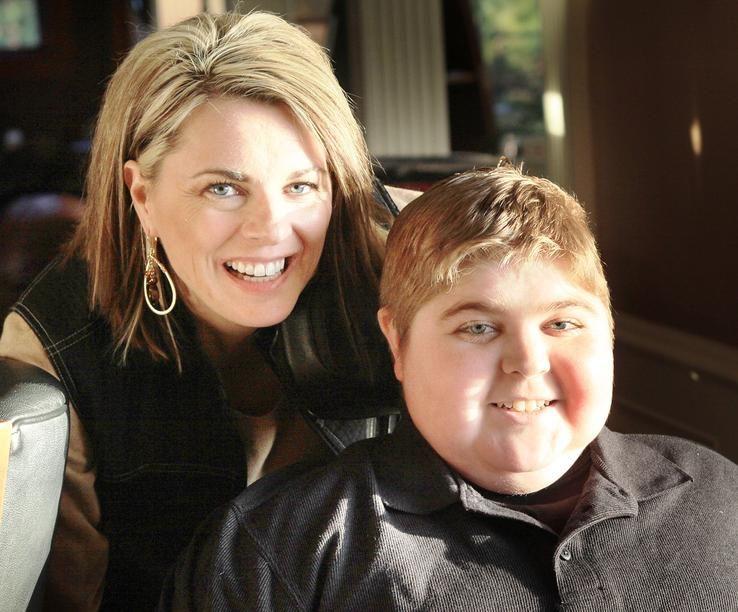 Chris­tine Mc­Sh­er­ry
"They main­tain that the drug is go­ing to be free (to fam­i­lies), with no out-of-pock­et costs," says Chris­tine Mc­Sh­er­ry, an out­spo­ken cham­pi­on for Sarep­ta's Ex­ondys 51 who runs The Jett Foun­da­tion. "But it af­fects all of us, all of us. It im­pacts our pre­mi­ums" and may well fac­tor in­to life­time caps on in­sur­ance cov­er­age for a host of Duchenne fam­i­lies. Now Marathon is forc­ing them to add an $89,000 drug to a $300,000 a year drug, she adds, which "at the end of the day is a steroid."
By her own es­ti­mate, Marathon is rais­ing the cost of a drug that she had paid $2.04 a pill for to $148.33, a hike of more than 7000%.
"At $10,000, come on, you're still go­ing to make mon­ey," says Mc­Sh­er­ry. "It puts a bad taste in your mouth."
How big is this mar­ket?
Pa­tient ad­vo­ca­cy groups say that about 15,000 to 20,000 boys suf­fer from DMD in the US, a dis­ease that first crip­ples them and then slow­ly kills them. De­flaza­cort has be­come a stan­dard ther­a­py in this group be­cause it's well known to be ef­fec­tive in boost­ing strength, like most steroids, with less weight gain.
Ac­cord­ing to Aronin's pre­sen­ta­tion to Duchenne par­ents on Fri­day, de­flaza­cort cur­rent­ly is on­ly avail­able to less than 10% of the pa­tient pop­u­la­tion, with the rest cut off, un­able to ob­tain the drug or re­quired to use pred­nisone.
"Hope­ful­ly this is just a start," Aronin said on Fri­day. "Well over 90% of pa­tients did not have ac­cess to this drug."
Many physi­cians re­sist­ed pre­scrib­ing an un­ap­proved drug, as many moth­ers re­sist­ed a drug with­out FDA ap­proval, he claimed. "And even, un­for­tu­nate­ly cost" was a fac­tor. "Most pa­tients did not have ac­cess to this drug."
Ap­proval was the on­ly way to gain ac­cess to this drug, he in­sist­ed. Yes, he added, it took over 6 years, "was a bur­den…The rea­son we got this ap­proved was that so every­body would have ac­cess to this prod­uct." And now it will be avail­able for low or no cost, with a se­cure, FDA ap­proved safe source for the drug.
"We had to do a lot of of oth­er stud­ies " to sat­is­fy the FDA, Tim Cu­niff, Marathon's EVP of drug de­vel­op­ment told par­ents on Fri­day. The food ef­fect study showed no ef­fect of food on dosage. The Cal­cort stur­dy looked at switch­ing from the im­port­ed UK drug, and found sim­i­lar blood lev­els with their ver­sion of de­flaza­cort.
How about off-la­bel pa­tients un­der 5, who weren't ap­proved for the drug?
Cu­niff re­peat­ed­ly sug­gest­ed that the un­der-5 kids could get the drug cov­ered as well.
"We would ex­pect that an in­sur­er, es­pe­cial­ly for pa­tients al­ready on drug, would fill that pre­scrip­tion," he added, ex­plain­ing how the com­pa­ny planned to launch a tri­al for tod­dlers. "We'll han­dle that on a case-by-case ba­sis," he added, with flex­i­bil­i­ty on com­pas­sion­ate use for the drug.
The block­buster case for de­flaza­cort
But Mc­Sh­er­ry says that fig­ure on pa­tients who have ob­tained de­flaza­cort to date would ap­pear to be a gross un­der­es­ti­mate, based on her per­son­al ex­pe­ri­ence net­work­ing with the tight-knit Duchenne com­mu­ni­ty. None of the par­ents she talks with have had the is­sues Marathon cit­ed in ob­tain­ing the drug. Af­ter reg­u­lar­ly polling Duchenne par­ents about de­flaza­cort, Mc­Sh­er­ry ini­tial­ly es­ti­mat­ed that 40% to 50% of the DMD kids are al­ready on de­flaza­cort and will now be forced to switch to Marathon's sup­ply, then ad­just­ed that down to a con­ser­v­a­tive 25%.
But there's no guar­an­tee they can stay on de­flaza­cort now, she adds, par­tic­u­lar­ly if in­sur­ers re­quire them to use pred­nisone, a gener­ic steroid in the US that is sold for pen­nies a pill. And that rais­es big is­sues for pa­tients as well, as pred­nisone — which is not ap­proved for Duchenne MD – is clear­ly not the pre­ferred steroid for Duchenne.
If half of all US pa­tients are put on Marathon's steroid, that's at least $405 mil­lion gross a year — $33.7 mil­lion a month — based on their low­er $54,000 an­nu­al net price. The to­tal mar­ket could be worth up to a block­buster bil­lion dol­lars-plus a year in an­nu­al rev­enue.
Be­cause the FDA gave them or­phan sta­tus, Marathon has a 7-year ex­clu­siv­i­ty deal for de­flaza­cort. Based on the com­pa­ny's whole­sale price of $89,000, that mar­ket is the­o­ret­i­cal­ly worth up to $12.6 bil­lion in to­tal through the full stretch.
The pri­or­i­ty re­view vouch­er giv­en by the FDA with the ap­proval — in recog­ni­tion of its rare dis­ease sta­tus — would cov­er all of Marathon's R&D costs in­stant­ly, even if it doesn't come any­where near to fetch­ing the top $350 mil­lion price Ab­b­Vie paid for one of these vouch­ers in 2015.
De­flaza­cort won't bring in all the high-end mon­ey. But based on ex­pert es­ti­mates, they have the po­ten­tial to blow past their re­search in­vest­ment with just a few months worth of rev­enue when it's all up and run­ning.
That's some­thing, though, you'll nev­er hear from Marathon.