Donald Trump launched his presidency breathing fire on federal regulations. And the top officials at the FDA heard that call loud and clear.
A new report out from PricewaterhouseCoopers shows that the agency reined in its issuance of new federal regulations to a 20-year low in 2017, as the Scott Gottlieb stepped up to the helm as commissioner.
Instead, the agency has shifted to new guidances in preference to hardline regulations, says PwC. And that will likely come as a welcome emphasis in the biopharma industry, where we've seen the FDA repeatedly demonstrate its willingness to relax old standards to accelerate new drug development.
Over the 4-year run of the Obama administration, says the report, the agency issued 132 "economically significant" regulations for the industry as a whole — an average of 33 per year. Under Trump and Gottlieb, that dropped to a low of just 6.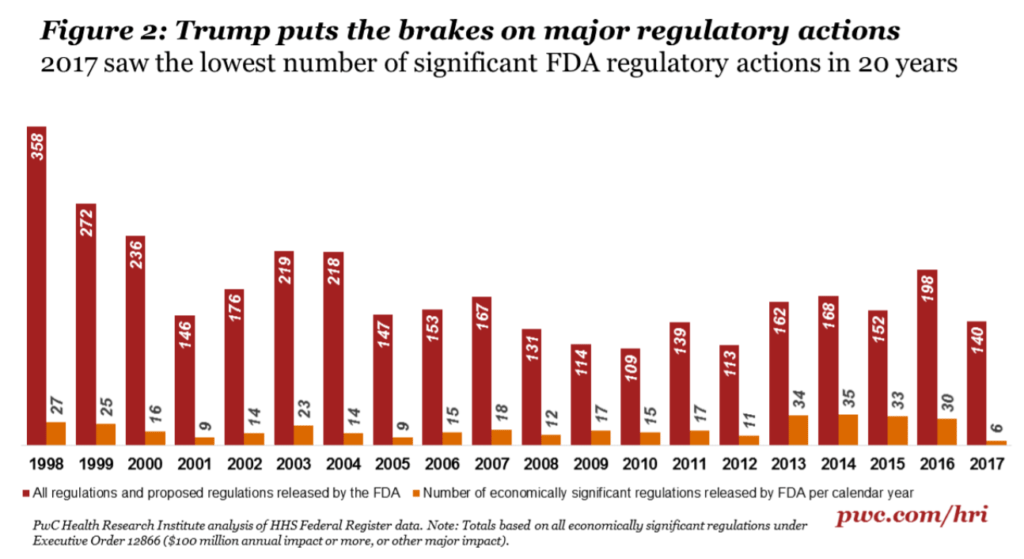 And while the number of new drug approvals has soared to a record high, with 53 new approvals — a combination of biologics and new chemical entities — PwC sees the FDA largely staying the course on industry oversight, inspections and enforcement.
For the pharmaceutical industry, the FDA under Gottlieb's tenure has been predictable, stable and consistent, allowing companies to continue investments into drug research and development and existing compliance programs without fear of a major change in regulatory approach. While Gottlieb's regulatory philosophy is perhaps more industry-friendly than past FDA commissioners, the agency's broader approach from enforcement to approvals has not been an abrupt departure from existing trends and norms.
A few other highlights:
Orphan drug approvals rocketed to a new high, with 64 new approvals in 2017, underscoring a trend driven by smaller clinical trials and steep prices for new rollouts restricted to tiny patient populations.
Data integrity remains a key concern. And regulators remain vigilant about issuing quality related warning letters.
Will the agency's move to brake new regulations last through 2018?
Perhaps not, says the PwC report. A look at historical trends show a dramatic increase in the second year of the George W Bush administration, with a more modest 15.4% increase in the second year of the Obama administration. And their analysts flagged a list of significant new regs now under development at the FDA that could have a big impact on biopharma companies.
As we reported recently, Scott Gottlieb and the FDA are held in high regard by drug developers. And the PwC group found that there's still a big push on for further easing FDA standards for approval, as well as clinical and preclinical regulations.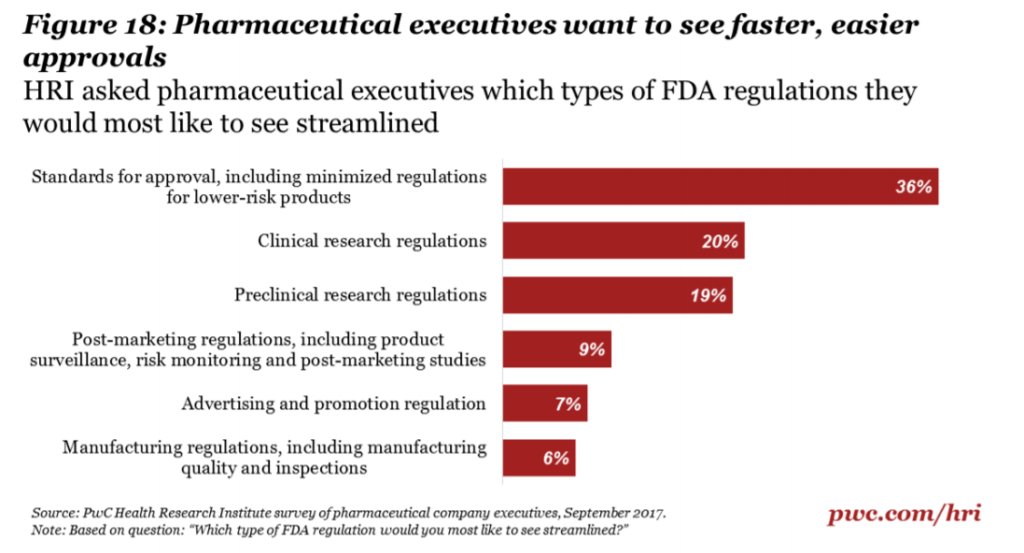 ---
Image: President Donald Trump speaks with reporters in November, 2017. Shutterstock. Charts: PWC
---
The best place to read
Endpoints News

? In your inbox.

Comprehensive daily news report for those who discover, develop, and market drugs. Join 50,700+ biopharma pros who read Endpoints News by email every day.

Free Subscription
---
---
---