The wild card: Just how much is Medi­va­tion's ta­la­zoparib worth?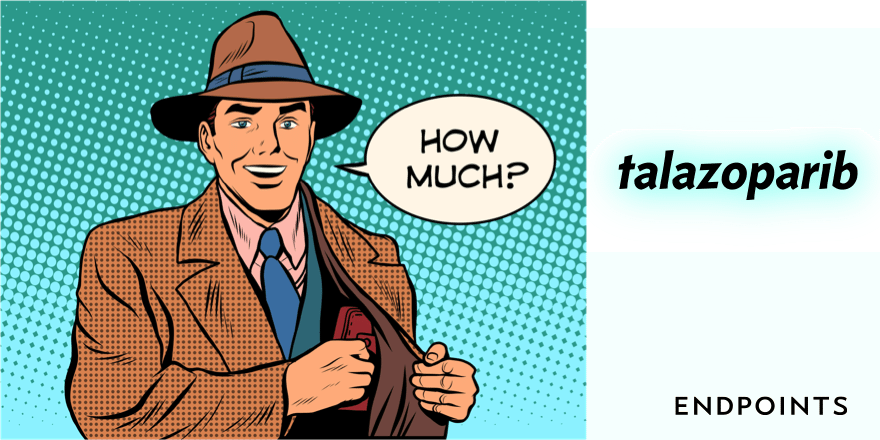 ---
Now that Sanofi has backed off its saber rat­tling and won a seat at the bar­gain­ing ta­ble with a sweet­ened of­fer for Medi­va­tion, much of the fo­cus will turn to the ex­per­i­men­tal PARP in­hibitor ta­la­zoparib. Medi­va­tion bought the drug last year from Bio­Marin for $410 mil­lion cash, adding $160 mil­lion on the back end of the deal. And it's proven to be the wild card in this high-stakes game of biotech M&A.
Medi­va­tion made a rep­u­ta­tion for it­self de­vel­op­ing Xtan­di, the block­buster prostate can­cer drug. It's build­ing its rep­u­ta­tion around grow­ing sales. And any­one who comes in with a win­ning bid — whether that's Sanofi or Pfiz­er or Cel­gene or any oth­er com­pa­ny — is go­ing to have to pay a pre­mi­um for that.
Ta­la­zoparib, though, is the one thing in Medi­va­tion's pipeline that can add a thick ex­tra lay­er of cash to any win­ning bid, and its ex­ecs have been mak­ing the case that this is a new block­buster in the mak­ing with multi­bil­lion-dol­lar sales po­ten­tial.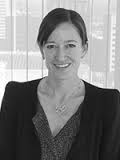 Jen­nifer Jar­rett, CFO of Medi­va­tion
"Ta­la­zoparib can be an even big­ger prod­uct" than Xtan­di, Medi­va­tion CFO Jen­nifer Jar­rett tells me. Jar­rett's brand new to the com­pa­ny, but she's now part of the front­line crew at Medi­va­tion that is look­ing to go far past Sanofi's lat­est bid of $58 a share plus a $3 CVR for ta­la­zoparib sales be­fore it ac­cepts an of­fer.
Val­u­a­tions on these prod­ucts are all over the map. Gold­man once fore­cast peak sales of ta­la­zoparib at a mod­est $325 mil­lion. When As­traZeneca was fight­ing off Pfiz­er, it bold­ly put a $2 bil­lion peak sales fig­ure on Lyn­parza (ola­parib). And now a chas­tened Clo­vis is pur­su­ing a rolling sub­mis­sion for its PARP in­hibitor ru­ca­parib, hop­ing it can save the com­pa­ny af­ter a midair ex­plo­sion for rocile­tinib. Ab­b­Vie is al­so in this race.
The leader is Tesaro, which just un­veiled promis­ing da­ta for ni­ra­parib and is now on its way to the FDA with an ap­pli­ca­tion for ovar­i­an can­cer. Their da­ta high­light a clear im­pact for the tar­get­ed drug in a pop­u­la­tion of germline BR­CA mu­ta­tion car­ri­ers, with a me­di­an PFS of 21 months in the drug group com­pared to 5.5 months in the con­trol arm — a 15.5-month ad­van­tage.
I talked to Jar­rett ahead of the lat­est de­vel­op­ments with Sanofi and Tesaro, but Medi­va­tion was prepped for pos­i­tive da­ta on the ri­val drug. Tesaro's suc­cess, she says, would help de­risk the whole field.
"It's pos­i­tive for the class," she says, and there's a case that can be made that "we think ours is more po­tent."
In a se­ries of slides, Jar­rett — who de­clined to pro­vide a peak sales es­ti­mate for ta­la­zoparib — went on to com­pare some of the safe­ty and ef­fi­ca­cy da­ta that's avail­able for the four con­tenders in this mar­ket.
Medi­va­tion doesn't have a lot of da­ta to go by. But in a small Phase I study in­ves­ti­ga­tors tracked a 57% over­all re­sponse rate for BR­CA-mu­tat­ed ovar­i­an can­cer. There were al­so sev­er­al re­spons­es in non-BR­CA mu­tat­ed cas­es, in­di­cat­ing a po­ten­tial­ly broad­er use for this drug.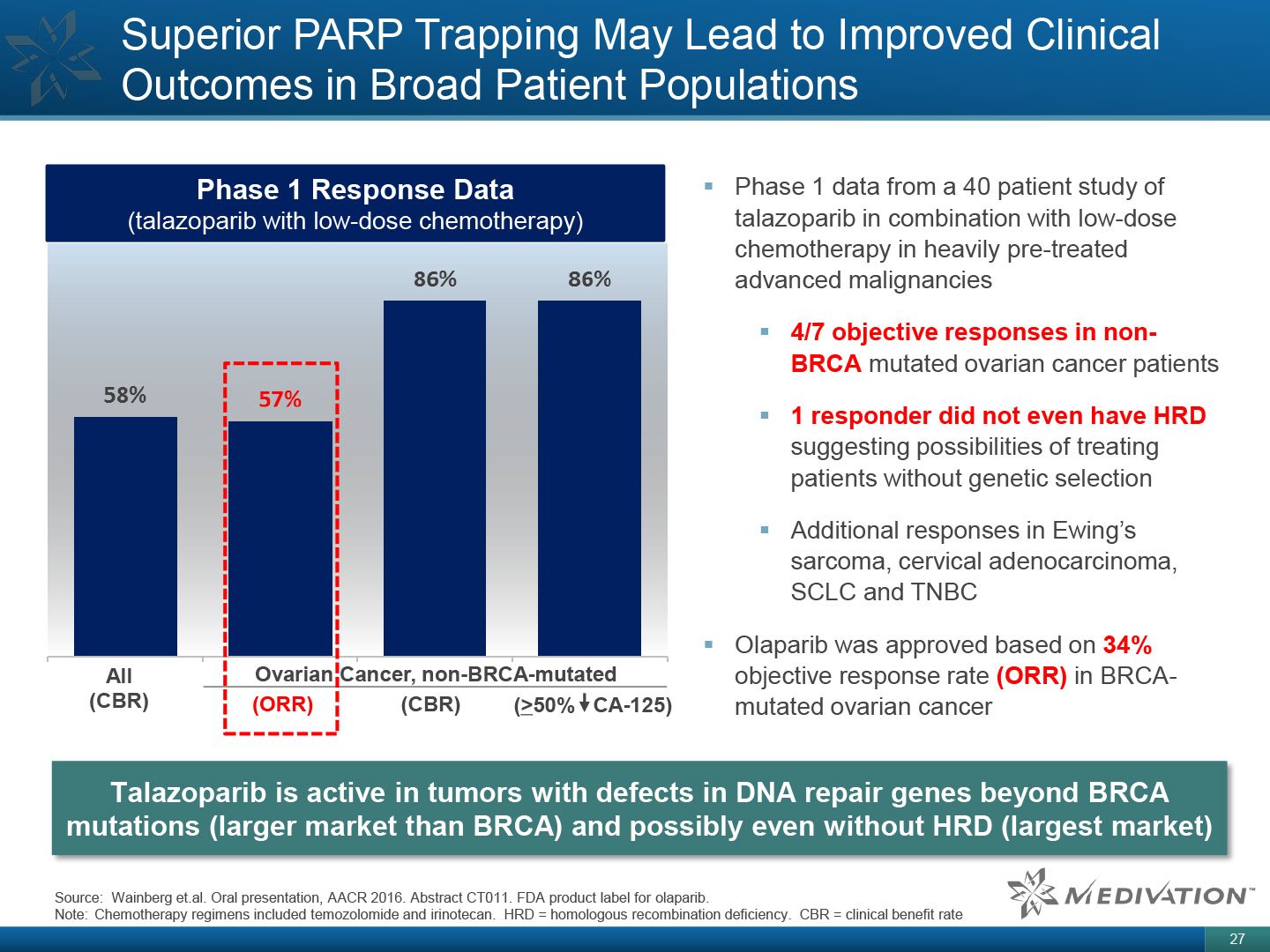 Ola­parib, which is al­so in line for a bad­ly need­ed Phase III up­date soon, was ap­proved by the FDA with a 34% ORR, says Medi­va­tion.
Medi­va­tion al­so tai­lored some safe­ty da­ta to look at ad­verse events among more than 10% of the pa­tients stud­ied. Not sur­pris­ing­ly, it looked pret­ty good for ta­la­zoparib.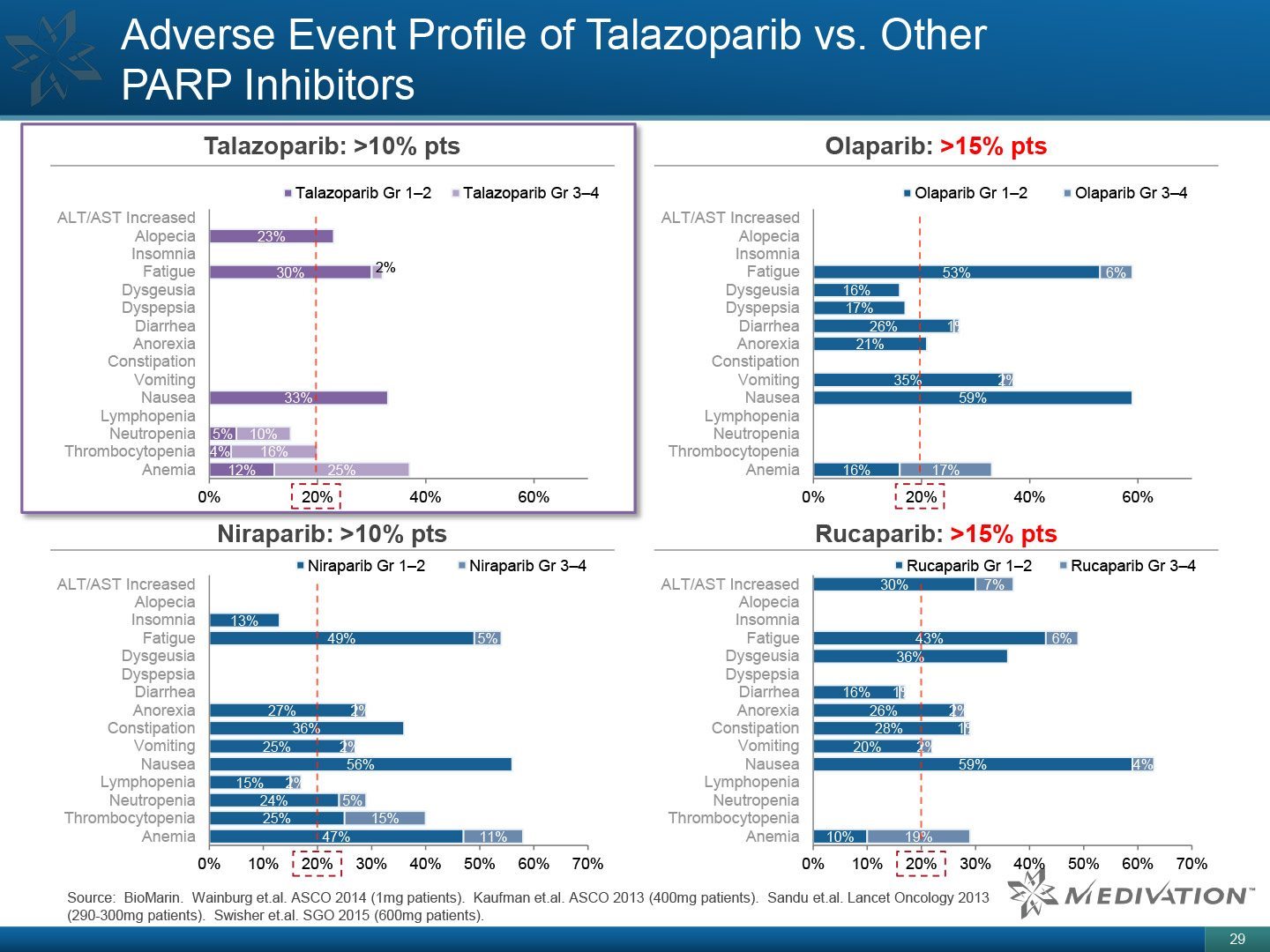 Any fi­nal an­swers on the val­u­a­tion ques­tions will have to wait on late-stage da­ta. There's the Phase III Em­bra­ca tri­al for BR­CA-mu­tat­ed breast can­cer which reads out in the first half of 2017. There's a reg­is­tra­tion study be­ing prepped with the FDA on prostate can­cer — which would put it in com­pe­ti­tion with J&J, which re­cent­ly land­ed the prostate can­cer rights to ni­ra­parib. There's al­so a Phase III for small cell lung can­cer — where they've tracked sin­gle-agent ac­tiv­i­ty — that could get go­ing lat­er this year. And Medi­va­tion is def­i­nite­ly in­clud­ing the chance for an ac­cel­er­at­ed ap­proval.
Who­ev­er wins the auc­tion for Medi­va­tion will like­ly wind up in a head-to-head bat­tle with As­traZeneca, still work­ing with a weak case that couldn't win over the FDA's out­side ex­perts, as well as an up-and-com­ing Tesaro, part­nered with J&J. Clo­vis can't af­ford yet an­oth­er de­ba­cle, and will be play­ing for its life. And Ab­b­Vie will be wait­ing in the wings with a less­er known drug of its own.
That won't make it easy for the sales team to de­liv­er on Medi­va­tion's best case sce­nario. So don't be sur­prised if Medi­va­tion tries hard to fight off the CVR, look­ing for an up­front pay­ment on its block­buster case for ta­la­zoparib.
In biotech, it's of­ten eas­i­er to make a case for an ex­per­i­men­tal drug than it is to de­liv­er on one. But this game is get­ting clos­er to a wrap. And the com­pa­ny plans to fol­low up with a spe­cial pre­sen­ta­tion on this top­ic lat­er to­day as it con­tin­ues to press its ar­gu­ment.
.@John­Cendpts What in­puts (sales, mar­gins, % suc­cess, WACC) can pos­si­bly get him to $70? Lu­di­crous $MD­VN $SNY

— Ja­cob Pli­eth (@Ja­cob­Pli­eth) Ju­ly 6, 2016