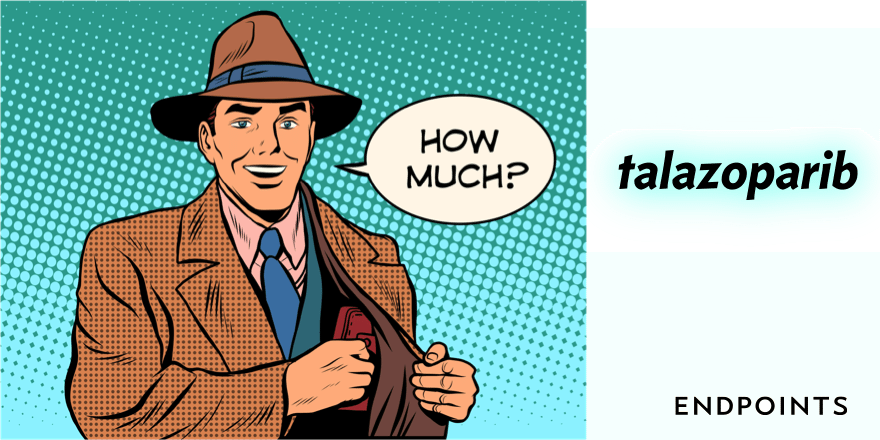 ---
Now that Sanofi has backed off its saber rattling and won a seat at the bargaining table with a sweetened offer for Medivation, much of the focus will turn to the experimental PARP inhibitor talazoparib. Medivation bought the drug last year from BioMarin for $410 million cash, adding $160 million on the back end of the deal. And it's proven to be the wild card in this high-stakes game of biotech M&A.
Medivation made a reputation for itself developing Xtandi, the blockbuster prostate cancer drug. It's building its reputation around growing sales. And anyone who comes in with a winning bid — whether that's Sanofi or Pfizer or Celgene or any other company — is going to have to pay a premium for that.
Talazoparib, though, is the one thing in Medivation's pipeline that can add a thick extra layer of cash to any winning bid, and its execs have been making the case that this is a new blockbuster in the making with multibillion-dollar sales potential.
"Talazoparib can be an even bigger product" than Xtandi, Medivation CFO Jennifer Jarrett tells me. Jarrett's brand new to the company, but she's now part of the frontline crew at Medivation that is looking to go far past Sanofi's latest bid of $58 a share plus a $3 CVR for talazoparib sales before it accepts an offer.
Valuations on these products are all over the map. Goldman once forecast peak sales of talazoparib at a modest $325 million. When AstraZeneca was fighting off Pfizer, it boldly put a $2 billion peak sales figure on Lynparza (olaparib). And now a chastened Clovis is pursuing a rolling submission for its PARP inhibitor rucaparib, hoping it can save the company after a midair explosion for rociletinib.  AbbVie is also in this race.
The leader is Tesaro, which just unveiled promising data for niraparib and is now on its way to the FDA with an application for ovarian cancer. Their data highlight a clear impact for the targeted drug in a population of germline BRCA mutation carriers, with a median PFS of 21 months in the drug group compared to 5.5 months in the control arm — a 15.5-month advantage.
I talked to Jarrett ahead of the latest developments with Sanofi and Tesaro, but Medivation was prepped for positive data on the rival drug. Tesaro's success, she says, would help derisk the whole field.
"It's positive for the class," she says, and there's a case that can be made that "we think ours is more potent."
In a series of slides, Jarrett — who declined to provide a peak sales estimate for talazoparib — went on to compare some of the safety and efficacy data that's available for the four contenders in this market.
Medivation doesn't have a lot of data to go by. But in a small Phase I study investigators tracked a 57% overall response rate for BRCA-mutated ovarian cancer. There were also several responses in non-BRCA mutated cases, indicating a potentially broader use for this drug.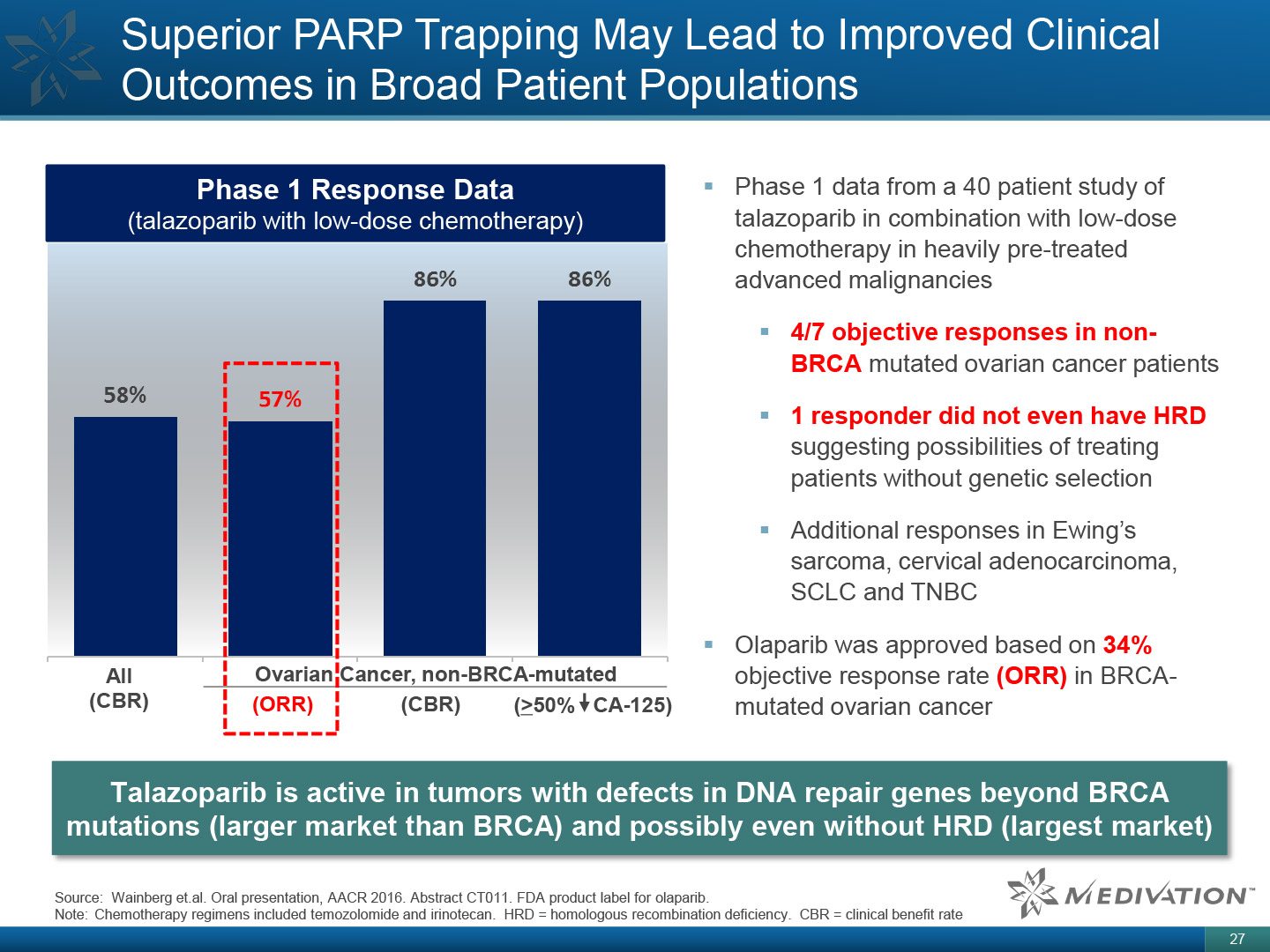 Olaparib, which is also in line for a badly needed Phase III update soon, was approved by the FDA with a 34% ORR, says Medivation.
Medivation also tailored some safety data to look at adverse events among more than 10% of the patients studied. Not surprisingly, it looked pretty good for talazoparib.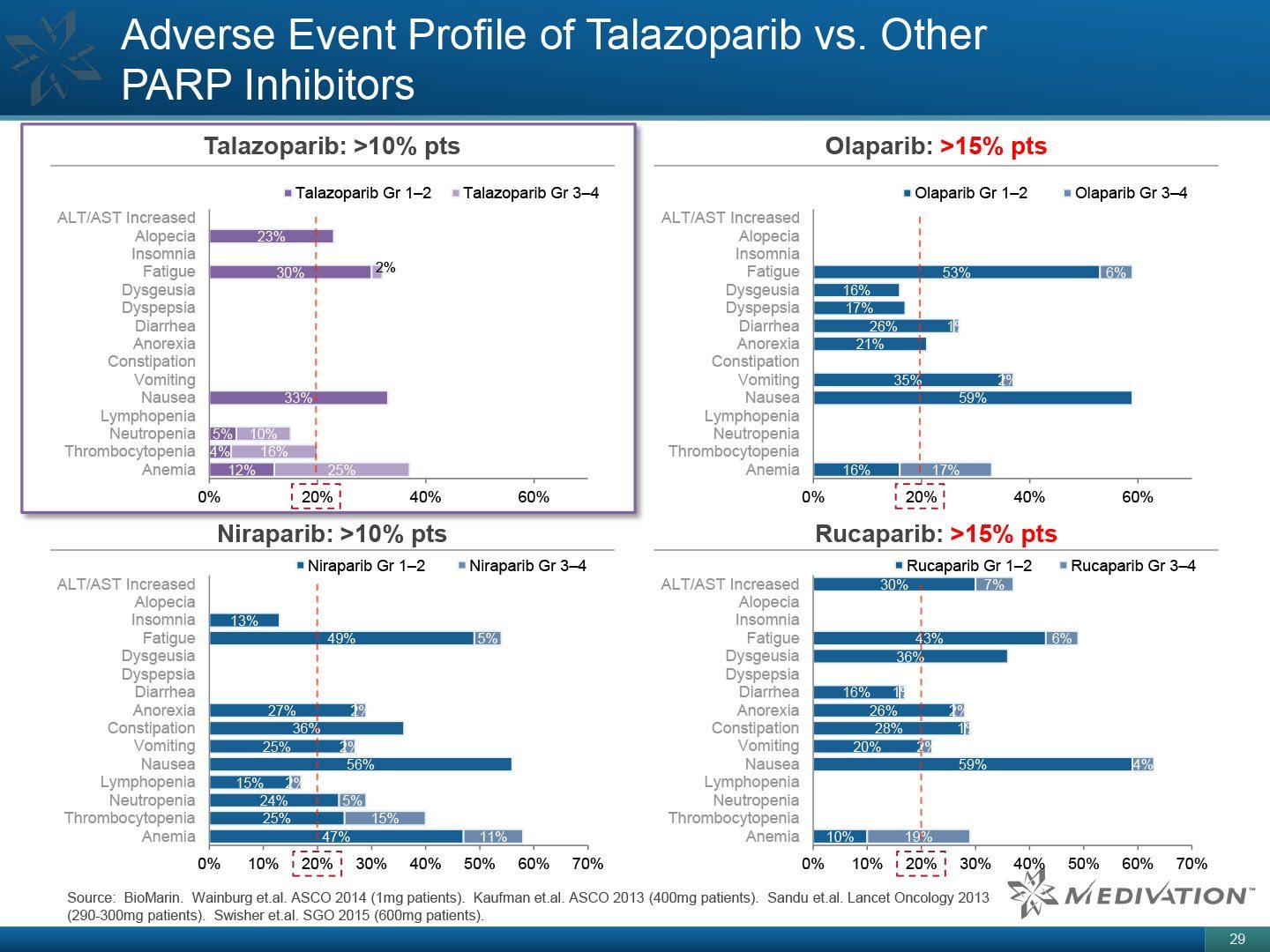 Any final answers on the valuation questions will have to wait on late-stage data. There's the Phase III Embraca trial for BRCA-mutated breast cancer which reads out in the first half of 2017. There's a registration study being prepped with the FDA on prostate cancer — which would put it in competition with J&J, which recently landed the prostate cancer rights to niraparib. There's also a Phase III for small cell lung cancer — where they've tracked single-agent activity — that could get going later this year. And Medivation is definitely including the chance for an accelerated approval.
Whoever wins the auction for Medivation will likely wind up in a head-to-head battle with AstraZeneca, still working with a weak case that couldn't win over the FDA's outside experts, as well as an up-and-coming Tesaro, partnered with J&J. Clovis can't afford yet another debacle, and will be playing for its life. And AbbVie will be waiting in the wings with a lesser known drug of its own.
That won't make it easy for the sales team to deliver on Medivation's best case scenario. So don't be surprised if Medivation tries hard to fight off the CVR, looking for an upfront payment on its blockbuster case for talazoparib.
In biotech, it's often easier to make a case for an experimental drug than it is to deliver on one. But this game is getting closer to a wrap. And the company plans to follow up with a special presentation on this topic later today as it continues to press its argument.
.@JohnCendpts What inputs (sales, margins, % success, WACC) can possibly get him to $70? Ludicrous $MDVN $SNY

— Jacob Plieth (@JacobPlieth) July 6, 2016
---
The best place to read
Endpoints News

? In your inbox.

Comprehensive daily news report for those who discover, develop, and market drugs. Join 47,900+ biopharma pros who read Endpoints News by email every day.

Free Subscription
---
---
---