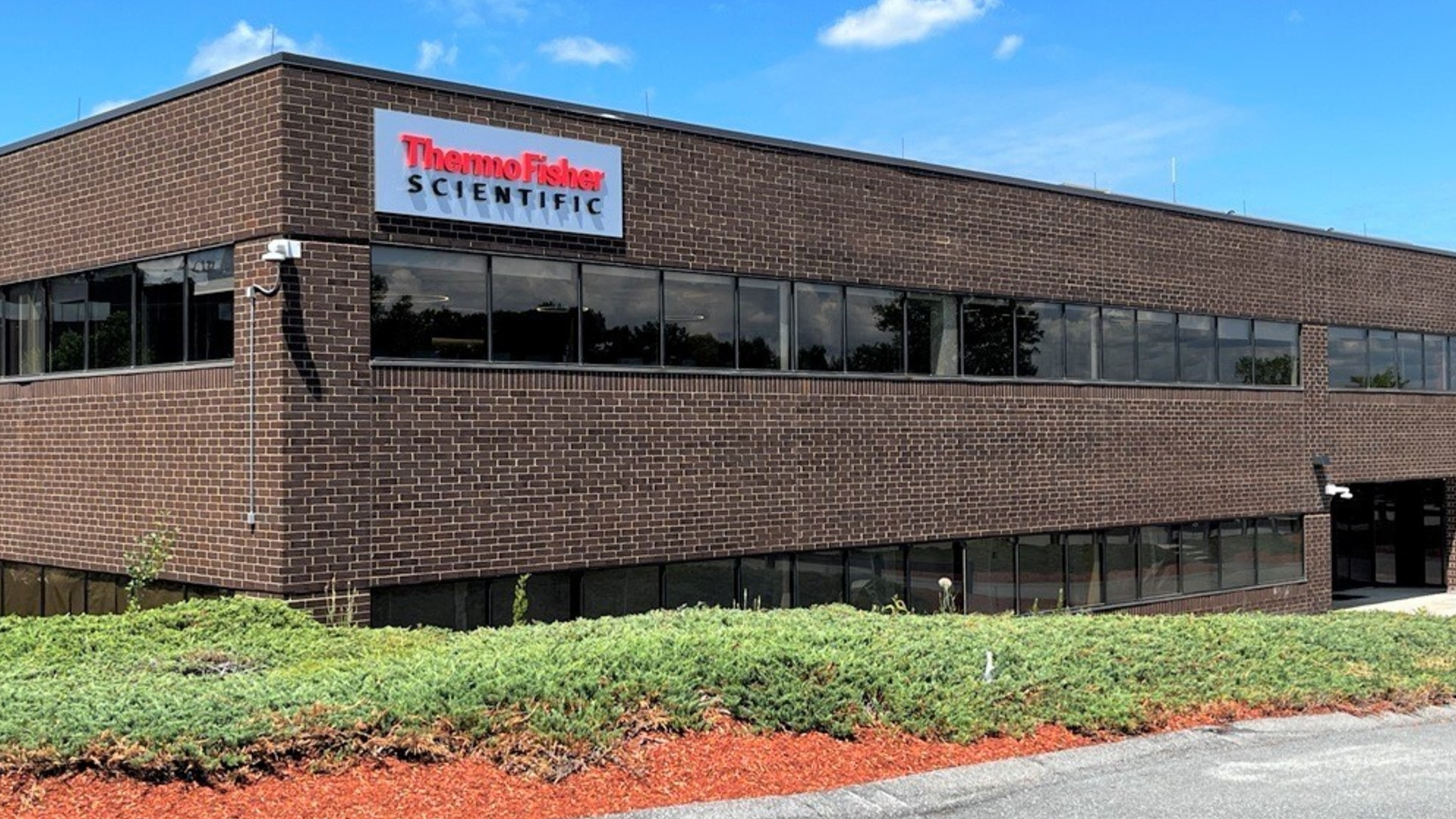 Thermo Fisher's new manufacturing site in Chelmsford, MA
Ther­mo Fish­er con­tin­ues its ex­pan­sion dri­ve with open­ing of $160M Mass­a­chu­setts fa­cil­i­ty
Ther­mo Fish­er is look­ing much clos­er to home for its lat­est open­ing.
On Tues­day, the man­u­fac­tur­er opened a new $160 mil­lion, 85,000 square-foot fa­cil­i­ty in Chelms­ford, MA, 30 miles north of its head­quar­ters in Waltham. Ac­cord­ing to a Ther­mo Fish­er spokesper­son, the com­pa­ny broke ground on the site in 2020.
The Chelms­ford site al­so is part of a wider $650 mil­lion in­vest­ment that Ther­mo Fish­er has made in new sites across the US, UK, Sin­ga­pore and Chi­na.
The site will pro­duce resins that are used in med­i­cines and bi­o­log­ics as well as cell and gene ther­a­pies, ac­cord­ing to a spokesper­son. The spokesper­son al­so con­firmed that pro­duc­tion has al­ready be­gun.
The fa­cil­i­ty al­so will be able to hold around 250 em­ploy­ees when ful­ly staffed and cur­rent­ly em­ploys 140.
"The Chelms­ford site will help us pro­vide our cus­tomers with the crit­i­cal resin ma­te­ri­als they need as they scale up pro­duc­tion and bring new in­no­va­tions to mar­ket. This ul­ti­mate­ly helps en­sure more pa­tients get the treat­ments they need faster," said Jean Luo, VP and gen­er­al man­ag­er for pu­rifi­ca­tion and phar­ma an­a­lyt­ics at Ther­mo Fish­er, in a state­ment.
Ther­mo Fish­er is in­vest­ing heav­i­ly in the Bay State, as it opened a $180 mil­lion, 300,000-square- foot vi­ral vec­tor man­u­fac­tur­ing site in Plain­view, about 48 miles from Boston, on­ly a few weeks ago.
As part of this $650 mil­lion in­vest­ment, the com­pa­ny has been steadi­ly open­ing sites across the na­tion through­out the year too.
In April, the com­pa­ny opened a $44 mil­lion site in Utah that man­u­fac­tures bio­process con­tain­er sys­tems.
Last month, the com­pa­ny re­al­ly picked up the pace as it opened new fa­cil­i­ties, in­clud­ing a $76 mil­lion cell cul­ture man­u­fac­tur­ing site opened out­side of Buf­fa­lo, NY, and a $105 mil­lion bi­o­log­ics site in Lebanon, TN, just out­side of Nashville.