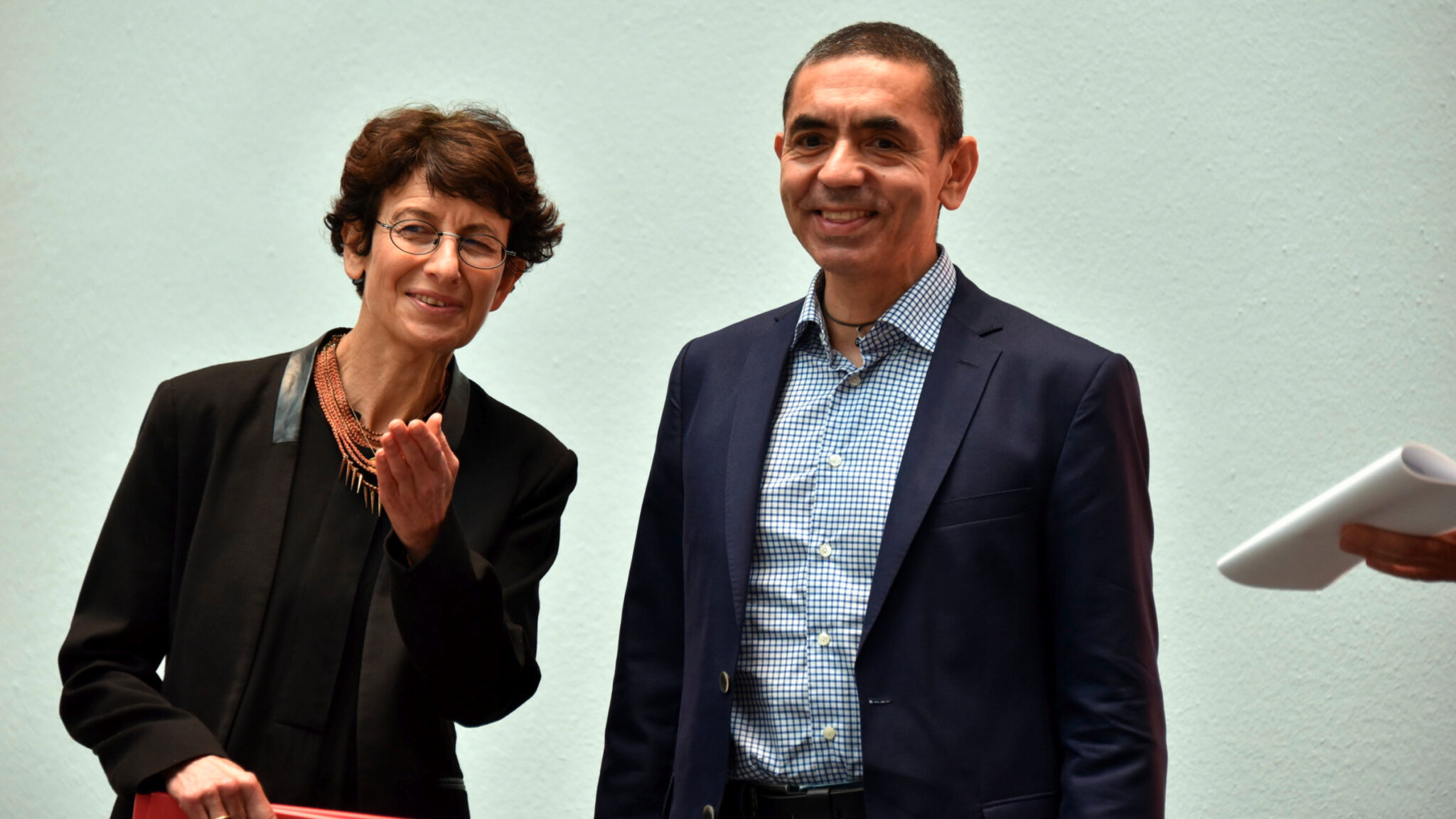 Özlem Türeci, BioNTech co-founder and Uğur Şahin, BioNTech CEO
Third dose bumps up ef­fi­ca­cy of Pfiz­er-BioN­Tech's Covid-19 vac­cine in youngest group of chil­dren to 80%
Pfiz­er and BioN­Tech said Mon­day that they're ready to ap­proach the FDA this week with ear­ly da­ta for their boost­er shot for Covid-19 vac­cine in the youngest age group (6 months to un­der 5 years), which showed 80.3% ef­fi­ca­cy based on 10 symp­to­matic Covid cas­es iden­ti­fied be­gin­ning sev­en days af­ter the third dose.
"The study sug­gests that a low 3-ug dose of our vac­cine, care­ful­ly se­lect­ed based on tol­er­a­bil­i­ty da­ta, pro­vides young chil­dren with a high lev­el of pro­tec­tion against the re­cent COVID-19 strains," Uğur Şahin, CEO and co-founder of BioN­Tech said in a state­ment. "We are prepar­ing the rel­e­vant doc­u­ments and ex­pect com­plet­ing the sub­mis­sion process to the FDA this week, with sub­mis­sions to EMA and oth­er reg­u­la­to­ry agen­cies to fol­low with­in the com­ing weeks."
The vac­cine al­so proved to be as safe as place­bo, Pfiz­er said.
The FDA is like­ly to of­fer a swift EUA to both Pfiz­er's vac­cine and Mod­er­na's two-dose Covid-19 vac­cine for this youngest group of chil­dren with­in the next month or so, bar­ring any last-minute con­cerns by FDA staff. Af­ter re­view­ing the ap­pli­ca­tions, the agency said it will hold a joint ad­vi­so­ry com­mit­tee meet­ing for the two vac­cines on June 15. And June 14 will be the new meet­ing date for the FDA and its ad­vi­so­ry com­mit­tee of ex­ter­nal ex­perts to dis­cuss Mod­er­na's EUA re­quest for 6 years through 17 years of age.
Once the apps are ful­ly sub­mit­ted and the meet­ing dates are fi­nal­ized, the FDA will re­lease its own analy­ses of the Pfiz­er and Mod­er­na da­ta no lat­er than two busi­ness days be­fore each meet­ing.
Late last month, Mod­er­na com­plet­ed the fil­ing of its EUA ap­pli­ca­tion, pre­vi­ous­ly an­nounc­ing that its vac­cine is 51% ef­fec­tive in chil­dren 6 months to 2 years of age and 37% ef­fec­tive in 2- to 5-year-olds. And while that sub-50% ef­fi­ca­cy num­ber may raise eye­brows, FDA's Pe­ter Marks has said that it's OK as long as the ef­fi­ca­cy is above 50% for the en­tire range of the ap­pli­ca­tion sub­mit­ted (6 months to 17 year-olds).
Mean­while, Pfiz­er and BioN­Tech's tri­al is still wrap­ping up, with the pro­to­col spec­i­fy­ing a for­mal analy­sis will be per­formed when at least 21 cas­es have ac­crued from sev­en days af­ter the third dose. Fi­nal vac­cine ef­fi­ca­cy da­ta will be shared once avail­able, Pfiz­er said.
In to­tal, the part­ners' Phase II/III tri­al in­clud­ed 1,678 chil­dren re­ceiv­ing a third dose of the 3-µg for­mu­la­tion at least two months af­ter the sec­ond dose at a time when Omi­cron was the pre­dom­i­nant vari­ant.
The im­muno­genic­i­ty analy­sis of geo­met­ric mean titer ra­tio and sero-re­sponse rate was con­duct­ed on a sub­set of study par­tic­i­pants one month fol­low­ing the third dose in chil­dren 6 months to un­der 5 years of age, com­pared to the sec­ond dose in the 16- to 25-year-old pop­u­la­tion. Pfiz­er said non-in­fe­ri­or­i­ty was met for both the 6- to 24-month-old pop­u­la­tion and the 2- to un­der 5-year-old pop­u­la­tion for both co-pri­ma­ry end­points.
Three 3-µg dos­es of the Pfiz­er-BioN­Tech vac­cine were well-tol­er­at­ed in this age group, Pfiz­er added, not­ing that the ma­jor­i­ty of ad­verse events were mild or mod­er­ate.
The chil­dren who par­tic­i­pat­ed in the tri­al and re­ceived place­bo are now be­gin­ning to re­ceive their vac­cines.
Ed­i­tor's note: Up­dat­ed with more in­for­ma­tion on the new FDA ad­vi­so­ry com­mit­tee meet­ing times.