What's dri­ving the rapid growth of the top 20 bio­phar­ma com­pa­nies in the world?
I've been re­mark­ing for some time now that the whole bio­phar­ma sec­tor glob­al­ly has grown enor­mous­ly over the past few years. And thanks to the in­vest­ment bankers at Tor­reya I can add a few num­bers to put that in­to per­spec­tive, along with the boom­ing role that Chi­na has played and is like­ly to con­tin­ue to play over the next gen­er­a­tion.
One of the charts that re­al­ly leaped out at me was a look at the mar­ket val­u­a­tions of the top 20 com­pa­nies. In the past 6 years, says Tor­reya's new re­port out on the in­dus­try, those val­u­a­tions have dou­bled in size, grow­ing from about $1.45 tril­lion to very close to $3 tril­lion.
The stand­outs are Cel­gene, up 351%, and J&J, which grew by $204 bil­lion to to­day's $380 bil­lion (up about 1% since Tor­reya gath­ered the num­bers). That rise alone is get­ting in­to the same ball­park as all of Roche's $232 bil­lion. And lets keep in mind that the swelling val­u­a­tions among the top 20 bio­phar­mas have been track­ing rapid­ly grow­ing stock in­dex­es as well.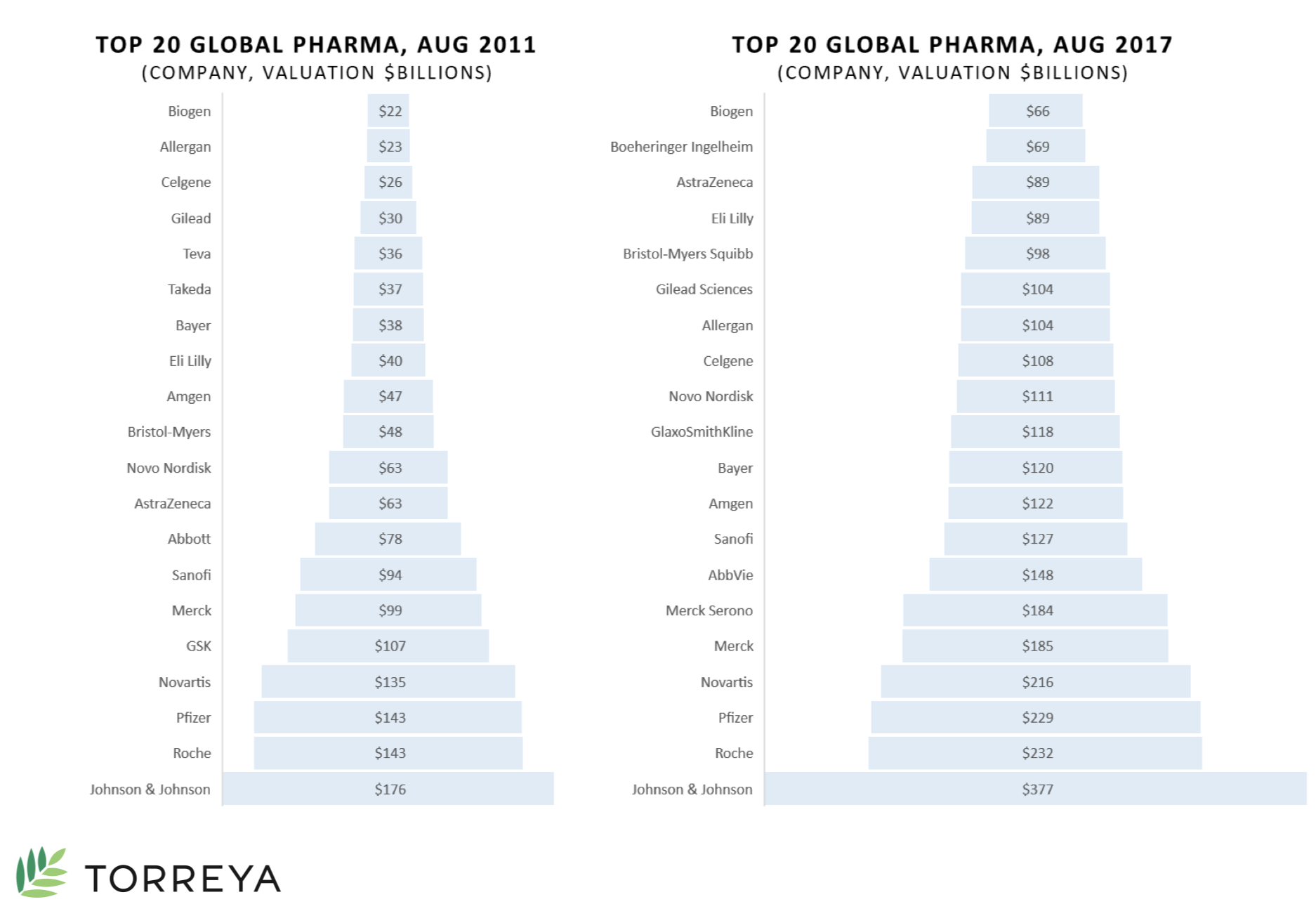 ---
This is oc­cur­ring dur­ing a time in which most gov­ern­ments — out­side the US — are more like­ly than ever to get ag­gres­sive about con­tain­ing the cost of drugs, which helps ex­plain why the 12 big gov­ern­ments in Eu­rope spend 1.2% of GDP on drugs, com­pared to 2.03% in the US, where cost con­trols have not been put in place by the gov­ern­ment. The US, by the way, is just a lit­tle ahead of Japan on that score, which reg­is­ters 1.93% of GDP go­ing to phar­ma­ceu­ti­cals.
Rare dis­eases and on­col­o­gy will re­main a cen­tral fo­cus in R&D. Tor­reya carved out the top 20 pure-play rare dis­ease com­pa­nies in the world and cal­cu­lat­ed they have a mar­ket val­ue of $315 bil­lion — which gets back to that J&J com­par­i­son to put it in­to per­spec­tive.
If you fo­cus on the val­ue of com­pa­nies that spot­light rare forms of can­cer, there's an­oth­er $193 bil­lion. So now you're talk­ing around a half tril­lion dol­lars for the to­tal.
Chi­na, mean­while, has seen its Phar­ma sec­tor boom. Over just the last 18 months, the val­ue of the top 20 phar­ma com­pa­nies in Chi­na grew from $450 bil­lion to $534 bil­lion — up 19%. And Tor­reya be­lieves this is not a bub­ble. Over the next 50 years they ex­pect the phar­ma sec­tor in Chi­na will quadru­ple in size, while the US will dou­ble and ma­jor Eu­ro­pean mar­kets will be un­der the 2X lev­el.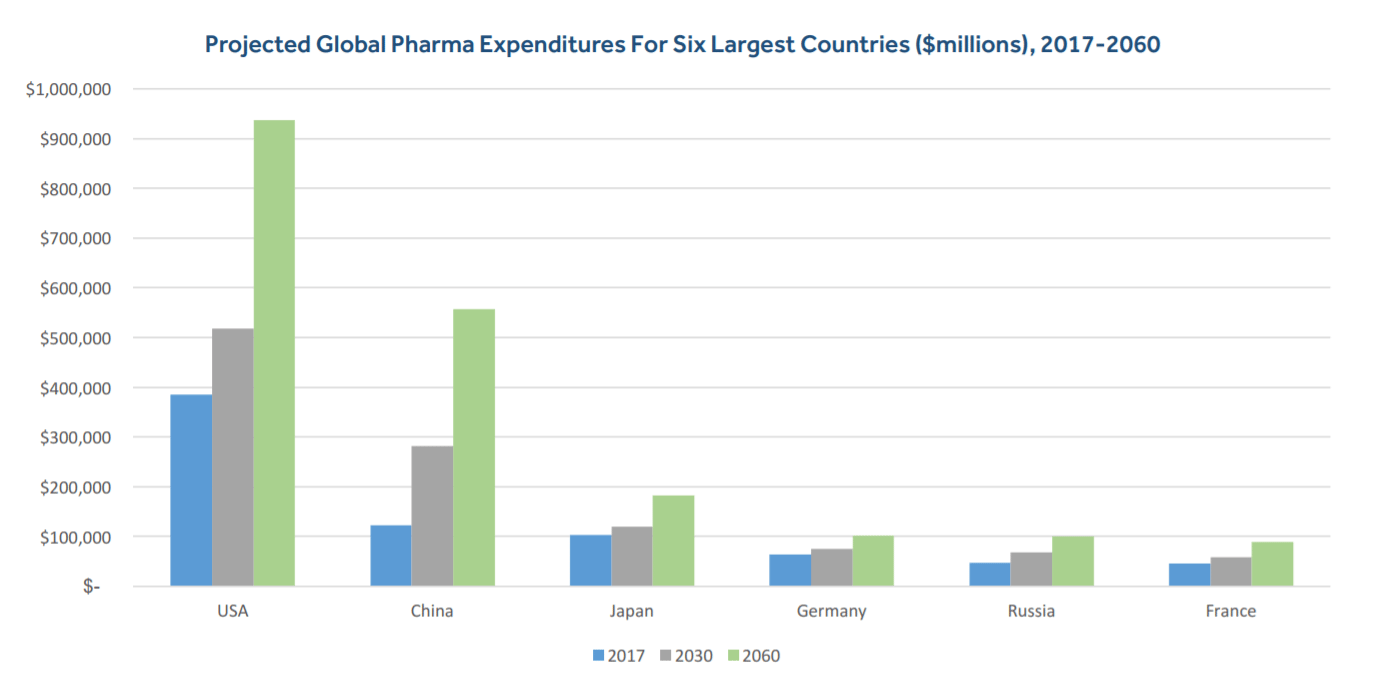 ---
The US will ac­count for 33% of phar­ma rev­enue this year, with Chi­na weigh­ing in at 10% and West­ern Eu­rope at 22%. In 2060, Tor­reya's an­a­lysts be­lieve that Chi­na will grow to 18%, edg­ing out West­ern Eu­rope at 17% though still well be­hind the US share of 30%.
In many re­spects, this cen­tu­ry should mark Chi­na's ar­rival as one of the Big 3 bio­phar­ma mar­kets. For now, though, it re­mains one of the most poor­ly un­der­stood mar­kets in the world.
Bi­o­log­ics in gen­er­al, and rare dis­ease bi­o­log­ics in par­tic­u­lar, will con­tin­ue to be stand­outs for the growth com­pa­nies in the in­dus­try, Tor­reya fig­ures. RNA tech, gene ther­a­pies and gene edit­ing will dri­ve fu­ture growth while cell ther­a­pies be­come much more rou­tine. And new in­no­va­tions in phar­ma man­u­fac­tur­ing will cre­ate more op­por­tu­ni­ties at a time that minia­ture im­plantable de­vices help au­to­mate the reg­u­lar use of ther­a­peu­tics.