Less than a year after the activist investors at venBio crashed a $2 billion collaboration deal with Seattle Genetics on the lead drug at Immunomedics $IMMU, the new crew in charge has wooed the top I/O research exec at AstraZeneca to take a leading development role as chief medical officer and R&D chief.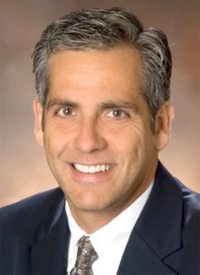 Robert Iannone played a top role in the development of Imfinzi (durvalumab), the PD-L1 checkpoint star at AstraZeneca/MedImmune. Now he's jumping into biotech, taking the leading research role at a company with a market cap of $2.4 billion.
He'll now be focused on sacituzumab govitecan (IMMU-132), a late-stage drug for metastatic triple negative breast cancer looking for an accelerated approval. Seattle Genetics' chief Clay Siegall had been enamored with this antibody-drug conjugate, paying $300 million up front to partner on it. But the crew led by venBio's Behzad Aghazadeh torpedoed the alliance and took control. Soon after, they put Celgene vet Michael Pehl in as CEO.
Iannone has his work cut out. Immunomedics now plans to file its BLA at the end of May, a couple of months later than the new crew had intended. The biotech recently landed a $250 million financing deal with Royalty Pharma to pay for the next round of work, hoping to clear a marketing approval and advance through a late-stage study. Royalty nabbed a royalty stream on the lead drug for $175 million and also invested $75 million in the stock last January.
And Pehl has declared that he intends to make Immunomedics into the world leader on ADCs — pretty much the rep that Seattle Genetics has commanded.
Iannone won't be straying far from his work on checkpoints.
"Immunomedics has a unique and highly differentiated ADC pipeline and platform technology. I am very excited to be joining the company to help develop sacituzumab govitecan and other pipeline assets, to be foundational therapies in a wide variety of hard-to-treat solid cancer indications, in both early- and late-line settings, including the potential for combining with immune checkpoint inhibitors and other targeted cancer therapies," remarked Iannone in a prepared statement.
---
The best place to read
Endpoints News

? In your inbox.

Comprehensive daily news report for those who discover, develop, and market drugs. Join 50,700+ biopharma pros who read Endpoints News by email every day.

Free Subscription
---
---
---