Top As­traZeneca I/O vet Robert Ian­none jumps to Im­munomedics as R&D chief as BLA looms
Less than a year af­ter the ac­tivist in­vestors at ven­Bio crashed a $2 bil­lion col­lab­o­ra­tion deal with Seat­tle Ge­net­ics on the lead drug at Im­munomedics $IM­MU, the new crew in charge has wooed the top I/O re­search ex­ec at As­traZeneca to take a lead­ing de­vel­op­ment role as chief med­ical of­fi­cer and R&D chief.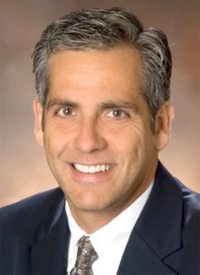 Robert Ian­none played a top role in the de­vel­op­ment of Imfinzi (dur­val­um­ab), the PD-L1 check­point star at As­traZeneca/Med­Im­mune. Now he's jump­ing in­to biotech, tak­ing the lead­ing re­search role at a com­pa­ny with a mar­ket cap of $2.4 bil­lion.
He'll now be fo­cused on sac­i­tuzum­ab govite­can (IM­MU-132), a late-stage drug for metasta­t­ic triple neg­a­tive breast can­cer look­ing for an ac­cel­er­at­ed ap­proval. Seat­tle Ge­net­ics' chief Clay Sie­gall had been en­am­ored with this an­ti­body-drug con­ju­gate, pay­ing $300 mil­lion up front to part­ner on it. But the crew led by ven­Bio's Be­hzad Ag­haz­adeh tor­pe­doed the al­liance and took con­trol. Soon af­ter, they put Cel­gene vet Michael Pehl in as CEO.
Ian­none has his work cut out. Im­munomedics now plans to file its BLA at the end of May, a cou­ple of months lat­er than the new crew had in­tend­ed. The biotech re­cent­ly land­ed a $250 mil­lion fi­nanc­ing deal with Roy­al­ty Phar­ma to pay for the next round of work, hop­ing to clear a mar­ket­ing ap­proval and ad­vance through a late-stage study. Roy­al­ty nabbed a roy­al­ty stream on the lead drug for $175 mil­lion and al­so in­vest­ed $75 mil­lion in the stock last Jan­u­ary.
And Pehl has de­clared that he in­tends to make Im­munomedics in­to the world leader on AD­Cs — pret­ty much the rep that Seat­tle Ge­net­ics has com­mand­ed.
Ian­none won't be stray­ing far from his work on check­points.
"Im­munomedics has a unique and high­ly dif­fer­en­ti­at­ed ADC pipeline and plat­form tech­nol­o­gy. I am very ex­cit­ed to be join­ing the com­pa­ny to help de­vel­op sac­i­tuzum­ab govite­can and oth­er pipeline as­sets, to be foun­da­tion­al ther­a­pies in a wide va­ri­ety of hard-to-treat sol­id can­cer in­di­ca­tions, in both ear­ly- and late-line set­tings, in­clud­ing the po­ten­tial for com­bin­ing with im­mune check­point in­hibitors and oth­er tar­get­ed can­cer ther­a­pies," re­marked Ian­none in a pre­pared state­ment.