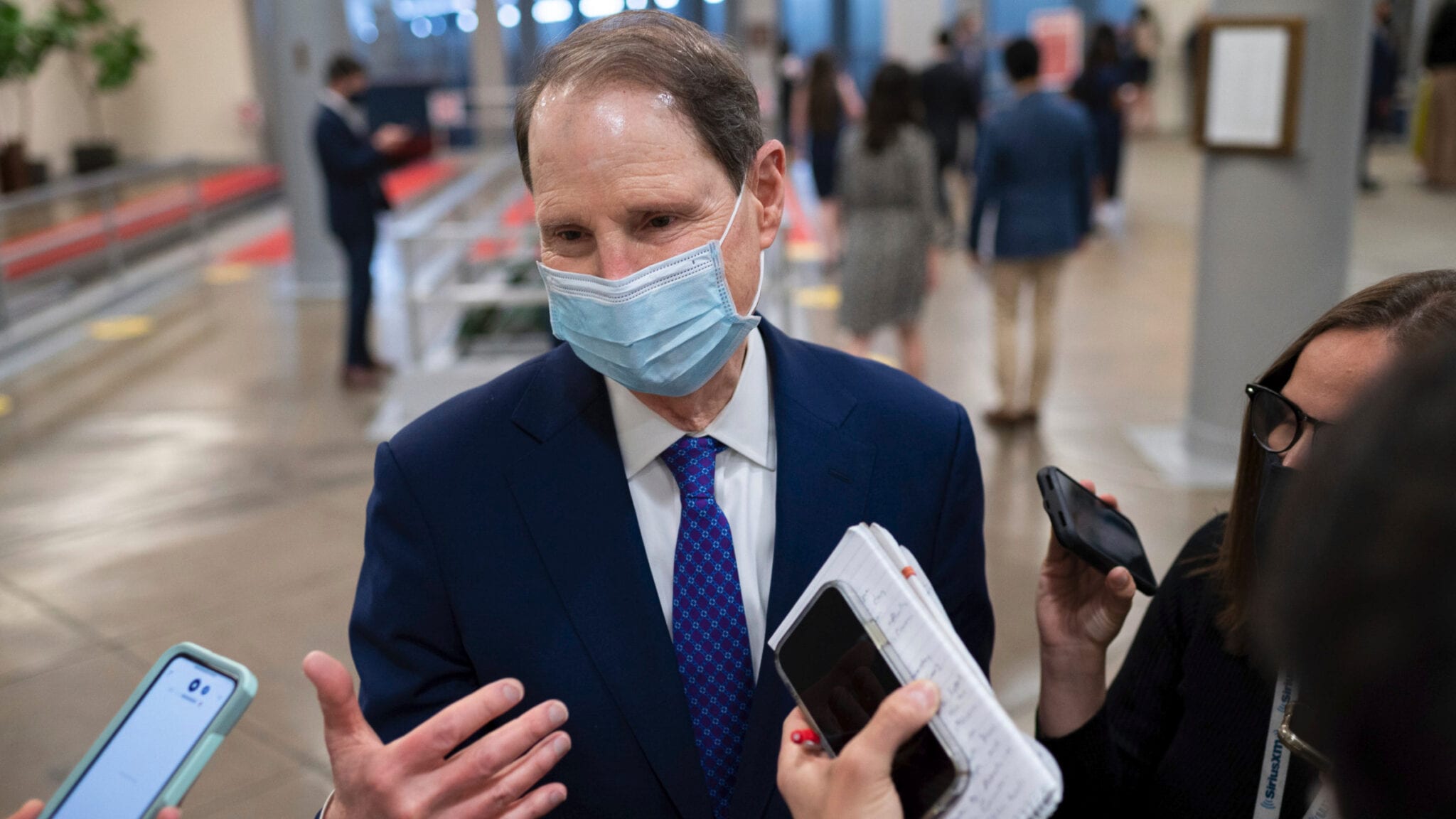 Sen. Ron Wyden (D-OR) with reporters in the Senate Subway (Graeme Sloan/Sipa via AP Images)
Top Wyden pri­or­i­ty for drug price re­forms: Medicare ne­go­ti­a­tions
As the Biden ad­min­is­tra­tion tries to wran­gle the de­tails of its in­fra­struc­ture bill, Sen­ate Fi­nance Com­mit­tee Chair Ron Wyden (D-OR) took a con­crete step for­ward on drug pric­ing re­forms on Tues­day and un­veiled five prin­ci­ples for such re­forms, in­clud­ing pro­vid­ing Medicare with the abil­i­ty to ne­go­ti­ate prices.
"Al­low­ing the Sec­re­tary of HHS to ne­go­ti­ate the price Medicare will pay cre­ates a much need­ed mech­a­nism to achieve fair­er prices when the mar­ket has failed to do so," Wyden wrote.
The call for such ne­go­ti­a­tions rep­re­sents a shift for Wyden, as he pre­vi­ous­ly au­thored a drug pric­ing re­form bill with Sen. Chuck Grass­ley (R-IA) that did not in­clude such ne­go­ti­a­tions.
So why the shift? Wyden said that many old­er drugs com­mand high prices be­cause they face no com­pe­ti­tion from gener­ics and oth­er new drugs launch at steep prices with lit­tle jus­ti­fi­ca­tion. As an ex­am­ple of an un­fair launch price, he point­ed to Bio­gen's new Alzheimer's drug Aduhelm, which launched at a price that's "far be­yond any rea­son­able jus­ti­fi­ca­tion of the clin­i­cal val­ue to pa­tients, care­givers, or so­ci­ety."
The new plan comes as a coali­tion of em­ploy­ers and health care pur­chasers are call­ing on the top House and Sen­ate lead­ers to take a hard look at the "as­tro­nom­i­cal price" of Aduhelm and "move bold­ly" to en­act pre­scrip­tion drug pric­ing re­form.
But Wyden sounds more keen on a tar­get­ed, rather than a one-size-fits-all ap­proach.
In craft­ing a price ne­go­ti­a­tion pol­i­cy, Con­gress must tack­le four is­sues, ac­cord­ing to Wyden: "a. Es­tab­lish clear cri­te­ria for mar­ket fail­ure and for which drugs to ne­go­ti­ate the price; b. De­fine what con­sti­tutes a fair price in these cir­cum­stances; c. Give the Sec­re­tary both tools and guide­lines to ne­go­ti­ate a fair price; and d. Cre­ate the right in­cen­tives to en­sure that phar­ma­ceu­ti­cal com­pa­nies par­tic­i­pate in the ne­go­ti­a­tion process."
While the time­line on when a bill may be draft­ed is un­known at this point, price re­form ad­vo­cates have been push­ing for some­thing this sum­mer, while in­dus­try ad­vo­cates are look­ing to do what they can to stop price con­trols.
An­oth­er top pri­or­i­ty for Wyden in ad­dress­ing drug pric­ing is en­sur­ing that pa­tients see sav­ings at the phar­ma­cy counter, es­pe­cial­ly for spe­cif­ic types of crit­i­cal drugs, such as in­sulin, for which "the re­bate dy­nam­ics are ex­treme and in­hibit­ing ac­cess."
Wyden al­so said he wants to re­quire re­bates on drug price hikes above in­fla­tion to rein in com­pa­nies that gouge the mil­lions who take old­er drugs, and he wants to ex­tend these pric­ing re­forms be­yond Medicare and Med­ic­aid.
"Poli­cies that tar­get both ex­or­bi­tant prices of drugs and re­duce out-of-pock­et spend­ing for pa­tients must ex­tend be­yond Medicare," he wrote.