Trodelvy notch­es a win in most com­mon form of breast can­cer
Fol­low­ing a promise last year to go "big and fast in breast can­cer," Gilead has se­cured a win for Trodelvy in the most com­mon form.
The drug was ap­proved to treat HR-pos­i­tive, HER2-neg­a­tive breast can­cer pa­tients who've al­ready re­ceived en­docrine-based ther­a­py and at least two oth­er sys­temic ther­a­pies for metasta­t­ic can­cer, Gilead an­nounced on Fri­day.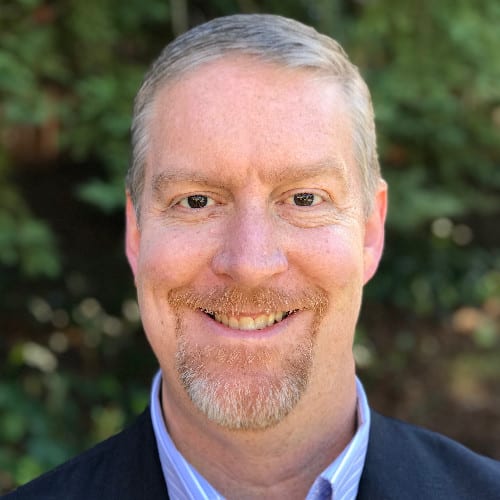 Bill Gross­man
Trodelvy won its first in­di­ca­tion in metasta­t­ic triple-neg­a­tive breast can­cer back in 2020, and has since added urothe­lial can­cer to the list. HR-pos­i­tive HER2-neg­a­tive breast can­cer ac­counts for rough­ly 70% of new breast can­cer cas­es world­wide per year, ac­cord­ing to se­nior VP of on­col­o­gy clin­i­cal de­vel­op­ment Bill Gross­man, and many pa­tients de­vel­op re­sis­tance to en­docrine-based ther­a­pies or wors­en on chemother­a­py.
"As pa­tients progress on en­docrine ther­a­pies and they get in­to oth­er com­bi­na­tions like CDK4/6, [they are] re­al­ly left on­ly with chemother­a­py at this stage," Gross­man said. "For the pa­tients from TROP­iCS-02, me­di­an sur­vival is on­ly ap­prox­i­mate­ly one year."
Gilead tout­ed a bet­ter-than-ex­pect­ed read­out from the TROP­iCS-02 study at last year's ES­MO con­fer­ence, in which pa­tients with HR+/HER2- metasta­t­ic breast can­cer who re­ceived Trodelvy af­ter pri­or en­docrine ther­a­py, CDK4/6 in­hibitors and two to four lines of chemother­a­py sur­vived a me­di­an of 14.4 months, com­pared to just 11.2 months for those who re­ceived chemo. Trodelvy al­so post­ed a 34% re­duc­tion in the risk of dis­ease pro­gres­sion or death (p=0.0003), Gilead said Fri­day.
Trodelvy sales were up 79% last year, to­tal­ing $680 mil­lion and "re­flect­ing con­tin­ued adop­tion in metasta­t­ic TNBC in the Unit­ed States and Eu­rope," Gilead an­nounced yes­ter­day in its Q4 earn­ings re­port. On the Q3 call, ex­ecs said they had al­ready be­gun prepar­ing for a po­ten­tial launch in HR-pos­i­tive HER2-neg­a­tive breast can­cer. The drug earned just $380 mil­lion in 2021.
While Trodelvy was slapped with a boxed warn­ing back in 2020 for se­vere neu­trope­nia and se­vere di­ar­rhea, Gross­man said last week that "those are side ef­fects that I think most physi­cians are very, very ac­cus­tomed to." Neu­trope­nia oc­curs when pa­tients have too few of a type of white blood cell called neu­trophils.
"Physi­cians are pret­ty well-versed in try­ing to rec­og­nize those side ef­fects ear­ly and quick in­ter­ven­tions," he said.
Last year, As­traZeneca and Dai­ichi Sankyo's ADC ther­a­py En­her­tu be­came the first ther­a­py ap­proved for a new­ly de­fined sub­set of breast can­cer pa­tients called HER2-low. About 60% of HER2-neg­a­tive pa­tients fall in­to the HER2-low buck­et, mean­ing they have some HER2 pro­teins, but not enough to be clas­si­fied as HER2-pos­i­tive.
Gilead al­so post­ed HER2-low and IHC0 da­ta from the TROP­iCS-02 tri­al at ES­MO, with pro­gres­sion-free sur­vival com­ing in at 6.4 months in the treat­ment arm for HER2-low pa­tients, and five months for IHC0 pa­tients, the com­pa­ny an­nounced at the time.
"In a post-hoc analy­sis, da­ta demon­strat­ed Trodelvy's ef­fi­ca­cy across HER2-low and IHC0 sta­tus in pre-treat­ed metasta­t­ic breast can­cer pa­tients in the TROP­iCS-02 tri­al," Gilead said in a news re­lease on Fri­day.
Gross­man called the drug a "cor­ner­stone, bedrock to our pipeline" at ES­MO, while promis­ing to move in­to ear­li­er lines of ther­a­py and across "a wide num­ber of dif­fer­ent tu­mor types." He re­it­er­at­ed those plans in an in­ter­view ahead of the re­cent de­ci­sion.
"We're go­ing fast and fu­ri­ous" in adding new prod­ucts to the port­fo­lio, he said. "And Trodelvy is one of those."