Trump ad­min­is­tra­tion sinks teeth in­to par­ing down drug prices, on 5 key points
Three months af­ter Pres­i­dent Don­ald Trump an­nounced his blue­print to bring down drug prices, ad­min­is­tra­tion of­fi­cials have be­gun putting some teeth be­hind the rhetoric.
Many de­tails have yet to be an­nounced. But ex­perts who pay close at­ten­tion to fed­er­al drug pol­i­cy and Medicare rules say the ad­min­is­tra­tion is prepar­ing to in­cre­men­tal­ly roll out a mul­ti­pronged plan that tasks the Cen­ters for Medicare & Med­ic­aid Ser­vices (CMS) and the Food and Drug Ad­min­is­tra­tion with pro­mot­ing com­pe­ti­tion, at­tack­ing the com­pli­cat­ed drug re­bate sys­tem and in­tro­duc­ing tac­tics to low­er what the gov­ern­ment pays for drugs.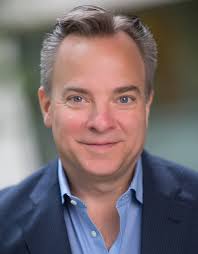 Mark Mc­Clel­lan
Mark Mc­Clel­lan, di­rec­tor of the Duke-Mar­go­lis Cen­ter for Health Pol­i­cy in Durham, NC, and a for­mer CMS ad­min­is­tra­tor, said that al­though none of the ini­tial steps has "fun­da­men­tal­ly trans­formed drug prices," there is "a lot go­ing on in­side the ad­min­is­tra­tion."
Two HHS of­fi­cials who are rolling out the plan, Dan Best and John O'Brien, de­scribed their ef­forts to Kaiser Health News not as a pub­lic re­la­tions strat­e­gy but a push to re­form the sys­tem.
"This ad­min­is­tra­tion is try­ing to go af­ter root caus­es" of high drug prices, said Wells Far­go an­a­lyst David Maris.
But oth­ers are not so op­ti­mistic.
Ameet Sarpat­wari, an in­struc­tor in med­i­cine at Har­vard Med­ical School in Boston, said poli­cies the ad­min­is­tra­tion has rolled out thus far "alone will not trans­late in­to mean­ing­ful cost sav­ings for most Amer­i­cans."
Broad­ly, the strat­e­gy falls un­der a hand­ful of steps:
1. At­tack­ing The Re­bates
Health and Hu­man Ser­vices Sec­re­tary Alex Azar has said Amer­i­cans "do not have a re­al mar­ket for pre­scrip­tion drugs" be­cause drug mid­dle­men and in­sur­ers get a wide range of hid­den re­bates from drug­mak­ers, but those sav­ings may not be passed on to con­sumers or Medicare. In Ju­ly, the ad­min­is­tra­tion sub­mit­ted a pro­posed rule that could change the way re­bates are han­dled.
De­tails of the pro­pos­al have not been made pub­lic. But O'Brien, a deputy as­sis­tant sec­re­tary at HHS, ex­plained dur­ing a re­cent con­fer­ence on fed­er­al drug spend­ing spon­sored by the Pew Char­i­ta­ble Trust: "You don't have to use mar­ket pow­er to get re­bates, you can use mar­ket pow­er to ob­tain dis­counts, to ac­tu­al­ly low­er the price of the drug on the front end."
Umer Raf­fat, an in­vest­ment an­a­lyst with Ever­Core ISI, said "it's not clear [that drug prices are go­ing down]" but the "re­bate struc­ture is chang­ing."
2. Bring­ing More Ne­go­ti­a­tion To Medicare
This week, CMS Ad­min­is­tra­tor Seema Ver­ma an­nounced that Medicare Ad­van­tage in­sur­ers can use a step-ther­a­py ap­proach to ne­go­ti­ate bet­ter prices for Part B drugs — those ad­min­is­tered in hos­pi­tals and doc­tors' of­fices. These pri­vate plans will be al­lowed to re­quire pa­tients to first se­lect the least ex­pen­sive drug be­fore step­ping up to more cost­ly drugs if the orig­i­nal med­ica­tions aren't work­ing.
The ad­min­is­tra­tion is al­so look­ing at ways to in­tro­duce more com­pe­ti­tion in­to Part B drug pur­chas­ing. That idea was men­tioned deep in­side the an­nu­al Medicare out­pa­tient pay­ment rule re­leased last month.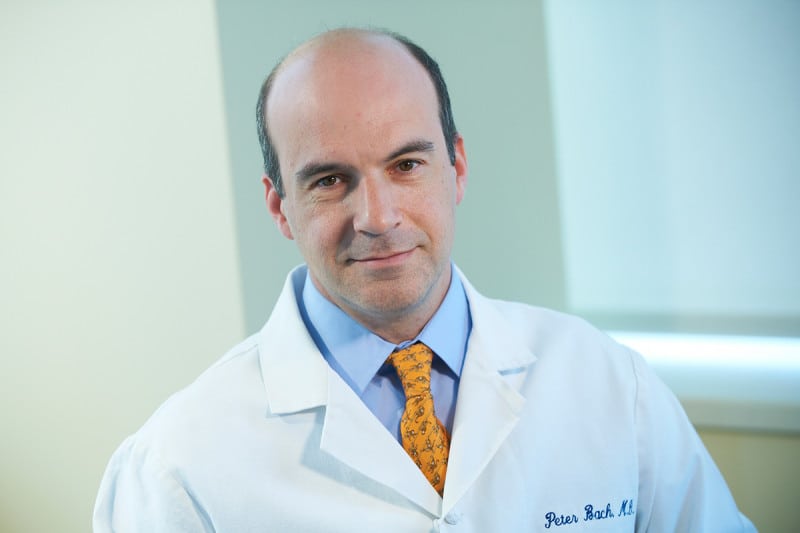 Pe­ter Bach
Pe­ter Bach, di­rec­tor of Memo­r­i­al Sloan Ket­ter­ing's Cen­ter for Health Pol­i­cy and Out­comes in New York, point­ed to the pos­si­ble in­tro­duc­tion of a com­pet­i­tive pur­chas­ing pro­gram in which a firm ne­go­ti­ates with drug­mak­ers to buy their drugs and then sells them to the doc­tors and hos­pi­tals that will ad­min­is­ter the med­ica­tions. Bach said that helps en­sure that hos­pi­tals and doc­tors can't make more mon­ey by pre­scrib­ing more ex­pen­sive drugs.
Cur­rent­ly, Medicare pays the av­er­age sales price plus 6 per­cent to doc­tors or hos­pi­tals when they pur­chase drugs, a pric­ing mech­a­nism that can ben­e­fit the providers if the drug costs go up. If there were a third par­ty buy­ing the drugs, it would "have a huge ef­fect," Bach said.
3. Pay­ing For Val­ue
Trump's blue­print calls for CMS to en­cour­age "val­ue-based care" to low­er drug prices, shift­ing from pay­ing a set fee for drugs to bas­ing pay­ments on how well the pa­tient does on them.
Louisiana's Med­ic­aid pro­gram could show the way. The state is work­ing with CMS to ex­plore a sub­scrip­tion-based mod­el to pay for he­pati­tis C med­i­cines. Louisiana would pay a fixed price to a drug man­u­fac­tur­er that would then get un­lim­it­ed ac­cess to treat pa­tients en­rolled in Louisiana's Med­ic­aid pro­gram or in prison.
The pro­gram would move "from a big pay­ment up­front to pay­ing less over time based on ac­tu­al out­comes," said Mc­Clel­lan, who al­so serves on the boards of health care gi­ant John­son & John­son and in­sur­er Cigna.
CMS al­so ap­proved a Med­ic­aid waiv­er from Ok­la­homa in June. Med­ic­aid pro­grams are al­lowed to ne­go­ti­ate drug prices. Ok­la­homa's plan would ex­pand that to ne­go­ti­ate ad­di­tion­al pre­scrip­tion price re­duc­tions based on val­ue-based pur­chas­ing agree­ments.
Still, CMS' re­cent re­jec­tion of a re­lat­ed Mass­a­chu­setts pro­pos­al makes it dif­fi­cult to be­lieve ne­go­ti­at­ing drug prices will re­al­ly hap­pen, said Sara Rosen­baum, a pro­fes­sor of health law and pol­i­cy at George Wash­ing­ton Uni­ver­si­ty.
That pro­pos­al would have al­lowed Mass­a­chu­setts' Med­ic­aid pro­gram to choose drugs based on cost and how well the med­i­cines work.
"They have been very good and quite care­ful with their [Med­ic­aid] pro­gram and so why not let them try this?" Rosen­baum said.
4. Tack­ling For­eign Drug Costs
Phar­ma­ceu­ti­cal mak­ers of­ten sell their drugs at sub­stan­tial­ly low­er prices in many for­eign coun­tries than they do in the Unit­ed States. Trump em­pha­sized in May that "it's time to end the glob­al free­load­ing once and for all," say­ing U.S. con­sumers were pay­ing part of the cost of the med­i­cines that pa­tients in oth­er coun­tries use.
He di­rect­ed US Trade Rep­re­sen­ta­tive Robert Lighthiz­er to ad­dress the sit­u­a­tion. Lighthiz­er's of­fice de­clined to com­ment.
When Sen. Todd Young (R-Ind.) asked dur­ing a Sen­ate health com­mit­tee hear­ing in June whether trade agree­ments with oth­er coun­tries should be used to "lev­el the play­ing field," Azar's re­sponse was swift: "We ab­solute­ly be­lieve we should be us­ing our trade agree­ments to get them to pay more even as we have our job to pay less."
Avalere Health Pres­i­dent Matt Brow, who has been in­volved in talks with the ad­min­is­tra­tion, said it's clear the fo­cus on over­seas pric­ing isn't go­ing away and the ad­min­is­tra­tion is "talk­ing a lot about how to get the pres­i­dent what he wants."
5. In­creas­ing Com­pe­ti­tion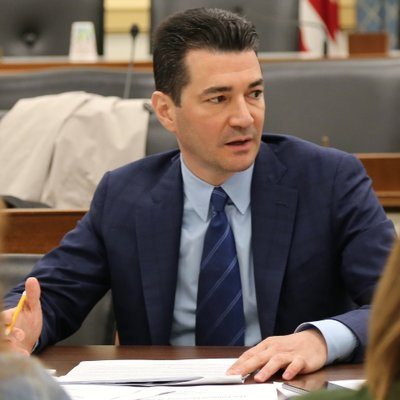 Scott Got­tlieb
FDA Com­mis­sion­er Scott Got­tlieb has be­come the Trump ad­min­is­tra­tion's lead pro­po­nent for in­creas­ing com­pe­ti­tion among drug­mak­ers.
Com­pe­ti­tion res­onates with Amer­i­cans "be­cause peo­ple see it every day in their ex­pe­ri­ence in Cost­co and oth­er places," said Re­na Con­ti, an as­sis­tant pro­fes­sor at the Uni­ver­si­ty of Chica­go.
Got­tlieb has an­nounced plans to bol­ster the use of gener­ic drugs and an "ac­tion plan" to en­cour­age the de­vel­op­ment of biosim­i­lars, which are copy­cat ver­sions of ex­pen­sive bi­o­log­ic drugs made from liv­ing or­gan­isms.
And to com­bat an­ti-com­pet­i­tive be­hav­ior in the mar­ket, Got­tlieb said the FDA has passed along in­for­ma­tion to the Fed­er­al Trade Com­mis­sion and hint­ed at po­ten­tial ac­tion to come: "I think we've hand­ed them some pret­ty good facts."
---
By Sarah Jane Trib­ble. Orig­i­nal­ly post­ed at Kaiser Health News, a na­tion­al health pol­i­cy news ser­vice that is part of the non­par­ti­san Hen­ry J Kaiser Fam­i­ly Foun­da­tion.