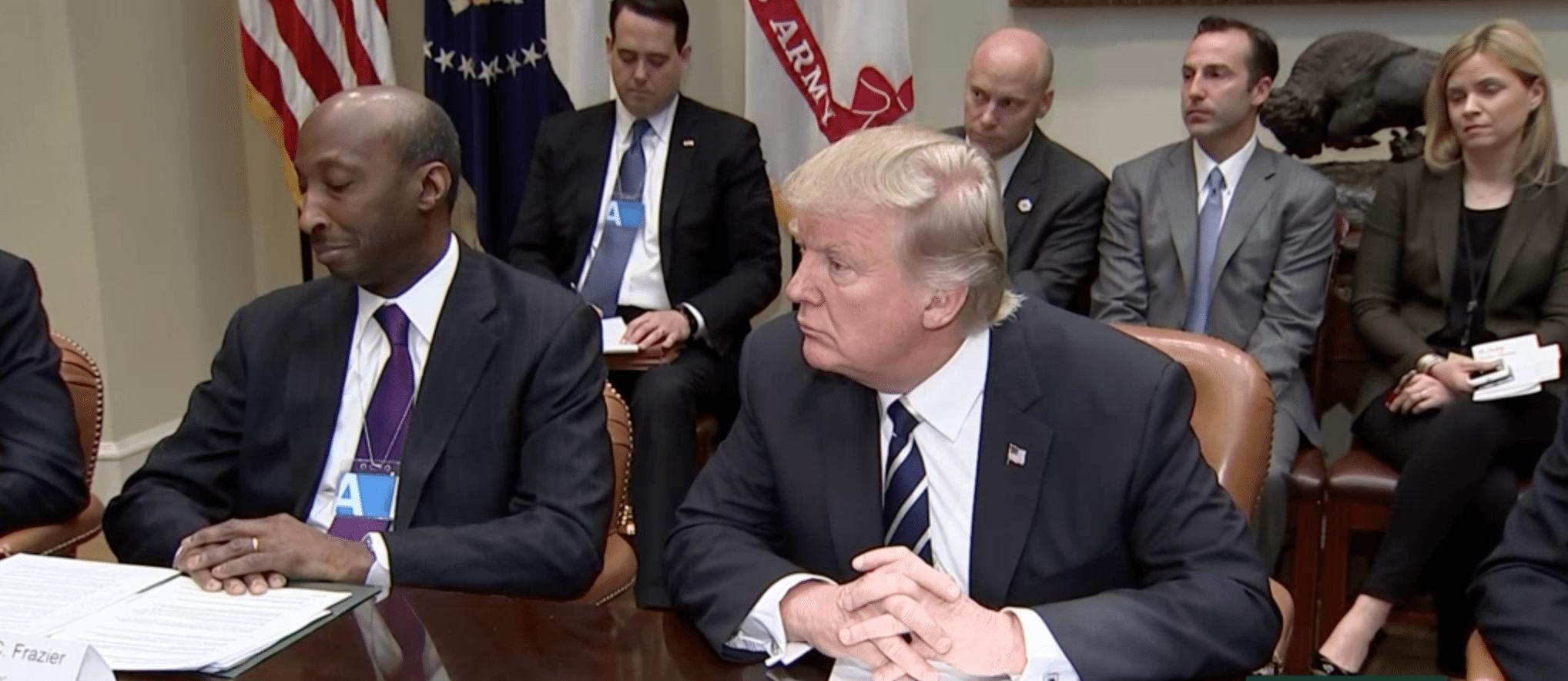 Trump scolds phar­ma ex­ecs, de­mand­ing low­er prices, more US man­u­fac­tur­ing while promis­ing to slash FDA regs
Some of the top CEOs of the phar­ma in­dus­try got to­geth­er with Pres­i­dent Trump Tues­day morn­ing look­ing for com­mon ground. In­stead, they got an­oth­er lec­ture on drug pric­ing, a re­newed promise that the FDA will speed up new drug ap­provals with just a frac­tion of the old reg­u­la­tions in play, and as­sur­ances of an FDA pick wait­ing in the wings who will help put every­thing in or­der.
"We have to get the prices way down," said Trump, flanked by Cel­gene CEO Bob Hug­in and Mer­ck CEO Ken Fra­zier. "The pric­ing has been as­tro­nom­i­cal for our coun­try."
But there was a car­rot of­fered along with the stick, as Trump re­peat­ed­ly hit on his promise to slash drug reg­u­la­tions to help speed new drug ap­provals.
"We're al­so go­ing to be stream­lin­ing the process," he told the ex­ecs, "so that from your stand­point when you have a drug that you can ac­tu­al­ly get it ap­proved in­stead of wait­ing many, many years."
"We're go­ing to get the ap­proval process much faster," he said. "We're go­ing to be cut­ting reg­u­la­tions at a lev­el peo­ple have nev­er seen be­fore," he added. Peo­ple can still be pro­tect­ed, he said, "but in­stead of 9,000 pages it can be 100 pages. And you don't have to dou­ble up and quadru­ple up. We have com­pa­nies that have more peo­ple work­ing on reg­u­la­tions than they have work­ing at the com­pa­ny."
To il­lus­trate his point, Trump came up with an anec­dote of a dy­ing pa­tient with just weeks to live, un­able to get an ex­per­i­men­tal ther­a­py. Those days, he vowed, are over. And he in­sist­ed that the com­pa­nies would be re­quired to do far more of their drug man­u­fac­tur­ing in­side the coun­try.
"You have to get your com­pa­nies back here," he said, re­peat­ing a pledge to re­duce the reg­u­la­to­ry work­load need­ed to get a new plant ap­proved and in op­er­a­tion.
Trump signed a new ex­ec­u­tive or­der Mon­day or­der­ing that every gov­ern­ment agency would be re­quired to elim­i­nate two reg­u­la­tions on the books, for every one they want to add.
Said the pres­i­dent: "I'll op­pose any­thing that makes it hard­er for small­er, younger com­pa­nies to take the risk of bring­ing a prod­uct to a vi­brant­ly com­pet­i­tive mar­ket. That in­cludes price fix­ing by the biggest dog in the mar­ket, Medicare, which is what's hap­pen­ing. But we can in­crease com­pe­ti­tion and bid­ding wars big time."
Trump al­so lev­eled a blast at the rest of the world, which have re­lied on high prices in the US to sub­si­dize their own dis­count­ed rates.
"We're go­ing to end glob­al free­load­ing," he pledged. "You're go­ing to get your prod­ucts ei­ther ap­proved or not ap­proved, but its not go­ing to take 15 years," he said, cit­ing av­er­age cost of drug de­vel­op­ment at $2.5 bil­lion. Both of those fig­ures are hot­ly de­bat­ed in bio­phar­ma, where poor R&D re­turns in Big Phar­ma have long in­flat­ed the cost and time it takes to get a new drug to mar­ket.
"We're go­ing to be chang­ing a lot of the rules," Trump not­ed about the FDA, adding that he has an FDA com­mis­sion­er who's been picked out and will be named soon. He al­so seemed to ze­ro in on safe­ty as a key con­sid­er­a­tion of quick ap­provals, echo­ing a sug­ges­tion from Jim O'Neill, a Lib­er­tar­i­an close to Trump sup­port­er Pe­ter Thiel, who's ad­vo­cat­ed ap­provals based on ev­i­dence of safe­ty alone. O'Neill is one of sev­er­al ru­mored can­di­dates for the top job at the FDA.
Along with Hug­in and Fra­zier, David Ricks at Eli Lil­ly, Joe Jimenez at No­var­tis and oth­ers joined the ses­sion.