The End­points poll: Clin­ton v Trump and wide­spread fret­ting that the FDA just blun­dered bad­ly
Who would be a bet­ter pres­i­dent for biotech? Hillary Clin­ton or Don­ald Trump? Is there even a dif­fer­ence? And what did the in­dus­try think of that con­tro­ver­sial Duchenne mus­cu­lar dy­s­tro­phy drug ap­proval? Did it mark a drop in FDA stan­dards? We asked our au­di­ence and heard back — loud and clear.
---
End­points News pulled off its first snap poll at the end of last week, with pub­lish­er Ar­salan Arif send­ing out a sin­gle query to a tar­get­ed seg­ment from our 10,000 email sub­scribers. About 95% of our au­di­ence is di­rect­ly en­gaged in the bio­phar­ma busi­ness, with a big fo­cus on drug de­vel­op­ment. Our goal: get a sense of the in­dus­try's think­ing on pres­i­den­tial pol­i­tics and that re­cent con­tro­ver­sial FDA OK for the Duchenne drug eteplirsen.
The re­spons­es came in hard and fast, leav­ing lit­tle doubt how the ma­jor­i­ty is feel­ing on both is­sues. Al­to­geth­er, Arif col­lect­ed 494 re­spons­es from qual­i­fied bio­phar­ma in­dus­try pro­fes­sion­als.
---
1. Who would be the bet­ter Pres­i­dent for the bio­phar­ma in­dus­try? (Please, no per­son­al feel­ings.)
| | | |
| --- | --- | --- |
| Hillary Clin­ton | 52% | 259 |
| Don­ald Trump | 27% | 134 |
| No dif­fer­ence | 20% | 101 |
| To­tal | | 494 |
First, on the elec­tion. Rather than sim­ply ask who peo­ple are plan­ning to vote for, we went for a some­what dif­fer­ent take. Who do you think will most like­ly be bet­ter for biotech? Don­ald Trump or Hillary Clin­ton? A slight, over­all ma­jor­i­ty marked Clin­ton as the bet­ter of the two can­di­dates for the in­dus­try. Trump came in at about half that num­ber. And he beat out "no dif­fer­ence" by a mere 7 points, with 1 in 5 fail­ing to see any kind ad­van­tage in one over the oth­er.
Clin­ton may be win­ning the biotech vote, but with so many dis­af­fect­ed pro­fes­sion­als un­able to mark a pref­er­ence, you can't say that any kind of ma­jor­i­ty is over-the-moon about the idea of a Clin­ton pres­i­den­cy. Trump, though, is a dis­tant sec­ond in the hearts of the biotech in­dus­try. Come the No­vem­ber elec­tion, Clin­ton takes the biotech vote — heav­i­ly clus­tered in De­mo­c­ra­t­ic strong­holds like Boston and the Bay Area — in a cake walk.
---
2. Should the FDA have ap­proved Ex­ondys 51/eteplirsen?
| | | | | |
| --- | --- | --- | --- | --- |
| | All | Clin­ton + | Trump + | No diff. |
| No | 66% (324) | 67% (173) | 65% (87) | 63% (64) |
| Yes | 34% (170) | 33% (86) | 35% (47) | 37% (37) |
There's no doubt­ing how to in­ter­pret these num­bers. Two thirds of the peo­ple we polled felt that the FDA should not have ap­proved Sarep­ta's Ex­ondys 51 (eteplirsen). This was a non-par­ti­san fa­vorite. There was vir­tu­al­ly no dif­fer­ence on which way they leaned on the pres­i­den­tial show­down, ei­ther. Whether they thought Trump or Clin­ton was bet­ter for biotech, the ma­jor­i­ty clear­ly felt that the agency had made a mis­take.
Sarep­ta helped fo­ment one of the biggest pa­tient ad­vo­ca­cy cam­paigns ever mount­ed for an ap­proval. But sev­er­al top FDA of­fi­cials made it clear that the com­pa­ny had nev­er suc­cess­ful­ly made its case for this drug. FDA Com­mis­sion­er Robert Califf al­so cit­ed the com­pa­ny for play­ing fast and loose with some of the da­ta the com­pa­ny used to make its case with pa­tients and in­vestors. But he bowed to the de­ci­sion made by CDER di­rec­tor Janet Wood­cock. And that, says the ma­jor­i­ty, was a mis­take.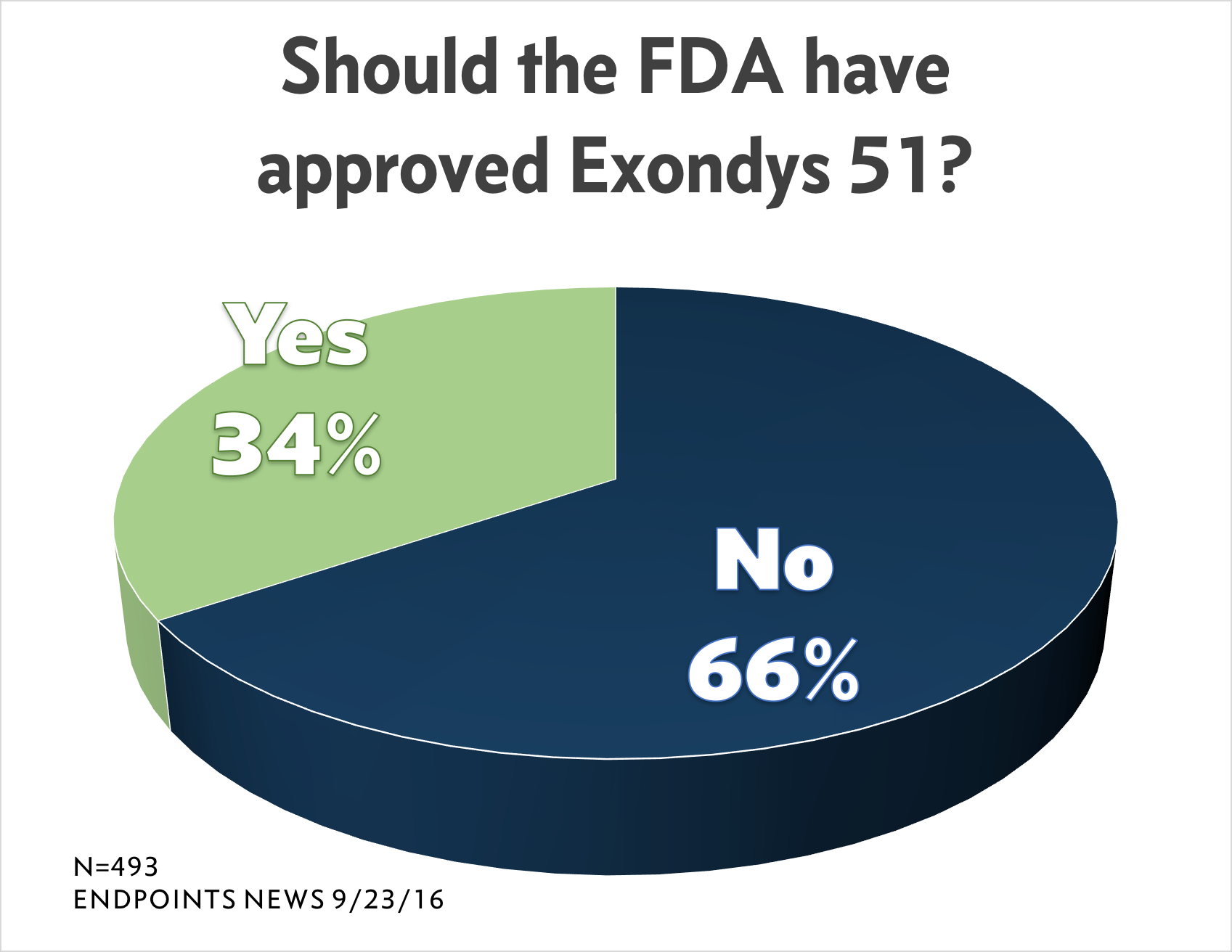 ---
3. Did the ap­proval of Ex­ondys 51/eteplirsen mark a drop in the FDA's stan­dards?
| | | | |
| --- | --- | --- | --- |
| | All | Wrong ap­proval | Right ap­proval |
| Yes | 68% (337) | 92% (299) | 22% (38) |
| No | 32% (157) | 8% (25) | 78% (132) |
Rough­ly the same num­ber of in­dus­try pros who ob­ject­ed to the ap­proval al­so con­clud­ed that the con­di­tion­al ap­proval for mar­ket­ing marked a drop in the agency's stan­dards. It is note­wor­thy, though, that 22% of the in­dus­try pro­fes­sion­als who felt it was the right de­ci­sion al­so felt that it marked a drop in ap­proval stan­dards. A much small­er per­cent­age of the "wrong" vote – 8% – did not feel that it re­flect­ed a drop in stan­dards.