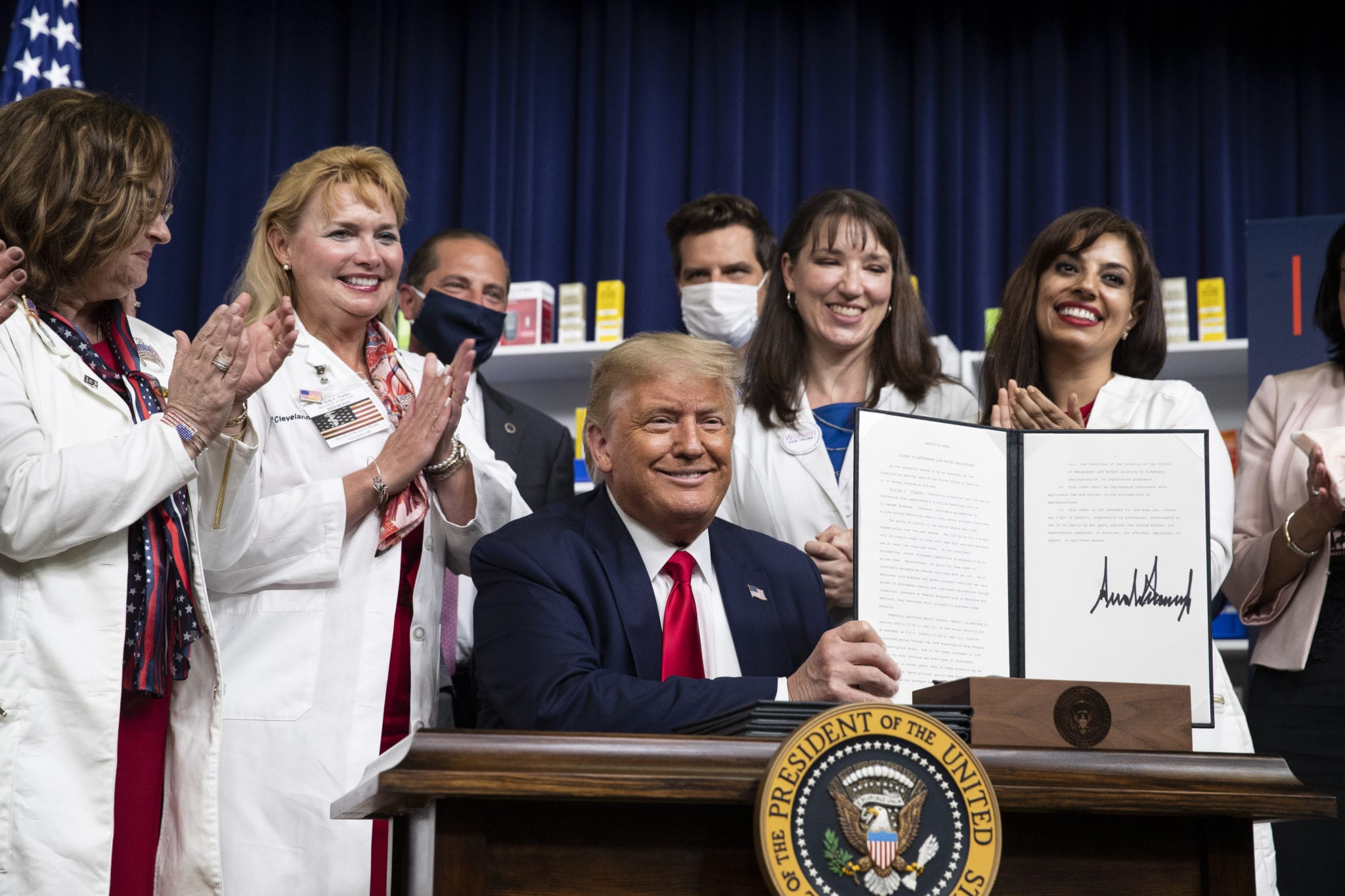 Donald Trump holds up a signed executive order in the South Court Auditorium in the White House complex on Friday, July 24, 2020 (AP Photo/Alex Brandon)
Trump looks to ham­mer down drug prices with 4 ex­ec­u­tive or­ders
Pres­i­dent Don­ald Trump signed 4 ex­ec­u­tive or­ders tar­get­ing the phar­ma­ceu­ti­cal in­dus­try Fri­day af­ter­noon, four months be­fore vot­ers head to the polls.
The pres­i­den­tial di­rec­tives are part of Trump's long-stand­ing goal to re­duce pre­scrip­tion drug prices in the US. As the cal­en­dar turns to­ward No­vem­ber, the pres­i­dent has shift­ed to ex­ec­u­tive ac­tion over work­ing with Con­gress to reach this ob­jec­tive.
Here are 3 of the 4 ex­ec­u­tive or­ders:

1. Drug re­bates. https://t.co/mn­jt89OANx

2. In­sulin/Epi-Pen at small health cen­ters. https://t.co/aSOF­pHQoNa

3. Im­por­ta­tion. https://t.co/rRhCRa48gx

4th on in­ter­na­tion­al price not re­leased b/c it's con­tin­gent on phar­ma's al­ter­na­tive plan?

— Bob Her­man (@bob­jher­man) Ju­ly 24, 2020
Whether or not such ac­tion will re­sult in any mean­ing­ful changes be­fore the elec­tion re­mains to be seen, as the phar­ma in­dus­try con­tin­ues to be a lob­by­ing force on Capi­tol Hill. The ex­ec­u­tive or­ders are al­so like­ly to be chal­lenged in court.
The most con­tro­ver­sial or­der re­port­ed­ly at­tempts to cap some prices Medicare pays to the price in for­eign coun­tries, which are usu­al­ly sig­nif­i­cant­ly low­er. The text wasn't im­me­di­ate­ly avail­able.
These "most-fa­vored na­tions" claus­es are akin to price con­trols in phar­ma cir­cles, and Trump threat­ened drug com­pa­nies by im­pos­ing this or­der with­in a month if the com­pa­nies didn't low­er prices on their own. How Trump can en­act the clause with­out Con­gress re­mains un­clear.
One of phar­ma's most in­flu­en­tial lob­by­ist groups, PhRMA, un­sur­pris­ing­ly re­act­ed neg­a­tive­ly to the de­vel­op­ments. Here's PhRMA pres­i­dent Stephen Ubl:
In his 2020 State of the Union Ad­dress, Pres­i­dent Trump de­clared that 'we will nev­er let so­cial­ism de­stroy Amer­i­can health care.'

Yet, in the mid­dle of a glob­al pan­dem­ic, when near­ly 145,000 Amer­i­cans have lost their lives and mil­lions of oth­ers have suf­fered un­told eco­nom­ic hard­ships, this ad­min­is­tra­tion has de­cid­ed to pur­sue a rad­i­cal and dan­ger­ous pol­i­cy to set prices based on rates paid in coun­tries that he has la­beled as so­cial­ist, which will harm pa­tients to­day and in­to the fu­ture.

The re­search-based bio­phar­ma­ceu­ti­cal in­dus­try has been work­ing around the clock to de­vel­op ther­a­peu­tics and vac­cines to treat and pre­vent COVID-19. The ad­min­is­tra­tion's pro­pos­al to­day is a reck­less dis­trac­tion that im­pedes our abil­i­ty to re­spond to the cur­rent pan­dem­ic – and those we could face in the fu­ture. It jeop­ar­dizes Amer­i­can lead­er­ship that re­wards risk-tak­ing and in­no­va­tion and threat­ens the hope of pa­tients who need bet­ter treat­ments and cures.

The pres­i­dent's at­tempt to open our coun­try up to so­cial­ized health care sets Amer­i­ca, our eco­nom­ic re­cov­ery and sci­en­tif­ic progress back at a time when we need them most.
BIO's chief Michelle Mc­Mur­ry-Heath al­so slammed the move, say­ing she was "dumb­found­ed that the Trump ad­min­is­tra­tion would seek to crip­ple the in­dus­try try­ing to end the COVID-19 pan­dem­ic."
I am dumb­found­ed that the Trump ad­min­is­tra­tion would seek to crip­ple the in­dus­try try­ing to end the #COVID19 pan­dem­ic. Hear more on @Ya­hoo­Fi­nance be­low. https://t.co/t5E2LnY7GE

— Dr. Michelle Mc­Mur­ry-Heath (@Dr­MichelleBIO) Ju­ly 24, 2020
Dur­ing the press con­fer­ence Trump said top phar­ma ex­ec­u­tives will meet with ad­min­is­tra­tion of­fi­cials next week.
A sec­ond or­der is an ex­ten­sion of a plan in­tro­duced late last year that would al­low states, drug whole­salers and phar­ma­cies to re-im­port drugs from Cana­da at a low­er cost. Phar­ma lob­by­ists claim that such plans would not be able to guar­an­tee the safe­ty of the US drug sup­ply chain, a stance that has been met with skep­ti­cism, while Cana­da isn't par­tic­u­lar­ly in­ter­est­ed in act­ing as a proxy be­tween drug com­pa­nies and states.
The oth­er two or­ders tar­get in­sulin pric­ing and the re­bates drug whole­salers and phar­ma­ceu­ti­cal ben­e­fit man­agers re­ceive when sell­ing to in­sur­ers.
The lob­by­ist group PC­MA has al­ready come out in op­po­si­tion to the lat­ter mea­sure, with pres­i­dent JC Scott say­ing in a state­ment, "This pol­i­cy does noth­ing to ad­dress drug prices, it on­ly serves to cre­ate un­cer­tain­ty and raise pre­mi­ums for se­niors while im­pos­ing near­ly $400 bil­lion in ad­di­tion­al tax­pay­er costs, all at a time when tax­pay­ers are al­ready foot­ing ad­di­tion­al costs to counter the pan­dem­ic and the na­tion­al debt is at record lev­els."
Drug prices have been a pet is­sue for Trump, and the pres­i­dent re­port­ed­ly ex­pressed his frus­tra­tion with HHS sec­re­tary Alex Azar in Jan­u­ary say­ing the De­mo­c­ra­t­ic Par­ty will "kill us" on the is­sue. The COVID-19 pan­dem­ic has fur­ther com­pli­cat­ed the is­sue, as Trump's ap­proval re­gard­ing how he's han­dling the coro­n­avirus is deep in the red, and the White House has been fun­nel­ing cash in­to the in­dus­try to fu­el the re­search and de­vel­op­ment of po­ten­tial vac­cines.