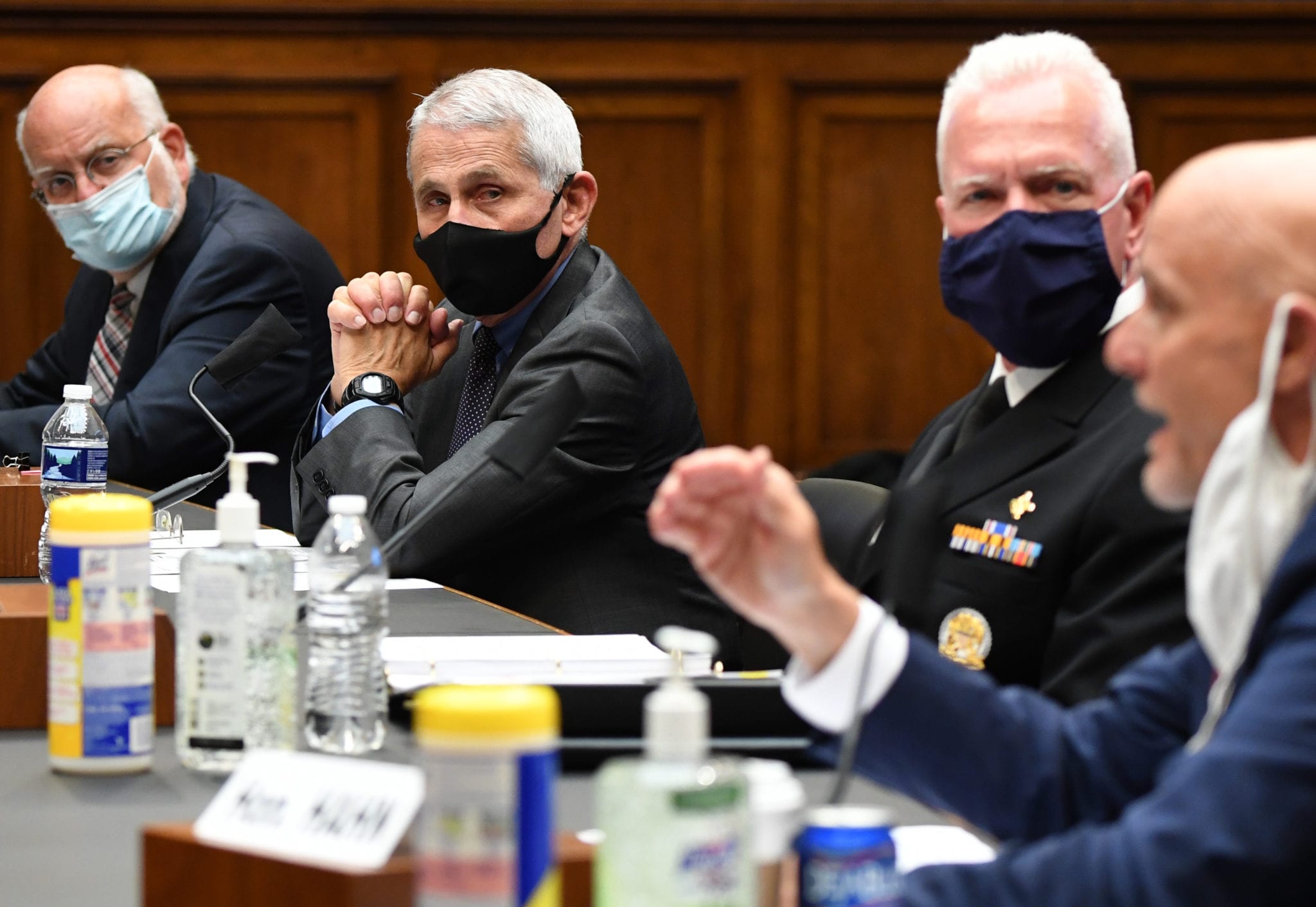 CDC's Robert Redfield, NIAID's Anthony Fauci, Admiral Brett Giroir at HHS, and FDA's Stephen Hahn prepare to testify at a House hearing on June 23 (Getty)
'Ex­treme­ly po­lit­i­cal' — Trump neuters FDA's at­tempt to strength­en vac­cine EUA
Stephen Hahn went be­fore a Sen­ate com­mit­tee Wednes­day and de­clared he's fight­ing. "Every one of the de­ci­sions we have reached has been made by ca­reer FDA sci­en­tists based on sci­ence and da­ta, not pol­i­tics," he ex­claimed, adding that "FDA will not per­mit any pres­sure from any­one to change that. I will fight for sci­ence."
A few hours lat­er, he was un­der­mined by Pres­i­dent Don­ald Trump when a re­porter asked if he was okay with stricter vac­cine guide­lines that the FDA was said to be cook­ing up. "That has to be ap­proved by the White House. We may or may not ap­prove it. That sounds like a po­lit­i­cal move," he de­cid­ed.
The re­marks set up an­oth­er crit­i­cal junc­ture for the agency and its be­lea­guered com­mis­sion­er, who has been work­ing over­time to bol­ster pub­lic con­fi­dence in the FDA and his lead­er­ship since Hahn's dis­as­trous per­for­mance as­sist­ing the pres­i­dent tout false con­va­les­cent plas­ma fig­ures.
The pres­i­dent then ques­tioned the need to length­en the ap­proval time­line, fore­cast­ing "great re­sults" ahead and again fram­ing the FDA's moves as po­lit­i­cal:
Be­cause when you have Pfiz­er, John­son and John­son, Mod­er­na, these great com­pa­nies com­ing up with the vac­cines and they've done test­ing and every­thing else. I'm say­ing, why would they have to be adding great length to the process.

It sound­ed to me, ex­treme­ly po­lit­i­cal. Why would they do this, when we come back with these great re­sults. And I think you will have those great re­sults.
The new FDA stan­dards re­port­ed­ly passed muster at HHS on Tues­day and there was an ex­pec­ta­tion that it would get a green light from the White House, ac­cord­ing to a Politi­co re­port that cites two sources fa­mil­iar with the time­line. Trump re­port­ed­ly spoke with HHS sec­re­tary Alex Azar be­fore the press con­fer­ence.
Un­der the new guid­ance, vac­cine de­vel­op­ers must fol­low at least half the par­tic­i­pants for 60 days fol­low­ing the sec­ond dose, as well as ac­crue five or more cas­es of se­vere Covid-19 in the place­bo group, be­fore they can seek an EUA.
It's still pos­si­ble the new EUA rules are al­lowed to go in­to ef­fect by Trump. But for an agency ac­cus­tomed to bi­par­ti­san def­er­ence from its po­lit­i­cal su­pe­ri­ors, it's now sail­ing in un­chart­ed wa­ters work­ing un­der a pres­i­dent who de­mands key de­ci­sions be rout­ed through a com­mand-and-con­trol struc­ture firm­ly con­trolled by him or trust­ed lieu­tenants. And by hav­ing Trump la­bel their work as "ex­treme­ly po­lit­i­cal," it rais­es new ques­tions on what mes­sag­ing, if any, FDA lead­ers can em­ploy that would both sat­is­fy the pres­i­dent and the sci­en­tif­ic com­mu­ni­ty.
Trump be­gan Wednes­day's press con­fer­ence by en­cour­ag­ing Amer­i­cans to en­roll in Covid-19 vac­cine tri­als, and then tout­ed some ques­tion­ably star­ry num­bers on treat­ments in the pipeline. "We are see­ing promis­ing re­sults that are mon­o­clon­al an­ti­bod­ies which help the im­mune sys­tem fight the virus," Trump said, halt­ing­ly read­ing a script.
But the first ques­tion he took was on the peace­ful trans­fer of pow­er af­ter the elec­tion. He re­fused to com­mit to it.
For a look at all End­points News coro­n­avirus sto­ries, check out our spe­cial news chan­nel.