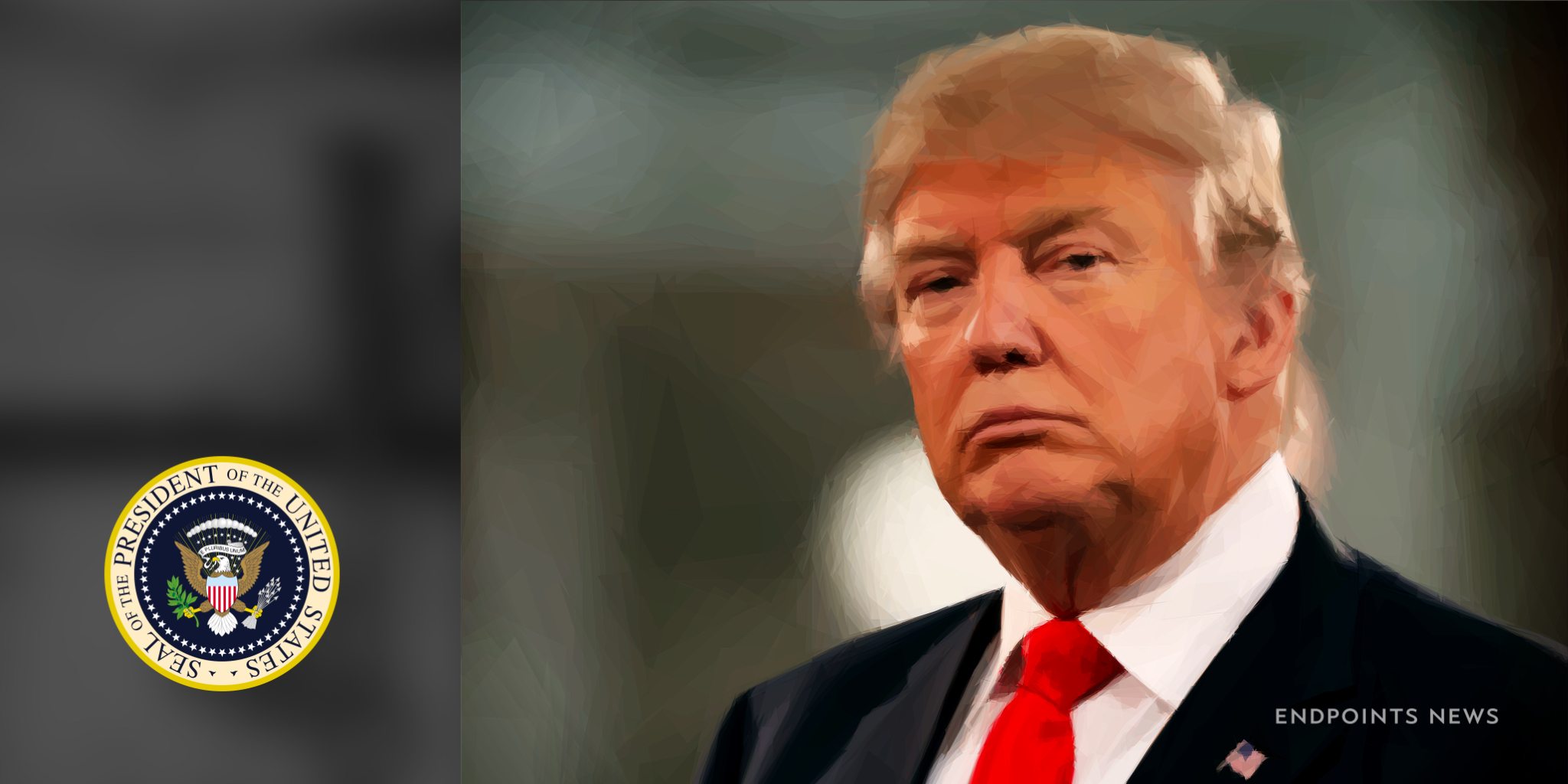 Trump tweets a new vow to spur com­pe­ti­tion in the phar­ma biz, slash­ing prices
Pres­i­dent Trump has a re­minder for the bio­phar­ma in­dus­try to­day: He hasn't for­got­ten you or the con­tro­ver­sy over drug prices.
I am work­ing on a new sys­tem where there will be com­pe­ti­tion in the Drug In­dus­try. Pric­ing for the Amer­i­can peo­ple will come way down!

— Don­ald J. Trump (@re­al­Don­aldTrump) March 7, 2017
This lat­est tweet from the pres­i­dent of the Unit­ed States un­der­scores Trump's re­peat­ed in­sis­tence that the fed­er­al gov­ern­ment can ratch­et down health­care prices by fos­ter­ing com­pe­ti­tion.
Trump proved that he can still send a jolt through in­dus­try shares. Both the IBB and XBI dropped more than a point on the tweet, then start­ed re­cov­er­ing some­what. The pres­i­dent's so­cial me­dia pro­nounce­ments don't have the same bite as we saw in the days af­ter his in­au­gu­ra­tion.
This lat­est tweet is al­so long on promise and short on de­tails. And it's the de­tails — like Trump's pick for FDA com­mis­sion­er — which peo­ple in the in­dus­try want to see now.
Trump's brand of change may come through a re­formed FDA, where he's in­sist­ed that dereg­u­la­tion can make a big dif­fer­ence in re­duc­ing the amount of time and mon­ey spent on drug de­vel­op­ment. Or Medicare could be re­jigged to al­low for price ne­go­ti­a­tions which have been barred by law.
Or all that and more could be in­clud­ed.
I've found many ex­ecs in bio­phar­ma be­lieve that the drug in­dus­try is plen­ty com­pet­i­tive as it stands. Al­so, there's been lit­tle ev­i­dence that faster de­vel­op­ment will re­duce the cost of new drugs.
Umer Raf­fat at Ever­core ISI had this to say:
Ques­tion re­al­ly is: what does that mean? Re­call that Pres­i­dent Trump has pre­vi­ous­ly made ref­er­ences to "bid­ding".

There are 2 types of com­pe­ti­tion:

1. Brand vs gener­ic – this al­ready ex­ists (and in fact, mar­ket forces dri­ve gener­ics to have very fierce pric­ing wars)

2. Brand vs brand – for this to hap­pen, you need in­ter­change­able brand­ed prod­ucts … e.g., just be­cause 2 drugs are ap­proved for same in­di­ca­tion doesn't make them di­rect "com­pe­ti­tion"

o For true "com­pe­ti­tion" among brands, you need:

§ Mul­ti­ple drugs in same class

§ Same in­di­ca­tion

§ Same route of ad­min­is­tra­tion

§ Sim­i­lar ef­fi­ca­cy

§ Sim­i­lar safe­ty

o Some ther­a­peu­tic ar­eas have this … but not all

Most im­por­tant­ly, many ther­a­peu­tic ar­eas with gen­er­al­ly in­ter­change­able brand­ed prod­ucts are al­ready un­der Part D … and have for­mu­la­ry tiers etc.

And that's the ul­ti­mate ques­tion: is the Pres­i­dent re­fer­ring more to Part B (where no for­mu­la­ries ex­ist cur­rent­ly)? Re­al­i­ty is, we just don't know un­til some­thing de­fin­i­tive is put out

Mean­while, phar­ma may have some ne­go­ti­at­ing lever­age with the Trump ad­min­is­tra­tion be­cause of the abil­i­ty to pitch a job-cre­ation plan … e.g., look at this tweet (al­so from to­day):
Thank you to @exxon­mo­bil for your $20 bil­lion in­vest­ment that is cre­at­ing more than 45,000 man­u­fac­tur­ing & con­struc­tion jobs in the USA!

— Don­ald J. Trump (@re­al­Don­aldTrump) March 7, 2017
One sug­ges­tion from Jim O'Neill, a for­mer HHS of­fi­cial un­der Bush who is ev­i­dent­ly un­der con­sid­er­a­tion as the new head of the FDA, could have an im­pact on pric­ing. He has said in the past that drugs proven to be "safe" should be put on the mar­ket so that peo­ple can find out for them­selves how ef­fec­tive it may be.
A slew of new drugs hur­ried out un­der those stan­dards could start com­pet­ing with es­tab­lished drugs — we just won't know if they're worth any­thing at all.