President Donald Trump took to the bully pulpit today to steer a package of proposals into existence that he claimed is "the most sweeping action in history to lower the price of prescription drugs for the American people."
But if that was his aim, his shot hit so far from the mark that it triggered a spike in Big Pharma stock prices as analysts dismissed the effort as a "non-event" centered on some marginal promotional issues that would be a "small price to pay" for avoiding taking a hit on their control of drug pricing.
Trump's short speech — playing out against a backdrop of revelations that Novartis had paid his personal attorney $1.2 million — continued his practice of excoriating drug lobbyists and special interests. But it was long on rhetoric and short on tough moves. 
The president said his proposals would result in "eliminating the middle men; the middle men became very, very rich," even though their stocks also surged in the wake of Trump's rollout. And he vowed to take on special interests while preventing manufacturers from exploiting the country's patent system to guard blockbuster therapeutic franchises.
As promised, Trump accused other countries of engineering artificially low drug prices, forcing Americans to shoulder the weight of "the enormous cost of research and development." Trump also weighed in against so-called gag laws that prevent pharmacists from pointing consumers to lower priced alternatives to prescribed drugs.
In a quick follow-up, HHS Secretary Alex Azar raised one specific proposal that aimed at shaming pharma companies by forcing them to include the price of the drugs they promoted in advertising.
While lobbyists may have come in for a tongue lashing, the industry has to be pleased that the administration is making no move to require Medicare to negotiate lower prices, or allow for reimportation of drugs from those other countries with cheaper prices. What we heard about today amounted to some tailoring and planned slimming — the basic outfit remains the same. And that fact helped trigger a broad rally in Big Pharma stocks after the speech wrapped.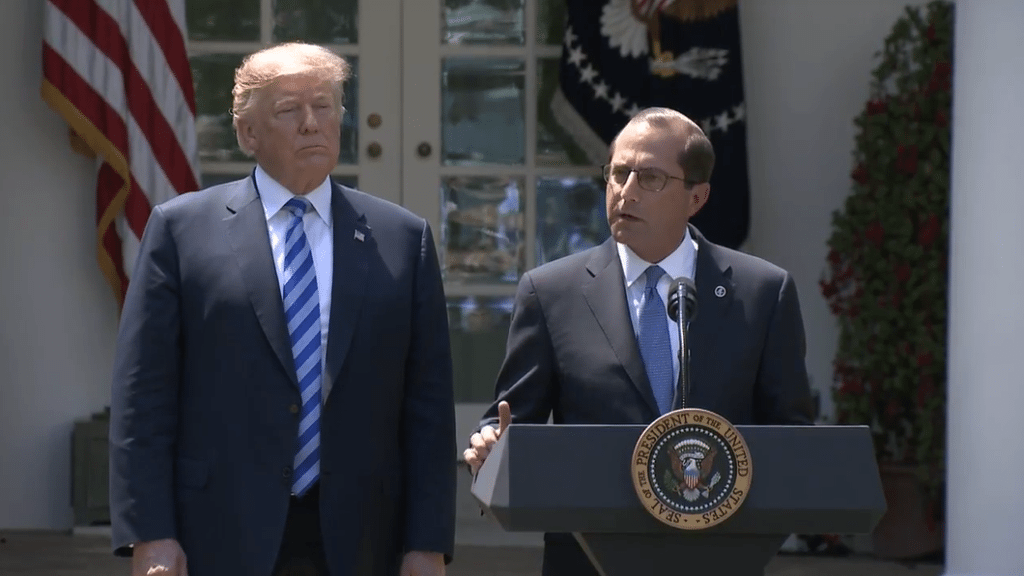 HHS provided more specifics in a blueprint for action that it distributed just before the speeches. The actions include —
Adding value-based drug contracting, which the industry has already eagerly signed off on as a needed compromise.
Changing the formulary structure used by Medicare Part D plans to allow for a minimum of one drug per category or class, rather than 2, to heighten competition and allow some leveraging.
Encouraging states to try new demo projects using best practices from private industry to lower drug costs.
Ending the 180-day generic drug exclusivity provision as a temporary measure to hold back discount competition.
Going after low foreign drug prices beginning with an analysis of prices in countries belonging to the Organisation for Economic Co-operation and Development.
Including new rules aimed at lowering out-of-pocket expenses.
Offering thoughts on increasing the number and access to biosimilars, eliminating a process where "manufacturers may seek to use shared system REMS to delay or block competition from generic products entering the market."
Giving Part D plans more flexibility on adding cheaper generics to their formularies.
And in addition to seeing if the rules can be changed to require pharmas to publicize pricing, the government has a plan to spotlight drugs which have not seen regular price hikes as part of an attempt to shine a light on the cost of individual therapies.
The proposals today are very much a work in progress, with the administration promising to look at interchangeability of biosimilars with branded drugs, an issue that has raised the hackles of some drug manufacturers whose franchise drugs face a competitive threat.
But while companies are likely to object to various details in the plan, with considerable lobbying to come on the specifics, there are no big changes outlined here that will do what Trump has been promising to do for more than a year: slash drug prices.
Investors clearly didn't see any pain in the proposals. The $NBI surged, along with shares of the big pharmas like Eli Lilly (up 2%), Merck (up 3%) and J&J (up 2%). So did the PBMs — $ESRX — that took a hit from the president. The window dressing to this speech may have indicated a time of mourning, but the lights were on and the party was underway inside.
Jefferies called it "benign," and a "non-event."
And Jefferies LLC healthcare trading desk weighs in: 'TRUMP SPEECH BENIGN. NON-EVENT. COMMENTS OVERLY VAGUE. SHORTS ARE COVERING. MASSIVE WASTE OF TIME. NOTHING ELSE TO REALLY ADD.'

— Peter Loftus (@Loftus) May 11, 2018
Leerink didn't see much earth shaking about it.
Overall we concur with the obvious Street sentiment that the proposals are much less draconian than feared, and with no re-importation, no mandatory transparency of contracts, no guaranteed flow-through of rebates, no patent term abbreviation or risks, then the limited impact of greater price transparency, which the industry will oppose, seems a small price to pay if indeed those proposals are implemented.
Trump, meanwhile, is sticking with his vow to bring drug prices into line the world over.
This is "just the beginning," Trump concluded, promising new legislation and more actions that required help from Congress.
"We're going to see those prices come down," he said. "It will be a beautiful thing."
---
Images: President Donald Trump and Health and Human Services Secretary Alex Azar. WHITE HOUSE via YOUTUBE
---
The best place to read
Endpoints News

? In your inbox.

Comprehensive daily news report for those who discover, develop, and market drugs. Join 47,200+ biopharma pros who read Endpoints News by email every day.

Free Subscription
---
---
---