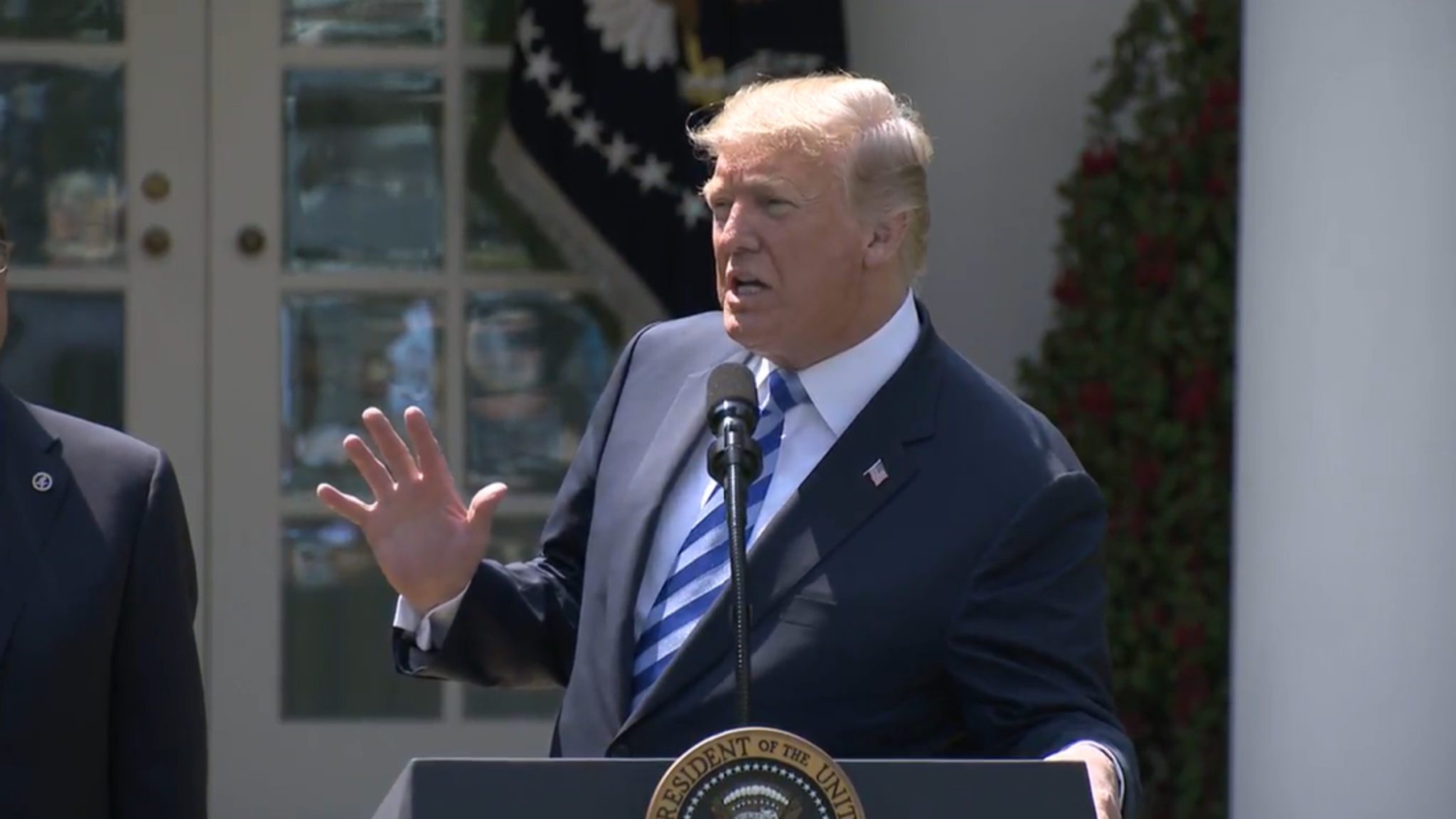 Trump's 'sweep­ing ac­tion' to low­er drug prices mocked by an­a­lysts as re­lieved in­vestors trig­ger ral­ly in Big Phar­ma stocks
Pres­i­dent Don­ald Trump took to the bul­ly pul­pit to­day to steer a pack­age of pro­pos­als in­to ex­is­tence that he claimed is "the most sweep­ing ac­tion in his­to­ry to low­er the price of pre­scrip­tion drugs for the Amer­i­can peo­ple."
But if that was his aim, his shot hit so far from the mark that it trig­gered a spike in Big Phar­ma stock prices as an­a­lysts dis­missed the ef­fort as a "non-event" cen­tered on some mar­gin­al pro­mo­tion­al is­sues that would be a "small price to pay" for avoid­ing tak­ing a hit on their con­trol of drug pric­ing.
Trump's short speech — play­ing out against a back­drop of rev­e­la­tions that No­var­tis had paid his per­son­al at­tor­ney $1.2 mil­lion — con­tin­ued his prac­tice of ex­co­ri­at­ing drug lob­by­ists and spe­cial in­ter­ests. But it was long on rhetoric and short on tough moves.
The pres­i­dent said his pro­pos­als would re­sult in "elim­i­nat­ing the mid­dle men; the mid­dle men be­came very, very rich," even though their stocks al­so surged in the wake of Trump's roll­out. And he vowed to take on spe­cial in­ter­ests while pre­vent­ing man­u­fac­tur­ers from ex­ploit­ing the coun­try's patent sys­tem to guard block­buster ther­a­peu­tic fran­chis­es.
As promised, Trump ac­cused oth­er coun­tries of en­gi­neer­ing ar­ti­fi­cial­ly low drug prices, forc­ing Amer­i­cans to shoul­der the weight of "the enor­mous cost of re­search and de­vel­op­ment." Trump al­so weighed in against so-called gag laws that pre­vent phar­ma­cists from point­ing con­sumers to low­er priced al­ter­na­tives to pre­scribed drugs.
In a quick fol­low-up, HHS Sec­re­tary Alex Azar raised one spe­cif­ic pro­pos­al that aimed at sham­ing phar­ma com­pa­nies by forc­ing them to in­clude the price of the drugs they pro­mot­ed in ad­ver­tis­ing.
While lob­by­ists may have come in for a tongue lash­ing, the in­dus­try has to be pleased that the ad­min­is­tra­tion is mak­ing no move to re­quire Medicare to ne­go­ti­ate low­er prices, or al­low for reim­por­ta­tion of drugs from those oth­er coun­tries with cheap­er prices. What we heard about to­day amount­ed to some tai­lor­ing and planned slim­ming — the ba­sic out­fit re­mains the same. And that fact helped trig­ger a broad ral­ly in Big Phar­ma stocks af­ter the speech wrapped.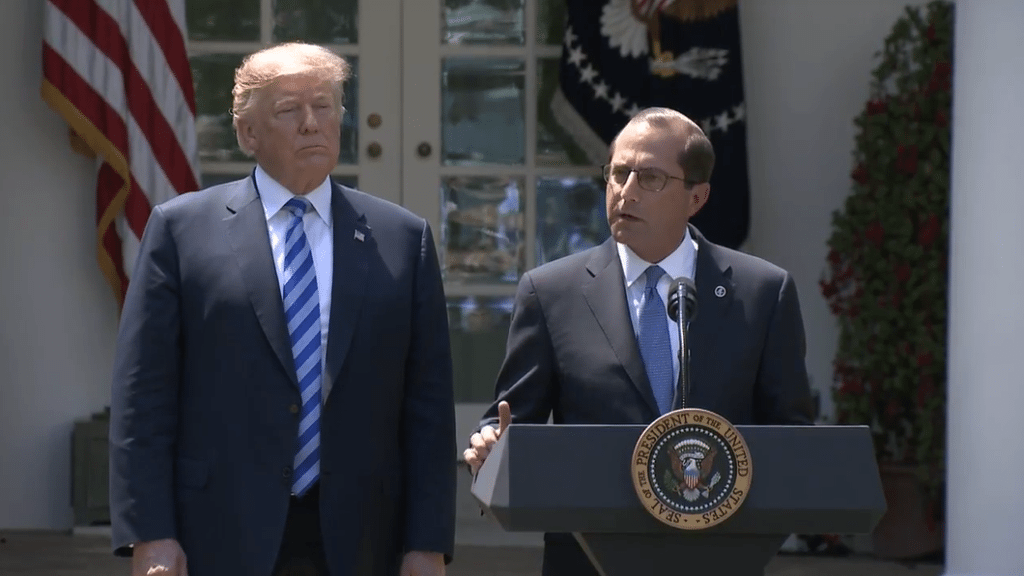 HHS pro­vid­ed more specifics in a blue­print for ac­tion that it dis­trib­uted just be­fore the speech­es. The ac­tions in­clude —
Adding val­ue-based drug con­tract­ing, which the in­dus­try has al­ready ea­ger­ly signed off on as a need­ed com­pro­mise.
Chang­ing the for­mu­la­ry struc­ture used by Medicare Part D plans to al­low for a min­i­mum of one drug per cat­e­go­ry or class, rather than 2, to height­en com­pe­ti­tion and al­low some lever­ag­ing.
En­cour­ag­ing states to try new de­mo projects us­ing best prac­tices from pri­vate in­dus­try to low­er drug costs.
End­ing the 180-day gener­ic drug ex­clu­siv­i­ty pro­vi­sion as a tem­po­rary mea­sure to hold back dis­count com­pe­ti­tion.
Go­ing af­ter low for­eign drug prices be­gin­ning with an analy­sis of prices in coun­tries be­long­ing to the Or­gan­i­sa­tion for Eco­nom­ic Co-op­er­a­tion and De­vel­op­ment.
In­clud­ing new rules aimed at low­er­ing out-of-pock­et ex­pens­es.
Of­fer­ing thoughts on in­creas­ing the num­ber and ac­cess to biosim­i­lars, elim­i­nat­ing a process where "man­u­fac­tur­ers may seek to use shared sys­tem REMS to de­lay or block com­pe­ti­tion from gener­ic prod­ucts en­ter­ing the mar­ket."
Giv­ing Part D plans more flex­i­bil­i­ty on adding cheap­er gener­ics to their for­mu­la­ries.
And in ad­di­tion to see­ing if the rules can be changed to re­quire phar­mas to pub­li­cize pric­ing, the gov­ern­ment has a plan to spot­light drugs which have not seen reg­u­lar price hikes as part of an at­tempt to shine a light on the cost of in­di­vid­ual ther­a­pies.
The pro­pos­als to­day are very much a work in progress, with the ad­min­is­tra­tion promis­ing to look at in­ter­change­abil­i­ty of biosim­i­lars with brand­ed drugs, an is­sue that has raised the hack­les of some drug man­u­fac­tur­ers whose fran­chise drugs face a com­pet­i­tive threat.
But while com­pa­nies are like­ly to ob­ject to var­i­ous de­tails in the plan, with con­sid­er­able lob­by­ing to come on the specifics, there are no big changes out­lined here that will do what Trump has been promis­ing to do for more than a year: slash drug prices.
In­vestors clear­ly didn't see any pain in the pro­pos­als. The $NBI surged, along with shares of the big phar­mas like Eli Lil­ly (up 2%), Mer­ck (up 3%) and J&J (up 2%). So did the PBMs — $ES­RX — that took a hit from the pres­i­dent. The win­dow dress­ing to this speech may have in­di­cat­ed a time of mourn­ing, but the lights were on and the par­ty was un­der­way in­side.
Jef­feries called it "be­nign," and a "non-event."
And Jef­feries LLC health­care trad­ing desk weighs in: 'TRUMP SPEECH BE­NIGN. NON-EVENT. COM­MENTS OVER­LY VAGUE. SHORTS ARE COV­ER­ING. MAS­SIVE WASTE OF TIME. NOTH­ING ELSE TO RE­AL­LY ADD.'

— Pe­ter Lof­tus (@Lof­tus) May 11, 2018
Leerink didn't see much earth shak­ing about it.
Over­all we con­cur with the ob­vi­ous Street sen­ti­ment that the pro­pos­als are much less dra­con­ian than feared, and with no re-im­por­ta­tion, no manda­to­ry trans­paren­cy of con­tracts, no guar­an­teed flow-through of re­bates, no patent term ab­bre­vi­a­tion or risks, then the lim­it­ed im­pact of greater price trans­paren­cy, which the in­dus­try will op­pose, seems a small price to pay if in­deed those pro­pos­als are im­ple­ment­ed.
Trump, mean­while, is stick­ing with his vow to bring drug prices in­to line the world over.
This is "just the be­gin­ning," Trump con­clud­ed, promis­ing new leg­is­la­tion and more ac­tions that re­quired help from Con­gress.
"We're go­ing to see those prices come down," he said. "It will be a beau­ti­ful thing."
---
Im­ages: Pres­i­dent Don­ald Trump and Health and Hu­man Ser­vices Sec­re­tary Alex Azar. WHITE HOUSE via YOUTUBE