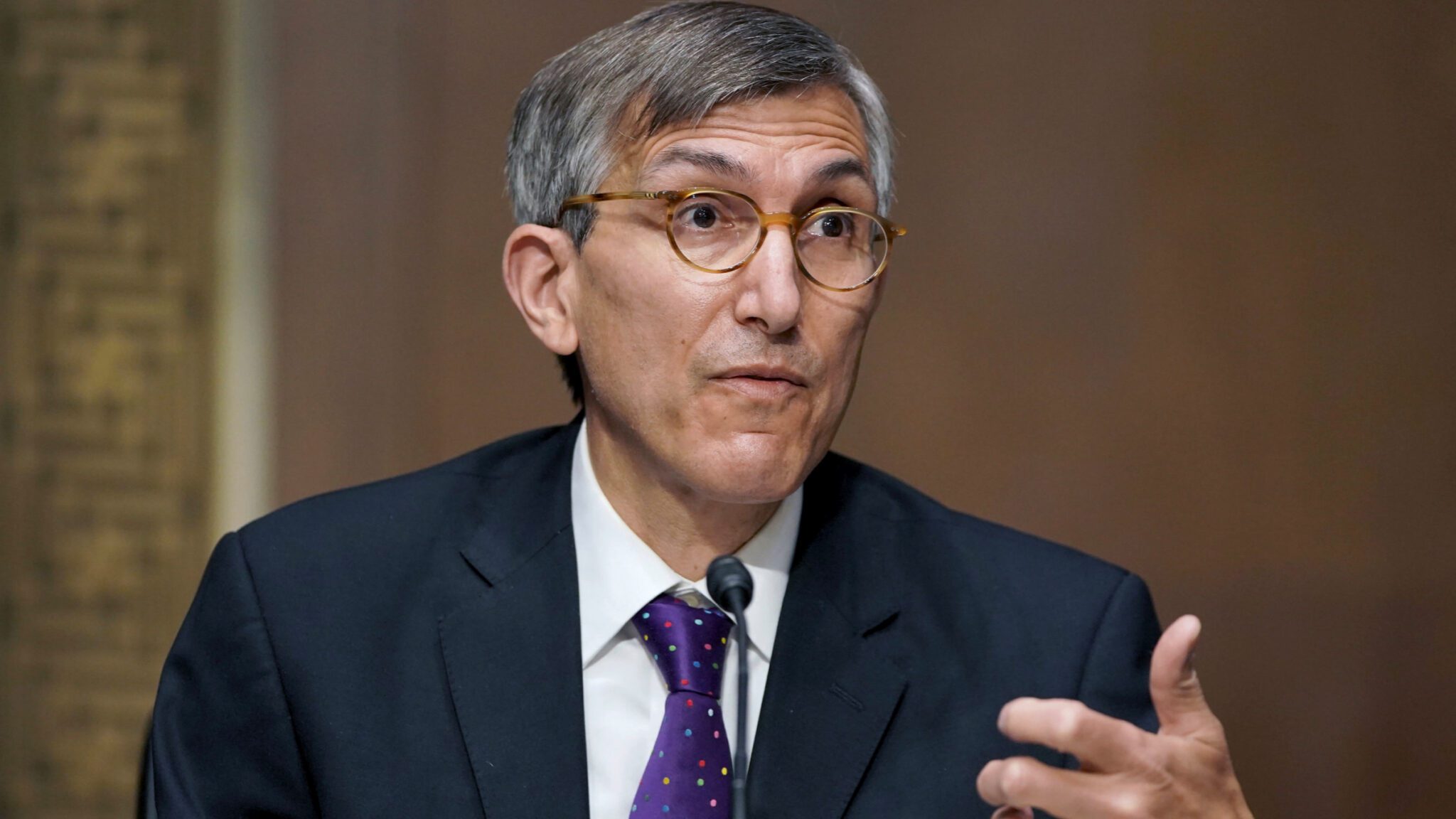 Peter Marks (Jim Lo Scalzo/Pool via AP Images)
Tur­moil at CBER: Pe­ter Marks grabs con­trol of FDA's Of­fice of Vac­cines ahead of 2 key ca­reer leader de­par­tures
FDA's top vac­cine of­fi­cial Pe­ter Marks is pulling the plug on a months-long tran­si­tion for two top ca­reer vac­cine of­fi­cials who abrupt­ly called it quits in late Au­gust.
Mar­i­on Gru­ber, di­rec­tor of the FDA's Of­fice of Vac­cines Re­search & Re­view and 32-year vet­er­an of the agency, her deputy di­rec­tor Phil Krause, an­nounced their de­par­tures and then raised con­cerns with Covid-19 boost­er shots ahead of and dur­ing a re­cent Covid-19 boost­er vac­cine ad­vi­so­ry com­mit­tee.
"It is im­por­tant to al­low both Mar­i­on and Phil to have time to tran­si­tion be­fore their de­par­ture af­ter so many years with our Cen­ter," Marks said in a memo to CBER staff on Mon­day morn­ing. "There­fore, I want to let you know that be­gin­ning to­day, Sep­tem­ber 27, I will be as­sum­ing re­spon­si­bil­i­ties as the Act­ing Of­fice Di­rec­tor, and Mar­i­on will tran­si­tion over­sight and man­age­ment of the ac­tiv­i­ties of the of­fice to me."
The memo fol­lows a hec­tic and at-times con­fus­ing few weeks where both Gru­ber, who said she was leav­ing in Oc­to­ber, and Krause, who said he was leav­ing in No­vem­ber, an­nounced their de­par­tures from FDA, then raised con­cerns with the boost­er shots in the Lancet, and ques­tioned Pfiz­er's da­ta at the FDA's vac­cine ad­vi­so­ry com­mit­tee re­view­ing the boost­ers.
At the be­gin­ning of the Q&A ses­sion at the boost­er ad­comm with Pfiz­er and the FDA, Gru­ber gave Krause the op­por­tu­ni­ty to ques­tion Pfiz­er on the sta­tis­ti­cal mod­els used in a re­al-world study in Is­rael.
Krause claimed there was a dis­crep­an­cy be­tween the ef­fi­ca­cy Pfiz­er re­port­ed us­ing a spe­cif­ic mod­el, which said ef­fi­ca­cy af­ter 8 months fell to 58% from 61%, but num­bers cal­cu­lat­ed through a dif­fer­ent math­e­mat­i­cal process us­ing cas­es per per­son-years re­sult­ed in 93% ef­fi­ca­cy. These dis­parate fig­ures, Krause said, came from the same num­ber of cas­es in a study by Cal­i­for­nia health care com­pa­ny Kaiser Per­ma­nente.
Two for­mer FDA chief sci­en­tists — Jesse Good­man and Lu­ciana Bo­rio — raised con­cerns with the New York Times over Marks' de­ci­sion to name him­self, with Good­man call­ing it, "ex­treme­ly un­usu­al and con­cern­ing."
But oth­er for­mer se­nior of­fi­cials have tak­en on ad­di­tion­al roles as the FDA looks for a per­ma­nent re­place­ment. Janet Wood­cock was at one time head of both CDER and OND on an act­ing ba­sis, be­fore be­com­ing act­ing com­mis­sion­er, as the agency looked for a per­ma­nent OND leader.
Bio­Cen­tu­ry al­so re­port­ed Mon­day that two ad­di­tion­al FDA vac­cine re­view­ers quit their jobs as a re­sult of Marks' an­nounce­ment. FDA me­dia re­la­tions di­rec­tor Stephanie Cac­co­mo did not re­spond to an End­points News re­quest to ver­i­fy those oth­er two de­par­tures.
Paul Of­fit, a vac­cine ex­pert and mem­ber of the FDA ad­comm that met to dis­cuss the boost­ers, told End­points he thought Gru­ber and Krause are leav­ing be­cause they didn't like the way the boost­er process played out.
"They see their job as pro­tect­ing the pub­lic from phar­ma­ceu­ti­cal com­pa­nies' prod­ucts that may not have not been ad­e­quate­ly test­ed and I think that's what wor­ries them about this," Of­fit said.
Saad Omer, di­rec­tor of Yale's in­sti­tute for glob­al health, added, "A lot of spe­cial­ized ex­per­tise has been un­der­uti­lized and that's a prob­lem."