UCSF sci­en­tist rolls out a new blue­print for pro­gram­ming T cells, the 2.0 way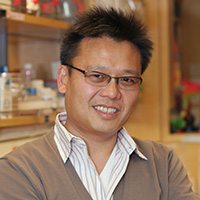 Wen­dell Lim
While an­a­lysts de­bate about whether or not the FDA will be will­ing to hand out the first CAR-T ap­proval to Kite, the sci­en­tists in this bur­geon­ing field have been la­bor­ing in the lab on next-gen T cell ther­a­py mod­els that have a lot more built-in safe­ty and ef­fi­ca­cy fea­tures. One of the top cell ther­a­py en­gi­neers is Wen­dell Lim at UC San Fran­cis­co, the sci­en­tif­ic founder of Cell De­sign Labs. And he's just come out with a new pa­per on his work fea­tur­ing some of the cool new tech­nolo­gies that he's been us­ing on T cells 2.0.
The Howard Hugh­es Med­ical In­sti­tute in­ves­ti­ga­tor has his sights set on a very high bar. Build­ing on ear­li­er work on syn­thet­ic Notch (syn­Notch) — where he tin­kered with the Notch sen­sor so it could pro­gram a cell ther­a­py to go af­ter a par­tic­u­lar can­cer cell tar­get and then is­sue in­struc­tions to turn genes on or off — Lim be­lieves you can use syn­Notch to es­sen­tial­ly cre­ate a cell bot that can be mus­tered in­to armies of pa­trolling ther­a­peu­tics.
In what amounts to de­vel­op­ing liv­ing mi­cro de­vices, Lim be­lieves the tech­nol­o­gy can be used to pro­gram T cells to pro­duce check­point in­hibitors, bis­pe­cif­ic an­ti­bod­ies and cus­tomiz­able cy­tokines, among oth­er things. And it can al­so all be in­te­grat­ed in­to CAR-T with a sui­cide switch.
"The way I view the last cou­ple of years and months" of CAR-T work, says Cell De­sign CEO and co-founder Bri­an At­wood, "these are a first-gen­er­a­tion cruise mis­sile. They went to an ad­dress and blew up. The prod­ucts in the clin­ic to­day are pret­ty crude. For ALL and CLL pa­tients, they're pret­ty amaz­ing, but there's no con­trol­la­bil­i­ty. That's Wen­dell's thing."
True, it's all pre­clin­i­cal right now, in­volv­ing mouse mod­els. But Cell De­sign has al­ready signed up Kite as a part­ner and an in­vestor, work­ing on an on/off switch for CAR-T, which would have a ma­jor im­pact on safe­ty, rein­ing them in if they start to run out of con­trol.
"I think that's a re­al­ly im­por­tant thing," Lim tells me, "en­hanc­ing T cell func­tion" and mov­ing be­yond the rel­a­tive­ly lim­it­ed ap­pli­ca­tions of to­day's CAR-T ther­a­pies now in late-stage de­vel­op­ment.
Lim says he's been work­ing on a sys­tem­at­ic tool kit to en­gi­neer what a cell sens­es and re­sponds to. And if he can be­gin to ap­ply what he's done in mice to hu­mans, re­pro­gram­ming cells could be­come a rad­i­cal new ap­proach for can­cer as well as au­toim­mune dis­eases.
By equip­ping their syn­Notch re­cep­tor with a com­po­nent that can be switched out to cus­tomize it for each dis­ease, the UCSF team be­lieve they have a uni­ver­sal ap­proach with wide func­tion­al­i­ty. In their work pub­lished in Cell to­day, the team not on­ly used it to pro­duce check­point in­hibitors, they al­so de­vel­oped a treat­ment that drops a Bis­pe­cif­ic T Cell En­gager (BiTE) pay­load that left nor­mal cells in mice un­mo­lest­ed.
Lim isn't talk­ing blue sky the­o­ry. He be­lieves that Cell De­sign is a cou­ple of years out from the clin­ic, start­ing out with the au­tol­o­gous cells ex­tract­ed from the hu­man body to make per­son­al­ized ther­a­pies and then mov­ing to off-the-shelf au­tol­o­gous cells.
Cell De­sign has gath­ered $34.4 mil­lion in back­ing, says At­wood. "Kite's project adds to that, with mile­stones and re­search sup­port" to car­ry the com­pa­ny in­to the clin­ic. The fledg­ling com­pa­ny has 18 staffers, while Lim's lab in­cludes 20 in­ves­ti­ga­tors. A year from now, the CEO ex­pects to have 50 staffers on board.