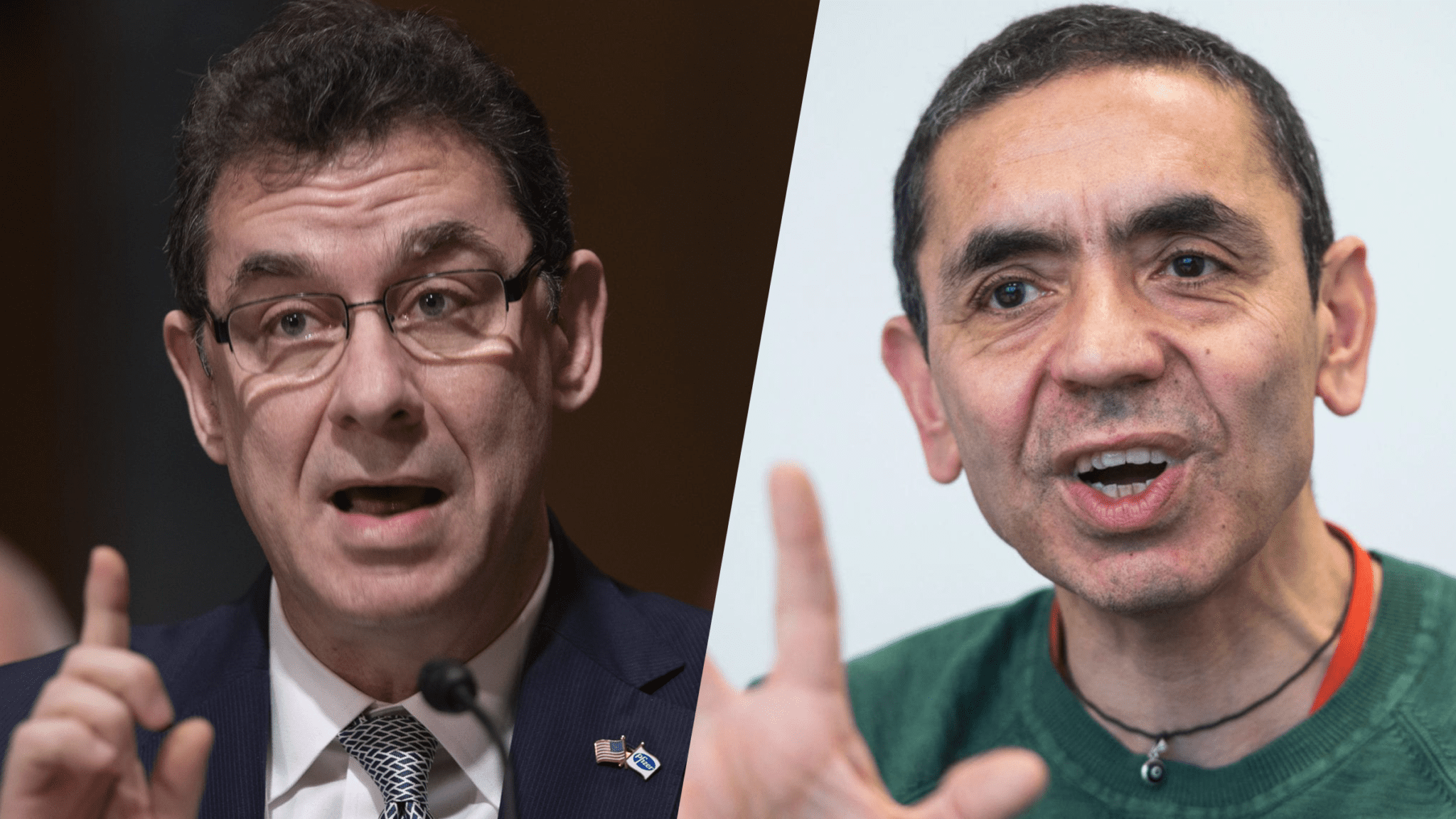 Pfizer CEO Albert Bourla, BioNTech CEO Ugur Sahin
UK grants Pfiz­er, BioN­Tech his­toric first OK for mR­NA vac­cine, ex­pects mil­lions of dos­es by year end
Pfiz­er and BioN­Tech have scored a his­toric OK for their Covid-19 vac­cine in the UK, where the first dos­es are ex­pect­ed to be de­liv­ered with­in days.
Days af­ter the British gov­ern­ment au­tho­rized its Med­i­cines & Health­care Prod­ucts Reg­u­la­to­ry Agency to make a call in­de­pen­dent of the Eu­ro­pean Union — from which it's in the process of ex­it­ing — the reg­u­la­tors gave the green light for emer­gency use of BNT162b2.
It marks the first time an mR­NA vac­cine has been sanc­tioned for wide­spread dis­tri­b­u­tion.
While Rus­sia and Chi­na have each start­ed ad­min­is­ter­ing home­grown vac­cines, they all lack the late-stage da­ta that Pfiz­er and Mod­er­na have of­fered to prove their shot works: In a 44,000-per­son tri­al, in­ves­ti­ga­tors record­ed 170 cas­es of Covid-19, of which on­ly 8 were in the vac­cine group. That trans­lat­ed to a 95% ef­fi­ca­cy for the 2-dose reg­i­men, bol­stered by pos­i­tive safe­ty re­sults with 2 months of me­di­an fol­low-up.
"We be­lieve that the roll-out of the vac­ci­na­tion pro­gram in the U.K. will re­duce the num­ber of peo­ple in the high-risk pop­u­la­tion be­ing hos­pi­tal­ized," BioN­Tech CEO and co-founder Ugur Sahin said in a state­ment, adding:"The da­ta sub­mit­ted to reg­u­la­to­ry agen­cies around the world are the re­sult of a sci­en­tif­i­cal­ly rig­or­ous and high­ly eth­i­cal re­search and de­vel­op­ment pro­gram."
FDA and EMA de­ci­sions are ex­pect­ed lat­er in De­cem­ber. The US agency like­ly won't have a fi­nal ver­dict be­fore Dec 10, when an ad­vi­so­ry com­mit­tee is con­ven­ing to dis­cuss the emer­gency use au­tho­riza­tion.
Eu­ro­pean reg­u­la­tors and law­mak­ers ap­par­ent­ly aren't im­pressed with the speed, crit­i­ciz­ing the move as "hasty." In a state­ment to Reuters, the EMA said it has a more ap­pro­pri­ate pro­ce­dure that is longer be­cause it takes more ev­i­dence in­to ac­count and in­volves more checks. It ex­pects to de­cide by Dec 29.
But the MHRA stood by its process, and BioN­Tech ex­ecs said the UK agency had asked ques­tions to the same lev­el of de­tail as their in­ter­na­tion­al coun­ter­pars. Hav­ing first teamed up on the un­prece­dent­ed de­vel­op­ment ef­fort, Pfiz­er and BioN­Tech start­ed a rolling sub­mis­sion at the MHRA in late Oc­to­ber, lat­er than they went to the EMA.
In a state­ment, they em­pha­sized that ob­served ef­fi­ca­cy in adults age 65 or over — a key, vul­ner­a­ble group that will al­so like­ly be pri­or­i­tized for vac­ci­na­tion — is more than 94%. UK reg­u­la­tors al­so re­viewed chem­istry, man­u­fac­tur­ing and con­trol da­ta be­fore giv­ing out the OK.
In a state­ment, Pfiz­er CEO Al­bert Bourla ap­plaud­ed the MHRA "for their abil­i­ty to con­duct a care­ful as­sess­ment and take time­ly ac­tion to help pro­tect the peo­ple of the U.K."
The next chal­lenge will be get­ting the vac­cines to hos­pi­tals and clin­ics ef­fi­cient­ly. Ex­perts and an­a­lysts have ex­pressed con­cerns about rolling out a vac­cine that re­quires stor­age at -70 de­grees Cel­sius (-94 Fahren­heit), but Pfiz­er and BioN­Tech say they have in­vest­ed in the in­fra­struc­ture, from freez­er box­es to char­ter flights, to get them where they need to be.
Each vial, BioN­Tech COO Sean Marett added in a press con­fer­ence, con­tains 5 dos­es that need to be di­lut­ed with saline so­lu­tion at the point of ad­min­is­tra­tion. Trans­port stud­ies they have con­duct­ed with Pfiz­er sug­gest­ed that the vac­cine can re­tain sta­bil­i­ty in trans­port at 2-8 de­grees Cel­sius for up to 6 hours, for de­liv­ery from vac­ci­na­tion hubs to satel­lite sites such as care homes.
When asked why their shot re­quires tougher cold chain con­di­tions than Mod­er­na's, Sahin not­ed that sta­bil­i­ty stud­ies are still on­go­ing and they're ex­pect­ing more da­ta in Jan­u­ary or Feb­ru­ary that might sup­port up­dat­ing the re­quire­ments.
"So there should be no big dif­fer­ences be­tween the dif­fer­ent mes­sen­ger RNA vac­cines, but the da­ta needs to be gen­er­at­ed," he said. "We have just to un­der­stand that our can­di­date was se­lect­ed end of Ju­ly for this clin­i­cal tri­al — we had mul­ti­ple can­di­dates and we want­ed to iden­ti­fy the best can­di­date — So the sta­bil­i­ty stud­ies for this can­di­date start­ed sig­nif­i­cant­ly lat­er than the da­ta that were al­ready avail­able for oth­er can­di­dates."
With a sup­ply deal al­ready in place for 40 mil­lion dos­es, the UK au­tho­riza­tion opens the door to phased de­liv­ery through­out 2020 and 2021. The com­pa­nies say the first dos­es should ar­rive from Pfiz­er's fa­cil­i­ty in Bel­gium with­in a few days, whether by lor­ry or plane. Health Sec­re­tary Matt Han­cock said on BBC Ra­dio 4 that he ex­pects "a mat­ter of mil­lions of dos­es for the whole of the UK by the end of the year."
Based on a pri­or­i­ti­za­tion guid­ance pre­pared by the Joint Com­mit­tee on Vac­ci­na­tion and Im­mu­ni­sa­tion, the 66 mil­lion-plus UK res­i­dents should re­ceive the vac­cine in the fol­low­ing or­der:
old­er adults' res­i­dent in a care home and care home work­ers
all those 80 years of age and over and health and so­cial care work­er
all those 75 years of age and over­all those 70 years of age and over
all those 65 years of age and over­high-risk adults un­der 65 years of age
mod­er­ate-risk adults un­der 65 years of age
all those 60 years of age and over
all those 55 years of age and over
all those 50 years of age and over
rest of the pop­u­la­tion (pri­or­i­ty to be de­ter­mined)
So how does it feel to have the first vac­cine emer­gency ap­proval backed by Phase III da­ta?
"Ac­tu­al­ly I don't think we've had time to think about it be­cause we're too busy pack­ing vials for ship­ping to the UK with our col­leagues at Pfiz­er," Marett said.
For a look at all End­points News coro­n­avirus sto­ries, check out our spe­cial news chan­nel.