Biopharmaceutical price gouging has long enraged politicians and patients alike — mounting pressure on drugmakers to not appear like they put profit before patients — which has led to a slowing in size and frequency of price hikes, a Leerink analysis has found.
The analysis echoes the findings of an Associated Press investigation — published this September — which indicated that although there were 96 price hikes for every price cut, the number and size of hikes decreased in the first seven months of 2018.
Leerink's analysis included 17 large biopharma companies — AbbVie $ABBV, Alexion $ALXN, Amgen $AMGN, Biogen $BIIB, Celgene $CELG, Gilead $GILD, JNJ $JNJ, Regeneron $REGN, AstraZeneca $AZN, Bristol-Myers $BMY, GSK $GSK, Eli Lilly $LLY, Merck $MRK, Novartis $NVS, Pfizer $PFE, Roche $RHBBY, and Sanofi $SNY.
The most price-dependent growth companies between 2013 and 2017 were: Amgen, AstraZeneca, GSK, and Pfizer; and the least price-dependent were: Alexion, JNJ, and Regeneron. Overall, the number of price increases slowed this year by 31%, and the average size of the price increases fell by 40% — both measures falling to their lowest level in five years, the report found.
"The slowing of positive price effects means that industry growth is likely to be between 200 and 400 bps slower going forward than in the 2013-2017 period. This slower growth, and its associated effect on margins, profitability, and cash flow, may not be fully reflected in sector stock prices and multiples," Leerink's Geoffrey Porges said.
The analysts also found that price contributions to sales in the United States have steadily declined from 11% in 2014 to 4% in 2017 and 2% YTD in 2018.
Significantly, "the decline in the net positive price contribution to industry growth has more or less matched the decline in revenue growth over the same period of time," Porges noted.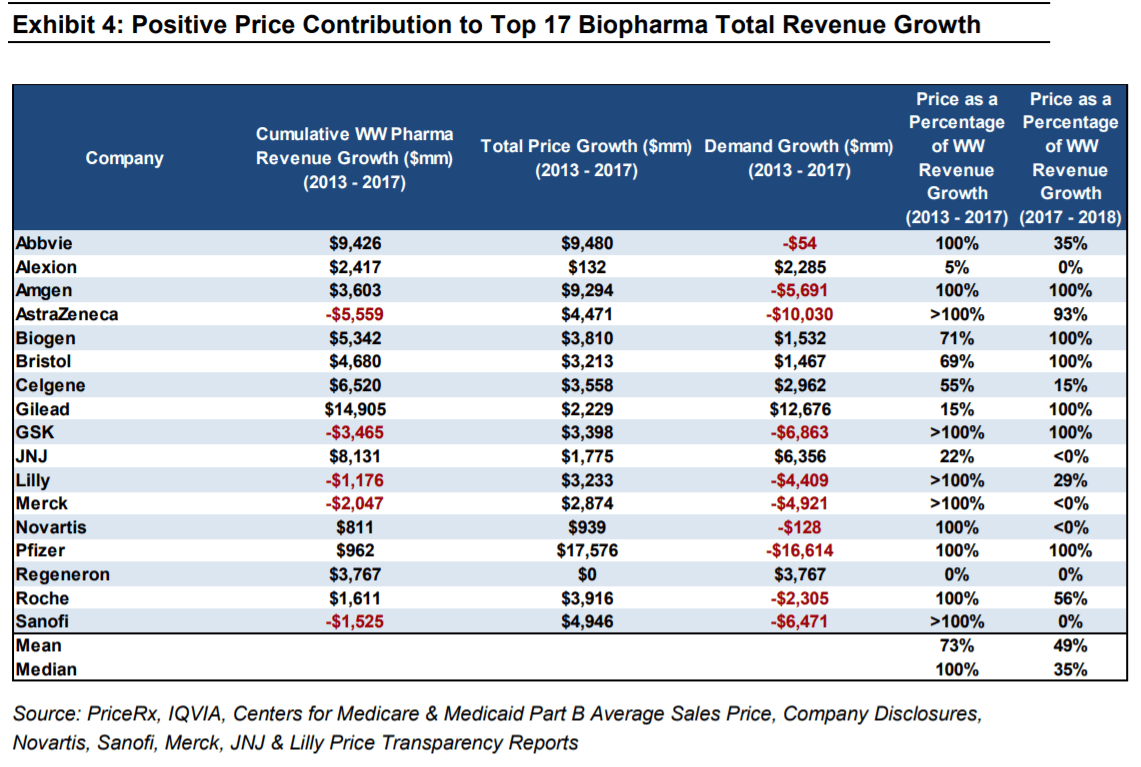 However, the impact of slowing price increases will be powerful going forward — because it will stimulate the untangling of the cumulative effect of compounding from prior year price hikes.
"Price increases are 'the gift that keeps on giving', since one year's 10% price increase then increases the base of sales that then benefits from the next year's price increases," explained Porges.
The Leerink team therefore set about calculating the impact of trailing price increases over the five-year period between 2013 and 2018. Cumulative positive US price has contributed ~$27 billion to global pharma revenue in 2014, ~$45 billion in 2015, ~$59 billion in 2016, ~$68 billion in 2017, and $71 billion in 2018.
Reported global pharma revenue in 2018 is roughly $320 billion YTD, which without US price contributions from the prior five years would have been 22% lower, or roughly $250 billion YTD, they found.
In other words, it looks like price growth alone has contributed on average 5%/year to industry growth over the last five years, and while total revenue growth was only 1% from 2017-2018, without the price effect, the analysts found that revenue growth from 2017-2018 would have actually fallen 6%.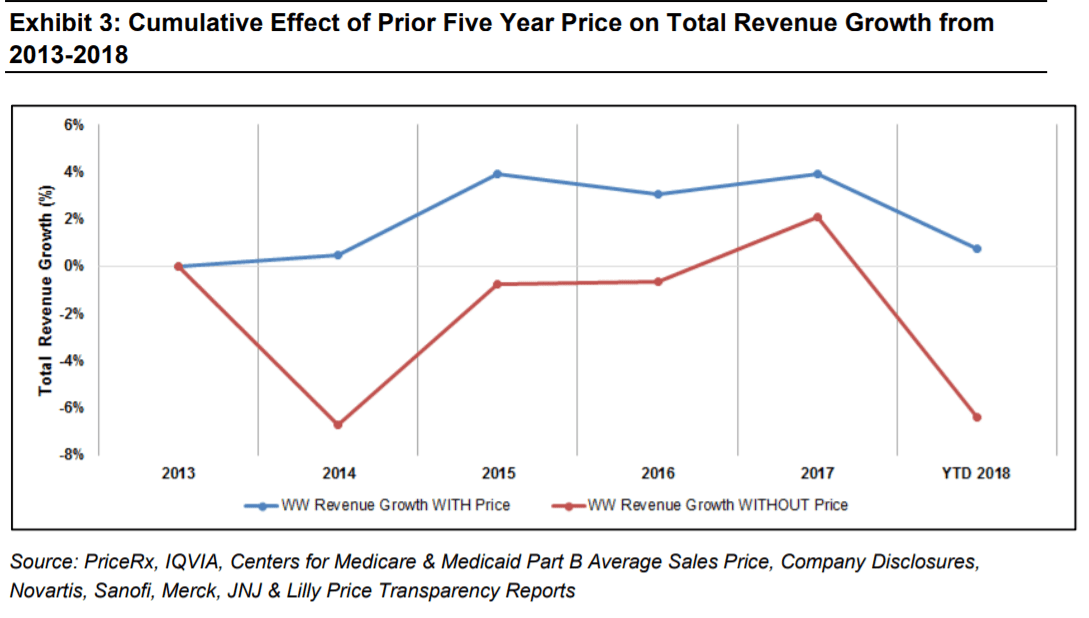 Following the release of President Trump's blueprint for lowering drug prices in May, a plethora of companies pledged not to introduce their usual hikes in the middle of the year — however, whether this restraint will continue in the future remains to be seen. Since then the HHS has floated two proposals to thwart soaring prices for Medicare and its beneficiaries.
Meanwhile, Merck raised the price of some of its major drugs in November, and Pfizer has announced it will increase the price of 41 drugs next month.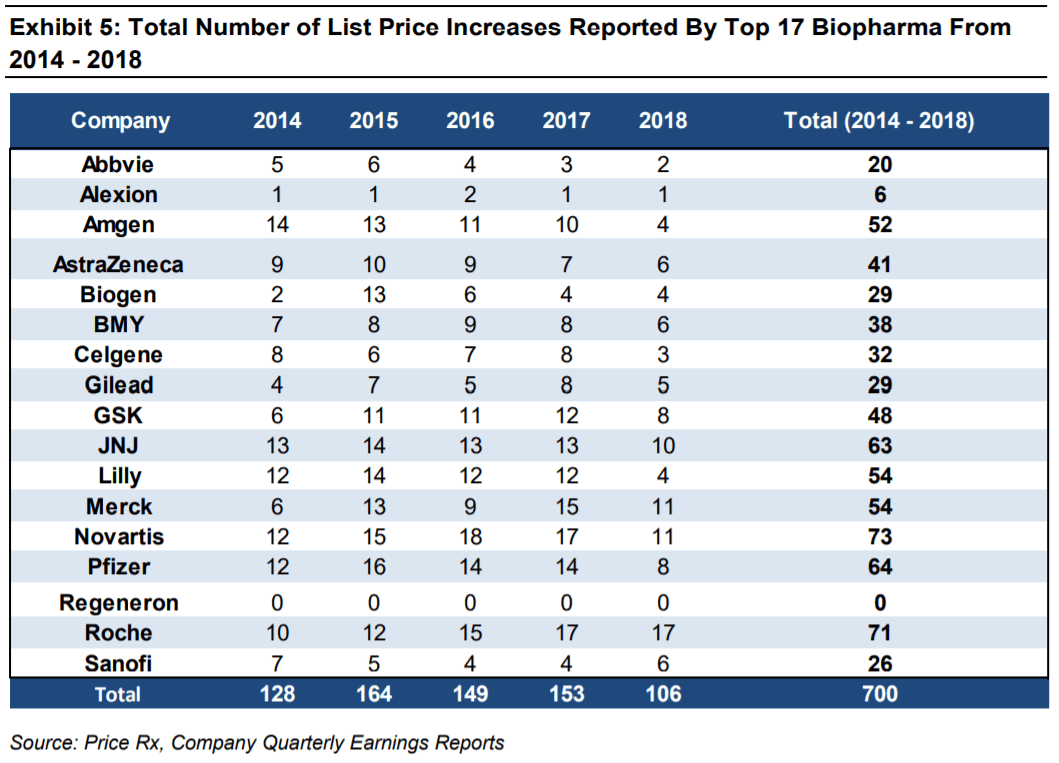 "These companies are likely to be followed by a flood of peers, and then by inevitable responses and reactions from Washington. How this collision of interests plays out is anyone's guess, and the administration's creativity and inventiveness with respect to pricing proposals seem unlikely to be diminished in 2019. Ironically, the subject of drug pricing is probably one of the few genuinely bipartisan issues for both major parties, and further regulation or restrictions on drug pricing and price increases seem likely in our view to set up a showdown between President Trump, Congress and the Biopharma industry relatively early in the New Year," concluded Porges.
---
Charts: LEERINK
---
The best place to read
Endpoints News

? In your inbox.

Comprehensive daily news report for those who discover, develop, and market drugs. Join 51,200+ biopharma pros who read Endpoints News by email every day.

Free Subscription
---
---
---