Un­der pres­sure, drug­mak­ers di­lute price hikes, but noth­ing is set in stone just yet — re­port
Bio­phar­ma­ceu­ti­cal price goug­ing has long en­raged politi­cians and pa­tients alike — mount­ing pres­sure on drug­mak­ers to not ap­pear like they put prof­it be­fore pa­tients — which has led to a slow­ing in size and fre­quen­cy of price hikes, a Leerink analy­sis has found.
The analy­sis echoes the find­ings of an As­so­ci­at­ed Press in­ves­ti­ga­tion — pub­lished this Sep­tem­ber — which in­di­cat­ed that al­though there were 96 price hikes for every price cut, the num­ber and size of hikes de­creased in the first sev­en months of 2018.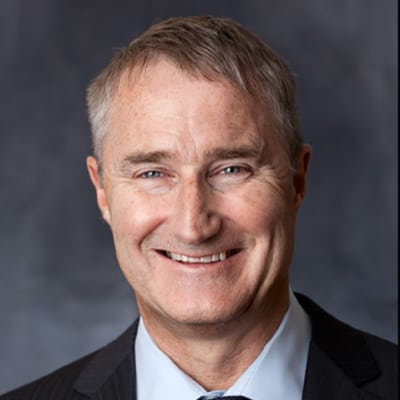 Ge­of­frey Porges
Leerink's analy­sis in­clud­ed 17 large bio­phar­ma com­pa­nies — Ab­b­Vie $AB­BV, Alex­ion $ALXN, Am­gen $AMGN, Bio­gen $BI­IB, Cel­gene $CELG, Gilead $GILD, JNJ $JNJ, Re­gen­eron $REGN, As­traZeneca $AZN, Bris­tol-My­ers $BMY, GSK $GSK, Eli Lil­ly $LLY, Mer­ck $MRK, No­var­tis $NVS, Pfiz­er $PFE, Roche $RHB­BY, and Sanofi $SNY.
The most price-de­pen­dent growth com­pa­nies be­tween 2013 and 2017 were: Am­gen, As­traZeneca, GSK, and Pfiz­er; and the least price-de­pen­dent were: Alex­ion, JNJ, and Re­gen­eron. Over­all, the num­ber of price in­creas­es slowed this year by 31%, and the av­er­age size of the price in­creas­es fell by 40% — both mea­sures falling to their low­est lev­el in five years, the re­port found.
"The slow­ing of pos­i­tive price ef­fects means that in­dus­try growth is like­ly to be be­tween 200 and 400 bps slow­er go­ing for­ward than in the 2013-2017 pe­ri­od. This slow­er growth, and its as­so­ci­at­ed ef­fect on mar­gins, prof­itabil­i­ty, and cash flow, may not be ful­ly re­flect­ed in sec­tor stock prices and mul­ti­ples," Leerink's Ge­of­frey Porges said.
The an­a­lysts al­so found that price con­tri­bu­tions to sales in the Unit­ed States have steadi­ly de­clined from 11% in 2014 to 4% in 2017 and 2% YTD in 2018.
Sig­nif­i­cant­ly, "the de­cline in the net pos­i­tive price con­tri­bu­tion to in­dus­try growth has more or less matched the de­cline in rev­enue growth over the same pe­ri­od of time," Porges not­ed.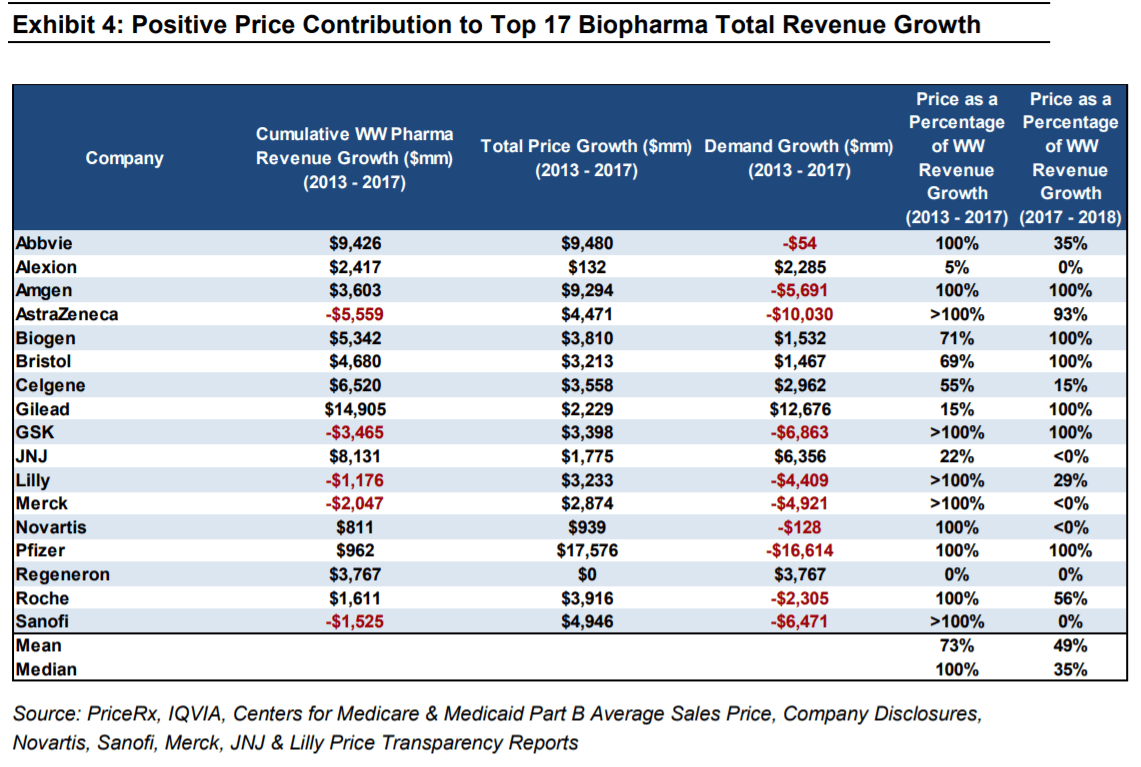 How­ev­er, the im­pact of slow­ing price in­creas­es will be pow­er­ful go­ing for­ward — be­cause it will stim­u­late the un­tan­gling of the cu­mu­la­tive ef­fect of com­pound­ing from pri­or year price hikes.
"Price in­creas­es are 'the gift that keeps on giv­ing', since one year's 10% price in­crease then in­creas­es the base of sales that then ben­e­fits from the next year's price in­creas­es," ex­plained Porges.
The Leerink team there­fore set about cal­cu­lat­ing the im­pact of trail­ing price in­creas­es over the five-year pe­ri­od be­tween 2013 and 2018. Cu­mu­la­tive pos­i­tive US price has con­tributed ~$27 bil­lion to glob­al phar­ma rev­enue in 2014, ~$45 bil­lion in 2015, ~$59 bil­lion in 2016, ~$68 bil­lion in 2017, and $71 bil­lion in 2018.
Re­port­ed glob­al phar­ma rev­enue in 2018 is rough­ly $320 bil­lion YTD, which with­out US price con­tri­bu­tions from the pri­or five years would have been 22% low­er, or rough­ly $250 bil­lion YTD, they found.
In oth­er words, it looks like price growth alone has con­tributed on av­er­age 5%/year to in­dus­try growth over the last five years, and while to­tal rev­enue growth was on­ly 1% from 2017-2018, with­out the price ef­fect, the an­a­lysts found that rev­enue growth from 2017-2018 would have ac­tu­al­ly fall­en 6%.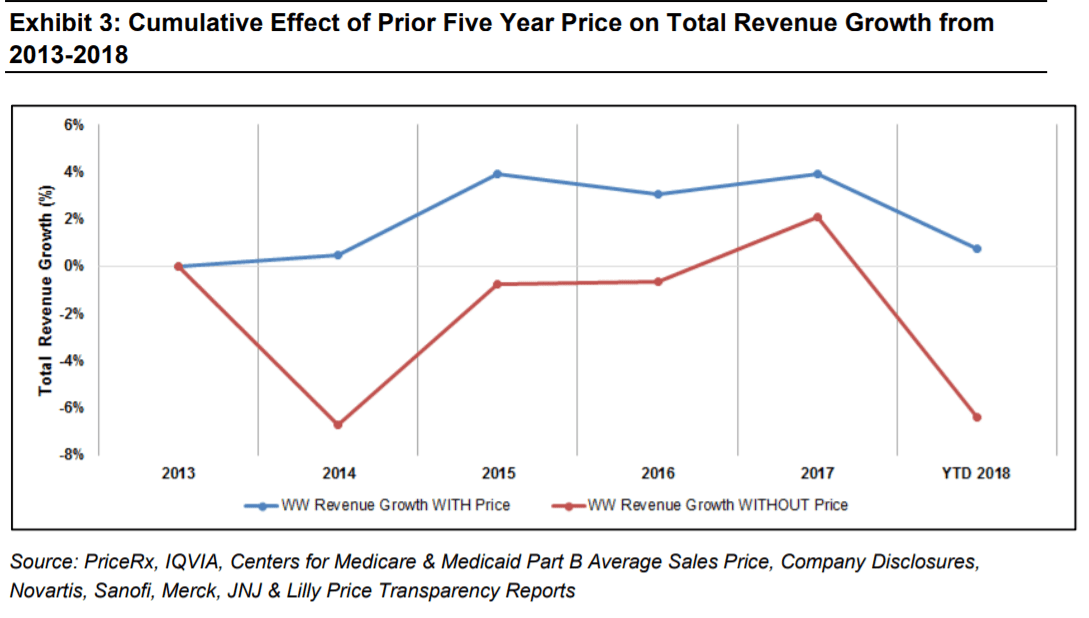 Fol­low­ing the re­lease of Pres­i­dent Trump's blue­print for low­er­ing drug prices in May, a pletho­ra of com­pa­nies pledged not to in­tro­duce their usu­al hikes in the mid­dle of the year — how­ev­er, whether this re­straint will con­tin­ue in the fu­ture re­mains to be seen. Since then the HHS has float­ed two pro­pos­als to thwart soar­ing prices for Medicare and its ben­e­fi­cia­ries.
Mean­while, Mer­ck raised the price of some of its ma­jor drugs in No­vem­ber, and Pfiz­er has an­nounced it will in­crease the price of 41 drugs next month.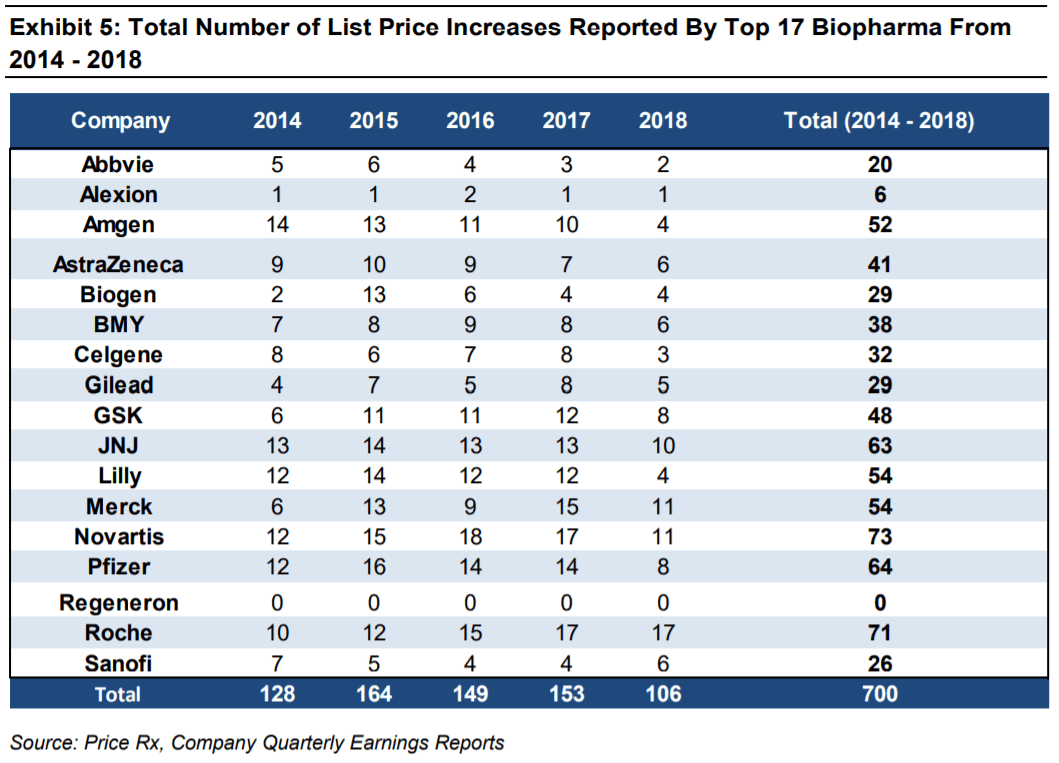 "These com­pa­nies are like­ly to be fol­lowed by a flood of peers, and then by in­evitable re­spons­es and re­ac­tions from Wash­ing­ton. How this col­li­sion of in­ter­ests plays out is any­one's guess, and the ad­min­is­tra­tion's cre­ativ­i­ty and in­ven­tive­ness with re­spect to pric­ing pro­pos­als seem un­like­ly to be di­min­ished in 2019. Iron­i­cal­ly, the sub­ject of drug pric­ing is prob­a­bly one of the few gen­uine­ly bi­par­ti­san is­sues for both ma­jor par­ties, and fur­ther reg­u­la­tion or re­stric­tions on drug pric­ing and price in­creas­es seem like­ly in our view to set up a show­down be­tween Pres­i­dent Trump, Con­gress and the Bio­phar­ma in­dus­try rel­a­tive­ly ear­ly in the New Year," con­clud­ed Porges.
---
Charts: LEERINK