Up­dat­ed: US sees spike in Paxlovid us­age as Mer­ck­'s mol­nupi­ravir and As­traZeneca's Evusheld are slow­er off the shelf
New da­ta from HHS show that more than 162,000 cours­es of Pfiz­er's Covid-19 an­tivi­ral Paxlovid were ad­min­is­tered across the US over the past week, con­tin­u­ing a streak of in­creased us­age of the pill, and sig­nal­ing not on­ly ris­ing case num­bers but more aware­ness of how to ac­cess it.
In com­par­i­son to this week, about 670,000 cours­es of the Pfiz­er pill have been ad­min­is­tered across the first five months since Paxlovid has been on the US mar­ket, av­er­ag­ing about 33,000 cours­es ad­min­is­tered per week in that time.
A Pfiz­er spokesper­son told End­points News the com­pa­ny does "not have any con­cerns nor fore­see any sup­ply is­sues in our abil­i­ty to sup­port if [us­age] rates in­crease."
Cu­mu­la­tive­ly, as of May 24, al­most 3.8 mil­lion dos­es of Paxlovid have been made avail­able to states so far by the fed­er­al gov­ern­ment, and about 2.4 mil­lion of those have been or­dered by states, with more than 831,000 cours­es ad­min­is­tered.
Signs for such a spike in us­age were ev­i­dent ear­li­er this month, as in a call with re­porters se­nior HHS of­fi­cials cred­it­ed the surge in the use of Paxlovid to their out­reach, and through the Biden ad­min­is­tra­tion's Test to Treat ini­tia­tive, which al­lows for use of Paxlovid with a pos­i­tive test at par­tic­i­pat­ing phar­ma­cies.
"We have seen more than a 315% in­crease in Paxlovid use over the past four weeks. In the first week of May, near­ly 115,000 cours­es were dis­pensed," an of­fi­cial said at the time.
Mean­while, out­side of Paxlovid, few oth­er treat­ment op­tions are re­al­ly in wide use.
Mer­ck's mol­nupi­ravir, known com­mer­cial­ly as Lagevrio, has strug­gled to make its way out of the in­ven­to­ry clos­et, ac­cord­ing to the lat­est num­bers post­ed by HHS.
On­ly about 20,000 cours­es of the Mer­ck pill were used in the past week, and on­ly about 13% of the to­tal US in­ven­to­ry of mol­nupi­ravir has been used to date. That com­pares with about 35% of over­all us­age of Paxlovid cours­es or­dered by states so far, and the bulk of those or­ders have come with­in the last sev­er­al months.
But for As­traZeneca's pre­ex­po­sure mAb Evusheld, on­ly about 16,000 cours­es were ad­min­is­tered in the past week. About 38% of all Evusheld or­dered by states has been ad­min­is­tered so far, ac­cord­ing to the lat­est HHS num­bers.
For Eli Lil­ly's bebtelovimab, which is a mon­o­clon­al an­ti­body that's sup­posed to be used ahead of mol­nupi­ravir if both are on hand, about 100,000 cours­es in to­tal have been ad­min­is­tered of 379,526 cours­es or­dered (542,330 cours­es avail­able). Bebtelovimab is the fol­low-on mAb af­ter Lil­ly's for­mer com­bo mAb (850,000+ cours­es dis­trib­uted ear­li­er in the pan­dem­ic) that lost ef­fi­ca­cy against the lat­est vari­ant.
Mean­while, HHS has be­come less and less trans­par­ent with its da­ta and in­for­ma­tion on its dis­tri­b­u­tion of Covid-19 ther­a­peu­tics.
Af­ter the Trump ad­min­is­tra­tion, and the be­gin­ning of the Biden ad­min­is­tra­tion al­lowed for the pub­lic post­ing of week­ly calls be­tween HHS and states on Covid-19 ther­a­peu­tic dis­tri­b­u­tion, those calls have since been made pri­vate and the pri­or record­ings have been delet­ed from the AS­PR web­site.
In ad­di­tion, each week's ther­a­peu­tic ad­min­is­tra­tion num­bers have to be tal­lied in­de­pen­dent­ly be­cause HHS now deletes the pre­vi­ous week's num­bers.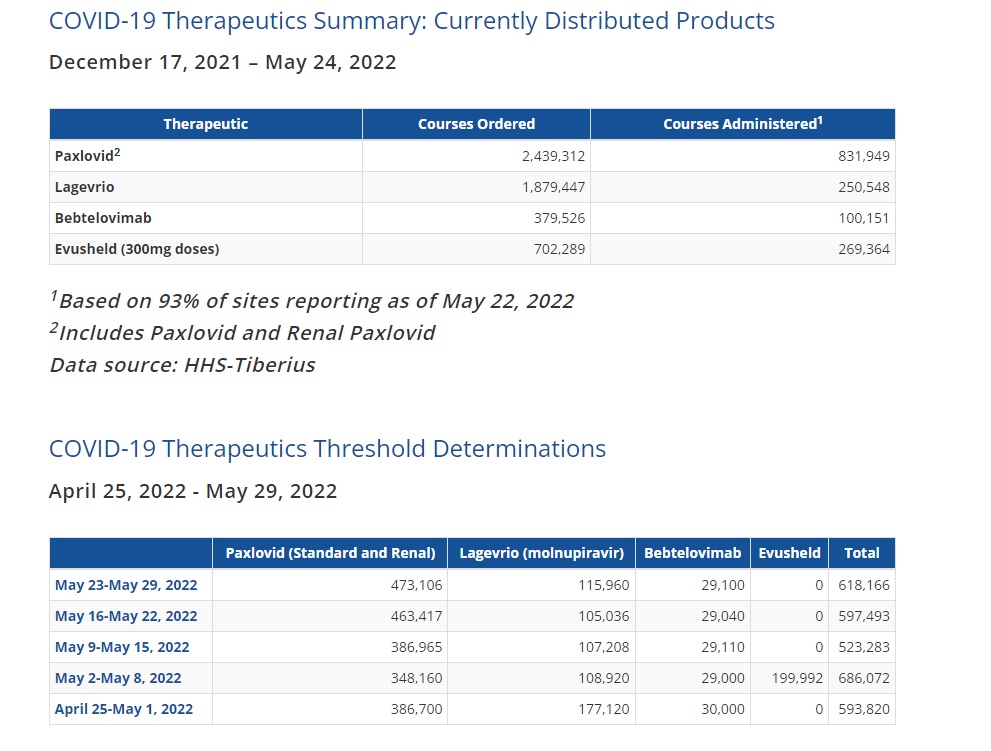 Ed­i­tor's note: Ar­ti­cle up­dat­ed to add Pfiz­er com­ment and note the stats for Lil­ly's Covid-19 treat­ments bebtelovimab too.