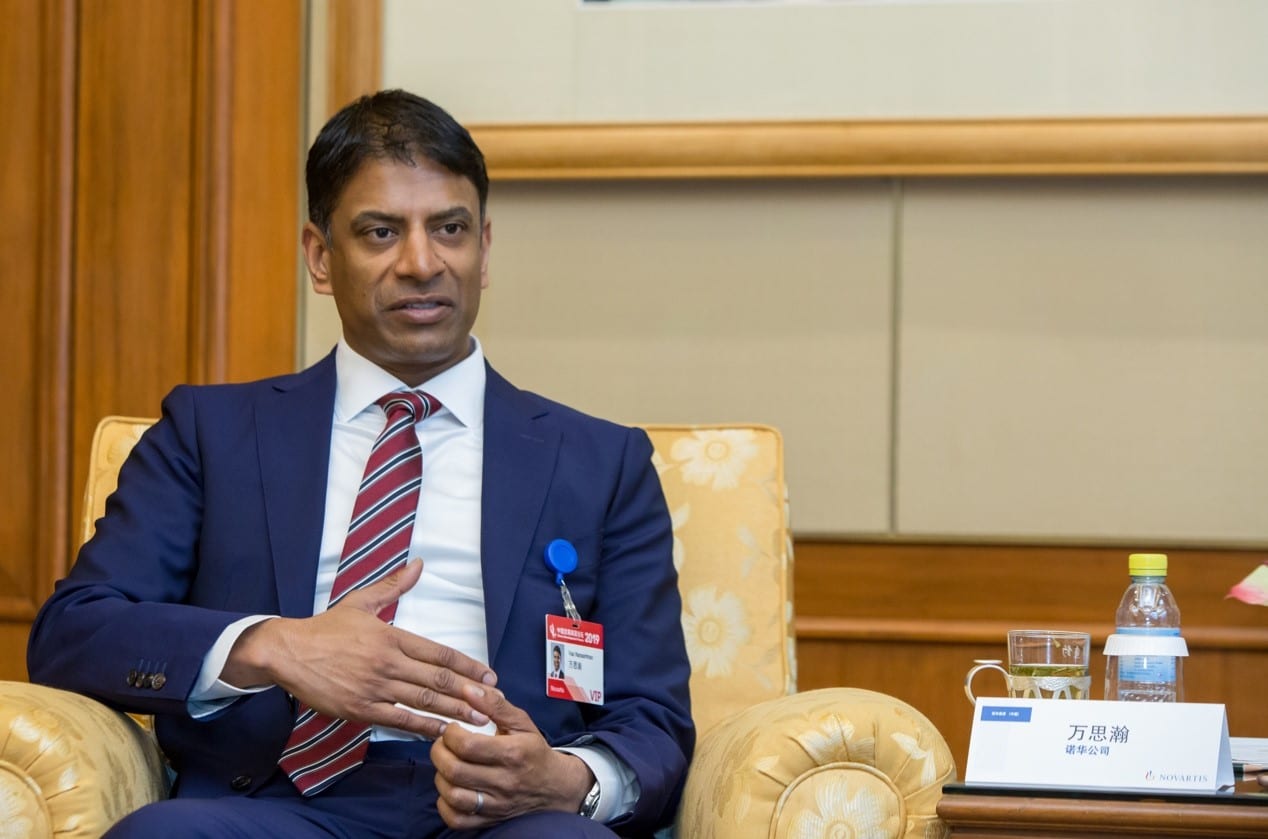 Vas Narasimhan has high hopes for No­var­tis' Chi­na dri­ve as a block­buster drug gets a nod
No­var­tis has clinched a Chi­na ap­proval for its block­buster pso­ri­a­sis drug Cosen­tyx — the first of more than 10 nov­el med­i­cines that it plans to in­tro­duce in the coun­try with­in the next few years.
The ap­proval ar­rives just six months af­ter fil­ing and amid No­var­tis' oth­er high-pro­file over­tures to es­tab­lish it­self as a key for­eign phar­ma play­er in Chi­na, from team­ing up with lo­cal biotechs and en­list­ing do­mes­tic tech gi­ant Ten­cent for dis­ease man­age­ment pro­grams to open­ing a new bio­med­ical re­search cen­ter in Bei­jing.
Speak­ing at the Chi­na De­vel­op­ment Fo­rum — a well at­tend­ed con­fab fea­tur­ing fel­low phar­ma boss­es like Al­bert Bourla and Olivi­er Brandi­court — a few days ago, No­var­tis CEO Vas Narasimhan said thanks to on­go­ing reg­u­la­to­ry re­forms and sci­en­tif­ic ad­vances, he ex­pects Chi­na to be­come one of the top three mar­kets for No­var­tis by sales in the com­ing years.
"If I was asked a few years ago how the Chi­nese mar­ket is dif­fer­ent from the in­ter­na­tion­al mar­ket, I might have talked about many dif­fer­ences," he told a lo­cal re­porter. "But these dif­fer­ences are dwin­dling. Chi­na's drug in­dus­try and mar­ket are in­creas­ing­ly sim­i­lar to those in de­vel­oped coun­tries."
Case in point: No­var­tis got NM­PA stamps on nine new drugs in the past two years alone, with a reg­u­la­to­ry time­line "at the same lev­el of what we see in the Unit­ed States or in Eu­rope," he added in an in­ter­view with Chi­na Dai­ly.
Among the next slate of prod­ucts it plans to roll out, Narasimhan high­light­ed the po­ten­tial of cell and gene ther­a­pies, in­clud­ing No­var­tis' pi­o­neer­ing CAR-T treat­ment for can­cer, Kym­ri­ah.
The high price tags of these cut­ting edge treat­ments, though, are bound to trig­ger new de­bates on pric­ing — and No­var­tis will be go­ing up against some en­trenched lo­cal play­ers in carv­ing out pieces of the mul­ti-bil­lion dol­lar pie.
Take Shang­hai Jun­shi for ex­am­ple. The new­ly pub­lic biotech (on HKEX), which scored ap­proval for Chi­na's first home­grown PD-1 in­hibitor, re­cent­ly came out with its own sales fore­cast for its drug Tuo Yi: They ex­pect sales to peak in three to four years and bring in an­nu­al rev­enue of $1.5 bil­lion to $2.2 bil­lion (RMB 10 bil­lion – 15 bil­lion). The prof­it mar­gin, CEO Li Ning said, should be no less than 90%, ac­cord­ing to a re­port by S&P Glob­al.
Fo­cus­ing on drugs that fill spe­cif­ic gaps, and ap­peal­ing to Chi­nese pa­tients, then, could be key. And that's some­thing No­var­tis has al­lud­ed to in their an­nounce­ment of Cosen­tyx's ap­proval, which was based part­ly on da­ta from tri­als con­duct­ed in Chi­na.
"The av­er­age on­set age of pso­ri­a­sis in Chi­na is around 30, and many of the mod­er­ate-to-se­vere pa­tients are in their prime. This pop­u­la­tion plays an ir­re­place­able role in their fam­i­ly, work­place and so­ci­ety. Thus, treat­ment with high ef­fi­ca­cy, a good safe­ty pro­file and long-last­ing dis­ease con­trol is what we are look­ing for to help pa­tients get back to nor­mal life and work," Jianzhong Zhang, for­mer pres­i­dent of Chi­nese So­ci­ety of Der­ma­tol­ogy, Chi­nese Med­ical As­so­ci­a­tion, was quot­ed in the re­lease. "Pos­i­tive Chi­na da­ta pre­sent­ed re­cent­ly makes us hope­ful for the clin­i­cal use of se­cuk­inum­ab in Chi­na. I hope to see Chi­nese pa­tients ben­e­fit from this in­no­v­a­tive treat­ment and be re­lieved from their ill­ness bur­den."
---
Im­age: Vas Narasimhan at CDF. NO­VAR­TIS