Vaxart re­verse merges its way on­to Nas­daq, climb­ing aboard the Avi­ra­gen shell
Vaxart says it's about to un­veil pos­i­tive re­sults from an ear­ly-stage study of a new vac­cine, and it's cel­e­brat­ing with a re­verse merg­er on­to Nas­daq that will help pay for what's ahead.
Vaxart's cho­sen shell ve­hi­cle for this deal — which comes at a time a long line­up of biotechs have been fil­ing IPOs — is Avi­ra­gen Ther­a­peu­tics, which saw its stock pum­meled by back-to-back tri­al fail­ures ear­ly this year. Avi­ra­gen's stock was left in pen­ny stock ter­ri­to­ry, and the tra­di­tion­al strate­gic re­view in the face of a cri­sis blazed a path to the re­verse merg­er.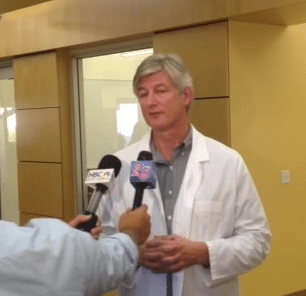 Wouter La­tour
The deal leaves South San Fran­cis­co-based Vaxart in­vestors with 60% of the com­pa­ny, along with some an­ti-vi­ral as­sets from Avi­ra­gen it's in­ter­est­ed in pur­su­ing. The best bit is their BTA074 Phase II pro­gram for the treat­ment of condy­lo­ma caused by HPV, which is on track to com­plete en­roll­ment this quar­ter and to re­port top-line safe­ty and ef­fi­ca­cy da­ta in the sec­ond quar­ter of 2018.
Vaxart's main claim to fame is de­vel­op­ing new oral vac­cines that are in­tend­ed to re­place the in­jecta­bles in use. Their pro­gram for VXA-G1.1-NN hit its marks in a study for health vol­un­teers, ac­cord­ing to the com­pa­ny, with a mid-stage study norovirus chal­lenge com­ing up.
Vaxart will soon start trad­ing un­der the $VXRT sym­bol. And Vaxart CEO Wouter La­tour will be at the helm of the com­bined com­pa­ny.
Said La­tour in a state­ment:
This trans­ac­tion gives us the op­por­tu­ni­ty to build on the pos­i­tive Phase 2 chal­lenge study re­sults we an­nounced re­cent­ly for our in­fluen­za oral tablet vac­cine, as well as the ex­cel­lent re­sults we ob­tained in the safe­ty and im­muno­genic­i­ty stud­ies with our norovirus vac­cine.