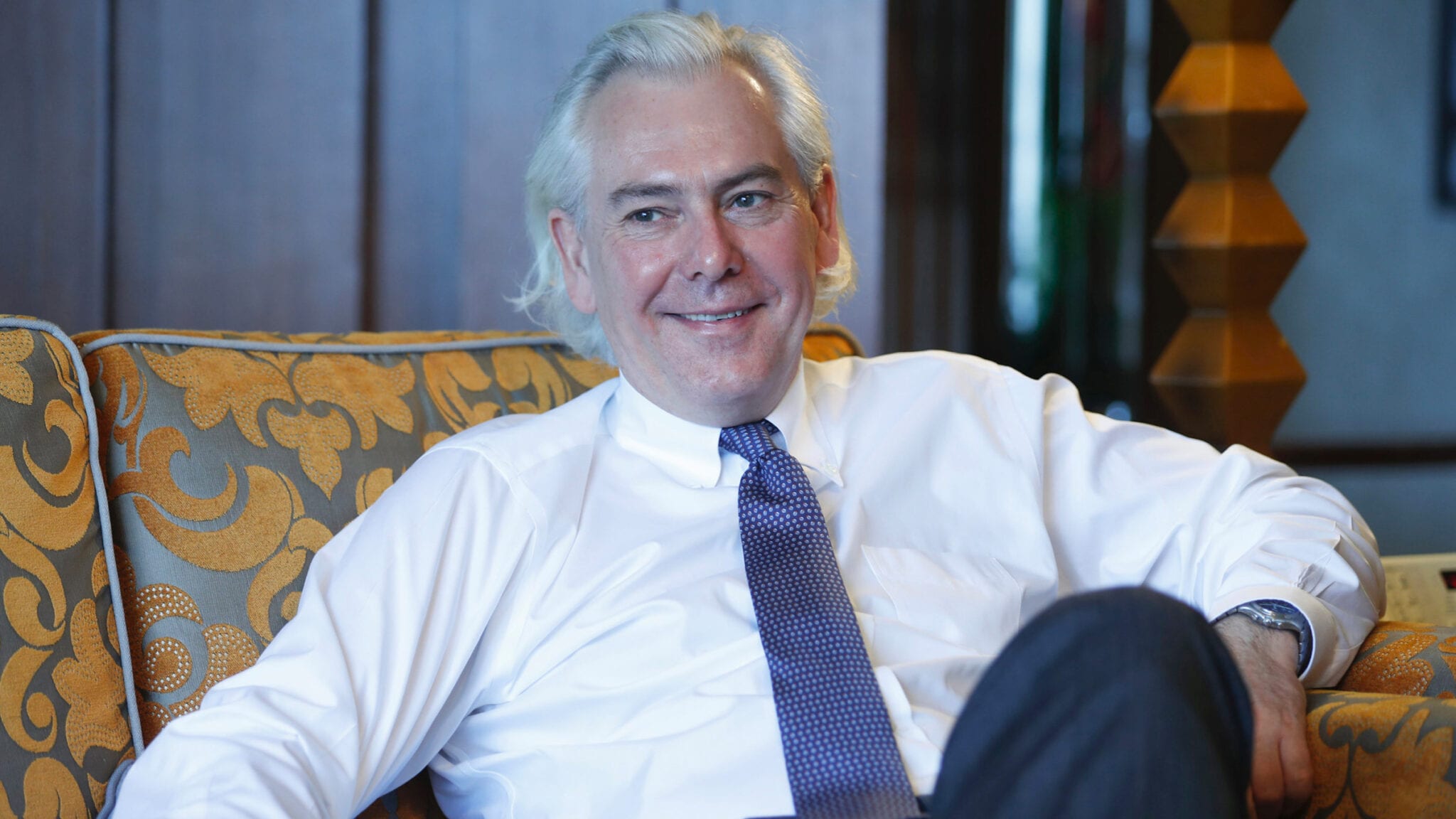 Jacek Olczak, Philip Morris CEO (Yen Meng Jiin/Singapore Press via AP Images)
Vec­tura board says it will unan­i­mous­ly back a Philip Mor­ris takeover
Philip Mor­ris is one step clos­er to tak­ing over res­pi­ra­to­ry drug­mak­er Vec­tura, as the UK-based com­pa­ny's board of di­rec­tors says it will unan­i­mous­ly back the to­bac­co gi­ant's $1.5 bil­lion bid.
The board said it con­sid­ers Philip Mor­ris' of­fer "fair and rea­son­able," ac­cord­ing to a state­ment. The cig­a­rette com­pa­ny, best known for its Marl­boro prod­ucts, of­fered 165 pence per share, beat­ing out a 155 pence per share of­fer by the pri­vate eq­ui­ty firm The Car­lyle Group.
The news comes days af­ter The Car­lyle Group in­sist­ed its most re­cent of­fer of $1.3 bil­lion was fi­nal, re­fus­ing to get in­volved in a planned auc­tion or go above what it con­clud­ed was a "full and fair" price for Vec­tura.
When The Car­lyle Group first an­nounced its buy­out of­fer in May, it seemed to be a done deal, with the val­u­a­tion mark­ing a 32% pre­mi­um over the com­pa­ny's mar­ket val­ue at the time. Vec­tura, which flopped as a drug de­vel­op­er, has flour­ished since piv­ot­ing to for­mu­lat­ing in­haled drugs for clients.
Then Philip Mor­ris put in an of­fer, as CEO Jacek Ol­czak pushed a "be­yond nico­tine" strat­e­gy that would po­si­tion the com­pa­ny to gen­er­ate more than half its rev­enue from smoke-free prod­ucts by 2025.
But the move trig­gered back­lash from con­sumer ad­vo­cates, char­i­ties, an­ti-smok­ing groups and even the UK's busi­ness sec­re­tary.
"To­bac­co com­pa­nies should not prof­it from the ill­ness­es their prod­ucts cause," a group of rep­re­sen­ta­tives from more than 20 an­ti-smok­ing and lung health or­ga­ni­za­tions wrote to Vec­tura's board yes­ter­day.
"In ad­di­tion, we be­lieve Vec­tura's fu­ture com­mer­cial vi­a­bil­i­ty as a com­pa­ny ded­i­cat­ed to im­prov­ing res­pi­ra­to­ry health would be se­ri­ous­ly jeop­ar­dised should the PMI takeover pro­ceed," they added.
Those rep­re­sen­ta­tives in­clud­ed Bron­wyn King, CEO of To­bac­co Free Port­fo­lios; Sarah Wool­nough, chief ex­ec­u­tive of Asth­ma UK; and Kjeld Hansen, chair of the Eu­ro­pean Lung Foun­da­tion, among oth­ers.
The pro­posed PMI takeover of @Vec­tura­Group is un­ac­cept­able in every pos­si­ble way. Along with rep­re­sen­ta­tives from more than 20 or­gan­i­sa­tions, I wrote to the #Vec­tura Board to­day to urge them to re­ject the bid. They've de­cid­ed to rec­om­mend, so now it's over to the share­hold­ers.

— Sarah Wool­nough (@swool­nough) Au­gust 12, 2021
The buy­out still needs the ap­proval of more than half of Vec­tura's share­hold­ers. But be­cause Philip Mor­ris switched its pro­pos­al to a takeover of­fer, there will be no share­hold­er meet­ing, ac­cord­ing to the board's state­ment. In­stead, the of­fer will be open for at least 21 days, and PMI needs to get ac­cep­tance in the next 60 days, Reuters re­port­ed.
Brown Cap­i­tal Man­age­ment, a Bal­ti­more firm, owns the largest stake in the com­pa­ny. Van­guard al­so holds a sig­nif­i­cant piece of the pie. But Axa In­vest­ment Man­agers, TIG Ad­vis­ers and Berry Street Cap­i­tal Man­age­ment — which to­geth­er hold about 11.2% of shares — had been in sup­port of the Car­lyle takeover, ac­cord­ing to Reuters.