Ver­sant backs a re­boot­ed Tarve­da with $30M round for pipeline de­vel­op­ment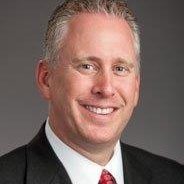 Drew Fromkin
Just a year af­ter rais­ing $38 mil­lion to re­boot his com­pa­ny, Tarve­da Ther­a­peu­tics CEO Drew Fromkin has hauled in a $30 mil­lion round to fund the sec­ond stage of his pipeline build­ing plan.
Fromkin has plen­ty of ways to spend the mon­ey. He's en­gaged in a Phase I pro­gram for a new lead ther­a­py, PEN-221, a "minia­tur­ized" con­ju­gate tar­get­ing so­mato­statin re­cep­tor 2 for small cell lung can­cer. And he's bring­ing an­oth­er one of his drugs in­to the clin­ic, ad­vanc­ing PEN-866, a minia­tur­ized HSP90-tar­get­ing drug con­ju­gate for use in ad­vanced, topoi­so­merase 1-sen­si­tive can­cer pa­tients.
"We have enough run­way to get through and be­yond our Phase IIa ex­pan­sion in 221," Fromkin tells me, while ad­vanc­ing to the "verge of go­ing in­to reg­is­tra­tional stud­ies."
Ver­sant Ven­tures stepped in to lead this round, bring­ing Ver­sant's Basel-based part­ner Gui­do Mag­ni on­to the board. And all the ear­li­er in­vestors in Tarve­da came back for more, in­clud­ing New En­ter­prise As­so­ci­ates, No­vo A/S, Nan­oDi­men­sion and Flag­ship Pi­o­neer­ing.
Fromkin's 27 staffers are fo­cused on Pen­tarins, minia­tur­ized bi­o­log­ic drug con­ju­gates de­signed to get deep­er in­to sol­id tu­mors with a tox­ic pay­load. He re­fo­cused the old Bob Langer-backed Blend Ther­a­peu­tics on the new tech, spin­ning out Pla­con and the old lead drug, BTP-114, with plans to pur­sue de­vel­op­ment of plat­inum-based can­cer drugs.