Ver­tex shares surge as its cys­tic fi­bro­sis com­bo proves mar­gin­al­ly pos­i­tive, but pay­ers may not be so im­pressed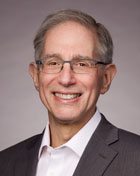 Ver­tex Chief Med­ical Of­fi­cer Jef­frey Chodake­witz
Ver­tex came up with the pos­i­tive da­ta that an­a­lysts were look­ing for in piv­otal stud­ies of a com­bi­na­tion drug for cys­tic fi­bro­sis, tee­ing up new drug ap­pli­ca­tions in the US and Eu­rope lat­er this year. The stock $VRTX re­spond­ed in kind, shoot­ing up a whop­ping 17% in af­ter-mar­ket trad­ing, even though there's lit­tle sign that the da­ta on dis­play will thaw some frigid re­la­tion­ships with a large seg­ment of pay­ers who clear­ly are re­luc­tant to cov­er these drugs.
The good news: The com­bi­na­tion of teza­caftor ('661) and Ka­ly­de­co (iva­caftor) de­liv­ered a mean in­crease of 4% im­prove­ment in FEV-1 in pa­tients with two copies of a ge­net­ic mu­ta­tion, the F508del group. Orkam­bi hit 3%. That's a wee bit bet­ter, of course, which is par­tic­u­lar­ly good if you con­sid­er that sell-side an­a­lysts were on­ly look­ing for a match here to de­clare a vic­to­ry.
In a sec­ond study, the FEV-1 im­prove­ment in the new com­bo was 6.8% com­pared to 4.7% for Ka­ly­de­co alone. That should help open the mar­ket a bit, says Jef­feries' Bri­an Abra­hams, who was clear­ly stoked at the prospect that fu­ture triples would do even bet­ter, win­ning a big fu­ture for it­self in the CF field. Es­ti­mat­ed peak sales of a triple: $3 bil­lion.
Sig­nif­i­cant­ly, on­ly 3% of pa­tients stopped tak­ing the com­bo due to side ef­fects, com­pared to 15% of Orkam­bi pa­tients in its piv­otal test. And the com­bo should there­fore give those pa­tients who had to stop a new op­tion with a bet­ter chance of suc­cess.
Not­ed Abra­hams Tues­day evening:
We had be­lieved '661/Ka­ly­de­co just need­ed to show 1) rea­son­able com­pa­ra­ble (2-3%) FEV-1 ben­e­fits in F508 pa­tients 2) with­out any ma­jor safe­ty is­sues, for the trans­lata­bil­i­ty of VRTX's pre­clin­i­cal as­says to be reaf­firmed and for the com­bo to serve as a sol­id, low­er-DDI back­bone for the key triple-com­bos. With two com­po­nents now de-risked, and mul­ti­ple shots on goal for the third ('440, '152, '659 POC da­ta 2H17, with hun­dreds more cor­rec­tors pre­clin­i­cal­ly), we be­lieve this serves to fur­ther dis­tance VRTX con­sid­er­ably from po­ten­tial com­peti­tors — which should en­able the mar­ket to bet­ter ap­pre­ci­ate the like­ly LT sus­tain­abil­i­ty of their CF fran­chise.
The bad news: Some pay­ers, par­tic­u­lar­ly in Eu­rope, have been woe­ful­ly un­der­whelmed by Orkam­bi, which they view as a mod­est im­prove­ment at best that can't jus­ti­fy the price — $259,000 — Ver­tex has been seek­ing. That re­luc­tance on pay­ers' part has kept rev­enue drag­ging sig­nif­i­cant­ly be­hind ini­tial ex­pec­ta­tions. And there's no con­vinc­ing rea­son to be­lieve that the com­bo da­ta is so strong pay­ers will drop their ob­jec­tions and em­brace the new pair-up.
Galap­gos and Ab­b­Vie, mean­while, have a triple threat of their own in the clin­ic for cys­tic fi­bro­sis. Ver­tex is one step fur­ther ahead tonight on CF, but this race has a long way to go.
"The teza­caftor/iva­caftor com­bi­na­tion treat­ment demon­strat­ed clin­i­cal­ly mean­ing­ful ben­e­fits, with a fa­vor­able safe­ty pro­file, across mul­ti­ple pa­tient groups," said Jef­frey Chodake­witz, EVP and Chief Med­ical Of­fi­cer at Ver­tex. "This com­bi­na­tion treat­ment may pro­vide a promis­ing new op­tion for treat­ing the un­der­ly­ing cause of CF in the fu­ture and brings us in­creas­ing­ly clos­er to our goal of de­vel­op­ing new med­i­cines for all peo­ple with the dis­ease."