SAN FRANCISCO —  In front of a packed house on Tuesday at the Endpoints News breakfast panel during #JPM18, Aiman Shalabi, CMO at the Cancer Research Institute kicked proceedings off with his research on the exploding PD-1/L1 pipeline, continuing on through the number of cancer immunotherapy products his group is tracking.
That's a lot of possible redundancy and inefficiencies, Shalabi said. And just how can we harness all this effort in the most efficient manner?
It's also a sentiment shared by investors, entrepreneurs and nonprofits advocating for patient care, each with a different reason for their concern. Is the gold rush on I/O causing biopharmas and researchers to rush into trials where they haven't done the science to check and see if they have a reasonable chance of success?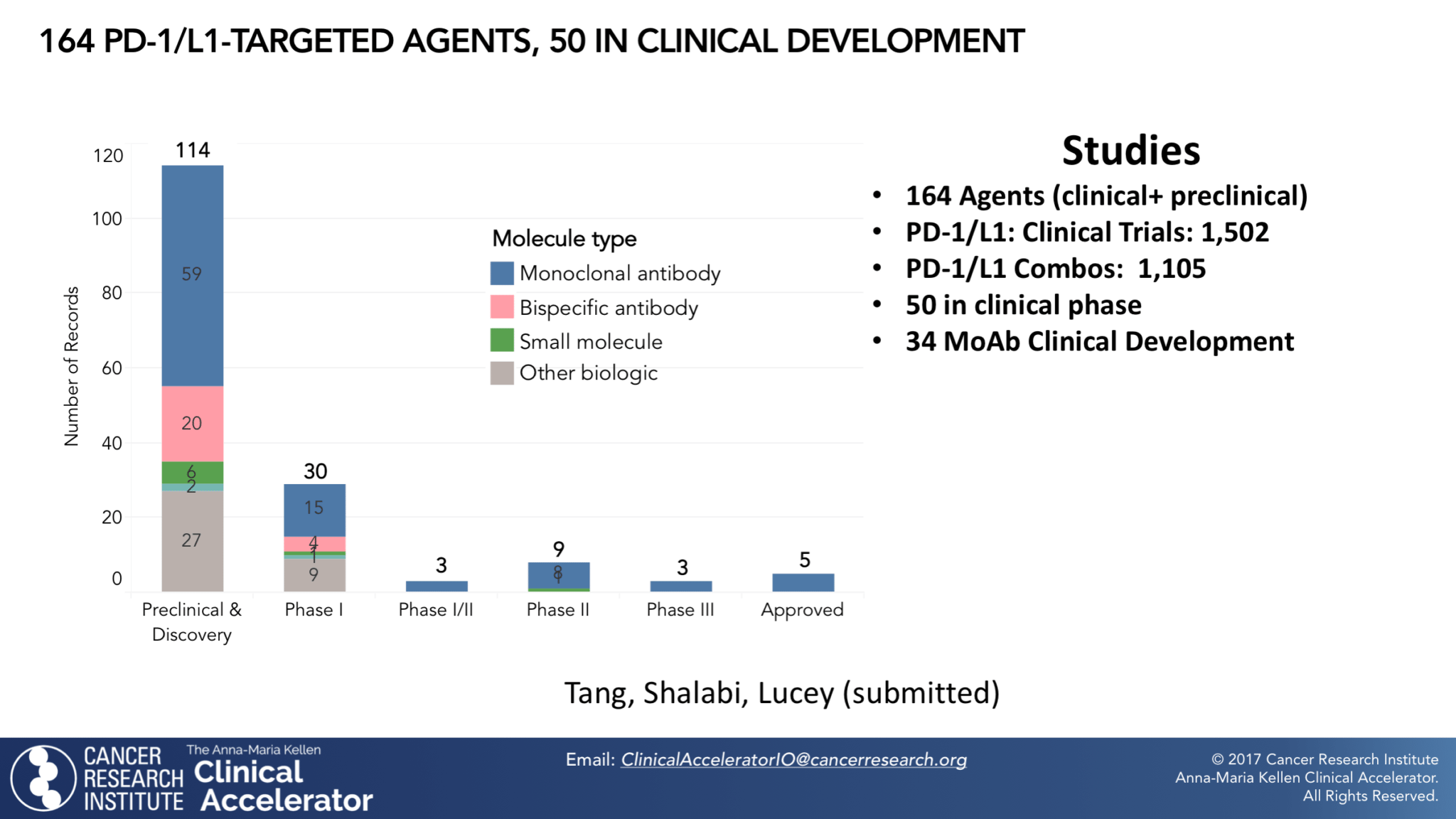 What about being able to recruit for studies? Is there a scarcity of patients?
Jay Bradner, the President of the Novartis Institute for BioMedical Research, said: "It is an issue that we give some consideration to, but I must say in hearing this presentation and seeing these numbers, I'm interested to (know from) this community. Does this make you gasp or clap? I think it's wonderful."
Watch the entire video to see how each panelist took these questions head on. We've included Shalabi's presentation, pictures from the event, along with the full video. Enjoy!
---
Full video:
---
John Carroll — Co-founder and Editor of Endpoints News

Ellen Sigal — Chairperson & Founder of Friends of Cancer Research
Hervé Hoppenot — Chairman, President, and CEO at Incyte
[L-R] Hervé Hoppenot and Gideon Blumenthal, Deputy Office Director (acting) Office of Hematology
David Berman — SVP, Immuno-oncology Franchise Head at AstraZeneca
Aiman Shalabi — CMO, Cancer Research Institute
Ellen Sigal and Jay Bradner



Art Krieg — ‎CEO, ‎Checkmate Pharmaceuticals
Jack West, asks Gideon Blumenthal a question
Jay Bradner speaking with the Endpoints News audience after the event
All photographs and video copyright Jeff Rumans, Endpoints News
---
---