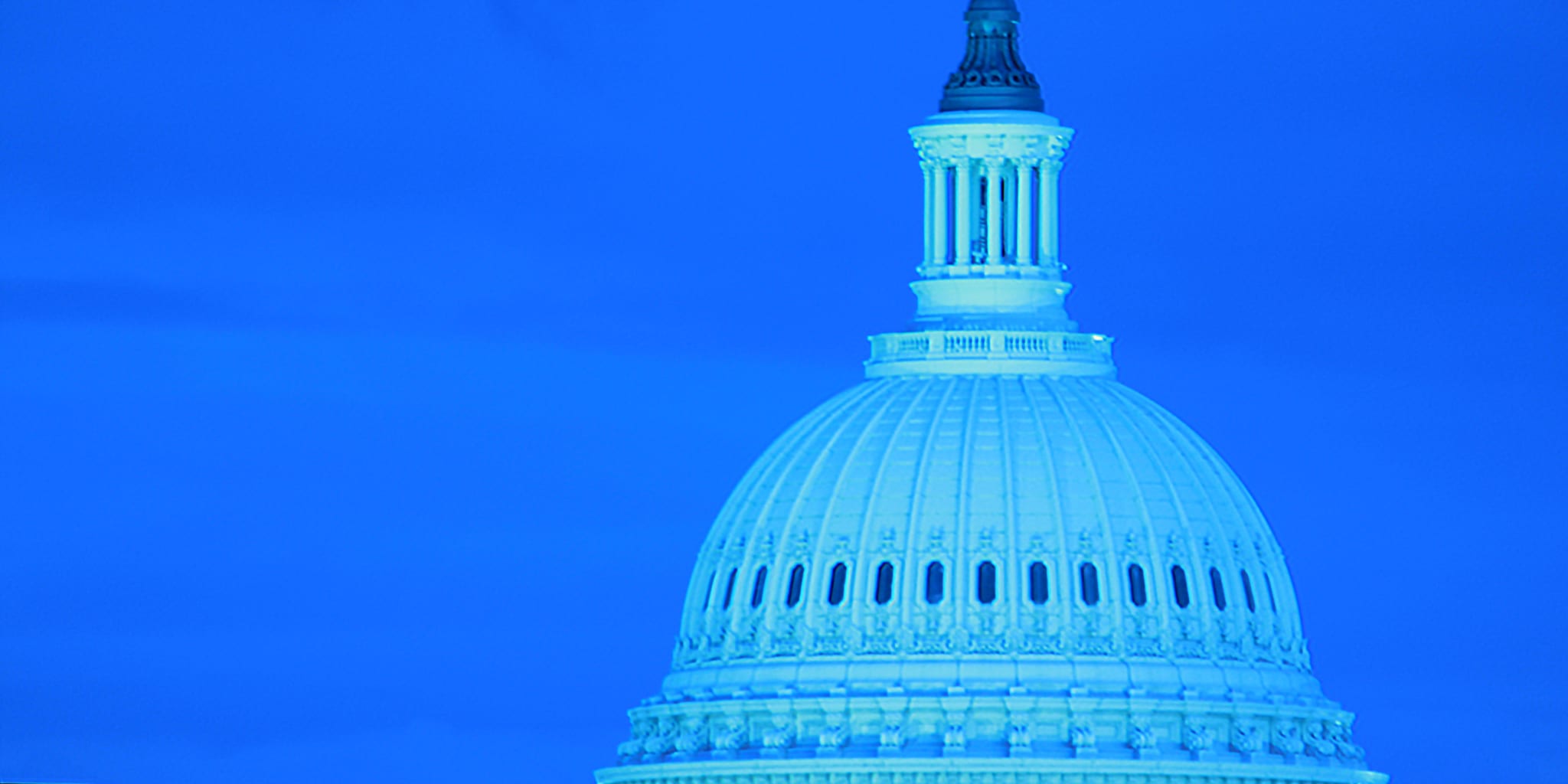 US Capitol (Arsalan Arif for Endpoints News)
Vot­ers say Con­gress needs to curb drug prices. So why do the odds look grim for ma­jor leg­is­la­tion this year?
House De­moc­rats are poised to pass sweep­ing leg­is­la­tion to low­er drug prices us­ing strate­gies Pres­i­dent Don­ald Trump has en­dorsed. A Trump aide urged the Re­pub­li­can-con­trolled Sen­ate to vote on a dif­fer­ent pack­age curb­ing drug prices that was draft­ed by a se­nior Re­pub­li­can.
But at least right now, nei­ther mea­sure ap­pears like­ly to at­tract enough bi­par­ti­san sup­port to be­come law.
Near­ly 8 in 10 Amer­i­cans say the cost of pre­scrip­tion drugs is un­rea­son­able, with vot­ers from both par­ties agree­ing that re­duc­ing the cost of pre­scrip­tion drugs should be one of Con­gress' top pri­or­i­ties, ac­cord­ing to a poll last month by the Kaiser Fam­i­ly Foun­da­tion. (KHN is an ed­i­to­ri­al­ly in­de­pen­dent pro­gram of the foun­da­tion.)
With such broad and bi­par­ti­san sup­port, why do the odds look grim for Con­gress to pass sig­nif­i­cant drug pric­ing leg­is­la­tion this year?
Be­cause whether it's shar­ing the cred­it for a leg­isla­tive vic­to­ry with the oth­er par­ty or run­ning afoul of the pow­er­ful drug­mak­er lob­by, nei­ther De­moc­rats nor Re­pub­li­cans are sure the ben­e­fits are worth the risks, ac­cord­ing to sev­er­al of those fa­mil­iar with the de­bate on Capi­tol Hill.
Com­pli­ca­tions From 'Medicare For All,' Im­peach­ment
Sen­ate Ma­jor­i­ty Leader Mitch Mc­Connell, who is a Re­pub­li­can and con­trols what leg­is­la­tion gets to the Sen­ate floor, has said he will not al­low a vote on the House De­moc­rats' leg­is­la­tion. Among oth­er things, the bill writ­ten by House Speak­er Nan­cy Pelosi and oth­er De­mo­c­ra­t­ic lead­ers would en­able fed­er­al health of­fi­cials to ne­go­ti­ate the prices of as many as 250 of the most cost­ly drugs. Al­though Trump has en­dorsed that tac­tic, most Re­pub­li­can law­mak­ers op­pose it be­cause they are philo­soph­i­cal­ly op­posed to in­ter­fer­ing with the mar­ket.
On Fri­day, Trump's chief do­mes­tic pol­i­cy ad­vis­er, Joe Gro­gan, said any drug pric­ing leg­is­la­tion would need bi­par­ti­san sup­port, say­ing of Pelosi's plan: "It is not go­ing to pass in its cur­rent form." He said the White House sup­ports the bi­par­ti­san pack­age draft­ed by Sen. Chuck Grass­ley (R-Iowa), who chairs the Fi­nance Com­mit­tee, and the com­mit­tee's top De­mo­c­rat, Sen. Ron Wyden of Ore­gon.
But many Sen­ate Re­pub­li­cans in par­tic­u­lar are un­com­fort­able with one of the bill's key pro­vi­sions: a re­quire­ment that drug­mak­ers not raise their prices on drugs cov­ered by Medicare faster than the rate of in­fla­tion.
Asked whether the White House sup­ports the in­fla­tion caps, Gro­gan said they were "not the ad­min­is­tra­tion's pro­pos­al, but they are the prod­uct of a bi­par­ti­san com­pro­mise, and they are the route to a bi­par­ti­san bill, in our opin­ion."
In a re­cent in­ter­view, Grass­ley spokesman Michael Zona dis­missed the call from oth­er Re­pub­li­cans to elim­i­nate the pro­vi­sion. "There's no need," he said. "The bill passed with a bi­par­ti­san two-thirds ma­jor­i­ty in com­mit­tee, and sup­port's grow­ing for the bill every week among Re­pub­li­cans."
While the Sen­ate Fi­nance Com­mit­tee did vote 19-9 in Ju­ly to send the Grass­ley-Wyden bill to the full Sen­ate for con­sid­er­a­tion, some Re­pub­li­cans who vot­ed to ad­vance it cau­tioned then that they may not ul­ti­mate­ly vote for the bill.
While con­sid­er­ing the bill, all but two of the com­mit­tee's Re­pub­li­can mem­bers vot­ed to kill the pro­vi­sion to pre­vent Medicare drug prices from ris­ing faster than in­fla­tion. Grass­ley, how­ev­er, got De­mo­c­ra­t­ic sup­port and it stayed in the bill.
But it's not clear if the bill will come to the floor. Mc­Connell is known to be un­will­ing to cor­ner Sen­ate Re­pub­li­cans with votes that could be po­lit­i­cal­ly risky dur­ing cam­paign sea­son, whether due to crit­i­cism from De­moc­rats or pres­sure from the drug in­dus­try.
In ad­di­tion, the push by some pro­gres­sive De­mo­c­ra­t­ic pres­i­den­tial can­di­dates for a gov­ern­ment-con­trolled "Medicare for All" health sys­tem has not made it more ap­peal­ing for Re­pub­li­cans to work with De­moc­rats on health care is­sues, said Kim Monk, a health care an­a­lyst and part­ner at Cap­i­tal Al­pha Part­ners who used to work for Re­pub­li­cans in the Sen­ate.
"Why would Re­pub­li­cans stick their neck out while De­moc­rats are fight­ing over Medicare for All?" she asked.
And Sen­ate Mi­nor­i­ty Leader Chuck Schumer of New York, a De­mo­c­rat, has drawn a line in­sist­ing any health care leg­is­la­tion come with pro­tec­tions for those with pre­ex­ist­ing con­di­tions. That's a risky con­ver­sa­tion for Re­pub­li­cans, be­cause a fed­er­al ap­peals court is con­sid­er­ing a law­suit brought by Re­pub­li­can states seek­ing to throw out the en­tire Af­ford­able Care Act, which guar­an­tees those with med­ical con­di­tions can get cov­er­age.
Still, polling sug­gests that the is­sue of drug pric­ing has the pow­er to mo­ti­vate vot­ers to sup­port one par­ty or the oth­er, and that is like­ly to mo­ti­vate law­mak­ers.
There are more Sen­ate Re­pub­li­can in­cum­bents up for re­elec­tion next year than De­moc­rats, and sev­er­al are con­sid­ered vul­ner­a­ble.
Mean­while, De­moc­rats might be able to ar­gue that they sought to tack­le the is­sue of prices, but Re­pub­li­cans backed away from it.
The de­ci­sion by House De­moc­rats last month to pur­sue an im­peach­ment in­quiry against Trump has no doubt poi­soned the wa­ters be­tween the par­ties. But the prospects have not looked promis­ing any­way for a com­pre­hen­sive, bi­par­ti­san pack­age of so­lu­tions to rein in es­ca­lat­ing drug costs.
A Third Leg­isla­tive Op­tion
Ac­knowl­edg­ing their prob­lems with the Pelosi and Grass­ley-Wyden pro­pos­als, some Re­pub­li­cans are tout­ing a mod­est mea­sure that has failed to be­come law in the three years since it was in­tro­duced: the CRE­ATES (Cre­at­ing and Restor­ing Equal Ac­cess To Equiv­a­lent Sam­ples) Act.
The CRE­ATES Act does not take a di­rect ap­proach to low­er­ing prices. Nonethe­less, based on po­lit­i­cal op­po­si­tion to the larg­er pack­ages, it could be some of the on­ly drug-pric­ing leg­is­la­tion that pass­es this Con­gress. The bill would crack down on tac­tics used by brand-name drug man­u­fac­tur­ers to dis­suade gener­ic com­peti­tors, aim­ing to elim­i­nate an­ti-com­pet­i­tive be­hav­ior and al­low the free mar­ket to bring down prices.
Specif­i­cal­ly, it would em­pow­er gener­ics man­u­fac­tur­ers to sue brand-name drug­mak­ers that block them from ob­tain­ing the sam­ples need­ed to con­duct stud­ies and get Food and Drug Ad­min­is­tra­tion ap­proval of their ver­sions. It would al­so give the FDA more lee­way to ap­prove al­ter­na­tive safe­ty pro­to­cols for high-risk drugs. Cur­rent­ly gener­ic drug­mak­ers are re­quired to join with the brand-name man­u­fac­tur­ers in a shared safe­ty sys­tem for those drugs, but some brand-name com­pa­nies refuse to ne­go­ti­ate with the gener­ic com­pa­nies, thus de­lay­ing their abil­i­ty to get FDA ap­proval.
It is the rare piece of leg­is­la­tion with sup­port from the likes of pro­gres­sive Sen. Shel­don White­house (D-R.I.) and con­ser­v­a­tive Sen. Mike Lee (R-Utah).
But the bill has hit snags be­fore. The brand-name drug in­dus­try trade group, the Phar­ma­ceu­ti­cal Re­search and Man­u­fac­tur­ers of Amer­i­ca, has op­posed the CRE­ATES Act in the past. With its heavy spend­ing on lob­by­ists, ad­ver­tise­ments and cam­paign con­tri­bu­tions for law­mak­ers, it has been a pow­er­ful op­po­nent.
Op­po­si­tion soft­ened ear­li­er this year, though, when ex­ec­u­tives from sev­en of the world's biggest drug­mak­ers told the Sen­ate Fi­nance Com­mit­tee they are in fa­vor of the bill.
"We sup­port the over­all in­tent of the CRE­ATES Act," Hol­ly Camp­bell, a PhRMA spokes­woman, said in an email. She added that drug­mak­ers "should not with­hold sam­ples with the in­tent of de­lay­ing gener­ic or biosim­i­lar en­try."
Fac­ing the prospect that Con­gress could fail to pass big­ger fix­es like the Pelosi or Grass­ley-Wyden plans, some say CRE­ATES could be used to off­set the cost of health care pro­grams like com­mu­ni­ty health cen­ter fund­ing that will soon ex­pire if Con­gress does not ex­tend them.
In Ju­ly, the Con­gres­sion­al Bud­get Of­fice es­ti­mat­ed that the CRE­ATES Act could save the fed­er­al gov­ern­ment $3.7 bil­lion over 10 years.
But even some of CRE­ATES' sup­port­ers say it is not enough to low­er drug prices.
"The idea that Con­gress is go­ing to low­er pre­scrip­tion drug prices with­out re­forms to Medicare is non­sen­si­cal," said Zona, Grass­ley's spokesman. He added that the CRE­ATES Act, which Grass­ley orig­i­nal­ly co-spon­sored, is im­por­tant. "But it's on­ly one piece of the puz­zle."
House mem­bers were home in their dis­tricts last week, and when they re­turn, they ex­pect to fo­cus on pass­ing spend­ing bills be­fore a Nov. 21 dead­line to ad­vert a gov­ern­ment shut­down, be­fore vot­ing on Pelosi's plan.
In the mean­time, some are cau­tious in their pre­dic­tions about whether Con­gress can pass sig­nif­i­cant drug pric­ing leg­is­la­tion be­fore 2020, when the elec­tion cam­paign may prompt law­mak­ers to re­treat fur­ther in­to their re­spec­tive par­ti­san cor­ners.
Chip Davis, the chief ex­ec­u­tive of the gener­ic drug­mak­ers' As­so­ci­a­tion for Ac­ces­si­ble Med­i­cines, said that even though there is in­creas­ing agree­ment that the gov­ern­ment needs to act to help curb drug price in­creas­es, the two par­ties are ap­proach­ing it in very dis­tinct ways.
"It re­mains to be seen," he added, "whether those dif­fer­ences of opin­ion can be rec­on­ciled in­to a pack­age that can get enough sup­port in both cham­bers."
---
This sto­ry was orig­i­nal­ly pub­lished by Kaiser Health News, a na­tion­al health pol­i­cy news ser­vice. It is an ed­i­to­ri­al­ly in­de­pen­dent pro­gram of the Hen­ry J. Kaiser Fam­i­ly Foun­da­tion which is not af­fil­i­at­ed with Kaiser Per­ma­nente. Writ­ten by Em­marie Huet­te­man: ehuet­te­man@kff.org