Voy­ager Ther­a­peu­tics adds proof its gene ther­a­py for Parkin­son's can work, shares soar
Voy­ager Ther­a­peu­tics $VY­GR says it's turned an im­por­tant cor­ner in its de­vel­op­ment of a gene ther­a­py that can play a ma­jor role in res­cu­ing Parkin­son's pa­tients from the in­evitable de­cline as­so­ci­at­ed with their re­sponse to lev­odopa.
The Cam­bridge, MA-based biotech has fleshed out its ear­ly-stage proof-of-con­cept da­ta on VY-AADC01, of­fer­ing new da­ta that demon­strate a height­ened ef­fi­ca­cy for two high­er dos­es of the gene ther­a­py. Ex­ec­u­tives at Voy­ager tell me that they're heart­ened to see a dose-de­pen­dent re­sponse in a key bio­mark­er on their ther­a­py's im­pact, with im­prove­ments in hourly "on" times, a drop in "off" times and bet­ter qual­i­ty of liv­ing scores from the 15 pa­tients di­vid­ed in­to three ther­a­peu­tic co­horts.
A low dose of the gene ther­a­py paled in com­par­i­son to the two oth­er co­horts in the study, which did not in­clude a place­bo group.
Voy­ager joined a crowd of biotechs in the win­ners cir­cle on Wall Street this morn­ing, with its shares – up about 10% yes­ter­day – adding an 36% spike Wednes­day.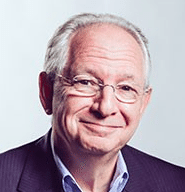 Voy­ager CEO Steven Paul
"Co­hort 2 con­tin­ues to look great," Voy­ager CEO Steve Paul tells me. "We need to wait to get Co­hort 3 to 12 months to choose the dose for the piv­otal tri­al."
But it's com­ing. And with it, Voy­ager is map­ping plans to ex­e­cute a tri­al that can be used to seek an ac­cel­er­at­ed ap­proval.
There are all sorts of caveats that ap­ply to this da­ta, aside from the lack of a place­bo arm. The num­bers of pa­tients in­volved in this lat­est up­date, which fol­lows the first round of pos­i­tive re­sults from the ear­ly tri­al, re­mains small. A piv­otal will be much more de­mand­ing. And Voy­ager re­searchers — who ear­li­er record­ed a blood clot case in the study — still has to prove that the process can be done com­plete­ly safe­ly.
But now there's more sol­id da­ta to un­der­score that Voy­ager's ap­proach has promise, a rare event in Parkin­son's, one of the tough­est dis­eases in biotech. And they say that a move to in­sert the gene ther­a­py through the back of the head ap­pears safe and eas­i­er to com­plete.
The gene ther­a­py is de­signed to com­plete a sim­ple task. Parkin­son's pa­tients typ­i­cal­ly re­spond well to lev­odopa to pro­vide the dopamine pa­tients need fol­low­ing the death of neu­rons in the brain. But their re­sponse de­clines, re­quir­ing ever high­er dos­es of lev­odopa with ever di­min­ish­ing re­turns. Voy­ager's gene ther­a­py in­tro­duces an en­zyme that con­verts lev­odopa to dopamine, and this study un­der­scores that pa­tients were able to get a bet­ter ef­fect with low­er dos­ing — a ma­jor ac­com­plish­ment.
"What we're do­ing is putting the gene for that en­zyme in neu­rons that are still alive and healthy, ar­ti­fi­cial­ly al­low­ing the brain re­gion to con­tin­ue mak­ing dopamine," says Paul, a long­time Eli Lil­ly vet be­fore he jumped in­to biotech.
Those dead neu­rons, adds Paul, aren't com­ing back to life. Voy­ager looks at this as a restora­tive strat­e­gy, which in pri­mates has proved ef­fec­tive 15 years out.
The plan now is to launch a po­ten­tial­ly piv­otal tri­al with 40-42 pa­tients in the first half of next year, point­ing to a pos­si­ble BLA if reg­u­la­tors sign off.
Paul says Voy­ager is right on track dur­ing a key tran­si­tion point for his com­pa­ny, one of a wave of gene ther­a­py biotechs that gained the spot­light in re­cent years. As Di­men­sion's prob­lems with he­mo­phil­ia B proved, along with its re­cent sale to Re­gen­rx, not all these com­pa­nies will make it through. But Voy­ager is still very much in the game.