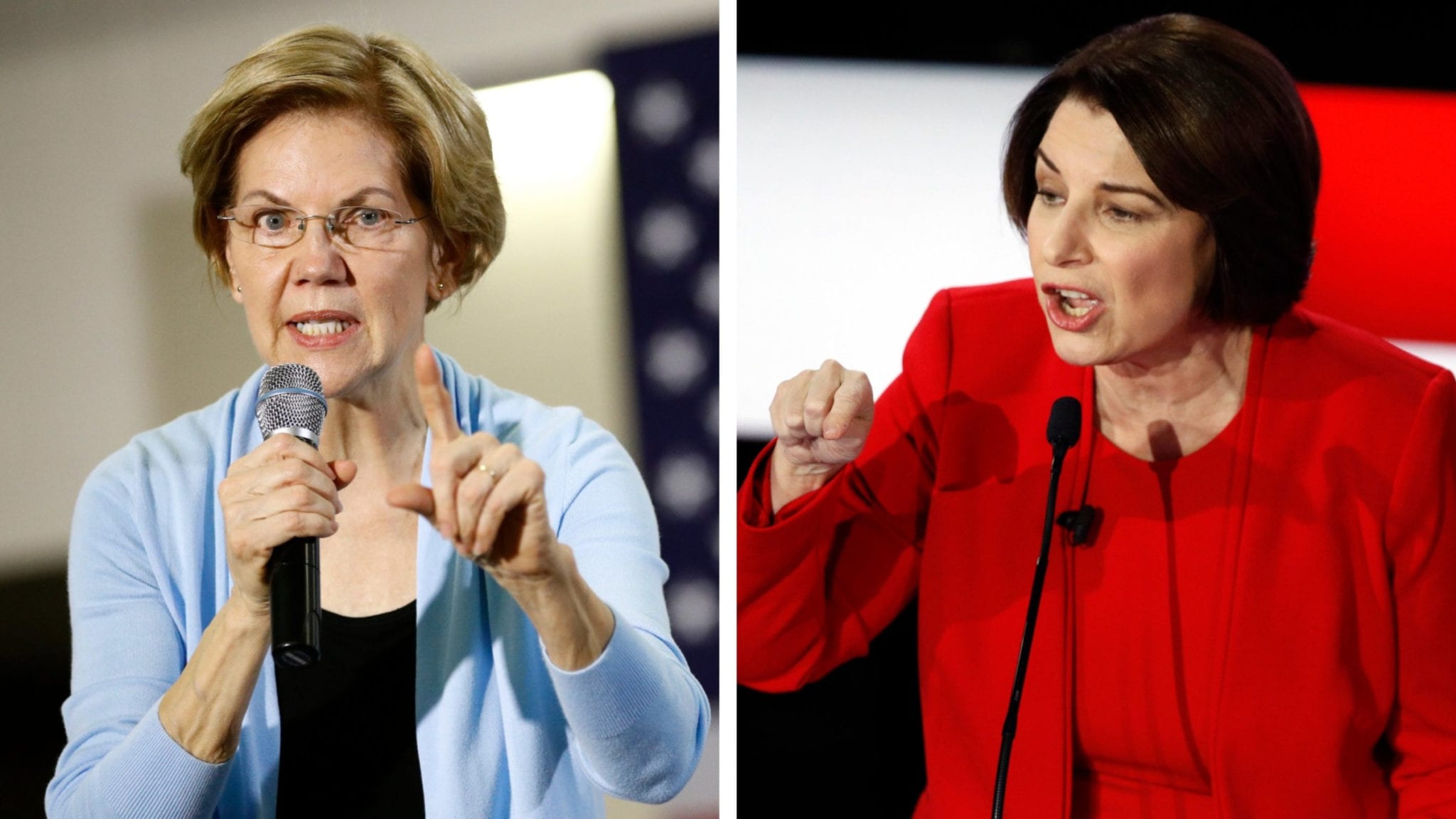 Elizabeth Warren and Amy Klobuchar, AP Images
War­ren and Klobuchar say they can low­er drug prices with­out Con­gress' help
On Tues­day, two De­moc­rats run­ning for pres­i­dent promised to do — each by her­self — what Wash­ing­ton has so far proven un­able to do: low­er the prices of pre­scrip­tion drugs.
Speak­ing dur­ing the last De­mo­c­ra­t­ic de­bate be­fore the Iowa cau­cus on Feb. 3, Sen. Eliz­a­beth War­ren of Mass­a­chu­setts and Sen. Amy Klobuchar of Min­neso­ta said, if elect­ed pres­i­dent, they would each act im­me­di­ate­ly to di­rect­ly re­duce the cost of cer­tain drugs.
Their de­c­la­ra­tions, com­ing from two sen­a­tors who have spon­sored their own bills to con­trol sky­rock­et­ing drug prices, stood out af­ter Con­gress spent last year de­bat­ing the prob­lem — and failed to pass sig­nif­i­cant leg­is­la­tion to fix it.
"We need to get as much help to peo­ple as we can, as soon as pos­si­ble," War­ren said.
While they did not elab­o­rate on which pres­i­den­tial pow­ers they would use, War­ren and Klobuchar said the pres­i­dent al­ready has the le­gal au­thor­i­ty to rein in drug prices. (Klobuchar ac­tu­al­ly has a list of 137 things that she could do with­out Con­gres­sion­al ac­tion that in­clude but are not lim­it­ed to ac­tion on drug pric­ing.)
A 2019 poll from the Kaiser Fam­i­ly Foun­da­tion found that, due to cost, about 29% of Amer­i­cans had not tak­en a pre­scrip­tion as di­rect­ed in the pre­vi­ous year.
Hav­ing pro­posed leg­is­la­tion that would em­pow­er the fed­er­al gov­ern­ment to man­u­fac­ture drugs it­self, War­ren said she would act to low­er the price of in­sulin and drugs that treat HIV/AIDS.
Her cam­paign emailed re­porters a list of oth­er tar­get­ed drugs, in­clud­ing the EpiPen; Hu­mi­ra, the top-sell­ing rheuma­toid arthri­tis drug whose mak­er has been crit­i­cized for abus­ing patents to sti­fle com­pe­ti­tion; and Nalox­one, a drug that re­vers­es the ef­fects of opi­oid over­dose.
Klobuchar and for­mer May­or Pe­te Buttigieg of South Bend, IN, al­so en­dorsed em­pow­er­ing Medicare to ne­go­ti­ate low­er prices with drug­mak­ers — the pro­pos­al at the heart of the drug plan un­veiled last year by Speak­er Nan­cy Pelosi and oth­er House De­mo­c­ra­t­ic lead­ers.
How­ev­er, that idea is deeply un­pop­u­lar with con­gres­sion­al Re­pub­li­cans, who de­scribe it as gov­ern­ment in­ter­fer­ence in the free mar­ket. While the bill passed the House in De­cem­ber, Sen. Mitch Mc­Connell of Ken­tucky, the Re­pub­li­can leader, has said he will not al­low it to get a vote in the Sen­ate, killing its chances, at least for now.
Klobuchar said the re­al prob­lem is the num­ber of phar­ma­ceu­ti­cal lob­by­ists on Capi­tol Hill — two to every mem­ber of Con­gress, she said. Poli­ti­Fact rat­ed this claim Most­ly True last year.
"How do we ac­tu­al­ly break the cor­po­rate stran­gle­hold on our gov­ern­ment so we can get any of these things passed?" said Tom Stey­er, a busi­ness­man who was one of the six De­mo­c­ra­t­ic can­di­dates to qual­i­fy for the de­bate.
The de­bate, which took place in Des Moines less than three weeks be­fore vot­ing be­gins, gave for­mer Vice Pres­i­dent Joe Biden and Sen. Bernie Sanders of Ver­mont an­oth­er op­por­tu­ni­ty to spar over the cost of "Medicare for All," al­beit on­ly briefly.
Elab­o­rat­ing on how he would pay for his sin­gle-pay­er over­haul of the na­tion's health care sys­tem, Sanders said it would in­volve a 4% in­come tax, ex­empt­ing the first $29,000 of a tax­pay­er's in­come to ease the bur­den on the "av­er­age fam­i­ly in Amer­i­ca."
"Now is the time to take on the greed and cor­rup­tion of the health care in­dus­try, of the drug com­pa­nies, and fi­nal­ly pro­vide health care to all through a Medicare for All sin­gle-pay­er pro­gram," Sanders said. "It won't be easy. It's what we have to do."
"You can do it with­out Medicare for All," Biden said. "You can get to the same place."
Af­ter six de­bates spent pars­ing the de­tails of Medicare for All, though, War­ren ref­er­enced what comes next: a gen­er­al elec­tion dur­ing which the De­mo­c­ra­t­ic nom­i­nee will run against Pres­i­dent Don­ald Trump, a Re­pub­li­can who wants to re­peal the Af­ford­able Care Act.
War­ren said she would push her plan to ex­pand cov­er­age through a sin­gle-pay­er sys­tem — but al­so that she would de­fend the Af­ford­able Care Act.
"I'll take our side of the ar­gu­ment any day," she said. "We're go­ing to beat him on this."
The eighth de­bate is sched­uled for Feb. 8, the first of three De­mo­c­ra­t­ic de­bates next month.
---
This sto­ry was orig­i­nal­ly pub­lished by Kaiser Health News, a na­tion­al health pol­i­cy news ser­vice. It is an ed­i­to­ri­al­ly in­de­pen­dent pro­gram of the Hen­ry J. Kaiser Fam­i­ly Foun­da­tion which is not af­fil­i­at­ed with Kaiser Per­ma­nente. Writ­ten by Em­marie Huet­te­man: ehuet­te­man@kff.org