'We strong­ly dis­sent': Women biotech ex­ecs pen let­ter to col­leagues and politi­cians in Roe v. Wade af­ter­math
In the days fol­low­ing the US Supreme Court's roll­back of fed­er­al abor­tion rights, more than 100 women biotech ex­ec­u­tives came to­geth­er in an open let­ter to con­demn the rul­ing and tell their fel­low drug de­vel­op­ment lead­ers that they "will not stand by silent­ly."
Ad­dressed to in­dus­try, friends, leg­is­la­tors and elect­ed of­fi­cials, the biotech ex­ec­u­tives said they were join­ing "the re­sound­ing mil­lions in cho­rus" by show­ing their "pro­found dis­may and dis­ap­point­ment" at the de­ci­sion hand­ed down by SCO­TUS last week, a re­ver­sal of Roe v. Wade that had been an­tic­i­pat­ed for weeks fol­low­ing a court leak.
The let­ter — signed by the CEOs of Blade, In­Car­da, Daré Bio­science and a host of oth­er biotechs — called out the rul­ing's im­pact on the med­ical prac­ti­tion­ers who are "best suit­ed to pro­vide care."
Since its orig­i­nal post­ing on Fri­day, the let­ter has grown from about 70 sig­na­to­ries to more than 100, "with mul­ti­ple oth­ers want­i­ng to sign and many view­ing this as a ral­ly­ing point for fur­ther ac­tion," Re­Code Ther­a­peu­tics CEO Shehnaaz Suli­man told End­points News in an email. The lead­ers said the rul­ing fo­cus­es on the "spe­cial in­ter­ests of the few rather than the in­ter­ests of the ma­jor­i­ty."
"Abor­tion is re­pro­duc­tive health­care. As doc­tors, sci­en­tists, in­no­va­tors, care­givers, lead­ers and al­lies who are at the fore­front of in­no­va­tion in sci­ence and med­i­cine for the ben­e­fit of pa­tients and women around the world — we de­cry and de­nounce the de­ci­sion by the Court," the let­ter reads in part.
The let­ter did not point to any de­fin­i­tive or di­rect steps the in­dus­try can take in re­sponse to the rul­ing. Some bio­phar­mas have joined with oth­er com­pa­nies in say­ing they'll cov­er abor­tion-re­lat­ed trav­el ex­pens­es for em­ploy­ees.
"The mes­sage we have ar­tic­u­lat­ed is one so many women want to add their voice to. The notes I have re­ceived in­clude ex­pres­sions of anger and help­less­ness, but al­so a de­sire to do some­thing and be part of fur­ther ac­tion. I tru­ly hope this let­ter is just the start," Ju­lia Owens, for­mer Mil­len­do Ther­a­peu­tics CEO, said in an email to End­points News. Mul­ti­ple ad­di­tion­al lead­ers have reached out to Owens ask­ing to add their names, she said.
With dozens of lead­ers from var­i­ous back­grounds join­ing to­geth­er, the let­ter calls for free­dom of choice over one's own body for every­one, "but es­pe­cial­ly for women, un­der­rep­re­sent­ed mi­nori­ties, and LGBTQIA+ com­mu­ni­ties."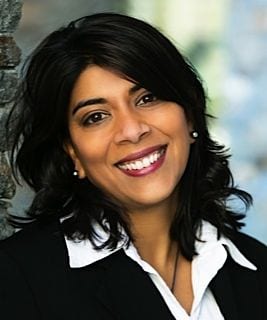 Shehnaaz Suli­man
In post­ing the let­ter to LinkedIn, Suli­man asked oth­er lead­ers to "join a sea of voic­es to am­pli­fy the call for re­pro­duc­tive health rights for all women."
A por­tion of the women who signed the let­ter had come to­geth­er for a week­end con­fer­ence in March aimed at form­ing a net­work, spon­sor­ing the next gen­er­a­tion of women lead­ers and map­ping out re­gion­al mee­tups, in­clud­ing one that took place dur­ing BIO last month in San Diego.
In­dus­try lead­ers pre­vi­ous­ly came to­geth­er in Feb­ru­ary to pen a let­ter urg­ing busi­ness lead­ers to "eco­nom­i­cal­ly dis­en­gage from Russ­ian In­dus­try" fol­low­ing the in­va­sion of Ukraine.
Ed­i­tor's note: This sto­ry was up­dat­ed to in­clude ad­di­tion­al in­for­ma­tion from Ju­lia Owens and Shehnaaz Suli­man.