Weeks af­ter Keytru­da CRL in high-risk TNBC, Mer­ck claims a win af­ter da­ta ma­ture. How soon will it re­turn to FDA?
There's been much afoot re­gard­ing Mer­ck's at­tempts to ex­pand its block­buster Keytru­da drug in­to high-risk, ear­ly-stage triple-neg­a­tive breast can­cer so far in 2021.
In ear­ly Feb­ru­ary, well af­ter Mer­ck had sub­mit­ted its sup­ple­men­tal BLA for the in­di­ca­tion, the FDA's ODAC unan­i­mous­ly re­buked the phar­ma's pitch, say­ing the da­ta were too im­ma­ture to be con­clu­sive. FDA can­cer czar Richard Paz­dur took the ex­tra­or­di­nary step of ad­mon­ish­ing Mer­ck dur­ing the meet­ing, say­ing the com­pa­ny should not have as­sumed or hoped for a pos­i­tive re­sult be­fore the piv­otal study read out. A few weeks lat­er, reg­u­la­tors un­sur­pris­ing­ly hand­ed Mer­ck a com­plete re­sponse let­ter.
Now, though, the study has reached the in­ter­im analy­sis check­point. And Mer­ck says it's a win­ner.
The KEYNOTE-522 study — the same tri­al un­der the mi­cro­scope in Feb­ru­ary's ad­comm — met its dual pri­ma­ry end­point of event-free sur­vival, Mer­ck an­nounced Thurs­day morn­ing, demon­strat­ing a sta­tis­ti­cal­ly sig­nif­i­cant im­prove­ment in EFS com­pared to the con­trol. Its oth­er pri­ma­ry end­point, patho­log­i­cal com­plete re­sponse, had pre­vi­ous­ly been met.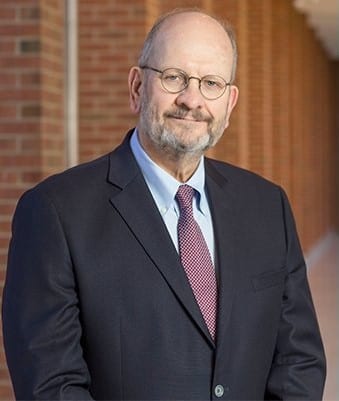 Roy Baynes
"Now that we are see­ing the da­ta ma­ture af­ter four years to in­clude a sta­tis­ti­cal­ly sig­nif­i­cant im­prove­ment in event-free sur­vival, we look for­ward to work­ing with the FDA and oth­er glob­al au­thor­i­ties," Roy Baynes, CMO of Mer­ck Re­search Lab­o­ra­to­ries, said in a state­ment.
Mer­ck has been look­ing to ex­pand Keytru­da in­to this TNBC pop­u­la­tion as both a pre-op­er­a­tive (with chemo) and post-op (with­out chemo) treat­ment. The ear­ly da­ta pre­sent­ed at Feb­ru­ary's ad­comm proved a re­al stick­ing point, with even some pa­tient ad­vo­cates won­der­ing what the rush was all about.
At the time of the last check-in, re­searchers had seen just 53% of tar­get­ed EFS events and 32% of over­all sur­vival events.
It's not yet clear whether or not the new re­sults will change the agency's mind re­gard­ing this in­di­ca­tion, giv­en Mer­ck says the EFS da­ta are now good to go. OS is a sec­ondary end­point in this study, and Mer­ck did not dis­close any re­lat­ed in­for­ma­tion in Thurs­day's an­nounce­ment.
At least one an­a­lyst thinks Thurs­day's an­nounce­ment will ul­ti­mate­ly set up Mer­ck for a re­bound at the FDA. Bar­clays' Carter Gould wrote to in­vestors that al­though there were no quan­ti­ta­tive da­ta re­leased, Mer­ck could see a po­ten­tial ap­proval as ear­ly as next year.
"These da­ta should di­rect­ly ad­dress the pan­el's re­cent con­cern over the lack of ma­ture EFS da­ta, and we would ex­pect Mer­ck to re­file based on these da­ta," Gould wrote. "This shouldn't be sur­pris­ing as Mer­ck it­self high­light­ed dur­ing the Ad­Com that the study had 75-95%+ chance of demon­strat­ing a sta­tis­ti­cal­ly sig­nif­i­cant ben­e­fit based on its mod­el­ing as­sump­tions at the time."
Even though Keytru­da has be­come one of the best-sell­ing drugs on the plan­et, bring­ing in al­most $3.9 bil­lion in this year's first quar­ter, high-risk TNBC has proven a rare stum­bling block for Mer­ck. Be­fore the ad­comm re­buff, Keytru­da had al­ready come up short to Roche's ri­val Tecen­triq in pa­tients with PD-L1-ex­press­ing TNBC that have un­re­sectable and lo­cal­ly re­cur­rent or metasta­t­ic tu­mors. Mer­ck even­tu­al­ly gained the thumbs up here last No­vem­ber.
But Tecen­triq pre­vi­ous­ly failed a con­fir­ma­to­ry study for the first-line treat­ment of the PD-L1 group, which may end up putting its ac­cel­er­at­ed ap­proval in jeop­ardy. ODAC vot­ed 7 to 2 in April to main­tain its OK, how­ev­er, as part of the FDA's broad­er re­view of ac­cel­er­at­ed ap­provals that missed their pri­ma­ry end­points in the con­fir­ma­to­ry fol­low-ups.
So­cial: Va­leriya Zankovych/Shut­ter­stock