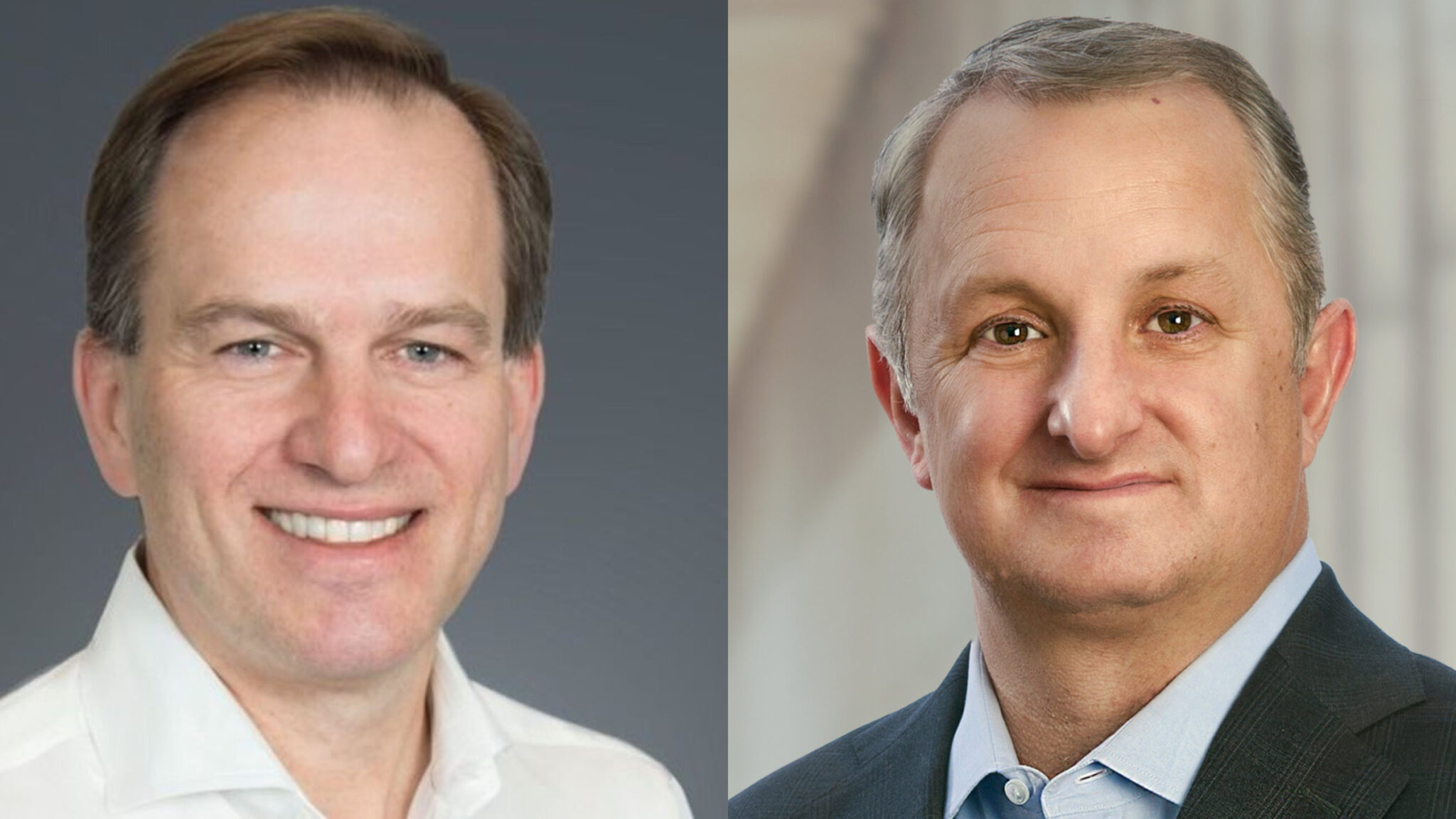 From left: Cara CEO Derek Chalmers and board member Christopher Posner
Weeks in­to first ap­proval, Cara waves good­bye to found­ing CEO in fa­vor of board mem­ber
A biotech's first drug ap­proval is a process of­ten years in the mak­ing and a crown­ing achieve­ment for founder-CEOs who have run the race from the be­gin­ning. Af­ter 17 years watch­ing Cara Ther­a­peu­tics grow to a com­mer­cial brand, this biotech's found­ing CEO is now ready to move on to his next phase.
Cara has ap­point­ed Christo­pher Pos­ner, a cur­rent board mem­ber and for­mer CEO of Leo Phar­ma's US branch, as its next leader, re­plac­ing found­ing CEO Derek Chalmers, the com­pa­ny said Wednes­day. Chalmers will move over in­to a se­nior ad­vi­so­ry role, with Pos­ner set to take on the man­tle Nov. 9.
Chalmers found­ed Cara way back in 2004 and has served as CEO ever since, watch­ing the biotech cross the FDA fin­ish line for the first time in Au­gust with Ko­r­su­va (dife­like­falin), a nov­el kap­pa opi­oid re­cep­tor ag­o­nist in­jec­tion to treat se­vere-to-mod­er­ate pru­ri­tus, or itch­ing, in pa­tients with chron­ic kid­ney dis­ease un­der­go­ing dial­y­sis.
Pri­or to Cara, Chalmers co-found­ed Are­na Phar­ma­ceu­ti­cals and served as its VP and ex­ec­u­tive di­rec­tor from June 1997 un­til May 2004. Pre­vi­ous­ly, he was a group leader at Neu­ro­crine Bio­sciences. Chalmers had this to say about his de­par­ture:
As Ko­r­su­va in­jec­tion moves to­ward com­mer­cial launch, now is the right time to make this tran­si­tion. Hav­ing worked close­ly with Chris since he joined Cara as a board mem­ber, I am con­fi­dent in his abil­i­ty to suc­cess­ful­ly lead the Com­pa­ny through its next phase of de­vel­op­ment and look for­ward to work­ing with Chris and the Cara lead­er­ship to en­sure a smooth tran­si­tion.
Mean­while, Pos­ner most re­cent­ly served as pres­i­dent and CEO of Leo Phar­ma, the US af­fil­i­ate of Leo Phar­ma A/S, and pre­vi­ous­ly was head of world­wide com­mer­cial op­er­a­tions at R-Phar­ma-US, a spe­cial­ty phar­ma in the on­col­o­gy and chron­ic im­mune dis­or­der space. Be­fore that, Pos­ner held se­nior man­age­ment roles in com­mer­cial and mar­ket­ing op­er­a­tions at Bris­tol-My­ers Squibb, Pfiz­er, Wyeth Phar­ma­ceu­ti­cals and En­do.
Pos­ner will take the helm as Cara and part­ner Vi­for Phar­ma prep a Q1 launch for Ko­r­su­va. As part of the part­ners' com­mer­cial­iza­tion agree­ment in the US, Cara and Vi­for will split prof­its 60-40 in dial­y­sis clin­ics not owned by Fre­se­nius Med­ical Care, the clin­i­cal care arm of the larg­er Vi­for Fre­se­nius Med­ical Care Re­nal Phar­ma busi­ness. Mean­while, in Fre­se­nius clin­ics, the com­pa­nies will split prof­its 50-50. In a con­ver­sa­tion with End­points News in April 2020, Chalmers in­di­cat­ed Fre­se­nius clin­ics rep­re­sent­ed around 38% of the mar­ket.
The agency based its re­view on two Phase III tri­als, KALM-1 and KALM-2, with the lat­ter study show­ing 54% of pa­tients dosed with Ko­r­su­va post­ed a 3-point or greater im­prove­ment from base­line in the week­ly mean of the 24-hour Worst Itch In­ten­si­ty Nu­mer­ic Rat­ing Scale (WI-NRS) score com­pared with 42% on place­bo. The drug's da­ta pack­age in­clud­ed re­sults from an ad­di­tion­al 32 tri­als.