Wel­come Imfinzi: As­traZeneca crash­es the check­point par­ty late with a green light for dur­val­um­ab
And then there were 5.
The FDA hand­ed out its lat­est ap­proval for a PD-L1 check­point in­hibitor on Mon­day af­ter­noon, giv­ing a green light to As­traZeneca to start sell­ing dur­val­um­ab as Imfinzi as a sec­ond-line ther­a­py for metasta­t­ic urothe­lial car­ci­no­ma.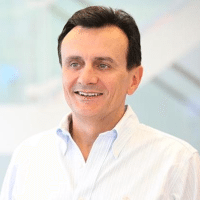 Pas­cal So­ri­ot
The reg­u­la­to­ry OK comes in the wake of ap­provals for Mer­ck, Bris­tol-My­ers Squibb, Roche/Genen­tech and Pfiz­er/Mer­ck KGaA. The bi­ol­o­gy of these new check­point drugs is well un­der­stood now, and the FDA is­sued its ap­proval af­ter a rel­a­tive­ly small, sin­gle-arm study.
Reg­u­la­tors waved this one through af­ter giv­ing dur­val­um­ab a break­through drug des­ig­na­tion and pri­or­i­ty re­view, even though its the third ap­proval for a check­point ther­a­py in blad­der can­cer.
Dur­val­um­ab's longterm suc­cess is cru­cial to the fu­ture of As­traZeneca and CEO Pas­cal So­ri­ot. Billed as a block­buster-to-be, fol­low­ing a com­mer­cial trail al­ready clear­ly laid out, the big show­down for As­traZeneca comes lat­er in the year, when it rolls out late-stage da­ta on a com­bi­na­tion of its check­point com­bo in its MYS­TIC study, which match­es dur­val­um­ab with treme­li­mum­ab, a CT­LA-4 sim­i­lar to Yer­voy, for lung can­cer.
The ju­ry is still out, though, on how well a CT­LA-4 drug — with all its at­ten­dant tox­i­c­i­ty — will do in this field. That's one rea­son why Bris­tol-My­ers Squibb re­cent­ly inked a deal with Cy­tomX on a next-gen CT­LA-4 that might prove far bet­ter for pa­tients.
Sea­mus Fer­nan­dez at Leerink not­ed some mod­est ex­pec­ta­tions on this first ap­proval. The up­side lies fur­ther down the road.
Al­though this in­di­ca­tion rep­re­sents a rel­a­tive­ly small op­por­tu­ni­ty for AZN (we fore­cast Imfinzi cap­tur­ing 10% of our es­ti­mat­ed ~$2.3B WW blad­der can­cer mar­ket), the ap­proval will al­low the agent to be­come more fa­mil­iar with on­col­o­gists and should help fa­cil­i­tate fu­ture sBLAs for drug. The ma­jor in­di­ca­tion for Imfinzi re­mains first-line (1L) non-small cell lung can­cer (NSCLC) and we await top-line da­ta from the Phase 3 MYS­TIC tri­al in com­bi­na­tion with treme­li­mum­ab (an­ti-CT­LA-4) ex­pect­ed in mid-2017.
As­traZeneca, mean­while, raised a red flag last week when it de­layed its third-line read­out in the ARC­TIC study of the duo, spurring some sus­pi­cions that it was on track to a trou­bling fail­ure that would have raised se­ri­ous doubts about its fu­ture in the field.
The oth­er ques­tion that many of us have is how many of these PD-1/PD-L1 check­points can be ap­proved be­fore they start slic­ing and dic­ing this mar­ket in­to ever small­er bites. A range of sec­ond-wave check­points are in de­vel­op­ment now, with every­one that's fi­nanced well enough and in­ter­est­ed in it go­ing af­ter one of their own.
That group in­cludes In­cyte, which has been part­ner­ing with the main­stream check­points in nonex­clu­sive arrange­ments. And the main play­ers, like Mer­ck and Bris­tol-My­ers, are al­ready well along with their own com­bi­na­tion tri­als. Hun­dreds of them.
The ap­proval, though, marks a big win for As­traZeneca, which has made sig­nif­i­cant progress on the on­col­o­gy front in the last few years. They had to have this one to re­main a cred­i­ble ri­val. And they got it.
The FDA has been on a drug ap­proval spree over the last few days. This is the fifth OK for a new chem­i­cal en­ti­ty in the last three work­ing days, bring­ing the year-to-date to­tal to 19. Last year, which saw a big dip in ap­provals, the FDA ap­proved a to­tal of 22 new drugs.