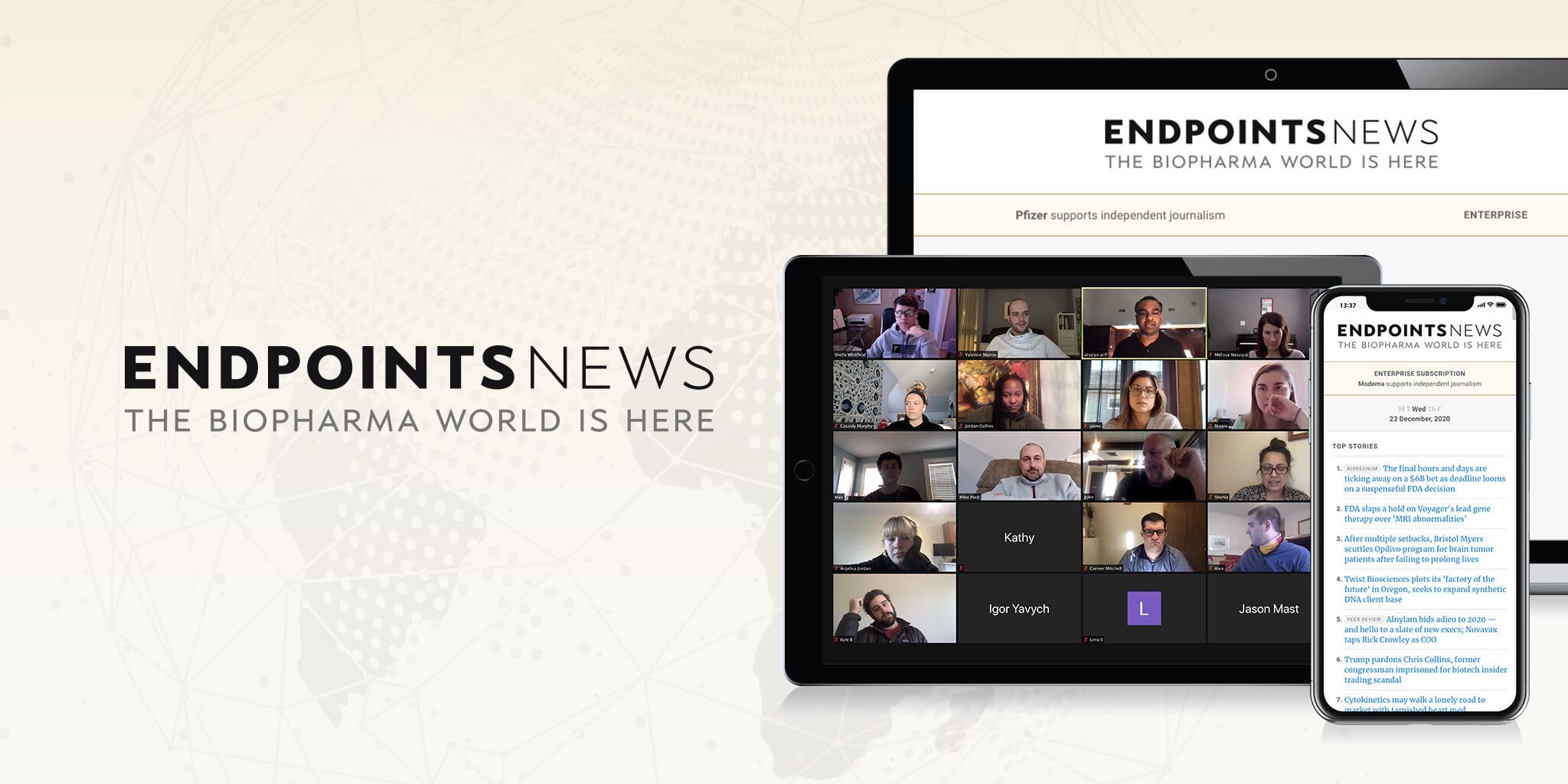 An Endpoints Zoom meeting; and the email header employees will see if your company is a Premium subscriber
What's next for End­points — and how to sup­port our in­de­pen­dent bio­phar­ma news mis­sion
The fire­hose of bio­phar­ma news is gush­ing these days.
That's why broad­er and deep­er is the theme for 2021 at End­points. You can ex­pect new cov­er­age out­side our core R&D fo­cus, with deep­er re­port­ing in some key ar­eas. When John Car­roll and I launched End­points near­ly five years ago, we were wad­ing in waist-high wa­ters. Now we're a team of 25 full-time staffers (and grow­ing) with plans to cov­er the flood of bio­phar­ma news, End­points-style.
If you re­ly on us for news, we're go­ing to need your help.
The sin­gle best way to sup­port us is en­rolling in End­points Pre­mi­um, our an­nu­al sub­scrip­tion pro­gram that un­locks the full End­points ex­pe­ri­ence.
We of­fer two pre­mi­um plans: In­sid­er for in­di­vid­u­als and En­ter­prise for com­pa­nies.
En­ter­prise — $1,000/year for your en­tire or­ga­ni­za­tion, re­gard­less of size. We of­fer a rare un­lim­it­ed-seat li­cense, which makes every em­ploy­ee el­i­gi­ble for End­points Pre­mi­um. In ad­di­tion to un­lock­ing the pay­wall for all, em­ploy­ees will re­ceive a cus­tom ver­sion of the dai­ly email re­ports, sig­ni­fy­ing your com­pa­ny's sup­port of in­de­pen­dent jour­nal­ism. You can see an ex­am­ple of that in the graph­ic above. Oth­er ben­e­fits in­clude two free pre­mi­um job list­ings at End­points Ca­reers and a reprints li­cense for shar­ing our con­tent in­ter­nal­ly any way you see fit. The ap­pli­ca­tion form is here; ac­cess is grant­ed in­stan­ta­neous­ly af­ter pay­ment. We al­so have a fan­tas­tic cus­tomer sup­port team to help you get the most from sub­scrib­ing.

You can con­tact them here.

In­sid­er — $225/year for in­di­vid­u­als. With an In­sid­er plan, in­di­vid­ual sub­scribers have the op­tion to dis­able ad­ver­tis­ing, in ad­di­tion to un­lock­ing the con­tent li­brary. If you want just the news con­tent and noth­ing else, this is the plan for you.
Most im­por­tant­ly, with both plans, you're di­rect­ly sup­port­ing the fu­ture de­vel­op­ment of End­points News. As an in­de­pen­dent pub­li­ca­tion, we've avoid­ed rais­ing cash from in­vestors. We re­port to our paid sub­scribers and no one else.
To be sure, join­ing End­points Pre­mi­um is op­tion­al. We be­lieve that high-qual­i­ty re­port­ing ought to be free and eas­i­ly ac­ces­si­ble. So we're com­mit­ted to keep­ing the most es­sen­tial bits avail­able with our no-cost Ba­sic email sub­scrip­tion.
But as we get broad­er and deep­er in 2021, End­points Pre­mi­um is where you'll find more of that work. So any com­pa­ny or read­er look­ing for the com­plete pic­ture should sign up for a paid plan to­day.
One ex­am­ple of the deep­er work you'll have ac­cess to is a print­able PDF of all new drug ap­provals in 2020.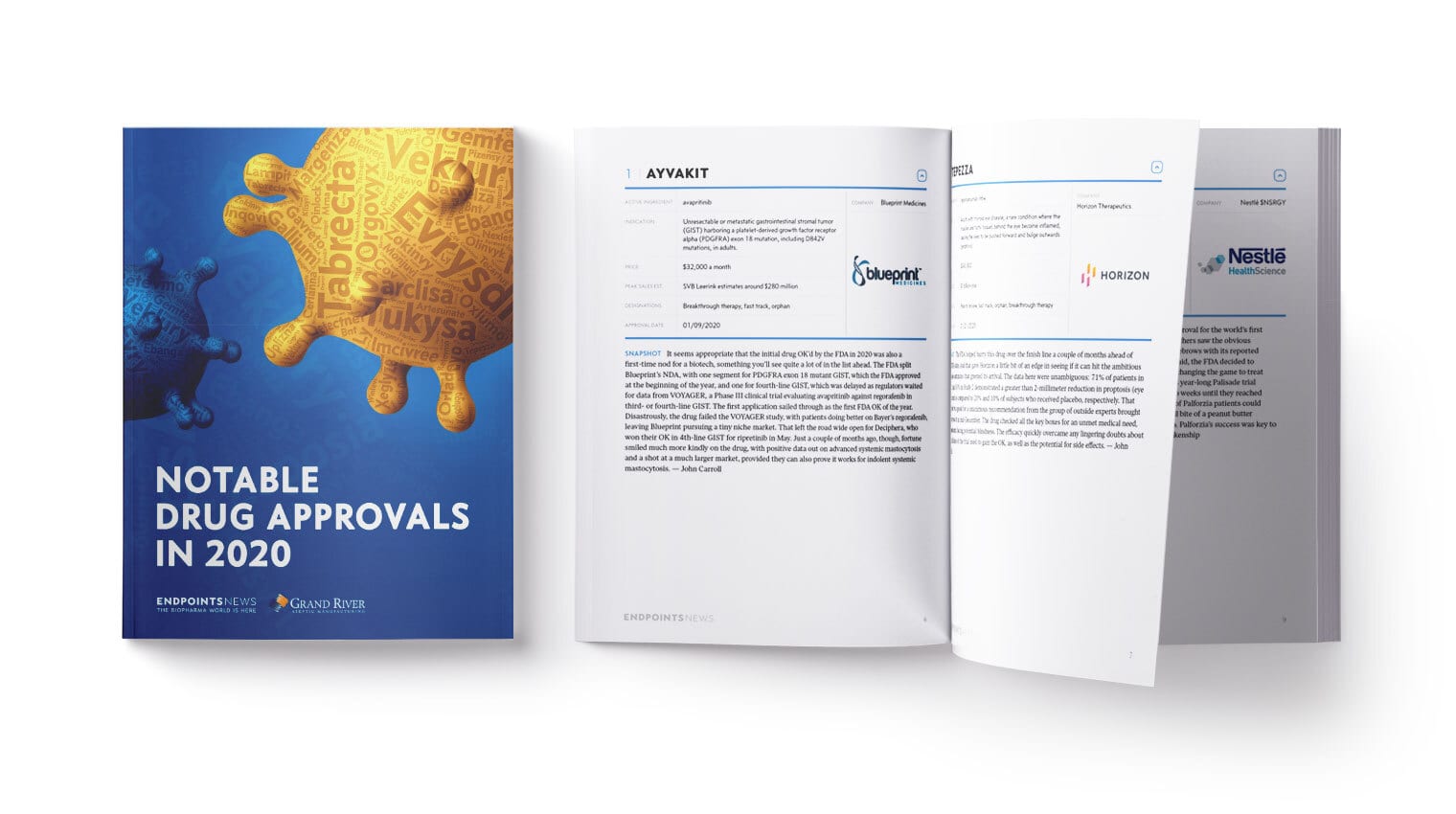 Broad­er and deep­er
We've got big plans to cov­er new ground and it will be­gin with a new prod­uct launch: End­points Man­u­fac­tur­ing.
Start­ing in Feb­ru­ary, every Thurs­day we'll de­liv­er the most im­por­tant sto­ries in man­u­fac­tur­ing in one con­ve­nient email re­port. End­points re­porter Con­ner Mitchell will be lead­ing our bio­man­u­fac­tur­ing cov­er­age. It's a crit­i­cal beat in the bio­phar­ma world and we're dou­bling down.
Un­der the main End­points News ban­ner, our grow­ing team has af­ford­ed us op­por­tu­ni­ties to go deep­er, too.
We're do­ing more pre­clin­i­cal sto­ries and phar­ma news too, break­ing ex­clu­sives, and pick­ing more spots to re­port sci­ence news.
Some­times, it's in the form of In Fo­cus pieces, like Ja­son Mast's ex­plo­ration in­to a med­ical mys­tery be­hind a gene ther­a­py tri­al. It's al­so in the End­points 11, where John Car­roll pro­filed eleven of bio­phar­ma's most promis­ing star­tups in Sep­tem­ber. We went be­yond write-ups and de­liv­ered lengthy video in­ter­views with the win­ners at our vir­tu­al event, and there's a trea­sure trove of knowl­edge to un­cov­er in these con­ver­sa­tions. It's a must-watch if you're in­to biotech en­tre­pre­neur­ship.
That same de­tail went in­to Women in Bio­phar­ma, our De­cem­ber vir­tu­al event. Here you saw con­tri­bu­tions from our en­tire team, led by ed­i­tors Am­ber Tong and Nicole De­Feud­is. I con­sid­er it some of our best work. If you haven't yet, please take a few min­utes to watch the videos of our hon­orees. It's a rare treat to hear and learn from these lu­mi­nar­ies di­rect­ly.
We're go­ing to be do­ing much more of that in 2021.
For cur­rent End­points Pre­mi­um sub­scribers, thank you — there's no chance we'd be here to­day with­out you. For those of you get­ting one to­day, be sure that we have nev­er been more ap­pre­cia­tive of your sup­port for the in­de­pen­dent mis­sion we have carved out for our­selves as we boot­strapped this start­up.