If you guessed cancer without even thinking about it, you get a gold Endpoints star. But just how much hotter is oncology compared to every other field in biopharma R&D?
"Oncology grabs the largest percentage of venture-backed exits versus any other indication in biopharma, both in number of deals and in deal value," notes Jonathan Norris, the managing director of Silicon Valley Bank's healthcare practice.
By far.
Looking at the chart at the bottom, you'll see that oncology accounted for about one third of all the deals from the top 60 investors over the past 18 months. And at $2.4 billion, it's 36% of the money.
Norris is not looking for any big shifts in that trend anytime in the next few years.
Why? It's all about the exits.
"Venture investors will continue to invest in indications that see strong exit activity," he adds in a message to me. "Additionally, we see exit activity in oncology at earlier development stages (typically pre-clinical and Phase I) than any other indications, which leads to quicker time to exits and better IRR for investors."
The funds that raised cash in 2014 and 2015 after cashing in on cancer will help maintain the trend, says Norris. And now they have new money to invest in a field where they have growing experience. In other words, they're headed back to play the same field that delivered a big crop of cash.
Perhaps more interesting is the fact that neurology is the number two disease category on the SVB list. A few years ago, some Big Pharmas were exiting neurosciences, put off by the high bar and scientific uncertainty in the field. That smells like opportunity to more biotech execs and their venture backers these days, who are working with some new plays that take into account fresh understanding of the science.
Here's the chart based on information (PDF) presented by SVB: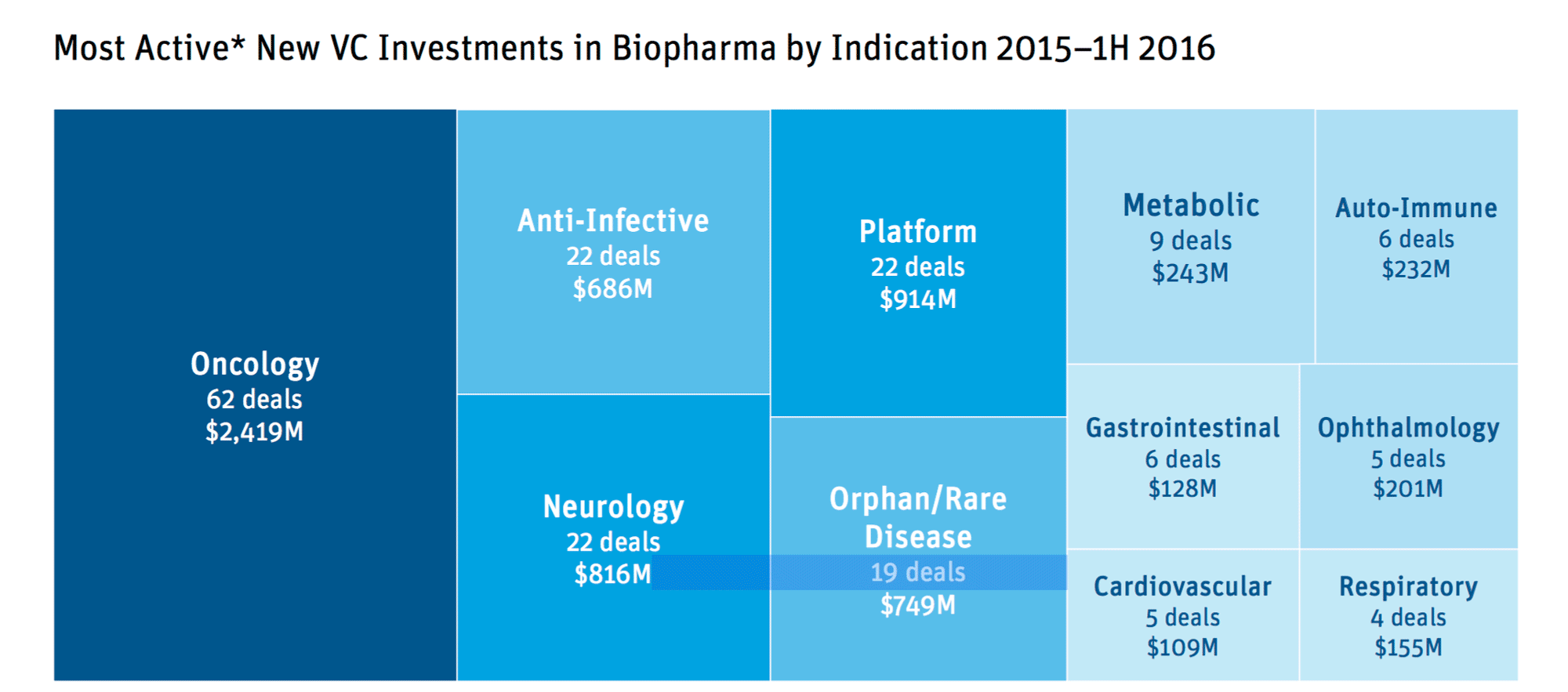 ---
The best place to read
Endpoints News

? In your inbox.

Comprehensive daily news report for those who discover, develop, and market drugs. Join 51,000+ biopharma pros who read Endpoints News by email every day.

Free Subscription
---
---
---