What's the trou­ble with pain? Analy­sis shows scarce in­vest­ments, high fail­ure rate for new drugs
Pain may be one of the biggest mar­ket op­por­tu­ni­ties in drug R&D, but it's been rel­a­tive­ly ne­glect­ed com­pared to hot fields like on­col­o­gy or even car­dio.
That's the con­clu­sion of a new mar­ket analy­sis from BIO, which found that the suc­cess rate in clin­i­cal de­vel­op­ment for pain is right at 2% — one of the worst now on the radar and far be­low their 10% av­er­age.
Pick­ing over the num­bers, BIO's an­a­lysts con­clud­ed that the cat­e­go­ry ac­counts for $635 bil­lion in health­care costs, the kind of fig­ure that de­vel­op­ers usu­al­ly find pow­er­ful­ly at­trac­tive.
But, they add, the in­dus­try has scored on­ly two nov­el ther­a­peu­tic ap­provals for pain drugs over the past decade. Mean­while there are 125 nov­el chem­i­cal en­ti­ties in the clin­ic — 87% non-opi­oid, where the un­met med­ical need is most ob­vi­ous —which is just a frac­tion of the new can­cer drugs out there.
An­oth­er top­i­cal fig­ure that jumps out: Pain gets $1 for every $17 in­vest­ed in on­col­o­gy drugs. And BIO counts on­ly 15 ad­dic­tion drugs in the pipeline: "10 for sub­stance abuse, two for al­co­hol, and three for smok­ing ces­sa­tion."
The lack of in­vest­ment here won't sur­prise any­one in the busi­ness, though. Pain meds have been one of the most frus­trat­ing tar­gets in CNS, a field plagued by high place­bo re­spons­es over the years. Giv­en the high fail­ure rates, in­vestors have been taught to stay away un­less a de­vel­op­er can prove it can nav­i­gate some tough odds. And where there is progress, you'll find lots of com­pe­ti­tion, as we can see for the two lead­ing pain tar­gets: CGRP and NGF.
Al­so, if you look at their chart on ven­ture in­vest­ing over­all in the US, can­cer hand­i­ly beats out every­thing they chart. On­col­o­gy has been see­ing ris­ing suc­cess rates with new com­bos and block­buster op­por­tu­ni­ties.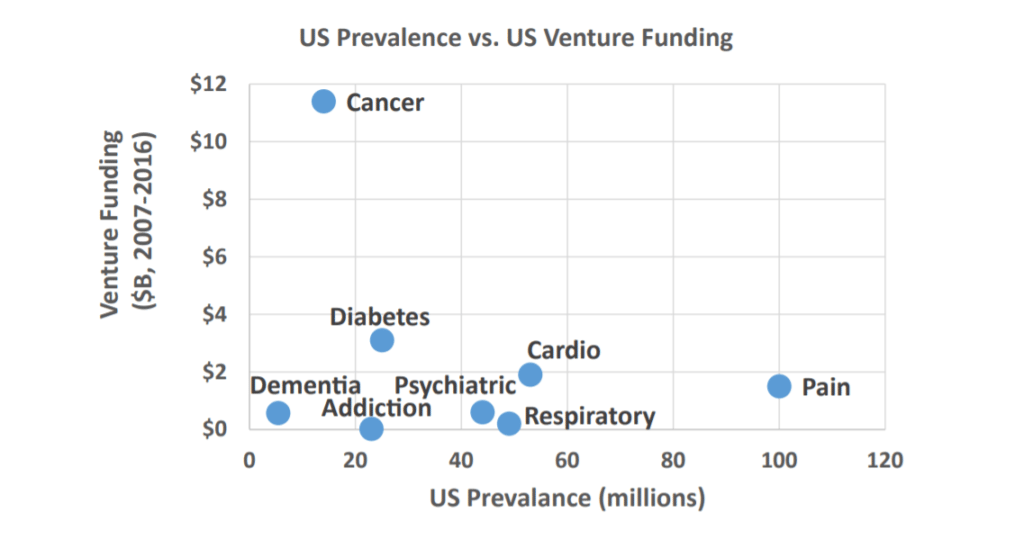 Source: BIO