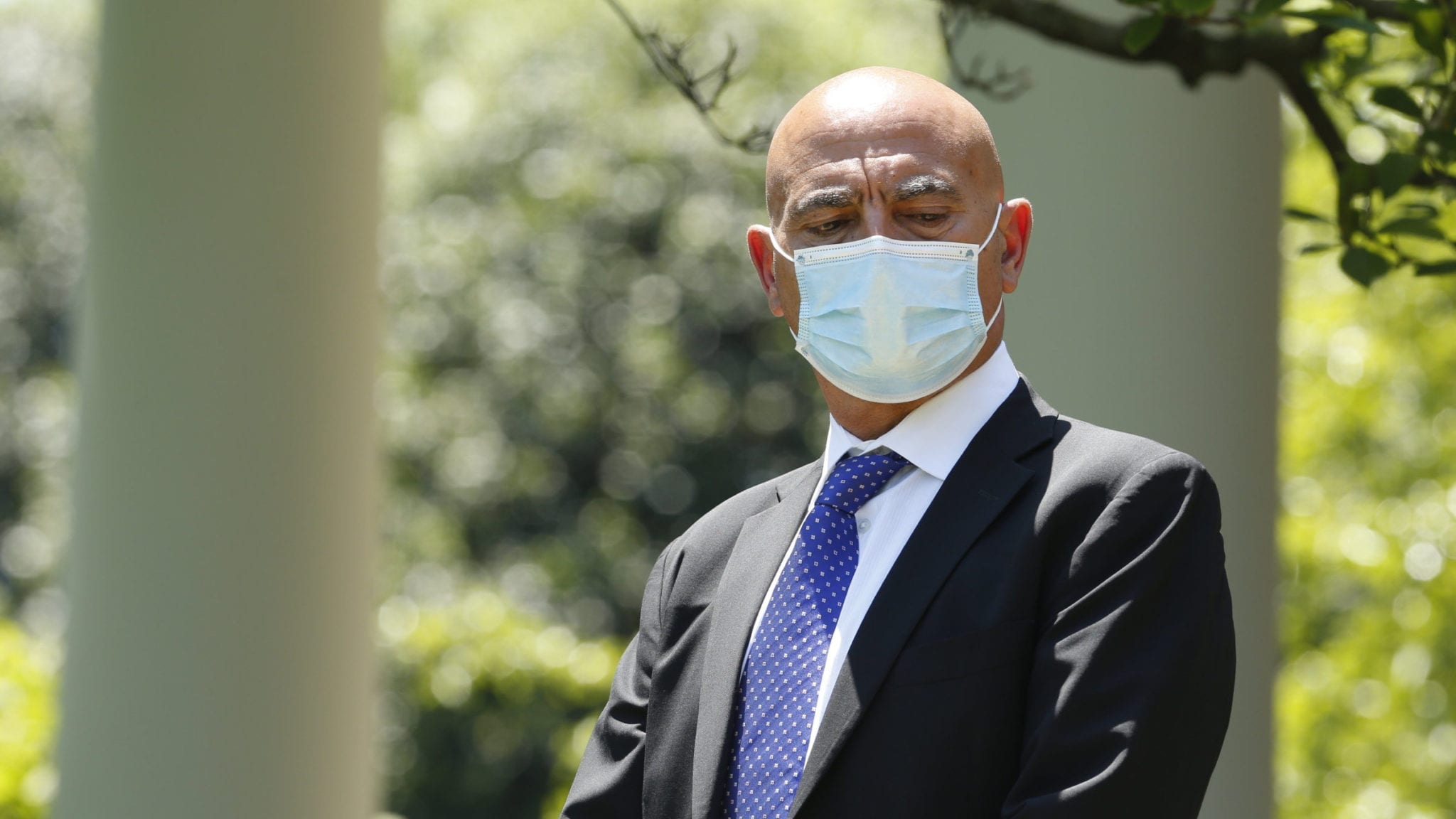 Moncef Slaoui, Getty Images
When will it end? Big Phar­ma's top vac­cine ex­pert at OWS of­fers a speedy time­line for a Covid-19 vac­cine — ei­ther be­fore or right af­ter the elec­tion
Mon­cef Slaoui hasn't start­ed mak­ing plans for his sum­mer va­ca­tion next year. But he of­fers high odds that all Amer­i­cans will be able to do that in the not too dis­tant fu­ture.
In an in­ter­view with a pair of sym­pa­thet­ic pod­cast­ers at the con­ser­v­a­tive Amer­i­can En­ter­prise In­sti­tute, Slaoui pro­vides an ed­u­ca­tion to lis­ten­ers on how any drug or vac­cine can be sped through tri­als. And he leaves the door wide open to the no­tion that the lead­ing vac­cine de­vel­op­ers can demon­strate ef­fi­ca­cy and safe­ty in a com­pelling fash­ion as ear­ly as Oc­to­ber — or as late as the end of this year.
But Slaoui says he is quite con­fi­dent that based on what he knows now, there's good rea­son to be hope­ful that vac­cines will be avail­able in suf­fi­cient quan­ti­ty to cov­er all the at-risk pop­u­la­tion in the US — up to 40 mil­lion peo­ple — by the end of Feb­ru­ary. And he's look­ing for sev­er­al vac­cines to cross the fin­ish line, so that the ex­perts can choose which are the most like­ly to work based on de­mo­graph­ics and risk.
Slaoui's po­si­tion on this will be close­ly fol­lowed. He end­ed a 30-year stint at GSK as chair­man of the vac­cines group, top­ping it off with the high­ly suc­cess­ful Shin­grix pro­gram. With his switch to OWS, Slaoui di­vest­ed his Mod­er­na shares — jump­ing from the board of one of the lead­ing vac­cine de­vel­op­ers to OWS — but kept his GSK stock, which trig­gered some crit­i­cism that he's still clear­ly deeply re­sent­ful about.
For crit­ics, it's all fod­der for dis­cus­sion as every­one fo­cus­es in on the high­ly po­tent top­ic of whether Pres­i­dent Trump will force through a vac­cine an­nounce­ment — herald­ing a suc­cess­ful piv­otal tri­al — in time to in­flu­ence the elec­tion. And like every ex­pert in the gov­ern­ment, from FDA com­mis­sion­er Stephen Hahn to NI­AID di­rec­tor An­tho­ny Fau­ci, Slaoui says the sci­ence will be all that mat­ters.
Draw­ing from a tran­script of the call, here's Slaoui de­scrib­ing in de­tail how vac­cine de­vel­op­ment is done:
We're run­ning very large tri­als be­cause they al­low us to reach ef­fi­ca­cy faster, not be­cause there's an elec­tion, be­cause there's thou­sands of peo­ple dy­ing every day. And the da­ta will be de­fined by the num­ber of cas­es. There is no date. It's im­pos­si­ble to give you a date. I have been asked about dates, and I didn't feel any pres­sure what­so­ev­er to say da­ta will de­fine the date. When we have the num­ber of cas­es re­quired and then we have an in­de­pen­dent da­ta safe­ty mon­i­tor­ing board in­de­pen­dent­ly look in­to the da­ta and says we need to con­tin­ue, we need to stop be­cause this is not work­ing, or we need to stop be­cause this is work­ing too well, it's un­eth­i­cal to con­tin­ue, we now need to start to give the vac­cine to the place­bo arm in the tri­al and to oth­er peo­ple to con­sid­er, then that will be the end. So the end of the tri­als is com­plete­ly in­de­pen­dent of the op­er­a­tion or any­body in­volved in the op­er­a­tion. It's ac­tu­al­ly great aca­d­e­m­ic ex­perts, whose names are un­known to the pub­lic who are look­ing in­to that da­ta. And this is how all clin­i­cal tri­als are al­ways done. That is how clin­i­cal tri­als are done.
So when will we know?
So the da­ta will dic­tate, the facts will dic­tate. We may have the end point in Oc­to­ber. We may have it in No­vem­ber 4th, who knows? We may have it in De­cem­ber 15th. That's the an­swer, and to be hon­est, on a per­son­al ba­sis, I would re­sign in­stant­ly if I was forced to do some­thing that I thought would be in­ap­pro­pri­ate.
From the pod­cast­ers: What's your time­line? Or what's your thought on that?
I hope we will have enough dos­es of vac­cines in the first two months of 2021 to im­mu­nize the at risk pop­u­la­tions in the US, vac­cines that could have shown ef­fi­ca­cy and ap­proved in­de­pen­dent­ly by the FDA. And I'm talk­ing about maybe the 30 to 40 mil­lion most sus­cep­ti­ble peo­ple in the US across maybe De­cem­ber, Jan­u­ary, Feb­ru­ary.

And then and I think that should de­crease dra­mat­i­cal­ly the bur­den of this dis­ease on so­ci­ety in gen­er­al. Be­cause, as you know, most of the bur­den of the dis­ease is on a high risk pop­u­la­tion. Plus the sec­ondary ef­fect of over­whelm­ing the hos­pi­tal sys­tems, et cetera, which has an im­pact on oth­er pop­u­la­tions for oth­er rea­sons. And I think, from there on, it's go­ing to be a grad­ual process that will be a bal­ance be­tween the ben­e­fits/risks that the vac­cines will have shown and the risk of par­tic­u­lar sub­pop­u­la­tion.

For in­stance, frankly, im­mu­niz­ing the pe­di­atric pop­u­la­tion, tod­dlers, et cetera, will be some­thing that should be re­al­ly far be­cause they have 70 or 80 years to live. And we need prob­a­bly there to use plat­form tech­nolo­gies that are well un­der­stood in the long range, such as pro­tein based vac­cines, et cetera. We are for­tu­nate that most­ly in that pop­u­la­tion the dis­ease bur­den is very, very low. And so, I think there will be a gra­di­ent of views. But prob­a­bly be­tween the first quar­ter and the sec­ond quar­ter of 2021, the most at risk pop­u­la­tions will have been, I hope, im­mu­nized. And life, I would ex­pect… I hope next sum­mer I can have a va­ca­tion, nor­mal va­ca­tion.
What­ev­er hap­pens to his va­ca­tion plans, one thing seems cer­tain. Mil­lions of peo­ple will be ar­gu­ing over the de­vel­op­ment time­line right un­til the elec­tion is de­cid­ed.
For a look at all End­points News coro­n­avirus sto­ries, check out our spe­cial news chan­nel.