Where did all the FDA ad­comms go? New re­search digs in­to steep drop in meet­ings
About a decade ago, half of all new­ly ap­proved drugs were brought be­fore an FDA ad­vi­so­ry com­mit­tee, which is made up of a group of out­side ex­perts who take a thor­ough look at the da­ta pre­sent­ed by both the drug­mak­er and the FDA.
For myr­i­ad rea­sons, how­ev­er, that fig­ure has dropped dra­mat­i­cal­ly and now just 6% of all new ap­provals were brought be­fore an ad­comm in 2021.
"It's hard to say why few­er new drugs are see­ing ad­vi­so­ry com­mit­tee re­view be­fore ap­proval, be­cause FDA doesn't have to ex­plain that de­ci­sion. One con­cern is that FDA might be try­ing to avoid the risk of a neg­a­tive vote, if it's shep­herd­ing a drug to ap­proval," Har­vard's Joseph Daval, first au­thor of the new pa­per in Health Af­fairs told End­points News.
The au­thors al­so ex­plain how this decade-long de­crease in FDA's re­fer­rals of in­ves­ti­ga­tion­al drugs to ad­vi­so­ry com­mit­tees sug­gests that the "FDA needs spe­cif­ic cri­te­ria for how it choos­es to sub­ject new drugs to ex­ter­nal scruti­ny. Pub­lish­ing re­fer­ral cri­te­ria would im­prove ac­count­abil­i­ty by al­low­ing the pub­lic to com­pare the FDA's re­fer­ral de­ci­sions in in­di­vid­ual cas­es against pre­ex­ist­ing stan­dards."
Mean­while, as FDA com­mis­sion­er Rob Califf has an­nounced re­cent­ly that he plans to tweak the ad­comm process, the au­thors al­so sug­gest that the FDA should pro­vide a for­mal state­ment when it runs counter to an ad­comm's rec­om­men­da­tion (which it does about once an­nu­al­ly). The re­searchers said they found on­ly one ex­cep­tion where the FDA ex­plained it­self: Af­ter Bio­gen's con­tro­ver­sial Alzheimer's drug's ac­cel­er­at­ed ap­proval, the FDA re­leased a state­ment rec­og­niz­ing that fact and some­what ex­plain­ing its de­ci­sion.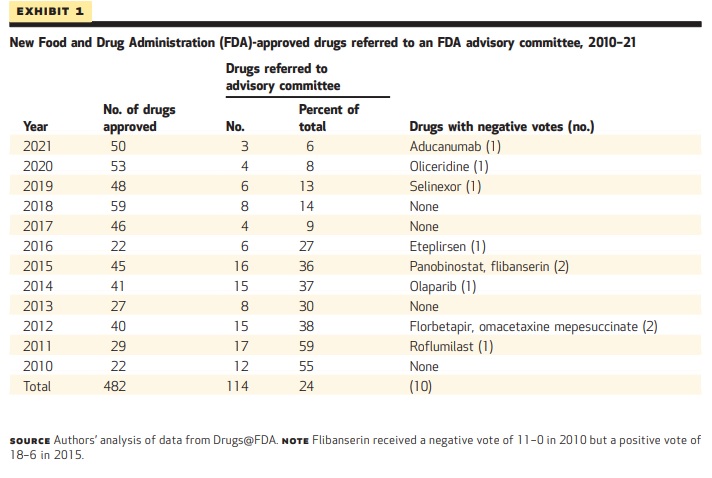 "In in­stances when the FDA choos­es to act against ad­vi­so­ry com­mit­tee rec­om­men­da­tions, it could make a prac­tice of en­gag­ing in a thor­ough and trans­par­ent ac­count­ing of the dis­agree­ment through preestab­lished pro­ce­dures," the au­thors wrote. "The 're­sponse and re­but­tal' por­tion of ad­u­canum­ab's med­ical re­view of­fers a pro­to­type for a trans­par­ent, mean­ing­ful, and con­sis­tent dis­cus­sion over whether to al­low a new drug to mar­ket. Ro­bust en­gage­ment with the mer­its of a dis­cor­dant rec­om­men­da­tion, such as when an agency re­sponds to pub­lic com­ment in the rule­mak­ing process, would in­di­cate that the FDA has re­spon­si­bly con­sid­ered the ad­vice of the ex­perts it con­vened."
In­con­sis­ten­cy in the some­times lead­ing ques­tions posed to the com­mit­tee and the FDA's re­sponse to a neg­a­tive vote (typ­i­cal­ly de­pen­dent on the gap be­tween the num­ber of 'yes' and 'no' votes) in­vites scruti­ny in­to the role of ad­vi­so­ry com­mit­tees in the FDA's de­ci­sion-mak­ing process.
Such scruti­ny comes as Har­vard's Aaron Kessel­heim, one of the au­thors of the Health Af­fairs ar­ti­cle, re­signed from the ad­comm that vot­ed against Aduhelm, im­me­di­ate­ly fol­low­ing the agency's ap­proval.