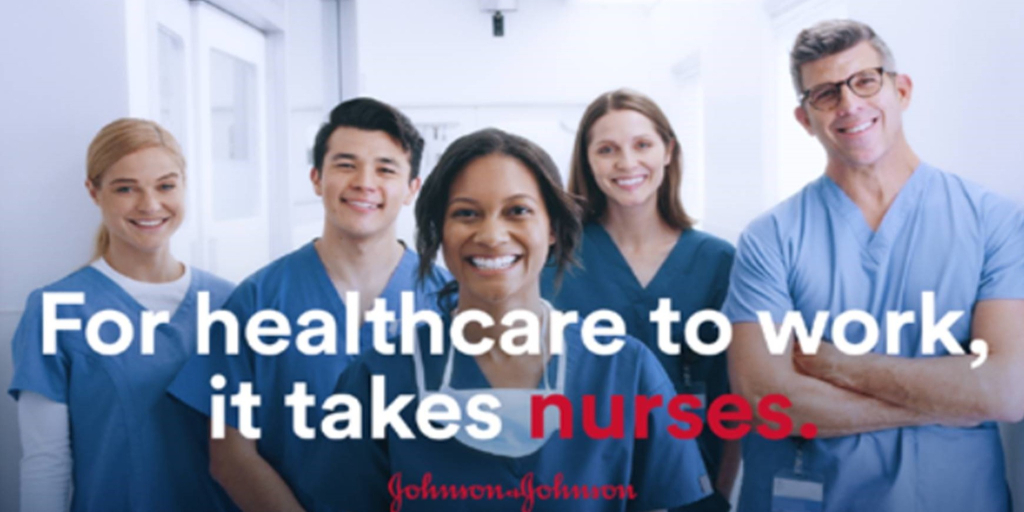 J&J launches new iteration of nursing campaign (J&J)
'Where would the world be with­out nurs­es?' J&J re­fresh­es cam­paign hon­or­ing health work­ers
More than two and a half years in­to the pan­dem­ic, John­son & John­son wants to re­mind peo­ple that nurs­es are much more than just care­givers.
In the lat­est it­er­a­tion of its cam­paign, J&J hon­ors nurs­es as "in­no­va­tors, life­savers, and fierce pa­tient ad­vo­cates." The pro­gram got a re­fresh from last year, in­clud­ing a new tagline, "Where Would the World Be With­out Nurs­es," and videos that de­buted on so­cial me­dia on Thurs­day.
Where would the world be with­out #nurs­es? They're in­no­va­tors, life­savers, and fierce pa­tient ad­vo­cates. For health­care to work, it takes nurs­es. #NurseTwit­ter pic.twit­ter.com/Spms7SC­by7

— John­son & John­son Nurs­ing (@JN­JNurs­ing) De­cem­ber 1, 2022
"Who would be there when no one else is?" a nar­ra­tor asks in J&J's 30-sec­ond ad video that de­picts nurs­es scrub­bing up, per­form­ing CPR and com­fort­ing pa­tients.
J&J claims it has been a "proud cham­pi­on of nurs­es since 1897," and launched a cam­paign in 2001 to dri­ve more peo­ple in­to the pro­fes­sion with the help of TV ad spots, grants, schol­ar­ships and more. There have been sev­er­al it­er­a­tions since, in­clud­ing last year's "Nurs­es Rise to the Chal­lenge Every Day" cam­paign.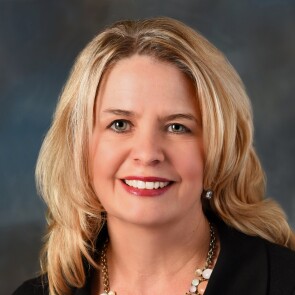 Lyn­da Ben­ton
"Last year, we were just re­al­ly fo­cused on try­ing to en­gage and sup­port and re­mind nurs­es that we saw their val­ue," said Lyn­da Ben­ton, se­nior di­rec­tor of glob­al com­mu­ni­ty im­pact strate­gic ini­tia­tives for J&J Nurs­ing. "Now we want to open the lens and get a broad­er health­care com­mu­ni­ty to un­der­stand what nurs­es bring to health­care."
The ads are meant to ad­dress "alarm­ing lev­els of burnout" in the nurs­ing field, J&J said. A re­port pub­lished last year by the Amer­i­can As­so­ci­a­tion of Crit­i­cal-Care Nurs­es found that 66% of sur­veyed acute and crit­i­cal care nurs­es had con­sid­ered leav­ing their jobs be­cause of the pan­dem­ic. The Amer­i­can Nurs­es As­so­ci­a­tion al­so urged the HHS sec­re­tary in a let­ter last year to de­clare the nurse staffing short­age a na­tion­al cri­sis.
In 2022, health­care em­ploy­ment has in­creased at a sig­nif­i­cant­ly high­er month­ly rate than last year's, ac­cord­ing to the Bu­reau of La­bor Sta­tis­tics. But there's more to be done, J&J em­pha­sized.
"When you think about ear­ly 2020, the world was ba­si­cal­ly cheer­ing on the nurs­ing work­force and thank­ing them for all they were do­ing to care for pa­tients," Ben­ton said. "As the pan­dem­ic wore on, and the vac­cines start­ed com­ing out … in some cas­es life went back to nor­mal and [peo­ple] kind of for­got about the nurs­es who were still work­ing in­side the walls of the hos­pi­tal and sav­ing lives on a day-to-day ba­sis."
The lat­est cam­paign is com­ple­ment­ed by videos spot­light­ing the next gen­er­a­tion of nurs­es, and a 'To­day" show seg­ment called "He­roes Among Us."
"If we don't ad­dress this, this is a health­care cri­sis for every­body," Ben­ton said. "It's just so im­por­tant that peo­ple will re­al­ly wake up and un­der­stand what's hap­pen­ing to­day with­in the nurs­ing pro­fes­sion."