Which big bio­phar­ma com­pa­nies put R&D as their top pri­or­i­ty?
We love charts at End­points. They're a great way to of­fer a snap­shot of the da­ta that high­light a dra­mat­ic com­par­i­son for read­ers. So we were de­light­ed when one of our read­ers came up with two new charts from last week's spe­cial re­port on the top 15 R&D bud­gets in bio­phar­ma.
Aris An­ge­lis, re­search of­fi­cer and PhD can­di­date at the Lon­don School of Eco­nom­ics, first went to work com­par­ing how the com­pa­nies did at re­search spend­ing as a com­par­i­son to the per­cent­age of rev­enue spent on re­search.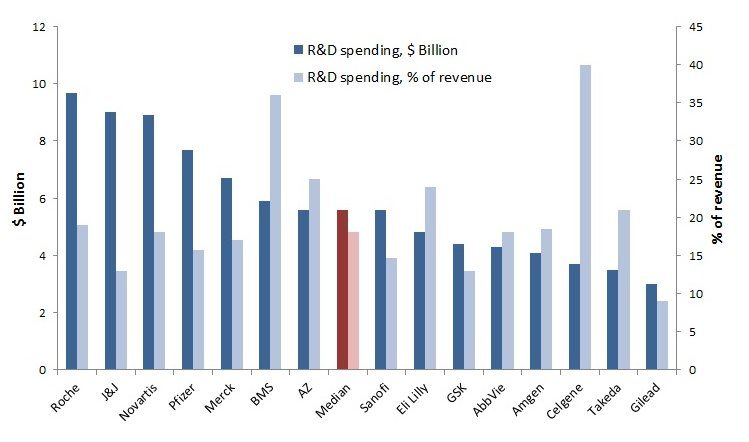 As you can see at a glance, most of the phar­ma gi­ants like to con­tain this num­ber at a steady, pre­dictable pace that wins the ap­proval of Wall Street an­a­lysts. As­traZeneca and Eli Lil­ly, though, don't have that lux­u­ry. Both have lots to prove yet in de­vel­op­ing im­por­tant new drugs, and that is push­ing up re­search spend­ing rel­a­tive to in­come. By a lot. (Noth­ing new there for Eli Lil­ly, which has been con­sis­tent­ly spend­ing heav­i­ly on R&D for years in the face of a bru­tal on­slaught of gener­ics and the loss of key drug fran­chis­es.) Cel­gene's been do­ing a se­ries of big deals, like its $1 bil­lion pact with Juno and its $7.2 bil­lion buy­out of Re­cep­tos. So its per­cent­age is a chart buster.
Twit­ter loved it. And An­ge­lis fol­lowed up with an­oth­er crowd pleas­er com­par­ing spend­ing on mar­ket­ing to re­search spend­ing. Not sur­pris­ing to any­one who fol­lows this top­ic, mar­ket­ing ex­pens­es tend to run well ahead of R&D bud­gets in the busi­ness. The ex­cep­tions: Re­search fo­cused out­fits at Bris­tol-My­ers and Cel­gene.